Last Minute Preparation Tips for JAIIB Exam: The chance to take your career to the next level is in just a few days. Being a working professional it is hard to prepare for an exam like JAIIB. So we are going to give you some last-minute tips which will help you to prepare for your exam. JAIIB Exam 2022 Paper I is on 12th November 2022. Paper II is on 13th and Paper III is on the 20th of November 2022.
JAIIB 2022- Exam Dates
Let's take a quick look at exam dates and exam pattern
| Event | Date |
| --- | --- |
| JAIIB 2022 Online Registration Begins | 1st September 2022 |
| JAIIB Admit Card 2022 Release Date | November 2022 |
| Exam Date | 12th, 13th and 20th November 2022 |
| Principles & Practices of Banking | 12-11-2022 |
| Accounting & Finance for Bankers | 13-11-2022 |
| Legal & Regulatory Aspects of Banking | 20-11-2022 |
JAIIB Exam Pattern – Overview
The JAIIB Examination Pattern has three papers:
Principles and Practices of banking.
Accounting and Finance for Bankers
Legal and Regulatory Aspects of Banking.
| | | | |
| --- | --- | --- | --- |
| Subjects | No. of Questions | Total Marks | Duration |
| Principles and Practices of Banking | 120 | 100 | 2 hours |
| Accounting and Finance for Bankers | 120 | 100 | 2 hours |
| Legal and Regulatory Aspects of Banking | 120 | 100 | 2 hours |
Before Anything Else Preparation is Key to Success

Alexander Graham Bell
Preparation Tips for JAIIB Exam 2022
See where you stand!
Preparation Tips for JAIIB Exam 2022– Just go through the whole JAIIB syllabus, and see what topics you know and what concepts you are totally unaware of. You can Visit the Oliveboard website to check the syllabus and exam pattern. Thoroughly go through the JAIIB Exam syllabus and JAIIB 2022 exam pattern. Make sure what sections and concepts you are familiar with and which are new to you. Go through the previous year's questions and check what concept holds what importance and note them down. If you are unaware of any important concepts make a list of them. You are already one step closer to acing your exam! Now that you know what to study don't panic, you will do awesome!
Just speed up your Pace!
The exam is in just a few days, so you need to increase your learning pace. Keep in mind that you can get extra 5-6 days for your JAIIB LRAB paper so you can give a little less focus on that and give your full attention to JAIIB PPB and AFB Paper. Look at which paper is tougher for you. We recognize that each student learns differently. So some topics might be a bit harder for you. Just study the topics that are hard and important for the exam.
All you need is a plan!
Be it constructing a house or preparing for an exam, you will need a plan, if not written at least in your mind. Prepare a JAIIB Study Plan don't waste time and start preparing for it. Oliveboard has a 10-day JAIIB revision plan prepared just for you! Go through that and make some changes according to your comfort level.
Know JAIIB Exam Revision Plan Here
"Just believe in yourself. Even if you don't, pretend that you do and, at some point, you will."

VENUS WILLIAMS
Knock Knock! Mock Test!!!!
In an earlier part of Preparation Tips for the JAIIB Exam, we mentioned that you need to see where you stand. Sometimes when you see the syllabus you might think you know certain topics very well but only by taking a Mock test, will you get to know how well you know that particular concept. The Mock Test will provide you with an accurate analysis of your subject knowledge. Hence taking the Mock Test is mandatory and inevitable.
Does only Studying, and revising help you to crack the JAIIB exam 2022? The only way to find out this is through attempting mock tests. Attempt as many mock tests as possible before you appear for an actual JAIIB exam in 2022. Mock Tests will help you to find out where you are failing. It will assist you in self-evaluation. To help you crack your dream exam, Oliveboard has mock tests for JAIIB exams. You can visit our website for more details.
What Oliveboard's Mock Tests Offer!
Mock tests and courses are distinctive features of Oliveboard. You will be happy to hear that Oliveboard now offers JAIIB mock tests. These mock tests include,
15 JAIIB Mock Tests
Includes 5 LRB Mock Tests for JAIIB
Includes 5 PPB Mock Tests for JAIIB
Includes 5 AFB Mock Tests for JAIIB
Includes 105 Sectional Tests
Principles and Practices of Banking Sectional Tests
Accounts and Finance for Bankers Sectional Tests
Legal and Regulatory Laws for Banks Sectional Tests
Complete + Subject-Wise Courses
Free Topic-Wise Pdf Notes

All Questions asked in the JAIIB Mock test Series are as per the latest JAIIB exam pattern, you will get detailed solutions for all the JAIIB – AFB, LRB & PPB Mock test questions, and AI-Based Performance Analysis Engine will give you a detailed analysis of your attempt. Which helps you to know which sections to focus your prep on! You can take a free mock JAIIB Mock Test for your comprehension
Smarten your ways
Don't work hard, work smart! You all have heard this, it is indeed true. In the case of cracking the JAIIB exam, do not burden your head with mastering the whole JAIIB Exam syllabus. Just see the pattern, analyze the weightage of each concept and immerse yourself in those more. Previous years' question papers and mock tests will help you to know your weak parts and focus on them. This way will help you finish your preparation and create time for your revision.
Be Wise and Revise!
Along with your daily studies make it a practice to revise daily. Do not ever skip this revising part, it will help you to dig into the core of a subject and will improve your basics. Make some Important Points after finishing the chapter and go through them daily. Solely dedicate these remaining days to your preparation.
Confidence is the key!
While preparing for the JAIIB exam, believe in yourself as confidence is the key to success. Never be under pressure, and never underestimate yourself. On the other hand, don't be overconfident either. It will make you complacent and can reduce your preparation. Just have confidence and do your best.
Health is Wealth!
In order to achieve your goal, don't forget to maintain your health. Your physical and mental health is most important. Exercise regularly for your body's health and meditate for your mental health. Never ignore these two. Meditation not only helps you to have a peaceful mind, but it also boosts your concentration. Surround yourself with good people as negative surroundings will affect your confidence.
Conclusion
This was all about Preparation Tips for JAIIB Exam. Hope you found this useful! We want to be a part of your journey to reaching new heights in your career. Prepare well, take care of your health, and just don't worry about the exam. You have got this! Don't burn your head over the JAIIB exam, just do your part sincerely. You can visit our website and get free study materials.
Happy Preparation and Happy Learning!
All The Best For Your Exams!
JAIIB Study Material Compilation
Also Read:
FAQs
Q. When is JAIIB Exam? JAIIB Exam Dates 2022
A. PPB- 12-11-2022
AFB- 13-11-2022
LRAB- 20-11-2022
Q. Where to download JAIIB Admit Card 2022
A. The Admit Card for JAIIB 2022 is yet to be released. Once it is released you can find it in the Official IIBF Website.
DOWNLOAD THE OLIVEBOARD APP FOR ON-THE-GO EXAM PREPARATION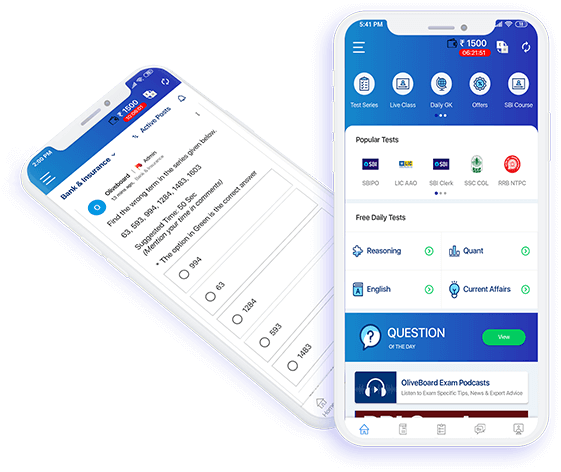 Video Lessons, Textual Lessons & Notes
Topic Tests covering all topics with detailed solutions
Sectional Tests for QA, DI, EL, LR
All India Mock Tests for performance analysis and all India percentile
General Knowledge (GK) Tests
Free videos, free mock tests, and free GK tests to evaluate course content before signing up!

Oliveboard is a learning & practice platform for premier entrance exams. We have helped over 1 crore users since 2012 with their Bank, SSC, Railways, Insurance, Teaching and other competitive Exams preparation.