India is a land of diversity symbolized by different Cultures. Different Dynasties of India at different points of time gave rise to the Intangible Heritage which we have today. India is globally recognized for its Art and Culture. Different Countries take keen interest in our Art and Culture and so does our examiners. Railways, a tangible asset to the nation never misses a chance to glorify our Intangible heritage in its exams. You will always find a place for Art and Culture in Railways General Awareness. In this Article let us learn a bit more about our rich heritage.
Indian Art and Culture for Railways General Awareness:
Art and Culture includes but does not limit to Music, Dance forms, Paintings, Handicrafts, Festivals, Theatres, Literature. Let us learn about them one by one so that we are well prepared for the Railways General Awareness section.
Attempt a FREE RRB NTPC mock test here.
1. Dance forms
Dance forms in India derives their themes from mythology, legends and classical literature having an unbroken tradition of thousands of years. It can be divided into two categories: Classical and Folk. Major Classical dance forms from our exam point of view are as follows:
| Classical   Dance Form | State of   Origin |
| --- | --- |
| Bharata Natyam | Tamil Nadu |
| Kathakali | Kerala |
| Kathak | Uttar Pradesh |
| Manipuri | Manipur |
| Kuchipudi | Andhra Pradesh |
| Odissi | Odisha |
| Sattriya | Assam |
| Mohiniattam | Kerala |
Download free E-books here for various topics of general awareness.
2. Paintings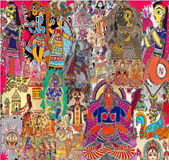 The 28 states and 8 union territories of the nation have their distinct cultural and traditional identities which are displayed through various forms of art. For Railways General Awareness, the following are the vital Paintings: 
| Form of  Painting | Prevalent  State/State of Origin |
| --- | --- |
| Thanjavur paintings/ Tanjore paintings | Tamil Nadu |
| Madhubani painting/ Mithila Art | Bihar |
| Warli folk paintings | Maharashtra |
| Pattachitra Painting | Odisha |
| Bani Thani painting | Rajasthan |
| Kalamezhuthu/ Kalam | Kerala |
Attempt a FREE RRB NTPC mock test here.
3. Literature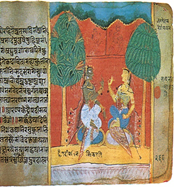 The tradition of Indian Literature is the oldest in the world. It was primarily oral and latter it was transmitted into written documents.
The Vedas are rich source of knowledge that originated in Ancient India. They were orally transmitted for many generations before being written down. Veda' is also called 'Shruti' meaning 'what is heard'. Following are the Vedas in their chronological order: Rigveda, Samaveda, Yajurveda, and Atharvaveda.
Apart from Vedas, other great literary works, which marked the golden era of Indian literature are as follows:
| Literature | Authored by: |
| --- | --- |
| Abhijanam   Shakuntalam | Kalidasa |
| Ratnavali | Sri   Harsha |
| Arthashastra | Chanakya |
| Meghdoot | Kalidasa |
| Svapna   Vasavadattam | Bhaasa |
| Mricchakatika | Shudraka |
| Gitagovinda | Jaydev |
| Ramcharitmanas | Tulsi   Das |
| Chandrakanta | Devaki   Nandan Khatri |
Download free E-books here for various topics of general awareness.
4. Festivals of India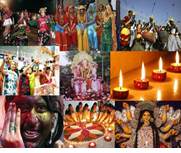 India's Diversity is India's Strength. Different Kinds of Festivals are celebrated across the country with great zeal. We have hundreds of festivals in our country but only some are important for Railway General Awareness section. Following are the important festivals of our great nation from exam purpose:
Festival

State

Brahmotsavam, Ugadi

Andhra Pradesh

Solung, Losar, Murung, Reh, Mopin, Myoko

Arunachal Pradesh

Ambubachi, Bihu, Dehing Patkai

Assam

Mando, Chikalkalo

Goa

Urs, Hemis, Tulip, Gurez

Jammu and Kashmir

Yaoshang, Chavang Kut

Manipur

Nongkrem Dance Festival

Meghalaya

Chapchar Kut

Mizoram

Hornbill Festival

Nagaland

Saga Dawa,

Phang Lhabsol

Sikkim

Pongal, Jallikattu

Tamil Nadu
Attempt a FREE RRB Group D mock test here.
That is all folks in this post! We tried to make you familiar with the Intangible Heritage of our great nation keeping in mind your precious time and purpose of reading this article for Railways General Awareness. We served you information from the exam point of view and we are certain that it will help you cracking the Railways General Awareness Section. Oliveboard wishes you all success in the coming exam!
Download BOLT – FREE monthly general awareness Ebook
Study at your own convenience anywhere. Download the Oliveboard app now!