The Reserve bank of India is one of the most prestigious organizations in the country. Every year RBI carries out direct recruitment of eligible candidates through an online examination. There are several perks and benefits of working in this sector, which is why most people prefer to go for Govt. jobs. Moreover, a lucrative pay scale attracts thousands and lakhs of students each year.
This blog post will give the candidates an insight into the work culture, career growth opportunities and job profile in this sector.
RBI Grade B Officer Posting: Job profile
Candidates who successfully pass all three phases of the examination (Prelims, Mains and Interview) are required to undergo training for the first 15 weeks. After the training period, the employees will be on a 2-year probation period (which can extend up to 4 years). During this time, employees are allotted to various departments. The duties and responsibilities of an RBI Officer involve:
Issuing and circulating currency to the nationalised banks

Ensuring the smooth functioning of the financial markets

Managing Central and Govt. bank accounts
RBI Grade B Officer: Salary and Payscale
The Basic Pay is Rs 55,200/-p.m. per month on the scale of Rs. 55200-2850(9)-80850-EB-2850 (2) – 86550-3300(4)-99750 (16 years)

The Gross Monthly Emoluments are Rs 1,08,404/- approximately.
RBI officers are also entitled to receive numerous benefits and allowances including House Rent Allowances, Dearness Allowance, Family Allowance, and Medical Allowance worth Rs.4500, Festival Allowances, Monthly Maid Allowance etc.
RBI Grade B Salary – Job Profile, Career Prospect & Salary Slip
RBI Grade B Officer: Job Posting/Location
The RBI Central office/headquarter is located in Mumbai. Besides, there are 31 Regional offices of RBI all across the country. Most of these offices are situated in metro cities or at least big cities- Delhi, Mumbai, Kolkata, Chennai, Bangalore, Hyderabad, Lucknow, Nagpur, Ahmedabad and others. RBI Officers usually get postings in any of these cities.
After the initial 4-5 years, employees are transferred to other locations, based on office requirements. RBI Officers are also provided accommodation and other facilities such as a 2-BHK apartment and reimbursement of vehicle expenses.
RBI Grade B Officer: Work Culture
RBI has fixed working hours. The office hours are typically between 9 am and 5 pm. The weekends (Saturdays and Sundays) are off. On top of that, RBI employees are sanctioned holidays. In short, employees get to reap the benefits of a great work-life balance.
RBI Grade B Officer: Career Growth and Promotional Opportunities
RBI offers its employees several opportunities for extensive career growth. The positions/levels in this sector are hierarchically structured. A Grade B Officer can get promoted up to the level of Deputy Governor, which is the second-highest in rank after the Governor of RBI.  RBI administers Departmental exams to speed up the procedure of promotion. Having worked as an RBI Officer, you also stand a chance to be associated with the prestigious World Bank, and the International Monetary Fund.
To sum it up, RBI Grade-B posting is one of the most sought-after positions to apply for. But to achieve your dream job, you must prepare yourself for the national-level examination.
Gear up for the upcoming RBI Grade B exam by appearing for online mock tests.
---
Download PDF eBooks Here
Download the Free eBooks PDF for your RBI Grade B preparation.
---
DOWNLOAD THE RBI, NABARD, SEBI Prep App FOR ON-THE-GO EXAM PREPARATION
The app provides comprehensive study material in form of online courses to ace these examinations.
The study material ranges from online LIVE classes, video lectures, study notes, revision sessions, past year papers, topic tests, the objective plus descriptive mock tests, mock interviews and much more.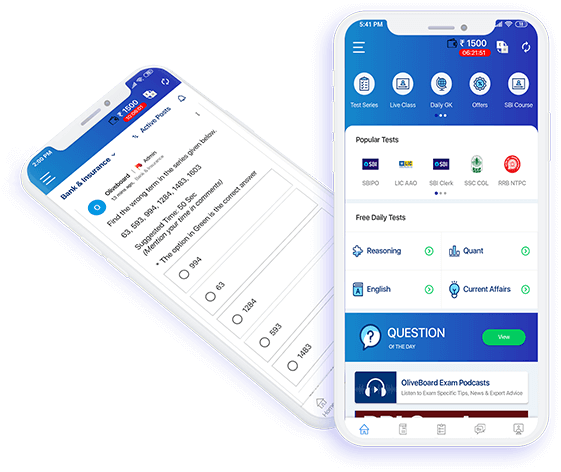 List of Exams
1) RBI Grade B Generalist Posts
2) SEBI Grade A Generalist Posts
3) SEBI Grade A IT Officer Posts
4) NABARD Grade A Generalist Posts
5) NABARD Grade A IT Officer Posts
6) NABARD Grade A Agriculture Officer Posts
7) NABARD Grade B Posts
8) SIDBI Grade A Officer Posts
9) FSSAI Recruitment – For Technical officers, Food Safety Officers and Assistants
Get free video lessons, mock tests and GK tests to evaluate course content before signing up!

---
RBI Grade B Crash Course 2023 by Oliveboard
If you are someone who is aiming to crack RBI Grade B Exam and are confused about how to go about the preparation, Oliveboard has come up with RBI Grade B Online Complete Plan to help you ace the RBI Grade B exam for sincere aspirants. Read below what is included in the Course.
Oliveboard offers the best RBI Grade B Online Coaching that can help you prepare comprehensively for the exam. Oliveboard's RBI Grade B Online Complete Plan 2023 will be your one-stop destination for all your preparation needs.
Go through free RBI Grade B study materials PDFs and take up RBI Grade B Free mock tests online.
1. Course Details
RBI Grade B Cracker is designed to cover the complete syllabus for the 3 most important subjects: 1. GA for Phase 1, 2. Objective Paper for Phase 2 + 3. Descriptive Papers for Phase 2 exam.
Not just that, it also includes Mock Tests & Live Strategy Sessions for English, Quant & Reasoning for Phase 1. The course aims to complete your preparation in time for the release of the official notification.
1.1. Features:
RBI Grade B 2023 Cracker Course Offerings:
Foundation LIVE Classes

for ESI & FM


ESI & FM Videos + Notes + 75+ Topic Tests



Phase-I CA Capsules (RBI BOLT)





Phase-II CA Capsules + Desc. Eng Prep





40 Objective Mock Tests (Phase 1 & 2)





10 Descriptive Mock Tests with Evaluation





Descriptive Model Q&A





ESI & FM Revision Sheets



---
1.2. How to Enroll for the RBI Grade B Online Course 2023?
Sign up or log in using the link given below. You will be redirected to the payments page. Read the course offerings and subscribe to RBI Grade B 2023 Complete Plan.
Now that you are aware of the RBI Grade B Online Classes, why wait?
Get Started with RBI Grade B 2023 Online Complete Plan comprising LIVE Classes, Video Lessons, Detailed Study Notes & All-India Mock Tests for Phase 1 & Phase 2.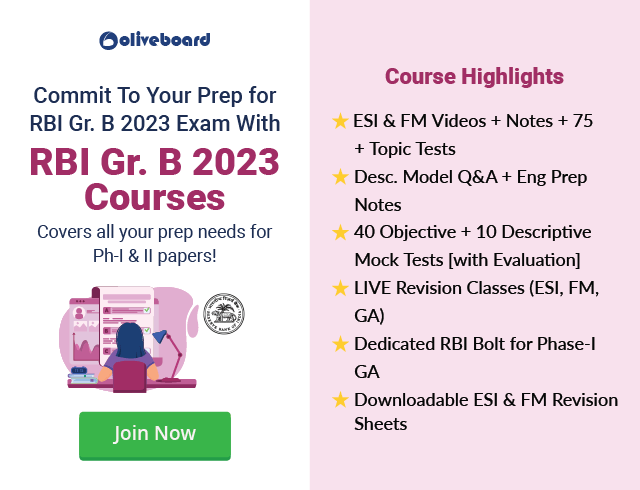 Use Coupon Code 'LAUNCH' & Get 20% off on RBI Courses
---
Connect with us on

The most comprehensive online preparation portal for MBA, Banking and Government exams. Explore a range of mock tests and study material at www.oliveboard.in