RBI Grade B is one such exam that is taken by lakhs of aspirants every year but only a very few of these are able to crack it. Have you ever given a thought as to what is common amongst these few? Well, Patience, Persistence, Perseverance, Hard + Smart Work, and most importantly Self-Motivation. Let's discuss here in this blogpost what all could be done to reach your career goal of becoming an RBI Grade B officer. Let's deep dive into the topic of RBI Grade B Preparation for a Working Professional.
RBI Grade B Preparation for a Working Professional
I. How to Start your Preparation?
1. Go through the complete syllabus 3-4 times, so that you get a clear idea as to what all topics you need to study for.
2. Have a thorough understanding of the exam pattern (Phase-1 & Phase-2).
3. Have a clear thought process in your mind that if you are ready to start your preparation for this exam and whether you are ready to sacrifice your comforts and work hard + smart for the same.
4. Start with the basics if you are a beginner. Have a self-made study plan.
Study the basics of Phase-1 Subjects (Quants, Reasoning, English & GA) and then gradually move on to the basics of Economics, Finance, and Management.
5. Start reading Newspaper articles on a daily basis. Aspirants can either read two separate newspapers (A regular newspaper and one based on Economy & Finance). Some of the most popular newspapers followed by RBI Grade B aspirants are Hindu, The Indian Express, Economic Times, Financial Times, Live Mint, Business Standard, etc.
6. Go through the Past Year Papers and understand the types of questions asked. Also, understand the trend of the past year's cut-off marks for Phase-1 & Phase-2.
7. Take up a Free Phase-1 Mock Test. Analyse-it thoroughly. Understand your strengths and weaknesses. As per the analysis, start working on them. Practice questions on your strong and weak topics as well as work on your other shortcomings such as your speed and accuracy.
---
II. Time Management Tips
1. For working professionals it is extremely important that they are able to manage their time efficiently.
2. It is crucial that you study regularly whether it is one hour or 3-4 hours. Continuity and persistency are the keys.
---
III. Preparation Tips
1. Have a firm grip on the basic concepts. You need to understand that fundamentals should be strong and unshakeable. Many of the questions asked in both Phase-1 & Phase-2 are very basic in nature.
2. Practice Descriptive English Writing (Essay, Letter, Precis') on a weekly basis. Practice ESI & FM Descriptive Answers + Objective Answers.
3. Current Affairs would play a predominant role both in Phase-1 and Phase-2.
Prepare current affairs for the last 6-8 months from the date of the examination.
But high priority should be given to the current affairs of the last 3 months.
4. Practice Mock tests for both Phase-1 and Phase-2 Papers. Analyse each and every question and answer given in the mock test.
5. Revise, revise and revise. Keep revising the concepts, your handwritten notes, formulae, current affairs, ESI & FM Topics, English Descriptive writing tips, etc.
---
IV. Preparation Plan as Per Changed Exam Pattern
Imp. Prep. Pointers for Phase-1 & Phase-2 Subjects

Phase-1 GA Coverage

· Give high priority to the CA of the last 3 months.

· Also, cover the CA of the Oct & Nov months.

· For Schemes, Reports & Indices, focus on the last 8 months of CA.

Phase-1: Quants, Reasoning & English
· Take 2 Mock Tests every week.

· Do analyse each one of them.

Phase-2 Subjects

· Prepare simultaneously for Phase-1 & Phase-2. You only have 3 weeks b/w Phase-1 & 2.

· Last 1 week before Phase-1 paper, focus completely on Phase-1 prep.

Management

· Cover all the chapters given in the syllabus and have a clear understanding of the concepts to be able to write descriptive as well as objective answers.

ESI

· Brush up on your basic concepts.

· Current affairs would dominate here.

· Know the latest development related to the topics given in the syllabus.

· Desc. Ques. can be of three types: Completely static, Static + Current Affairs + Completely Current Affairs Based or Opinion Based.

Finance

· Again, get your concepts strong.

· Cover all the topics given in the syllabus.

· Follow current affairs related to the topics in the Finance syllabus.

Mock Tests

· There is no alternative to practice.

· Practice Phase-1 mock Tests.

· Take Phase-2 Mock Tests (Objective + Descriptive).
---
V. RBI Grade B Preparation Strategy by Riti Mam
Get expert guidance for your exhaustive preparation of RBI Grade B Phase-1 & Phase-2.
1. Preparation Strategy & Plan
---
2. 3-Month Preparation Strategy 
---
This is all from us in this blog post elucidating the strategy of RBI Grade B Preparation for a Working Professional. We hope you like it and gain some useful insights from the same.
All the best for your preparation. Happy Learning from Oliveboard!
---
Download RBI Grade B Free PDF eBooks Here
---
RBI Grade B Crash Course 2022 by Oliveboard
If you are someone who is aiming to crack RBI Grade B Exam and are confused about how to go about the preparation, Oliveboard has come up with RBI Grade B Online Crash Course to help you ace the RBI Grade B exam for sincere aspirants. Read below what is included in the Course.
Oliveboard offers the best RBI Grade B Online Coaching that can help you prepare comprehensively for the exam. Oliveboard's RBI Grade B Online Crash Course 2022 will be your one-stop destination for all your preparation needs.
Go through free RBI Grade B study materials PDFs and take up RBI Grade B Free mock tests online.
1. Course Details
RBI Grade B Cracker is designed to cover the complete syllabus for the 3 most important subjects: GA for Phase 1 and Objective + Descriptive portions of ESI + F&M for Phase 2 exam.
Not just that, it also includes Mock Tests & Live Strategy Sessions for English, Quant & Reasoning for Phase 1. The course aims to complete your preparation in time for the release of the official notification.
1.1. Features:
RBI Grade B 2022 Cracker Course Offerings:
ESI & FM Revision Sheets

100+ LIVE Revision Classes

Phase-I CA Capsules (RBI BOLT)

ESI & FM Videos + Notes + 75+ Topic Tests

Phase-II CA Capsules + Desc. Eng Prep

40 Obj. Mock Tests (Ph-I & II)

10 Descriptive Mock Tests with Evaluation

Descriptive Model Q&A
---
1.2. How to Enroll for the RBI Grade B Online Course 2022?
Sign up or log in using the link given below. You will be redirected to the payments page. Read the course offerings and subscribe to RBI Grade B 2022 Cracker Course.
Now that you are aware of the RBI Grade B Online Classes, why wait?
Get Started with RBI Grade B 2022 Online Crash Course comprising LIVE Classes, Video Lessons, Detailed Study Notes & All-India Mock Tests for Phase 1 & Phase 2.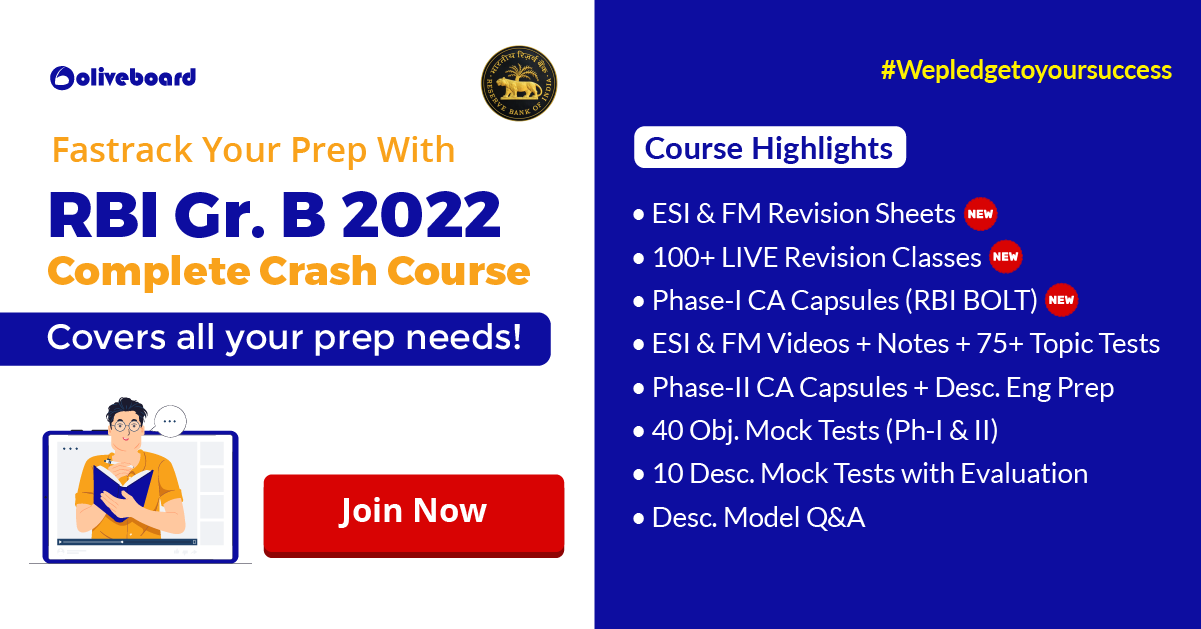 Use Coupon Code 'LAUNCH' & Get 30% off on RBI Courses
---
Connect with us on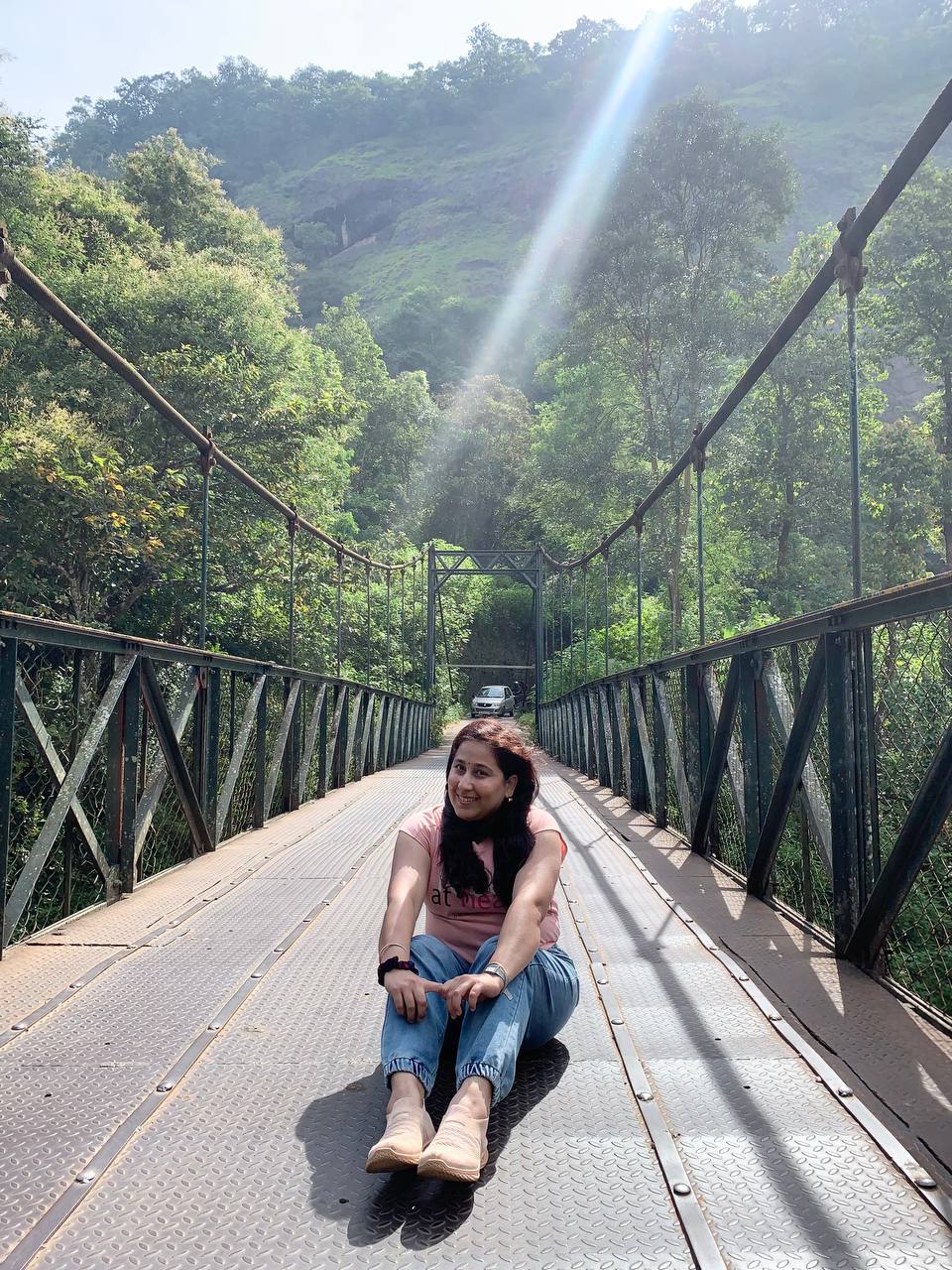 I enjoy creating SEO-friendly, information-rich marketing content. Cooking is therapeutic! I like to cook and eat it too!
  Oliveboard Live Courses & Mock Test Series