In order to increase operational safety and personnel quality, aptitude tests will be required of applicants who pass the written exams administered by Railway Recruitment Boards (RRBs) against the direct recruitment quota for hiring into the safety categories of staff. Know what is RRB NTPC Psychometric Test here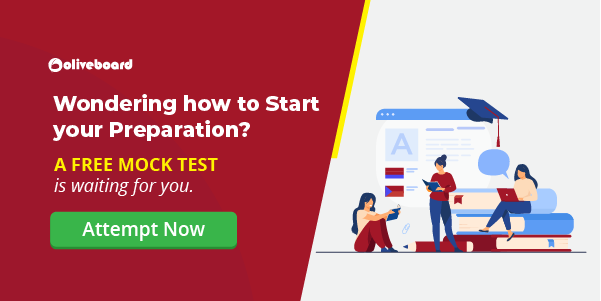 RRB NTPC Psychometric Test
The Psychometric Test is for direct recruitment of the safety category staff like ASM and other staff like:
Assistant Station Master 
Assistant Driver (Diesel/Electric)
Motorman (EMU/MEMU/DMU)
After passing in the RRB NTPC CBT 2, to recruit the safety staff category like ASM,ASM, SM, TA, & ALP the board conducts a Psychometric Test. In which they conduct 4-5 computer based aptitude tests. Candidates need to pass in each test in order to qualify for the post. The RRB NTPC Psychometric test is not just a qualifying test, it contributes 30% marks in the final merit list. 
Psychometric Test- Exam Pattern 
| | | |
| --- | --- | --- |
| Subject | No. of questions | Duration |
| Intelligence Test | 35 | 10 Mins |
| Attention Test | 30 | 08 Mins |
| Spatial Scanning Test | 40 | 08 Mins |
| Information Ordering Test | 25 | 10 Mins |
| Personality Test | 35 | 12 Mins |
Important Information Regarding RRB NTPC Psychometric Test
The Psycho Technical Unit of the RDSO (Research, Design and Standards Organization), which is affiliated to the Chief Safety Officer of the relevant Zonal Railway, will administer and assess aptitude tests in coordination with the Railway Recruitment Board.
The tests will be carried out by an SSO/JSO associated officer that the Chief Safety Officer has nominated.
Each case will be decided by RDSO regarding cut in off marks.
Out of the 9 Psycho test in RRB NTPC, atleast 5 tests will be conducted 
Scoring minimum qualifying marks in each Psycho test is mandatory 
The Psycho test will use a multiple cutoff system, which requires candidates to pass each portion of the test separately.
A candidate will be disqualified from the selection process if he receives a score below the threshold in any of the aptitude test's subtests. 
To create a combined merit list based on a total score of 100, the written test and aptitude test results would be merged together.
The split between the written test and the aptitude test will be 70:30.
In the final merit list of the RRB NTPC SM post, the ratio of marks of Written and Psycho test will be 70:30 respectively 
Psychometric Test
RRB NTPC Psychometric Test is to get the most suitable candidates. To select the best for the position the board conducts exams like
Intelligence Test
Attention test
Spatial Scanning Test
Information Ordering Test
Personality Test
Intelligence Test – Psycho Test
In this section of RRB NTPC Psychometric Test, under Intelligence test you will get classification test. Here you will be given 35 questions with 10 minutes duration to finish the test. In this test you will be given 5 figures in each question, out of those five figures 4 will be similar in one or the other way but 1 figure will be different, you should find that odd figure and that will be your answer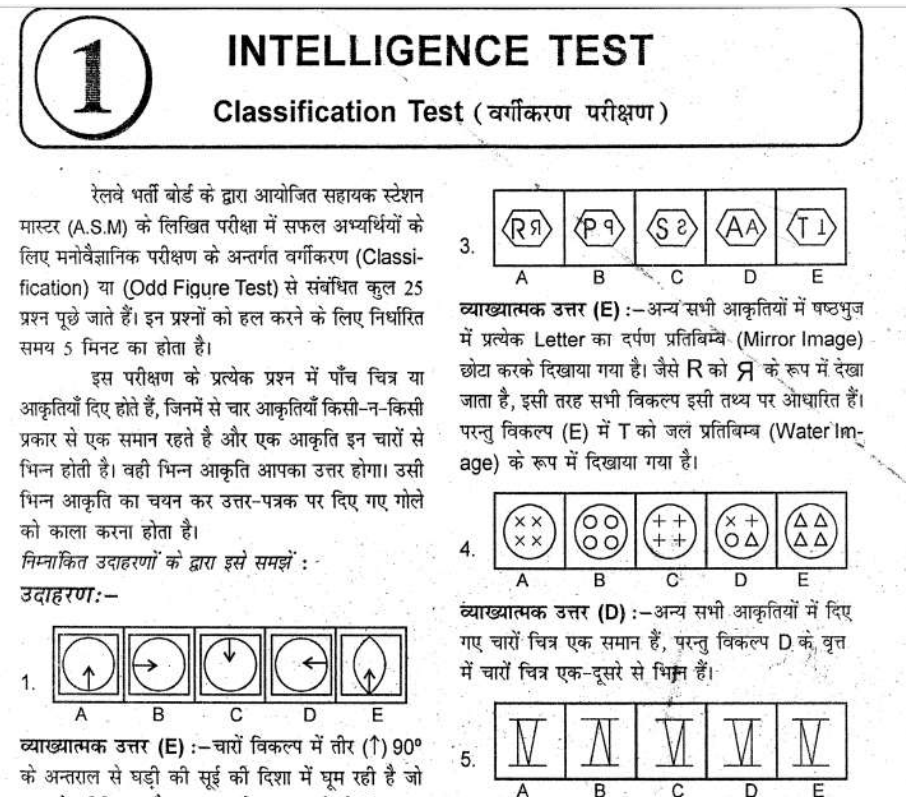 Attention Test
Under Attention test you will be given an Add of odd number test to examine your concentration in the RRB NTPC Psychometric test. You will get 8 minutes to solve 30 questions. In this section you will be given a series of odd and even numbers. You have to add the odd numbers and your answer will be the sum of odd numbers.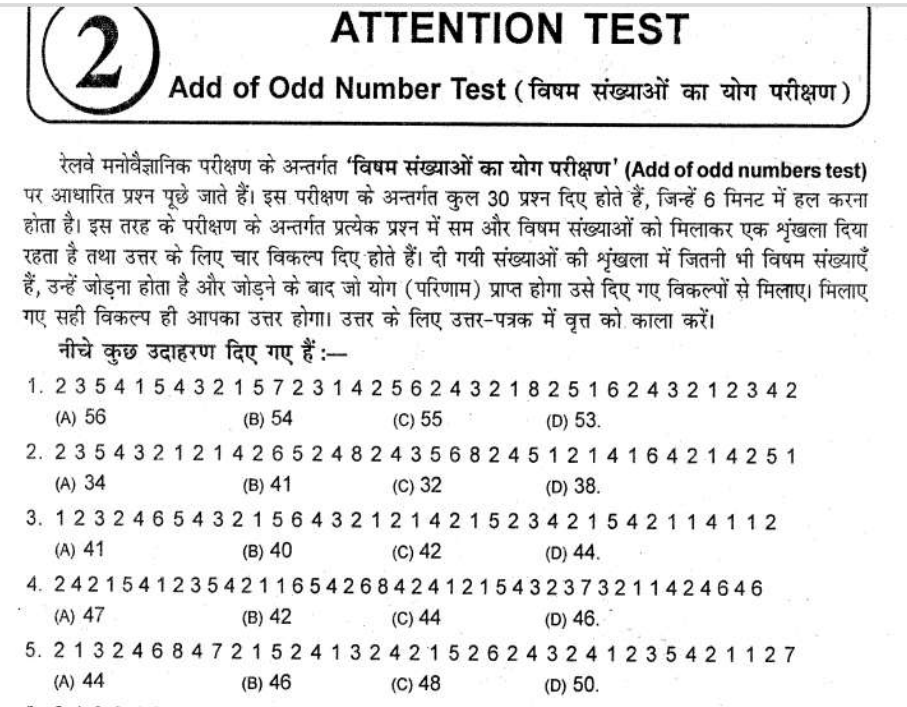 Spatial Scanning Test
The Psycho test will have a Spatial Scanning test in which you will get 40 questions to solve in 8 minutes. Your ability to determine the shortest path between any two locations represented by the alphabets from A to Z will be tested in this test. On a map (grid), streets are indicated by dark lines. The squares with numbers in them represent residences, and the circles stand in for impenetrable barricades. The number of the house you passed by will be your response as you must determine the quickest path between any two points. The following guidelines must be followed while determining the quickest route: 
1) There will only ever be one house in the way of the shortest path.
2) Multiple paths can lead to the same house falling.
3) A route will not be counted if it simply touches the corner of a home.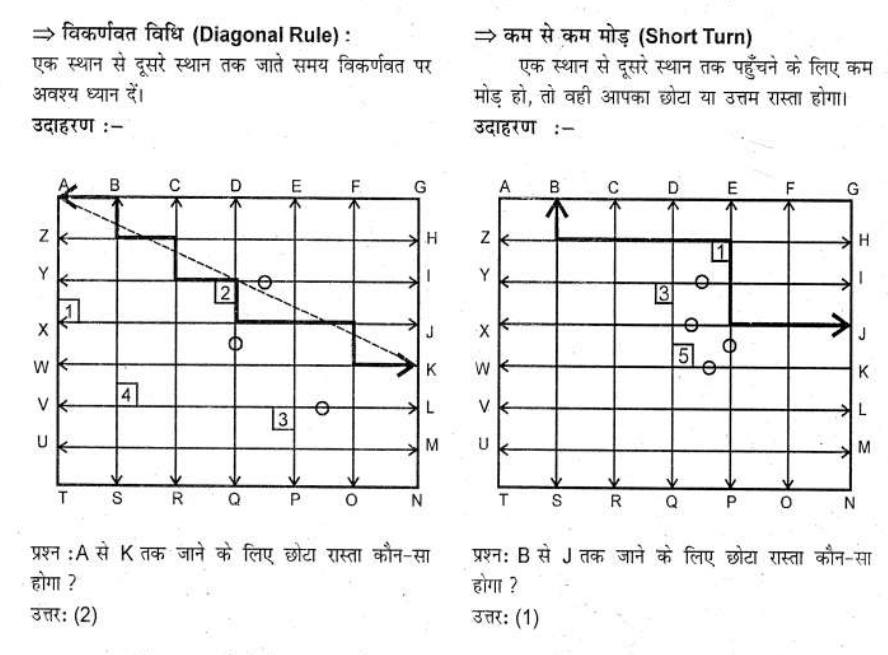 Information Ordering Test
The capacity to carry out tasks in accordance with instructions is being tested. This psycho test consists of 25 questions, and you have 10 minutes to answer them. Practice as much as you can because you only have about 24 seconds to respond to each question.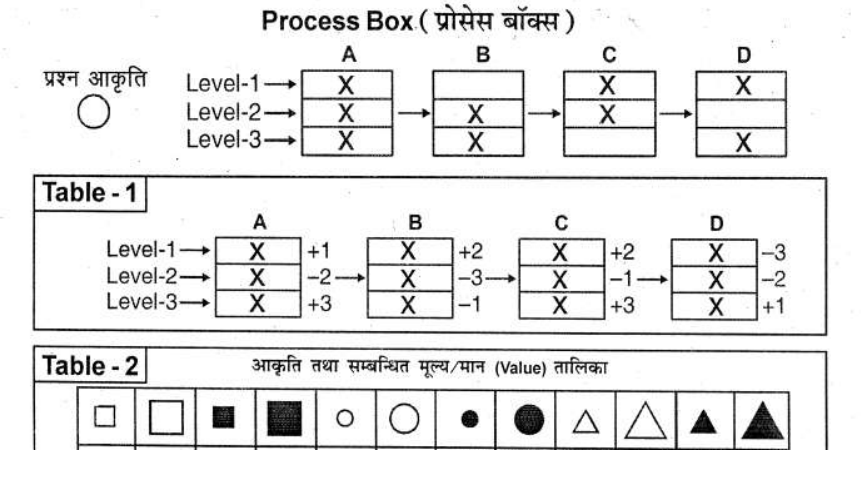 Personality Test
In this personality test, aptitude tests are given. This test's objective is to evaluate your personality by learning about your aptitudes, your way of thinking, your capacity for swift decision-making, your awareness of the people and events around you, your attitudes and conduct toward the general public, etc. Two different aspects of your personality will be evaluated based on the responses you provide, and two different test scores will be generated as a result.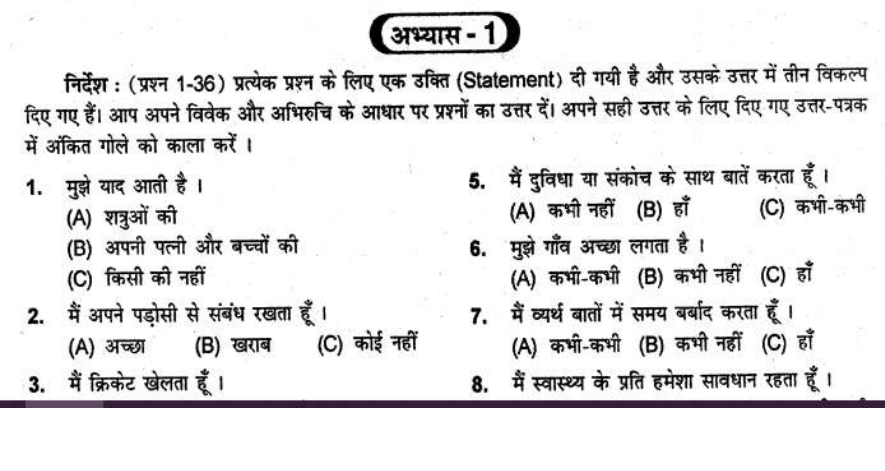 How to Qualify RRB NTPC Psychometric Test
Any aptitude test examines your thinking, your ability to solve problems etc. You can improve your way of thinking and problem solving only through practice. The RRB NTPC Psychometric test requires you to be quick and efficient. It can be achieved only through regular practice.
Hence taking mock tests and guidance are essential. You can find many such mocks and guidance online. Oliveboard is also offering RRB NTPC Psycho Test batches. Check the details below
RRB NTPC Psycho Test_Selection Batch – What can you expect?!
30+ Classes For Learning & Concept Building for Psycho Test
Complete Coverage of Intelligence Test, Selective Attention Test, Spatial Scanning Test, Information Ordering Test & Personality Test
Expert Guidance will be provided to crack Psycho Test easily
Classes will be focused to develop an approach to solve the question at minimum time.
Class notes are available in PDF format for easy learning and quick revision
Latest pattern and syllabus based classes
5 Sectional Test will be provided where 10 Sets for each Topic in PDF format
Faculty teaching psychometric tests for railways for last 15 years
Taught more than 50,000 students for ASM, SM, TA, & ALP
DOWNLOAD THE OLIVEBOARD APP FOR ON-THE-GO EXAM PREPARATION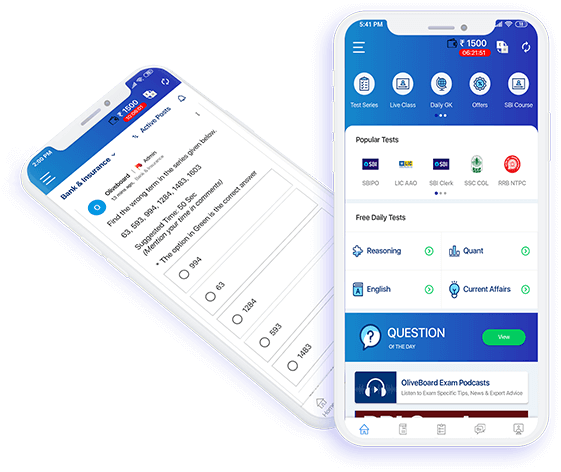 Video Lessons, Textual Lessons & Notes
Topic Tests covering all topics with detailed solutions
Sectional Tests for QA, DI, EL, LR
All India Mock Tests for performance analysis and all India percentile
General Knowledge (GK) Tests
Free videos, free mock tests, and free GK tests to evaluate course content before signing up!

Oliveboard is a learning & practice platform for premier entrance exams. We have helped over 1 crore users since 2012 with their Bank, SSC, Railways, Insurance, Teaching and other competitive Exams preparation.