We have often observed aspirants struggling in the Numerical Ability/Quantitative Aptitude section of banking exams. They often find it difficult to prepare and thereafter score well in this specific section. But a little understanding of the topics and enough practice is sufficient to crack SBI Clerk Pre as well as Mains. Here in this blog, we are presenting the exact same information. This is a definitive account from a former successful aspirant and will give you a transparent view of SBI Clerk Quant – Prelims Vs Mains topics that feature in the SBI Clerk exam. Here is a thing that aspirants should remember – "Cracking Mains is easier than Cracking PRE".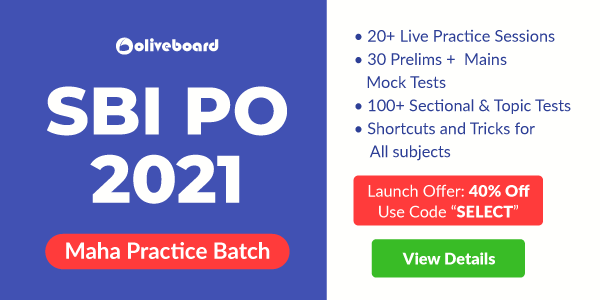 SBI Clerk Quant – Prelims Vs Mains
Before we move to specific type of question asked in SBI Clerk pre and mains, here is a basic comparison to start with.
| SBI Pre | SBI Mains |
| --- | --- |
| Your PRE Target Should be 85% marks | Mains Target Should be 55% to 60% marks |
| You have to cover almost everything | You can skip some topics |
| PRE Ideal Attempts – 30+/35 | Mains Ideal Attempts– 35+/50 |
Topic Wise Analysis | SBI Clerk Quant – Prelims Vs Mains
The SBI Clerk Syllabus for quant overlaps in a lot of topics. Questions of same topic are asked in both SBI Clerk Pre and Mains but the basic differences in them are the length of question and the difficulty levels. Here is a list of topics with types of questions asked in SBI Clerk Pre and Mains respectively.
Topic
Quant Questions – SBI Clerk Prelims
Quant questions SBI Clerk Mains
Time & Work
Mohan and Sohan can do a piece of work in 24 days and 40 days respectively. They stated working together and after for 10 days, Sohan left. Mohan completed the remaining work alone. In how many days was the work finished?
Six men and two women can complete a task together in 9 days. Seven women and four men can complete the same task together in 5 days. In how many days can 15 men complete the task together?
Mixture and Allegations
There are two bottles contain 400 ml of honey in first bottle and 800 ml of sugar syrup in second bottle. 4/5 part of honey from 15 bottle and 3/5″ part of sugar syrup from 2″ bottle are mixed and then 1/4″ part of mixture is replaced with honey, then what is the ratio of honey and sugar syrup in the final mixture?
A milkman mixes two mixtures P and Q of milk and water in the ratio 2: 3 to form mixture R and sold this mixture R at the cost of
pure milk and earns 25% profit. If the ratio of milk to water in mixture @ is 5: 1, then out of total quantity of mixture P what percent is water?
Number Series
Find the wrong term in the series given below.
257, 129, 67, 33, 17,9
Almost similar.
Partnerships
A, B and C invested money in the ratio 2:3:5. If the profit at the end of the year is Rs 10,000, what is the value of A's share?
A, B and C enter into a partnership with an initial investment of Rs. 25000, Rs. 20000 and Rs. 15000 respectively and after 6 months D join them with an initial investment of Rs. 30000. Further 6 months later, both A and D again invested Rs. 3000 more into the business. At the end of three years, what is the ratio of profit earned by A, B, C and D?
DI
Pie Chart – Total number of notebooks manufactured by five
companies in a month = 48000. What is the ratio of number of notebooks manufactured by T and U together to the number of notebooks manufactured by W alone?
Line Graph (3 variables) – Following radar graph represents the data regarding number of students doing B.Tech in three different fields from three colleges A, B and C. (every college has only three given fields). If in college C, 30 girls are doing B.Tech in mechanical engineering, 25 girls are doing B.Tech in electrical engineering and 20 girls are doing B.Tech in civil engineering, then approximately what percent of total students are boys in same college?
Mensuration
The length of a rectangle is 4 cm more than its breadth. If the area of the rectangle is 45 cm, what is the perimeter of the rectangle?
Quantity 1: The total surface area of a hemisphere is 462 sq. cm, then what is the radius of the hemisphere'?
Quantity 2: 10 cm. Followed by 4 options comparing the quantities
Ratio and Proportion
The ratio of present age of Dheeraj, Kush and
Vihan is 5: 7: 8 and Kush is 16 years older than Dheeraj. What was the ratio of Dheeraj Kush and Vihan before 4 ago?
Find the average of the present ages of Veera and Riya.
Statement I: Respective ratio of the ages of Veera and Meera before four years was 2:1. Present age of Riya is average of the present ages of Veera and Meera.
Statement II: After four years, respective ratio of the ages of Veera and Meera will be 5:3.
Average

Average marks of total 50 students of a class in science are 72. If average marks of boys is 75 and average marks of girls is 60, then how many boys are there in the class?
Average weight of girls in a class is 23.8 kg and average weight of all 60 students in same class is 34 kg. If number of girls in class are 8 less than number of boys, then find average weight of bays.
Approximation
Level – Easy
Not asked
SI/CI
The difference Compound and Simple interest between a sum at 10% per annum over a 2 year period is Rs. 450. What is the
Principal sum?
If the compound interest on a sum of Rs.5000 at r% rate of interest for two years is Rs.1612.5, then what will be the difference between simple interest and compound
interest on 20% more sum at (r + 5)% rate of interest for 3 years?
So we can say that the level of Quant in SBI Clerk PRE and Mains will be slightly different for those who rely on tricky ways to solve questions, but it would be the same for conceptual minds.
SBI Clerk Prelims Exam Pattern
Now let's have a look into the exam pattern of SBI Clerk. Preliminary Examination (online) consisting of Objective Tests for 100 marks will be conducted online. This test would be of 1-hour duration consisting of 3 Sections as follows:
*1/4th of mark assigned for the question will be deducted for each wrong answer.
SBI Clerk Quant Syllabus 2021 – For Prelims
List of Quant Topics for SBI Clerk 2021 Exam is as follows -:
| | |
| --- | --- |
| Equation and Algebra | Permutation and Combination |
| Data Interpretation | Averages |
| Work and Time | Partnership |
| Volume & Surface area | Number Systems |
| Upstream and Downstream | Mixtures and Alligations |
| Time & Distance | Mensuration – Cylinder, Cone, Sphere |
| Simplification | Simple Interest and Compound Interest |
| Surds & Indices | Sequence & Series |
| Stock & Shares | Ratio & Proportion, Percentage |
| Probability | Profit and Loss |
| SI & CI | Work & Time |
| Pipes & Cisterns | Problems on Age |
SBI Clerk Mains Exam Pattern
The structure of the main examination (online objective type) would be as follows.:
*1/4th of mark assigned for the question will be deducted for each wrong answer.
SBI Clerk 2021 Quantitative Aptitude Syllabus
Following is the List of Topics for Quantitative Aptitude on which questions will be asked in the SBI Clerk Main Exam, this is very much similar to the quant section as appeared in the prelims phase, but the level of questions are on the higher side and will require candidates to be more thorough with their knowledge.
Approximation and Simplification, Boats and Stream Problems, Data Sufficiency, Data Interpretation – Caselete, Radar/Web, Bar Graph, Line Chart, Tabular, Pie Chart, etc. Number Series, Average, HCF and LCM, SI & CI, Problem on Ages, Pipes and Cisterns, Probability, Mixture and Allegation, Mensuration, Permutation and Combination, Profit and Loss, Ratio and Proportion, Partnership, Quantity Comparison, Speed Distance and Time, Train Problems, Work and Time, Quadratic Equations.
Prepare for SBI Clerk Prelims With A Crash Course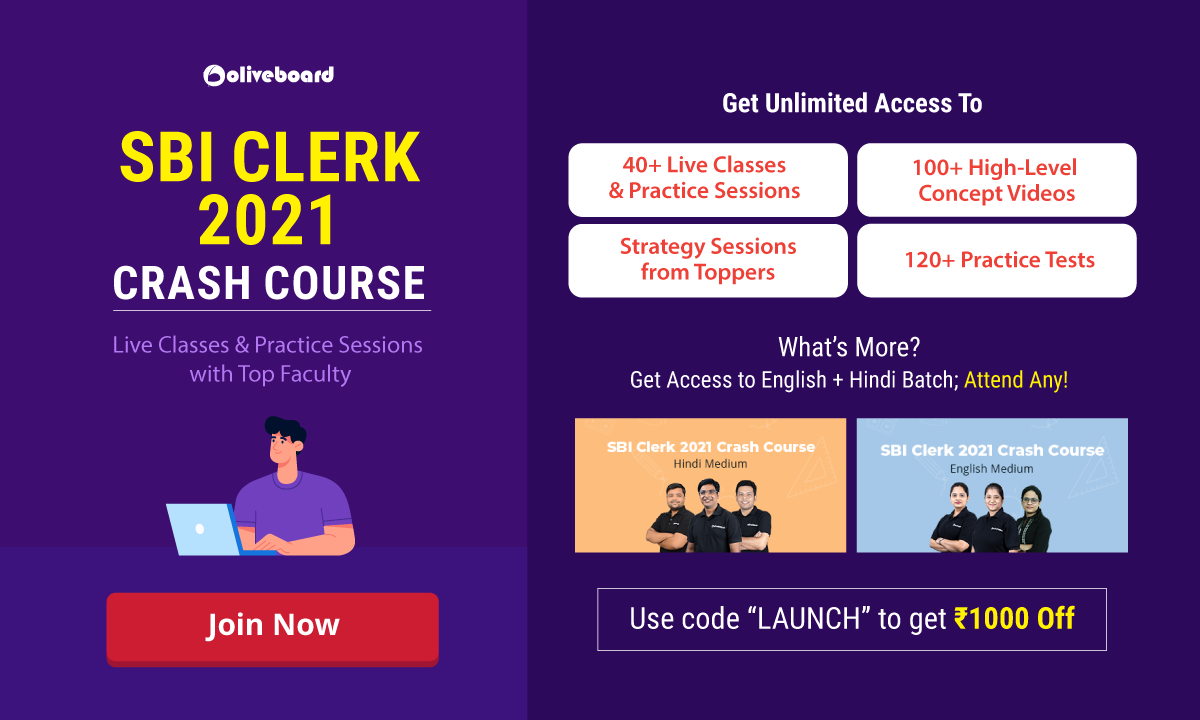 Helping anyone and everyone who wants to learn is the vision for us at Oliveboard, and we are following this through Online Mock Tests and now through our Online Learning Courses. Following are the details of the SBI Clerk 2021 Crash Course:-
40 Hrs Live Video Classes By The Best Faculty: In these classes, India's Top Faculties are going to help you understand advanced concepts, tips, tricks, new pattern question, shortcuts to solve tricky questions etc.
15 Faculty-led LIVE Practice Sessions [LPS]: A live practice session (with Live Ranking) allows you to attempt exam-level questions in an exam-like scenario, with all your classmates. You will be given limited time for each question and your score will be based on how quickly you answer. After answering each question, you can see your scores and rank among all those who are in the session with you. Before moving to the next question, the faculty will also explain the solution and approach. The faculty will be present throughout to provide encouragement and explanation on how to answer the questions in the quickest manner.
Mock Discussion and Strategy Session: Discuss Mock Test with theExpert faculty. This would help you analyse not only how you attempted the question but also how you should have attempted it by maintaining both speed and accuracy.
SBI Clerk 2021 Mock Tests with Expert Analysis: No preparation is complete without taking mock tests and analyzing them. Hence, the package also includes 30 Mock Tests for SBI Clerk Prelims
Sectional tests, Topic Tests and GK Tests: Access to all the sectional tests, topic tests and GK tests to ensure your all-round preparation.
Day-Wise Study Plan- Get a FREE customized Study Plan as per your convenience to ensure you cover all topics along with Mock Tests & revision before the exam.
| | | |
| --- | --- | --- |
| Learning | Practice | Exam Strategy |
| 100+ Video Lectures | 15+ Live Practice Sessions (led by faculty) | Topper Strategy Sessions |
| PDF shared after EVERY class | 30 Mock Tests – Prelims | Mentor Strategy & Tips |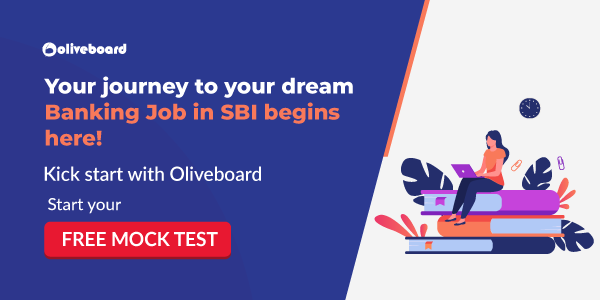 That's all we have for you in the blog SBI Clerk Quant – Prelims Vs Mains. Follow the table above to get a better understanding for difficulty levels of the paper and ace it with quality mock test on Olivebaord.
---
Recommended Readings
  Oliveboard Live Courses & Mock Test Series