SBI PO Mains 2021 exam is scheduled on 29th Jan 2021. Shortlisted candidates appearing in stage 2 of this coveted officer grade exam have already put so much of hard work and effort preparing for the prelims held earlier this year. And aspirants appearing for the mains exam must be aware of the SBI PO Exam Day Instructions to avoid hassles on the day of the exam.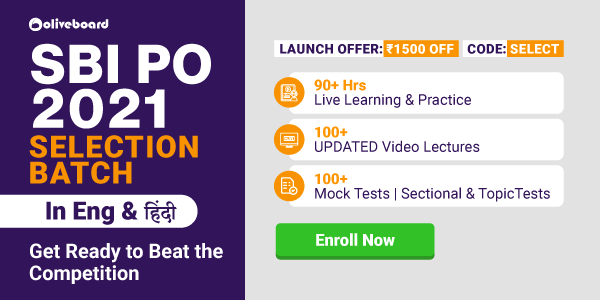 SBI PO 2020: Exam Overview
Exam name
SBI PO 2020
Exam Conducting Body
State Bank of India
Post
Probationary Officer (PO)
Frequency of exam
Once a year
Selection Process
Preliminary exam
Mains exam
Group Exercise & Interview
Exam mode
Online
Exam duration
Preliminary exam: 1 hour
Mains: 3 hours + 30 Minutes
SBI PO Mains Exam Date
29th Jan 2021
Exam pattern
Prelims: 100 questions
Mains: 155 + 50
Language of Exam
English and Hindi
Official website
www.sbi.co.in/careers/
Knowing the SBI PO Exam day instructions a day or two prior to the exam day will save you from hassles on the exam day, and you can focus on what is important i.e. acing the exam. Candidates should avoid discrepancies related to COVID-19 instructions and Admit Card + Identity verification documents.
SBI PO Mains Exam – Document & Stationary Checklist
These documents mentioned below are compulsory to enter the exam hall. Most importantly, reach the exam center least 30 minutes prior to the examination start time so that you can go through the initial checking barrier well in time. Carry the following documents without fail. Candidates will be permitted to carry only certain items with them into the venue.
Mask (WEARING A MASK is COMPULSORY)
Gloves
Personal transparent water bottle
Personal hand sanitizer (50 ml)
A simple pen
Exam related documents (Call Letter/Admit Card, ID card in Original, Photocopy of ID Card, etc.
Call Letter/Admit Card should be brought with the Photocopy of the Photo ID stapled with it. Original
ID (same as Photocopy) is also to be brought for verification. The name on the ID and on the Call Letter/Admit Card should be exactly the same.
In the case of Scribe Candidates – Scribe form duly filled and signed with Photograph affixed.
SBI PO Exam Day – Prohibited Items
As per standard SBI exam guidelines no candidate is permitted to wear charms, veil, items which contain metals such as a ring, bracelet, earrings, nose-pin, chains, necklace, pendants, badge, brooch, hairpin, hair band, clothes with full sleeves or big buttons, etc. The exam conducting body has advised candidates to wear open footwear like chappal or flats instead of shoes or heels. Here is a list of prohibited items –
Jewelry like mangal sutra, earrings, brooch, etc
Any food item or eatables or drinks etc
Wrist Watches
Magazines
Gold items like chains, rings, bracelets, etc.
Pen drives or any kind of storage devices
Any kind of Bluetooth devices/chargers/microphone/pager/earphones etc
Books/handbags/caps etc.
Paper Chits
Mobile Phones/goggles/badge etc.
Calculator
Camera or any other electrical device
SBI PO Exam Day Guidelines – List of Do's & Dont's
A candidate is required to report at the exam venue strictly as per the time slot mentioned in the admit card AND/OR informed via SMS/Mail on their registered mobile number/mail prior to the exam date. It is expected that candidate strictly adhere to this time slot – as entry into the exam venue will be provided based upon the individual's time slot ONLY. Candidates should report at least 15 minutes before the reporting time indicated on the Call Letter.
Mapping of 'Candidate Roll Number and the Lab Number' will NOT be displayed outside the exam venue, but the same will be intimated to the candidates individually at the time of the entry of the candidate to the exam venue and post their Admit Card/ Call Letter and ID verification.
Candidate should not share any of their personal belonging/material with anyone
Candidate should maintain a safe social distance with one another.
The candidate should stand in the row as per the instructions provided at the venue.
If a candidate is availing the scribe, then scribe also should bring their own Gloves, N95 Mask, sanitizer (50ml), and water bottle. Wearing a mask is compulsory. Both candidates and Scribe will require to be wearing N95 Mask.
A Candidate must have Aarogya Setu App installed on his mobile phone. The Aarogya Setu status must show the candidate's risk factor. A candidate will have to display this status to the Security Guard at the entry into the exam venue.
After the Aarogya Setu status display at the entry gate, candidates will be required to switch off their mobile phones, and deposit it at the designated location, to be collected while exiting.
All candidates will be checked with Thermo guns at the entry point for temperature. In case, any person is observed to be having above-normal temperature (> 99.14° F) or displaying any symptoms of the virus, they will not be allowed entry into the venue.
Candidate registration will be done through photo capture.
Rough sheets will be kept at the tables of each candidate and no additional rough sheet will be issued.
Candidates will be asked to drop off their sheets in the box allotted for the disposal at the time of exit from the lab after the completion of exams.
On completion of a shift, the candidates should move out in an orderly manner without crowding as instructed by the venue staff.
SBI PO Exam Day Guidelines – Self Declaration Form
In case a candidate does not have a smartphone, he/she will have to bring in a signed declaration to this effect and show the same to the Security Guard at the entry into the exam venue.
Candidates with Moderate or High-Risk Status on Aarogya Setu will not be allowed entry. In case any of the responses in declaration suggest COVID 19 infection/symptoms, the candidate will not be permitted inside the exam venue.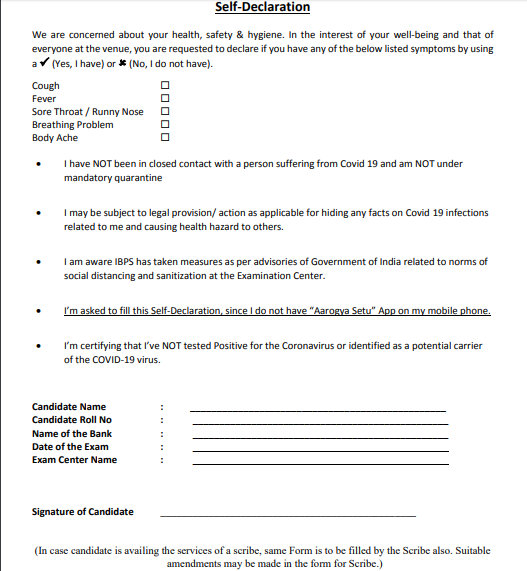 That brings us to the end of this article. Keep a check on all the social distancing norms and make sure that you are following it on every step starting from reaching the exam center till leaving the exam hall.
Also, Check:
SBI PO Exam Day Instructions FAQs
What documents are required at the Exam Center?
SBI PO Mains Admit Card,
Valid Photo ID Proof
Photocopy of Photo ID Proof
When is SBI PO Mains Exam?
IBPS RRB PO Mians Exam is on 29th Jan 2021
---
Recommended Free Downloads – Ebooks & Study Notes