Solve High Level Puzzles: Every year a number of competitive exams are held, and lakhs of students appear for these exams across the country. Some of the major exams these days are SSC CGL, SSC CPO, IBPS Clerk, IBPS PO, IBPS RRB Clerk, IBPS RRB PO, SBI PO, and SBI Clerk etc. The Quant, Reasoning and English sections are common to most of these exams. But reasoning section is something, which is asked in almost every exam. 
When we talk about the reasoning section, puzzles forms almost 10-20% of all the reasoning questions asked in these exams. So it becomes imperative to put extra focus on this section. Especially in the case of banking exams, puzzles form the major pillar of the preparation. In exams like IBPS PO, and SBI PO high level puzzles are asked. These high level puzzles can take a lot of time if you are not prepared enough to tackle them effectively. Here in this blog, we will discuss some tips and tricks to solve the High level reasoning puzzles with speed and accuracy.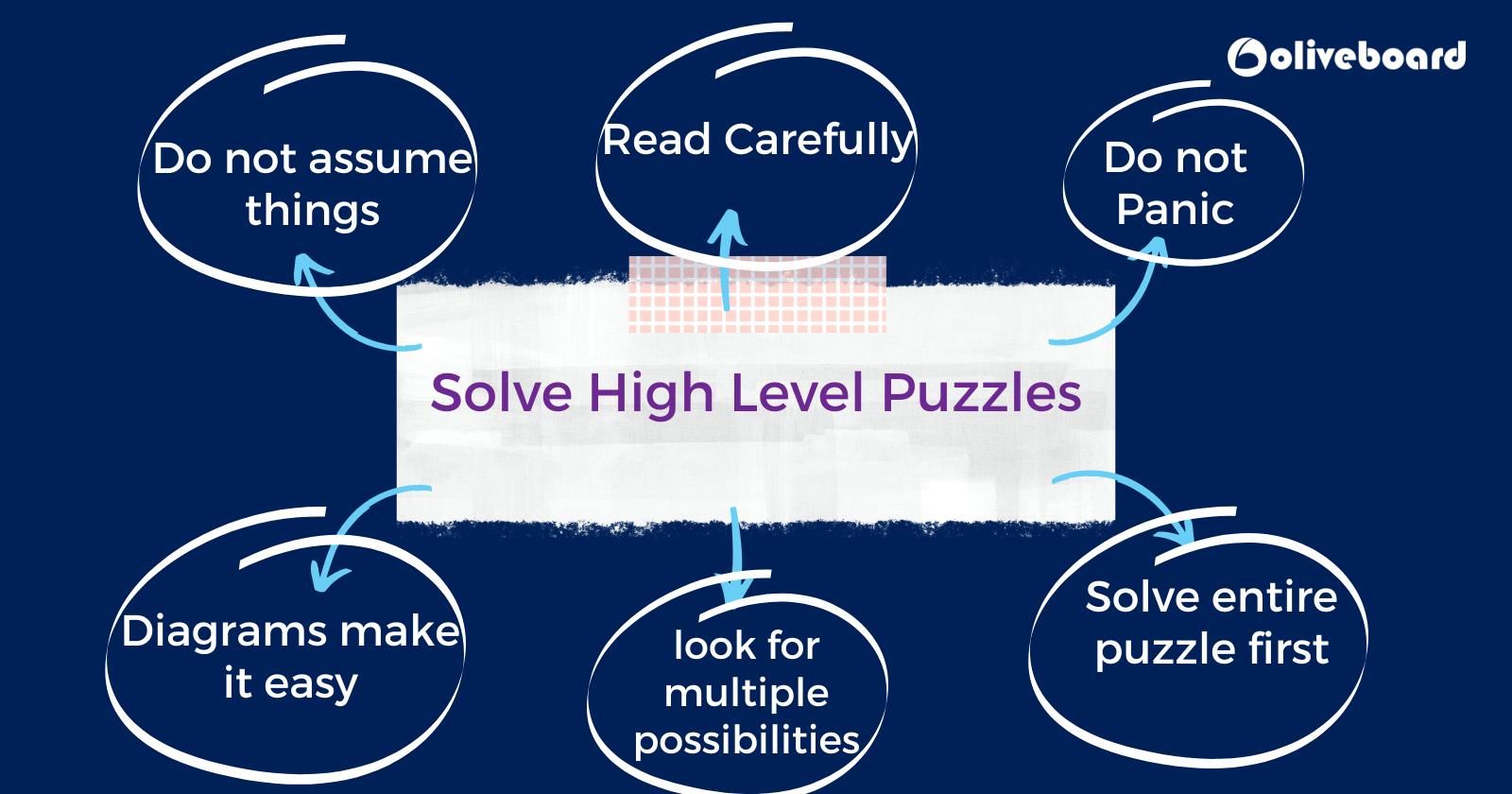 Tips to Tackle High level Puzzles in Reasoning Section:
Do not assume things:
Sometimes, while solving the puzzles, students tend to assume things on their own. The questions are formed that way to make student confused. remember one wrong assumption and your 4-5 minutes are gone, and you must know in the actual exam, every minute matters. So, try not to assume things on your own.
Read Carefully
Puzzles are most of the lengthiest questions in the reasoning section. Some of you may get perplexed by just looking at 6-7 lines paragraph. Get over this fear by practicing more and more questions related to puzzles. Try to read carefully, as the language used in the puzzle may be confusing at times.
Do not Panic
Exam pressure can hamper your ability to solve problems easily. Practicing as much as you can before the actual exam is best way to control your anxiety and fear in the exam hall. Panic can make you do silly mistakes. So if you are not able to make out what is asked in the puzzle, just take a deep breath and read again.
Solve entire puzzle first
Sometimes we tend to solve half puzzle and then try to answer questions, it is not a right way to tackle puzzle. First of all solve the entire puzzle, then jump to the questions. This way, you can answer all questions easily and accuracy will also be good.
look for multiple possibilities
Sometimes puzzles are formed in a way that there may be 2-3 possibilities in the question, try solving them all together, otherwise, if you stick to one possibility, you might realize it in the last that it was a wrong way of solving the puzzle. 
Diagrams make it easy
Whenever you solve a puzzle, try drawing short diagrams for your understanding. Keep cancelling the data that you find is not relevant. Try to make the data as compact as possible. For eg. In a question where relations are given, you can depict male by "+" and female by "-". Make easy diagrams, so that you can understand them easily.
Keep Aside that Data
Sometimes you might find a sentence in the starting which is supposed to be used in the last, make sure to note down that data in your paper, otherwise you may miss that.
Practice High level puzzles
Nearly everything can be done in this world by practice, so if you consider yourself bad at solving puzzles, then start practicing puzzles on daily basis.
Know how to solve different types of puzzles
Puzzles can be of multiple types, and you must know about them. Practice every kind of puzzle beforehand, so you won't find yourself at crossroad in the real exam.
If you want to solve puzzle questions, you can also Read:
Reasoning Puzzle Questions – For IBPS RRB, SBI PO & Other Bank Exams
You can also watch the following video, we have discussed detailed strategy & useful tips you can use to master the Puzzles section:
Questions Based on High Level Puzzles
Q.1. Nine people were born in nine different years among 1891, 1897, 1898, 1904, 1907, 1912, 1915, 1917, 1920. F was born immediately before H. Two people were born between C and I where I was born after C. D was born just after C in an odd year. Five people were born between H and B where H is born before B. C was not born in an odd year. A was born before E. Three people were born between G and D where G was born before D in an even year.
Q.2. A rack had 5 different shelves A, B, D, E, and F not necessarily in the same order. Each shelf had different jewelry on display viz. gold, silver, diamond, brass, and platinum not necessarily in the same order. Assume that the shelves faced north.
Shelf B was 3rd to the left of the shelf with the diamond jewelry.
Shelf D had the gold jewelry and was at one of the extreme ends.
Shelf A was to the immediate left of shelf E which had the silver jewelry.
The shelf with the brass jewelry was to the immediate left of the shelf with the platinum jewellery.
Shelf F was not neighboring the shelf with the gold jewellery.
You can also buy Oliveboard's book based on puzzles. It is prepared by the industry experts.
This is all from our side in this blog "Solve High Level Puzzles" Keep reading!
Solve High Level Puzzles Frequently Asked Questions
Are puzzles difficult to solve?
Puzzles are not difficult if you know the right method of solving them.
Where could I practice puzzle questions?
You can find the practice questions here in this blog.
How many questions are asked from puzzles in the banking exam?
Around 7-8 questions are asked in the banking exam, but in some other banking exams this number can be around 14-15.
DOWNLOAD THE OLIVEBOARD APP FOR ON-THE-GO EXAM PREPARATION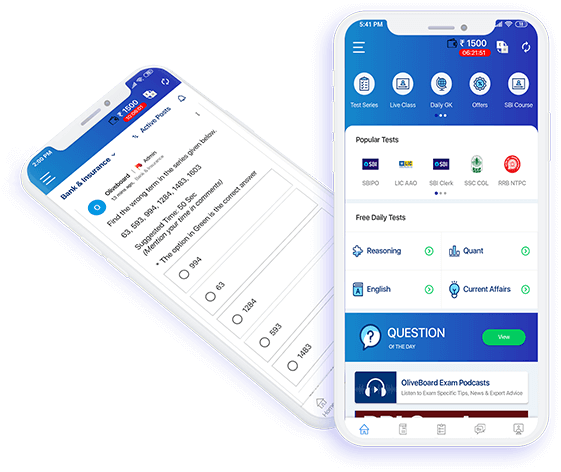 Video Lessons, Textual Lessons & Notes
Topic Tests covering all topics with detailed solutions
Sectional Tests for QA, DI, EL, LR
All India Mock Tests for performance analysis and all India percentile
General Knowledge (GK) Tests
Free videos, free mock tests, and free GK tests to evaluate course content before signing up!

The most comprehensive online preparation portal for MBA, Banking and Government exams. Explore a range of mock tests and study material at www.oliveboard.in