Read the success story of Suchana Ghosh, a Post-graduate (Integrated MSc) in Biotechnology, who shifted her focus from UPSC to clear RBI Grade B 2021 with flying colours. Go through her clinical journey from being a freelance educator to making her attempt count in RBI Grade B Exam 2021.
Inspiring Success Story of Suchana Ghosh
I post-graduated (Integrated M.Sc.) in Biotechnology in 2019. I started preparing for different examinations after that. I attempted central and state civil services examinations once, but could not clear them. After that, I started focusing on different banking examinations including RBI Grade B. I have no formal work experience but have done freelance tutoring in coaching institutes. 
Suchana's Subject-wise Preparation Strategy
I started the preparation sometime in January. Since ESI and Finance would only require revision from my end, I spent an entire month preparing only for Phase 1. After that, I revised the Phase II modules, with the addition of the current affairs inputs and the management section.
I was pretty satisfied with my performance in Phase II and eventually cleared it. After the results came out, I started the interview prep. It got delayed due to the pandemic, and a few anxious months ensued. My interview was more or less decent. Finally, when the results came, I was over the moon seeing my name in the final list. Life has changed drastically after that, and now I feel humbled and excited at the same time that I'll serve one of the most prestigious organizations in the country. 
Phase I
Quant and Reasoning
This section requires lots of practice. I arranged PDFs of previous years bank exams or mock exams and started practising them to get a feel of the types of questions asked and to gauge my ability. Next, I started giving mock tests which helped me to solve the questions in a time-bound manner, and I learnt the skill of choosing the questions according to my strength. Quant and reasoning practice I continued till the day before phase 1 to stay in the quick solving mode. 
English
This was a naturally strong section for me. I practised from mock papers, identified one or two grammar sections that needed revision and looked into them separately. One should inculcate the habit of reading text quickly as that immensely helps in the RC passages, both while reading it and while looking up a specific answer. 
GA
This section requires lots of reading and revision. I started with the current month's GA from a compilation and then kept going back up to 4 months. I kept the source limited to only the compilation of one publisher only and read and revised it multiple times. I also filtered the content according to the type of questions asked in Grade B phase I. After that, I gave mock tests which made me realize the different angles that a question can come from. I went through my wrong answers and revised them before the exam. 
After every mock test, I analyzed every section of the paper and tried to identify my mistakes, whether it was from a knowledge deficiency (GA, Eng) or from a wrong approach (Q, R). I tried not to repeat the same mistakes in the subsequent mocks, and if I did, I decided to leave those questions altogether in the actual exam to avoid negative marking. 
DOWNLOAD THE OLIVEBOARD APP FOR ON-THE-GO EXAM PREPARATION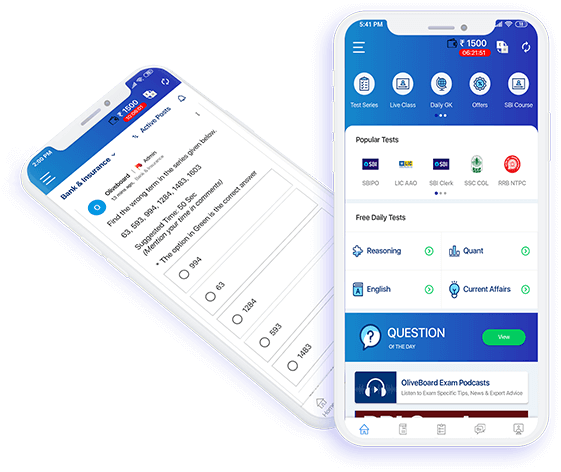 Video Lessons, Textual Lessons & Notes
Topic Tests covering all topics with detailed solutions
Sectional Tests for QA, DI, EL, LR
All India Mock Tests for performance analysis and all India percentile
General Knowledge (GK) Tests
Free videos, free mock tests and free GK tests to evaluate course content before signing up!

Phase II
ESI and Finance
ESI and the majority of the FM sections were prepared from my civils preparation. I revised those concepts thoroughly. For this exam, in-depth detail of facts and figures of different government schemes are required, which I did separately from compilations. Lots of revision is needed in order to remember the figures. I filtered out the not-so-relevant schemes and focused on the ones that appear frequently in news. For the latest reports and the current affairs related to ESI and finance, the GA compilations are enough. A few of the finance topics were new to me which I searched online and prepared separately. 
Management
Management is a very static and a very scoring subject. A good enough basic understanding and its revision are enough to clear this exam, according to me. I got hold of two management books by Robbins and one on business ethics and corporate governance as mentioned in the booklist by RBI. I opened the syllabus and searched every term/phrase in the books and made concise notes of every topic by myself. First of all, this helped me understand the topics very clearly and making notes was akin to the first layer of reading. Secondly, the notes served as an effective revision tool for the day before the phase II exam. This method proved very effective for me as I could complete this totally new subject in just three days. Making notes myself also eased me into gathering points, constructing large sentences and paragraphs needed for the descriptive part of the exam. 
English
I was more or less confident about English and didn't practice a lot. I looked up the rules for writing a good precis and followed them thoroughly in the exam. For RC I wrote the answers in my own language. And for the essay, I followed the word limit strictly and didn't repeat the points and kept things lucid and crisp.
---
Phase III – Interview
Biodata is the backbone of the interview. I analyzed mine and came up with a bunch of questions that can possibly be asked from it. I distributed my biodata to a few friends and asked them to give me a list of questions as well. I formulated the answers and noted them down. I rehearsed the answers in front of the mirror, which helped me overcome the uneasiness and check the level of my expressions as well.
I started reading one financial newspaper along with a regular newspaper. This helped me to form in-depth views and gain knowledge of the recent happenings in the economy. I also made 300+ flashcards online with basic ESI and finance questions and their short concise answers. This helped in eventual revision and deliver crisp answers confidently. I also prepared basic economic features of my city, district and state. I read and revised the entire document 'The functions and working of RBI'. Finally, I topped it off by giving 3-4 mock interviews where I identified my mistakes and tried to improve upon them. Each of my subsequent mocks was better than the previous one, which boosted my confidence. 
Role of Oliveboard in Suchana's Success
The Oliveboard mock tests for phase I were very helpful in my preparation. For many topics in Phase II, I took the help of their content. And finally, the mock interview I gave here was very enriching and enlightening. The panel was very cordial, gave advice on the important topics I should prepare, and were very encouraging. I felt very confident after the session and felt like I could carry myself well in the actual interview. I'll be grateful to Oliveboard for helping me so much during my preparation. 
Suchana's Tips for Aspirants
I'm a prime example that anyone from any background can clear this examination, even in a single attempt. The only thing you need is structured preparation. Clear your basics first,  limit your resources, do lots and lots of revision for GA and phase II and an equal amount of practice for QRE in phase 1. Practice typing long answers before phase II, preferably on an old keyboard with not-so-smooth keys. In the interview, personality and knowledge are equally important, and you have to own up to your past choices believably in front of the panel. Be confident, trust in yourself. Hard work and smart work will surely get you through. All the best to the future aspirants! 🙂 
---
RBI Grade B Online Course 2022 – By Oliveboard
Oliveboard offers the best RBI Grade B Online Coaching that can help you prepare comprehensively for the exam. Oliveboard's RBI Grade B Online Course 2022 will be your one-stop destination for all your preparation needs for Phase 1 & Phase 2.
Go through free RBI Grade B study materials PDF eBooks and take up RBI Grade B Free mock tests online.
Course Details
RBI Grade B cracker course is designed to cover the complete syllabus for the 3 most important subjects:
GA for Phase 1
Objective + Descriptive portions of ESI for Phase 2 exam.
Objective + Descriptive portions of F&M for Phase 2 exam.
Not just that, it also includes Mock Tests & Live Strategy Sessions for English, Quant & Reasoning for Phase 1.
The course aims to complete your preparation in time for the release of the official notification.

Features
RBI Grade B 2022 Online Course Offerings
Video Lessons & Study Notes
Mock Tests

90+ Video Classes for ESI & FM

LIVE + Revision Sessions for ESI & FM

10+ Descriptive English Classes

Detailed Study Notes ESI & FM Current Affairs Capsules & Past Year Papers

6 Descriptive Mock Tests (ESI & FM)

30 Objective Mock Tests (15 – ESI & 15 – FM)

10 Full-Length Mock Tests for Phase 1

75+ Topic Tests for each chapter of ESI & FM (1 Markers & 2 Markers)
*We will get your ESI & FM descriptive answers evaluated!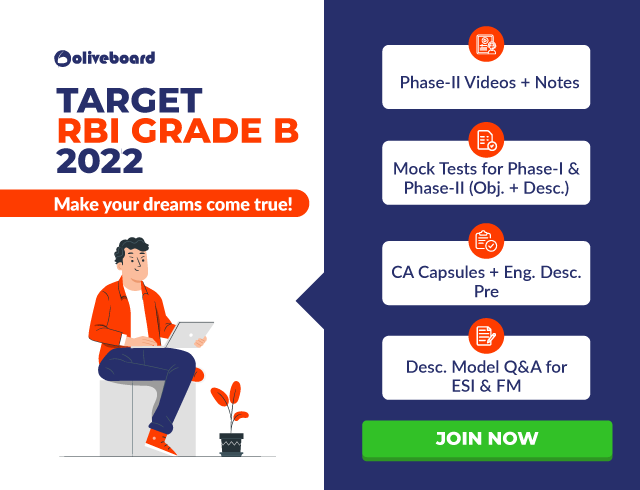 ---
How to Enroll for the RBI Grade B Online Course 2022?
Sign up or log in using the link given below. You will be redirected to the payments page. Read the course offerings and subscribe to RBI Grade B 2022 Cracker Course.
Now that you are aware of the RBI Grade B Online Classes, why wait?
Get Started with RBI Grade B 2022 Online Coaching comprising Video Lessons, Detailed Study Notes & All-India Mock Tests for Phase-1 & Phase-2.
Use Coupon Code LAUNCH & Get 20% off on RBI Grade B Course
Connect with us on:
  Oliveboard Live Courses & Mock Test Series