Cracking the KPTCL exam is a dream for many people. It is not an impossible dream, just with some tips and strategy, you can live and see your dream come true. To help you step up your KPTCL exam 2022 preparation, in this blog we are going to discuss some preparation tips for the KPTCL exam 2022.
INTRODUCTION
Karnataka Power Transmission Corporation Limited (KPTCL) is a company wholly owned by the Govt. of Karnataka. KPTCL is mainly vested with the functions of Transmission of power in the entire State of Karnataka and also Construction of Stations & Transmission Lines and maintenance of Sub-Stations. It operates under a license issued by Karnataka Electricity Regulatory Commission.
KPTCL recruitment exam is to test the technical knowledge of the candidates. There will be two rounds of KPTCL exams.
Preparation Tips for KPTCL Exam 2022
Understand what is KPTCL exam
Before starting the preparation for KPTCL, you should first understand the nature, pattern, and KPTCL syllabus for the exam. This is the first and foremost step for your KPTCL recruitment exam preparation. Go through the whole KPTCL syllabus as many times as possible. Go through the previous year's question papers. According to the weightage of the syllabus and pattern make a study timetable.
Make a Timetable
Yes! Preparing your timetable is vital, you should manage your time along with completing the syllabus. Managing your time accordingly will help you finish more of your syllabus. Soon after you go through the KPTCL syllabus, make a timetable. Prepare another timetable for revision before one month to your KPTCL exam date.
Tips to prepare your timetable
Distribute your daily schedule into parts.
Make short time breaks in between
Make time for your other activities
Assign a time period for your daily revision
Strictly follow the 7-hour sleep schedule
Know whether you're a nocturnal or diurnal person, and prepare the timetable which suits your way and don't go with what others are doing. Studying early in the morning is good but if you are a night person don't jumble up your schedule for this. You can study at night as well.
Master your basics for KPTCL Exam 2022
Be it the KPTCL exam or other, mastering your basic knowledge of the subject is important. These exams challenge your basic abilities. Hence, first, concentrate on getting your basics right.
KPTCL Recruitment Exam Pattern
The question paper is divided into 75% technical and 25% non-technical (general aptitude, general knowledge, and current affairs).
Technical Part of KPTCL Recruitment Exam – Electrical
Solve previous year's GATE and ESE papers to crack KPTCL 2022. Attempt as many free online mock tests for KPTCL as possible. You can attempt OliveBoard mock tests for KPTCL AE JE and JA for electrical engineering. KPTCL Assistant Engineer Electrical and KPTCL Junior Engineer Electrical by G.K Publications are the two best books to crack the KPTCL exam. And you can also refer to the following books.
For the electrical engineering
Objective Electrical Technology- V K Mehta & Rohit Mehta
Machines-P.S.Bhimbra
Power Electronics-P.S.Bhimbra
Control System-B.S.Manke
Power System-C.L.wadhwa
For the technical section, going through the basic concepts of all the subjects will be wise. In technical section, mainly the focus will be on machines like dc and induction, Networks, Power systems, digital signal processing, and control systems. The question will not be long. Enough time will be there and going through the fundamentals of subjects is recommended.
Non-technical Part of KPTCL Recruitment Exam
The non-technical portion of the KPTCL recruitment exam is of a very moderate nature. For the general awareness and common paper of KPTCL, you can go through the syllabus of maths, science, and social studies of class 10th. You can also download free ebooks corresponding to your general aptitude subject from Oliveboard.
DOWNLOAD THE OLIVEBOARD APP FOR ON-THE-GO EXAM PREPARATION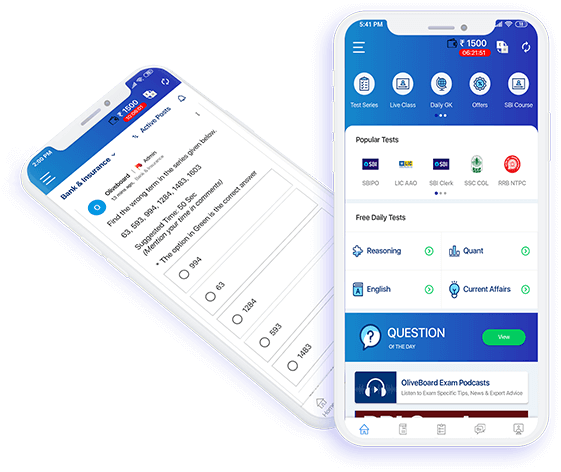 Video Lessons, Textual Lessons & Notes
Topic Tests covering all topics with detailed solutions
Sectional Tests for QA, DI, EL, LR
All India Mock Tests for performance analysis and all India percentile
General Knowledge (GK) Tests
Free videos, free mock tests, and free GK tests to evaluate course content before signing up!
Revising will be Wise!
Along with your daily studies make it a practice to revise daily. Do not ever skip this revising part, it will help you to dig into the core of a subject and will improve your basics. Make some short notes after finishing the chapter and go through them daily. Always finish your KPTCL syllabus before at least one month of the KPTCL exam date. Solely dedicate that one month to revision and along with your technical subjects revise general aptitude also.
Self- Evaluation
Does only Studying, and revising help you to crack the KPTCL recruitment exam? The only way to find out this is through attempting mock tests. Attempt as many mock tests as possible before you appear for an actual KPTCL exam 2022. Mock Tests will help you to find out where you are failing. It will assist you in self-evaluation. To help you crack your dream exam, Oliveboard has mock tests for KPTCL exams. You can visit our website for more details.
Confidence is the key!
While preparing for the KPTCL recruitment exam, believe in yourself as confidence is the key to success. Never be under pressure, and never underestimate yourself. Simultaneously never be overconfident also, being so makes you ignorant towards your preparation. Just have confidence and do your best.
Health is Wealth!
In order to achieve your goal, don't forget to maintain your health. Your physical and mental health is most important. Exercise regularly for your body health and meditate for your mental health. Never ignore these two. Meditation not only helps you to have a peaceful mind, it also boosts your concentration. Surround yourself with good people as negative surroundings will affect your confidence.
Smarten your ways
Don't do hard work, work smartly! You all have heard this, it is indeed true. In the case of cracking the KPTCL recruitment exam, do not burden your head on mastering the whole KPTCL syllabus. Just see the pattern, analyze the weightage of each concept and immerse yourself in those more. Previous year's question papers and mock tests will help you to know your weak parts and focus on them. This way will help you finish your preparation and create time for your revision.
Conclusion
KPTCL recruitment exam is based on what you have learned in your degree. Keep that in mind. Just brush up your knowledge and master your basics. Do not pressure yourself with the exam preparation. Attempt mock tests, revise regularly and you just need to have a bit of confidence in yourself, then, you will surely crack the KPTCL exam 2022.

Oliveboard is a learning & practice platform for premier entrance exams. We have helped over 1 crore users since 2012 with their Bank, SSC, Railways, Insurance, Teaching and other competitive Exams preparation.
Oliveboard Live Courses & Mock Test Series