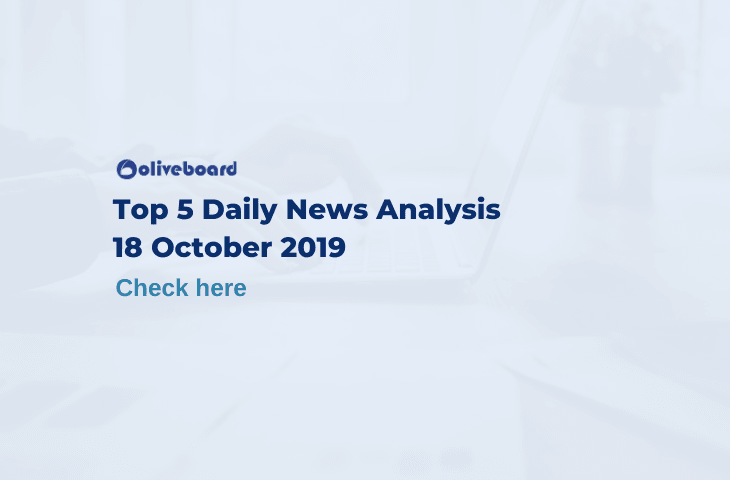 Top 5 Daily News- 18 Oct 2019 is an attempt to confine major news of the day at a single place. Aspirants preparing for various competitive exams have current affairs as a part of the exam which demands them of staying upto date with the latest current affairs. This Daily Blog will help you in acquiring major updates at a single place with an in-depth analysis of the news.  Prepare for exams like RBI Grade B, IBPS PO, IBPS Clerk, SSC CPO, LIC Assistant, etc. For more advanced exam practice, live video sessions, and live practice sessions, join Oliveboard Edge.
Join Oliveboard and learn from the Experts
Top 5 Daily News- 18 Oct 2019
Kerala Startup Mission to hold 4th Edition of IEDC
Kerala Startup Mission held the 4th edition of the IEDC ( Innovation and Entrepreneurship Development Centre) event in Kerala.
Kerala Startup Mission is an attempt to boost the culture of startup in Kerala state.
The theme of the event is 'Accelerating ideas to industry 4.0'. The event was held in Kodakara district of Kerala.
CEO KSUM – Saji Gopinath
Sajjan Jindal appointed as Vice-Chairman of Worldsteel
Global body of World Steel Association has elected JSW Steel CMD Sajjan Jindal as its Vice-Chairman.
Tata Steel CEO T V Narendran and ArcelorMittal Chief L N Mittal are members.
The World Steel Association is one of the largest Industry representation in the world and represents 85 percent of the World's steel production.
India ranks 3rd in the 2019 Hurun Global Unicorn List
India accounts for 21 out of world's 494 Unicorns. China has 206 while the USA has 203 Unicorns.
Unicorns refer to World's billion-dollar tech 'start-ups' founded in the 2000's and not yet listed on Stock Exchange.
This is led by One97 Communications ($10 Billion) followed by Ola ($6 Billion), Byju($6 Billion) and Oyo rooms ($5 Billion).
Beijing is the world's startup capital with 82 Unicorns.
World Giving Index
This day was founded by Charities Aid Foundation. The report for the World Giving Index is also released by the Charities Aid Foundation.
India has ranked at 82nd position out of the 128 countries. USA stood at the top followed by Myanmar and New Zealand.
At the bottom of the list are Yemen, Greece, and China. Few other countries and their ranks are as follows:
Nepal -53
Pakistan – 69
Mexico – 73
Brazil – 74
India and Oman comes together for Joint Exercise
Indian Air Force is participating in a Bilateral Joint Exercise with Royal Air Force Oman (RAFO) named as Ex-EASTERN BRIDGE-V.
The exercise to scheduled to take place from 17-26th October at Air Force Base in Masirah, Oman.
For the first time, a Mig-29 aircraft will be participating in an International Exercise outside India.
Oman Capital – Muscat
Oman Currency – Omani Rial
Watch the youtube video for more detailed news analysis for today with Abhishek Sir.
That is all from us today's blog for Top 5 Daily News- 18 Oct 2019. For more such information and exam related content please keep following Oliveboard.
Join Oliveboard and learn from the Experts
Also Check: