The UPSC EPFO is set to conduct the examination for the recruitment of Enforcement Officer under the Ministry of Labour & employment on 4th October 2020. The notification for this exam has been released after almost 3 years thus spiking the interest of the candidates. A large number of candidates are expected to appear in the examination. Many would be the ones appearing for the first time. In such cases, one question that crosses their mind is what will the paper be like? Well, to answer this we have come with UPSC EPFO Enforcement Officer previous year paper PDF to give you an idea of what it is going to be like.
Previous year paper not only helps in understanding the pattern but also guides your preparations accordingly. Here we will be covering a few topics like UPSC EPFO EO Previous year questions PDF, how previous year questions papers are useful and how to prepare for the enforcement officer exam.
Register Now & Get Daily Updates On Upcoming Exam & Courses
1. UPSC EPFO Enforcement Officer Previous Year Paper
The previous year paper can be downloaded by clicking on the link provided below:


Get UPSC EPFO Enforcement Officer Study Notes Here
Since the UPSC EPFO phase I Exam is a written test, the tests conducted are held under different set names. What we have included here is a 'Set A'. The pattern for the rest of the set remains the same the only thing that varies are the questions. These can be different from each other depending on sets.
2. UPSC EPFO EO Previous Year Paper -: Sample Questions
For your UPSC EPFO Exam preparation, you can practice the following sample practice questions based on UPSC EPFO Enforcement Officer Previous Year Question Paper. Here you go:
Q1) Who is the author of the work, "Evolution of Provincial Finance in British India: A study in the Provincial Decentralization of Imperial Finance?
a) Dadabhai Naoroji
b) Dr. BR Ambedkar
c) M.N. Roy
d) Jawaharlal Nehru
Q2) Which of the following is the appropriate question tags in the sentence, "Anyone can make mistakes, _____?
a) isn't it?
b) shall they?
c) can't they
d) is it?
Q3) Which one of the following publications was started by Khan Abdul Ghaffar Khan in 1928?
a) Pakhtun
b) Khudai Khitmadgar
c) Young India
d) India Awakens
Want to SOLVE More Questions – Attempt a FREE UPSC EPFO EO Mock Test Here
Q4) Which of the following is not a constitutional body?
a) The Election Commission of India
b) The Finance Commission
c) The Official Languages Commission
d) The National Commission for Women
Q5) As per the traditional approach, the expense to be matched with revenue is based on?
a) Original Cost
b) opportunity cost
c) replacement cost
d) cash cost
Q6) In the context of Accounting, the term IFRS stands for :
a) International Financial Reporting Standards
b) Indian Financial Reporting Standards
c) Indian Financial Reporting System
d) International Financial Reporting System
Q7) Work Committee, safety committee and canteen management committee are the examples of?
a) workers' participation in management
b) workers' education schemes
c) workers's cooperatives
d) workers' suggestion schemes
Q8) Which of the following is not a trade union security measures?
a) Closed Shop System
b) Agency Shop System
c) Open Shop System
d) Union Shop System
Get Complete FREE Mock Test for UPSC EPFO Here
Q9) Which of the following gases has the highest solubility in water?
a) Chlorine
b) Ammonia
c) Carbon Dioxide
d) Nitrogen
Q10) Which one of the following is hardware?
a) Powerpoint
b) Control Unit
c) Printer Driver
d) Operating System
Get Study Notes prepared by Toppers & Experts for UPSC EPFO EO
Q11) What is the maximum number of the spherical ball for radius 1 cm each that can be placed inside a cubical box of height 10 cm?
a) 25
b) 125
c) 250
d) 1000
Q12) The area of the smallest circle which contains a square of area 4 cm square inside is:
a) 3.14 cm square
b) 2* 3.14 cm square
c) 3* 3.14 cm square
d) 4*3.14 cm square
Download the complete set of questions based on UPSC EPFO Enforcement Officer Previous Year Paper here:


3. How Solving UPSC EPFO Previous Year Questions helps in preparation?
Solving previous year UPSC EPFO Question paper suffices more that one purpose. It helps you prepare for exams especially with exams like UPSC EPFO Enforcement officer exam upcoming. This paper will give you an added advantage. Here are a few highlights:
Gives a brief description of the exam pattern and the types of questions that can be expected.
Aspirants appearing for the first time are hugely benefitted by Previous year question papers. It helps them understand the topic that has been asked in the exam.
Going through the paper also allows one to plan their studies and pick on the important topics for the exam.
Solving the UPSC EPFO EO previous year questions gives an insight on what the paper will look like and how it will be this time (a brief idea). – Attempt Free Questions Now
The biggest factor is it induces confidence in the individual to appear for the UPSC EPFO enforcement officer 2020 exam.
Preparing For UPSC EPFO EO? Start Now with a Free Mock Test
4. UPSC EPFO EO – Online Preparation With Oliveboard
To give you all-around preparations for the UPSC EPFO enforcement officer exam, we at Oliveboard have come up with a solution. You can now get access to 10 full-length latest pattern mock tests and study notes on topics under the following sections, science, computer knowledge, social security & general accounting principles.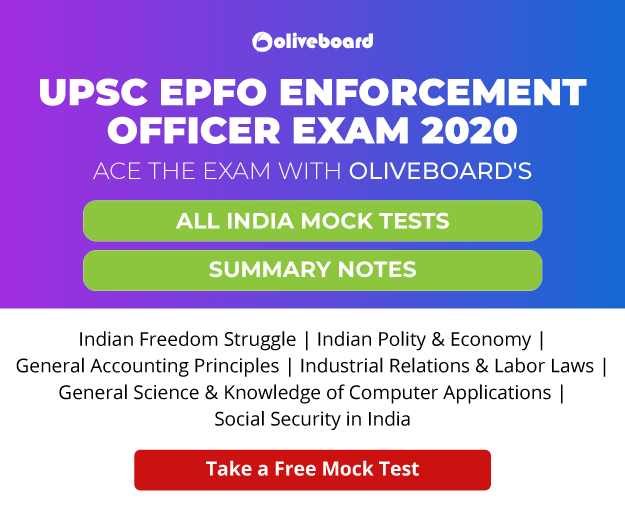 That is all from us in this article. We hope the UPSC EPFO Enforcement Officer Previous Year Paper provided here gives you a good insight of how the paper actually is and what should be your approach to crack it. Take Oliveboard's Mock Test now and prepare yourself the right way for the exam.
Also, Check: