Read this article to know about Banking Ombudsman Scheme JAIIB. IIBF conducts JAIIB Examination to recruit Junior Associate of Indian Institute of Bankers. This examination is conducted for candidates who are already working in the banking sector and are members of the institute. The recruitment is not open to the common public.
Download Calculation of Interest and Annuities Here
How To Download The Free Banking Ombudsman Scheme JAIIB pdf for JAIIB?
Step 1: Click on the download link. You will be taken to Oliveboard's FREE E-Books Page.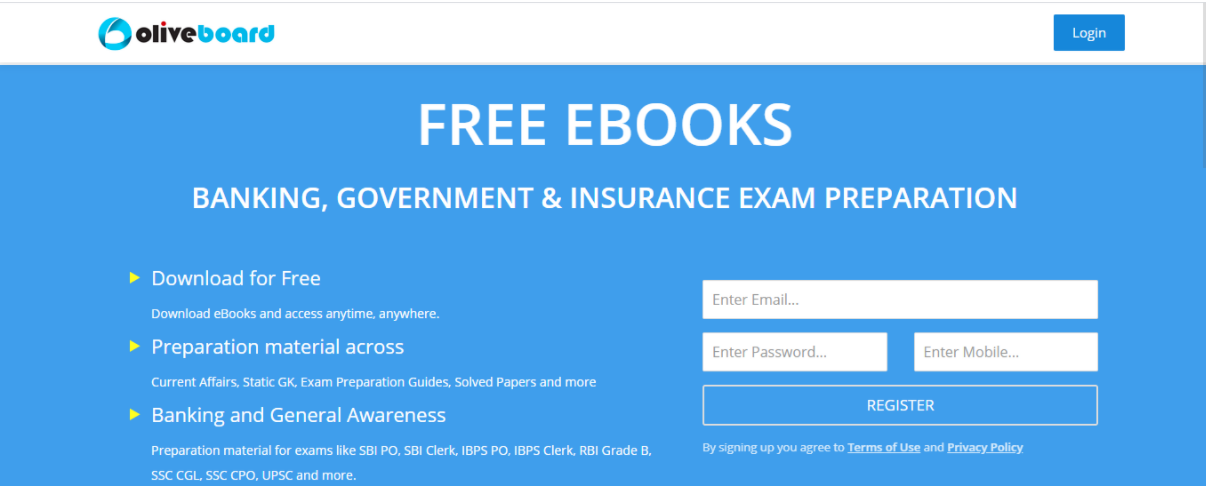 Step 2: Register/Login to the Free E-Books Page of Oliveboard (It is 100% free, You just enter your valid email ID and a password to be able to download the JAIIB Practice questions pdf.
Step 3: After Logging in, you will be able to download the free e-book by clicking on "click here" as shown in the snap below.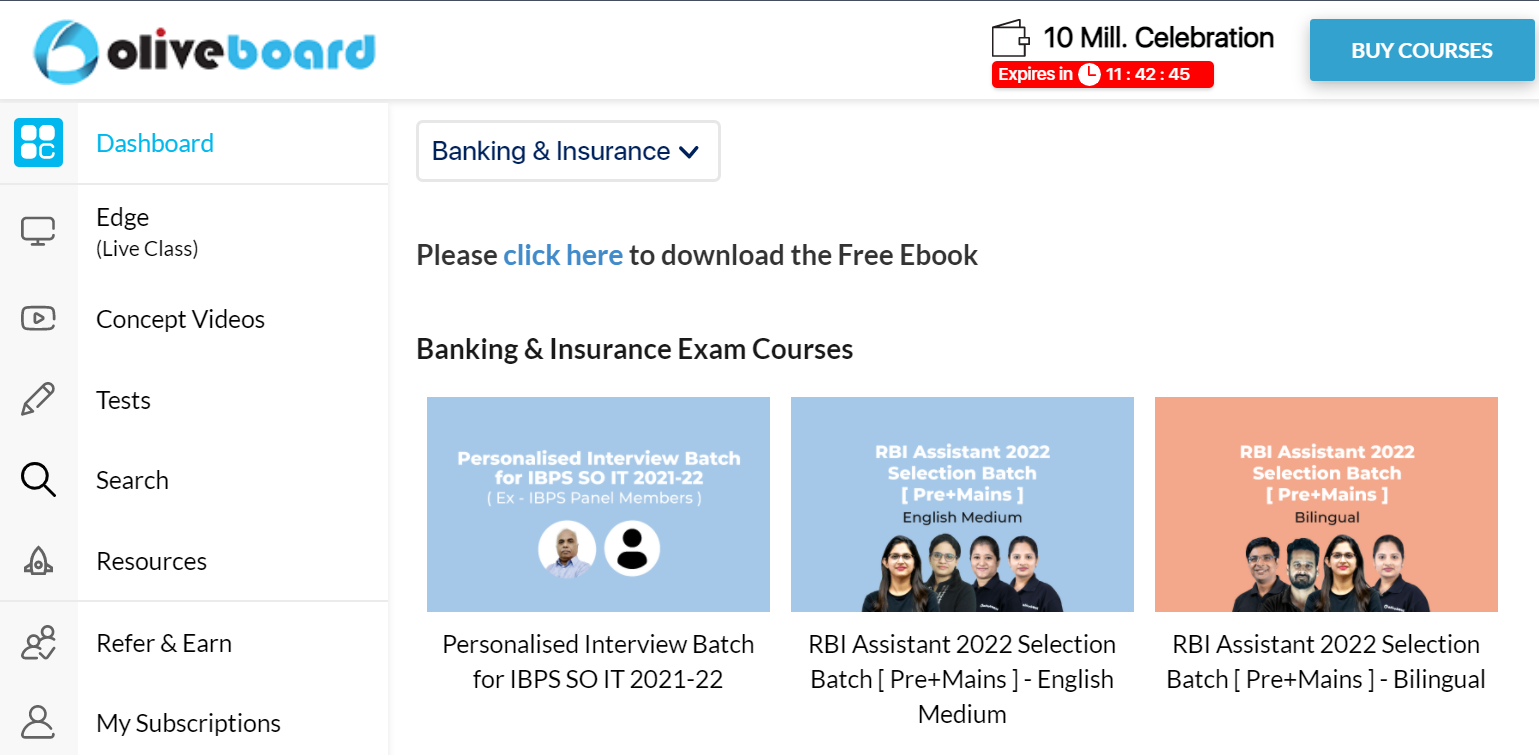 What's there in the eBook of Banking Ombudsman Notes?
Table of Content
Introduction
Banking- Ombudsman- Appointment and Tenure
Institutions that come under the Banking
Ombudsman Scheme
Banking- Ombudsman- Scheme- Areas of
customer redressal
How to file a complaint against the banking
services?
Amount of compensation
Ombudsman Scheme for Non-Banking Financial
Companies, 2018
Other grounds for complaints
When does the Banking – Ombudsman not
consider Customer complaints?
Appeal against the order passed by the Banking
Ombudsman
What details are required in the application?
Can the Banking Ombudsman reject a complaint
at any stage?
FAQs
Sneak-Peak into Banking Ombudsman Notes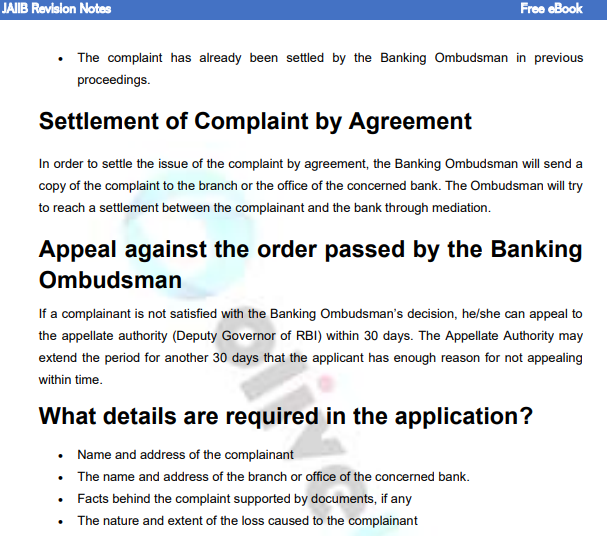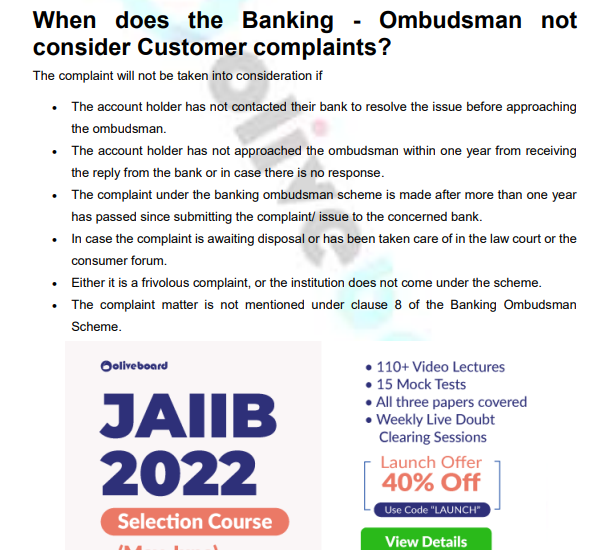 What's there in the Banking Ombudsman Scheme Notes eBook?
The Reserve Bank of India (RBI) implemented the Banking Ombudsman Scheme in 1995. It was introduced in the Banking Regulation Act, 1949 u/s 35 A. The scheme was initiated to address the dissatisfaction and complaints of customers who were not supportive of certain banking services and settle their issues. As time progressed, the scheme was legally pruned and modified by introducing regulations under the Banking Ombudsman Scheme of 2006. The latest revision in the scheme was introduced in 2017.
This blog contains information on the Banking Ombudsman Scheme, its necessity, benefits, when and how to file a complaint, and other relevant information.
Banking Ombudsman
The RBI appoints an official (senior) as the Banking Ombudsman to sort out the complaints by customers against banking services that are covered by the Banking Ombudsman Scheme 2006.
As mentioned above, the scheme was modified in 2017. By 2019 as many as 22 Banking Ombudsmen (officers) were appointed. The offices are mostly located in various State capitals.
Banking- Ombudsman- Appointment and Tenure
The Reserve Bank appoints senior officers in the rank of Chief General Manager or General Manager to serve as Banking Ombudsmen.
The appointment may be made for a period not exceeding three years at a stretch.
The Banking Ombudsman has to provide the Governor, Reserve Bank, with a report on 30th June each year.
Institutions that come under the Banking Ombudsman Scheme
The following Banks are covered under this scheme:
Scheduled Commercial Banks
RRBs (Regional Rural Banks)
UCBs (Scheduled Primary Co-operative Banks)
Banking- Ombudsman- Scheme- Areas of customer redressal
There are about 25 points on which complaints can be submitted. Some are listed below :
Delay or non-payment in processing the payment of inward remittances
Delay or non-payment of drafts, cheques, bills, and others
Delay or non-payment in the collection of drafts, cheques, bills, and others
Delay or inability to issue pay orders, drafts, or bankers' cheques
Delay or refusal in the closing of accounts
Not allowing to open deposit accounts without any valid reason.
Non-compliance to scheduled working hours;
Levying of charges without any notice/ information to account holders.
Not following the guidelines of RBI regarding engaging recovery agents.
DOWNLOAD THE OLIVEBOARD APP FOR ON-THE-GO EXAM PREPARATION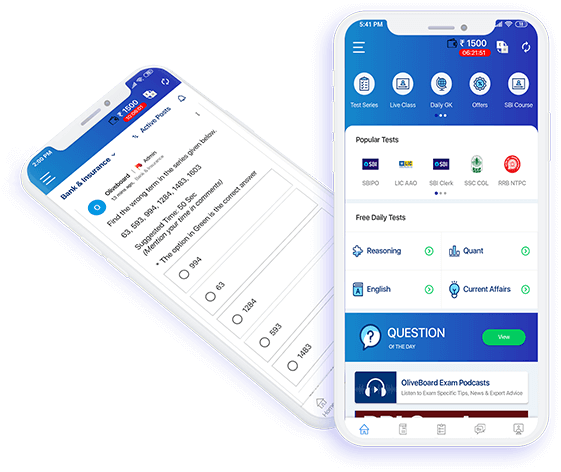 Video Lessons, Textual Lessons & Notes
Topic Tests covering all topics with detailed solutions
Sectional Tests for QA, DI, EL, LR
All India Mock Tests for performance analysis and all India percentile
General Knowledge (GK) Tests
Free videos, free mock tests, and free GK tests to evaluate course content before signing up!

Oliveboard is a learning & practice platform for premier entrance exams. We have helped over 1 crore users since 2012 with their Bank, SSC, Railways, Insurance, Teaching and other competitive Exams preparation.