Career Options After Graduation : Graduation plays a critical role in shaping one's professional career. It provides a base that one can utilize to build a career of their dreams. While many students succeed in their pursuit, a majority of them find it difficult to choose the right career option after graduation. This confusion in choosing right career option is natural. And more often than not, this cause of this confusion is a lack of information.
In this post, we would be talking about a few lucrative career options in India that can be taken up after graduation : Banking, MBA & Government.
SBI PO, IBPS PO : Become A Banker (Banking, Financial Services & Insurance services)
BFSI sector (Banking, Financial Services, and Insurance) employs millions of Indians. The industry is witnessing an unprecedented growth and expected to grow in the future. You can clear exams like IBPS PO, SBI PO, RBI Assistant etc. in order to work for some of the most reputed brands of the country.
Here are a few well-known banking entrance examinations. By qualifying these, get placed in the related bank or financial organization. One should note that the competition in these exams is high.
IBPS Common Written Exam for Probationary Officer (IBPS PO)

State Bank of India Probationary Officer (SBI PO)

IBPS Common Written Exam for Clerical Recruitment for PSUs

State Bank of India Clerical

Common Written Exam for Regional Rural Banks

Common Written Exam for Specialist Officer

IDBI Bank Executive Exam

RBI exam

RBI assistant exam

NABARD AM exam

Others
A graduation degree in any discipline is sufficient to participate in the recruitment process. The selection process includes written aptitude test (Quantitative Aptitude, Reasoning Ability, English, General Awareness and basic computer Knowledge) and interview (only for officer posts).
A career in banking is not only a highly respectable job, but is also rewarding. The following image gives an overview of the banking career and the selection process.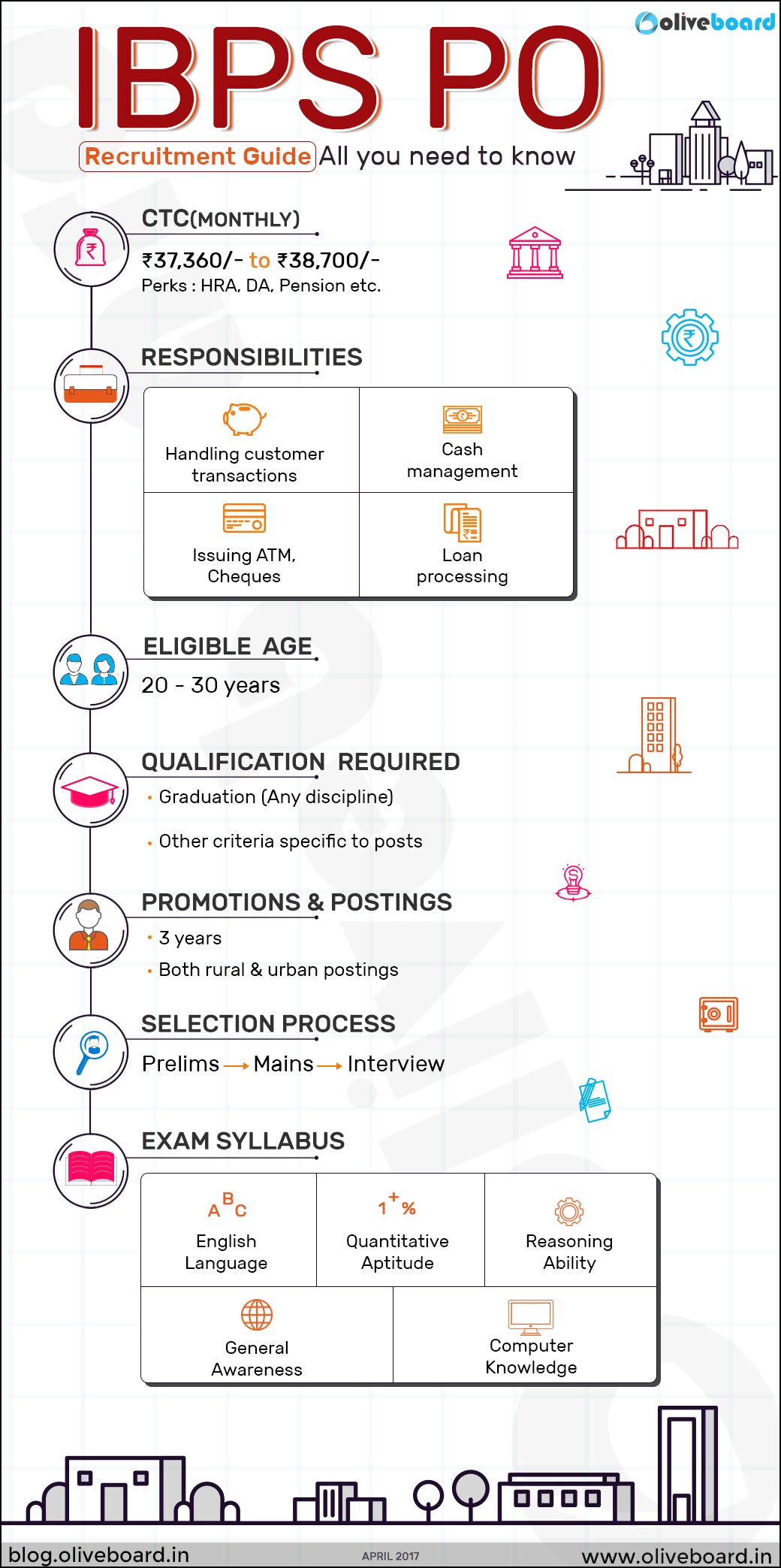 There is a well-defined career progression path in each public sector bank which is defined by two factors: performance and potential. Thus, hardworking and knowledgeable employees can move to higher posts in less time.
In many banks, a person who joins as a probationary officer can aspire to reach to the position of General Manager in about 14 years. After that, one can further aim for becoming the executive director or chairman of a bank.
Many banks have a network of foreign branches. Thus, one may also get the opportunity of working abroad. Transferability in a bank job provides you the chance of seeing different parts of the country. Working as a banker, you can easily ensure a good lifestyle.
MBA : Masters of Business Administration
If you feel that you don't want to continue in chosen field or if you feel that an MBA would give a boost to your career, you should definitely go ahead for it. The preferred paths would be:-
Prepare for entrances in the final year of graduation and do an MBA immediately after.

Start working and

prepare for entrances simultaneously.

Some work experience would help you in your coursework.
What we mean to say is, don't take a drop for preparing for these exams. A job would add value to your profile but sitting idle won't.
Some of the well known exams for admissions reputed MBA colleges in India are : CAT, XAT, IIFT, CMAT, MHCET etc. These are usually aptitude tests consisting of questions from topics like :  quantitative aptitude, reasoning ability, verbal ability and data interpretation.
IAS Officer, Government Official : Build A Career With The Government
The government sector has a lot of scope for people who look for stability in a job. Besides, the sector offers multitude of profiles for a person to choose from based on their field of interest and qualification. Some major exams to build a career in this area are : UPSC CSE (For IAS, IPS, IFS etc.) and SSC CGL.
Another factor to consider here is the current government policies. With campaigns like 'Make In India', the number of jobs in the government sector will be rising in the years to come. Hence, the sector has impressive prospects for job seekers.
People coming from all kinds of educational backgrounds are welcome by the government. There are multiple public sector units like BEL, BHEL, GAIL etc. which hire people for all sorts of profiles. There are jobs in the central government such as IAS, IFS, IPS etc. wherein you can actually bring about a change through your policies. Positions like those of IFS help you realise the dream of working in a foreign country. Even if you aspire to serve the defence forces of the country, the government sector provides you with plenty of options.
Also, since the introduction of the 7th pay commission, the pay scale of government jobs is at par with its private counterpart. Apart from the monetary compensation, government jobs also come with generous benefits such as accommodation facilities, health benefits, lifelong pension etc.
Government jobs put you in a position of power and thus, there will be people working under you and will give you the respect you deserve. Also, the private sector places high value on people who have worked in the public sector. Most of the people from the public sector are excellent in terms of functional knowledge and are well-trained in a variety of areas such as banking operations, general banking, forex and treasury and thus are in high demand. Even a retired government official is highly valuable. They can take up various positions either in the government or private bodies and can offer consultation on various matters.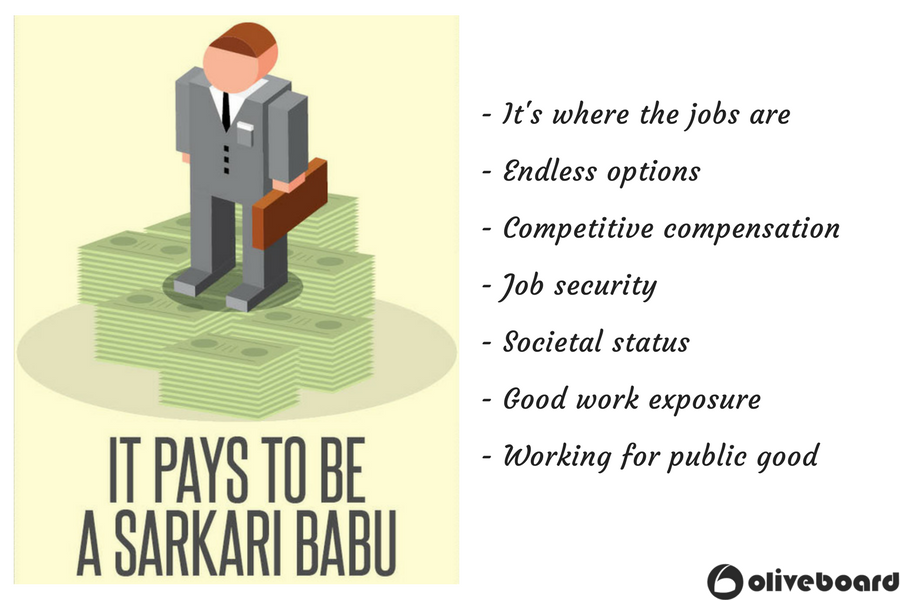 We hope this gives you some clarity on the choices that you have. Feel free to comment with your queries. Stay tuned for more!

The most comprehensive online preparation portal for MBA, Banking and Government exams. Explore a range of mock tests and study material at www.oliveboard.in
  Oliveboard Live Courses & Mock Test Series