The Computer Awareness or Computer Knowledge section is common to most of the Government and Banking recruitment tests. This section can be a game-changer because the questions asked here are pretty easy, relating to basics, acronyms, shortcut keys, etc. Despite its significance, the section is often overlooked by aspirants. Considering the extreme competition where you cannot afford to lose 1/4th of marks, here we bring to you Computer Awareness Quiz to help you prepare for upcoming exams like IBPS RRB Assistant, RRB PO,  IBPS PO, IBPS Clerk NABARD Assistant, and many more, without putting any extra effort.
Register to Oliveboard for more Computer Awareness Questions
Computer Awareness Quiz
Top 200 Computer Awareness MCQs | Download Here
Download the free ebook on Top 200 Most Important Computer Awareness MCQs for upcoming banking Mains examination from the link provided below:

To Download More Free Ebooks Click Here & Register Yourself
Here's A Sneak Peek Into The Free eBook
Q) Which of the following are computers that are known as number crunchers?
Palmtop computers
Micro computers
Macro computers
Super computers
Mainframe computers
Correct Answer – "4"
Q) How many bits equal one byte?
2
4
8
16
32
Correct Answer – "3"
Q) USB is a common interface that enables the communication between devices and a host controller such as a personal computer (PC). 'S' in USB stands for?
Simple
Series
Serial
Specification
Sorted
Correct Answer –  "3"
Q) What is the extension of MS Dos command file?
.tmp
.bin
.dbf
.com
.doc
Correct Answer –  "4"
 Q) WORM is a data storage technology that prevents the drive from erasing the data. What is the full form of WORM?
Write Out, Read Many
Write Once, Read More
Write Once, Read Much
Write Over, Read Mode
Write Once, Read Many
Correct Answer –  "5"
Q) Which one of the following software applications would be the most appropriate for performing numerical and statistical calculations?
Database
Spreadsheets
Graphics Package
Document Processor
Slide Presentation
Correct Answer –  "2"
Register here for a Free Mock Test & also get Daily Exam & Upcoming Offers
More eBooks
Download 200+ Free eBooks important for different government exams here or Oliveboard Online Exam Prep App for easy access to all our learning resources.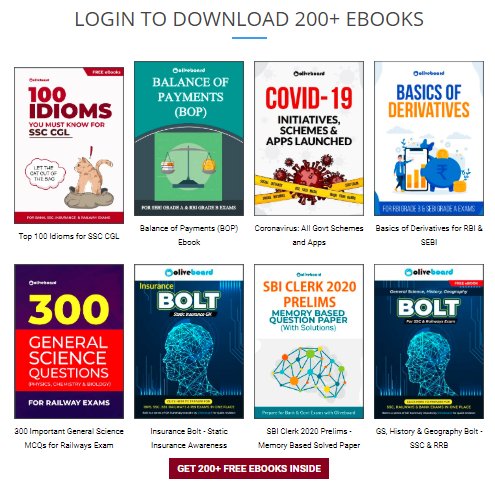 Oliveboard Bolt Series E-books 
This is all from us in this ebook Top 200 Computer Awareness MCQs. Download the free ebook from the above download link given. Also, stay tuned with Oliveboard for more exam related information.
Also, Check: