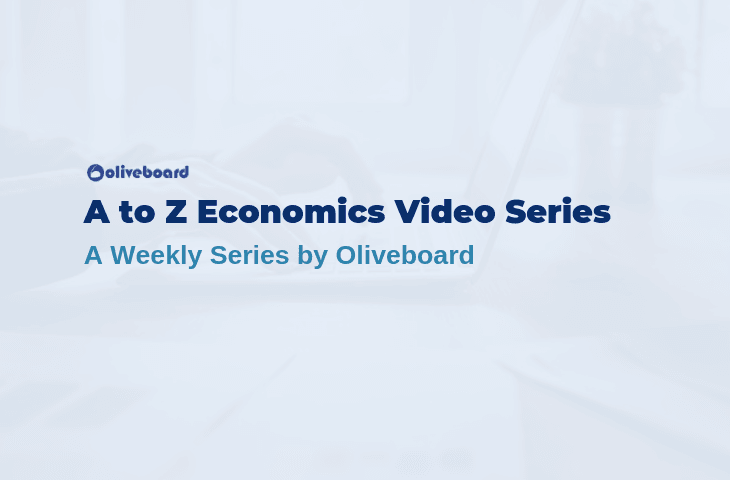 Now Economics is one such subject that requires deep understanding of concepts. Also it is an important subject when it comes to Competitive Banking & Government Exams like RBI Grade B, NABARD, SEBI, SBI PO, IBPS PO, and SSC Exams as well. Also this subject becomes predominant when it comes to understanding the daily news pertaining to Economy and Finance sector. The basic economics concepts if studied properly can aid immensely in understanding the daily news articles as well as comprehending crucial documents such as Yearly Budget and Economic Surveys released by the Finance Ministry. We at Oliveboard have always been there to assist you and take you through your exam preparations journey.
We have come up with a new video Series named A to Z Economics that will assist you in understanding the very basic concepts in Economics and will also enhance your General Awareness pertaining to Economics and Financial World.
Register for IBPS Cracker Course only for Rs 999
Economics Concepts
A to Z Economics Series – What all it Offers?
1. It will be a weekly class taken by our Economics Expert Abhishek Sir. His expertise lies in his knowledge and his ability to explain the most complex concepts in the simplest language.
2. You can refer to the Videos of A to Z Economics Video Series here below. We are sure that you would enjoy them as well they will help you learn Economics concepts in the simplest way possible.
3. The A to Z Economics Classes will also include classes on all other important Economics Topics which will be explained in the simplest possible language that will be easily understood by Economics/Finance background as well as by someone who is not from this background. 
4. These will be Live Classes taken every Thursday at 5:30 PM on Oliveboard Youtube Channel and Facebook Page. 
5. These Free Lectures would be beneficial in Exams like RBI Grade B, SEBI, NABARD Grade A & B as these in these exams test an aspirant on the subject of Economics. 
This was all from us in this article of Economics Concepts – A to Z Economics Video Series. Attend it every week and we are sure that you would definitely learn a lot from it. 
Read More:
Daily News Analysis by our esteemed Faculty at 7:30 AM from Monday to Friday
Also Check Out -:
  Oliveboard Live Courses & Mock Test Series