Financial Awareness Questions : Financial Awareness is an important part of the GA/GS/GK section in various Bank and Government Exams like  IBPS PO Mains  SBI PO Mains and IBPS RRB Clerk, and SBI Clerk, RBI Grade B Officer and Assistant, RRB PO, RRB ALP, RRB Group D, SEBI and more. It is important to remember the terms and concepts related topics in banking before you sit for these exams. For your assistance, we have designed different e-books on this topic to to help you master concepts easily.
You can also download these eBooks from the download links given below. The first e-book includes the 100 most important questions, second eBooks take you through the previous year questions, the final eBook is an comprehensive explanation of financial concepts.
100 Financial Awareness Questions | Download Free eBook Now
Download the 100 important financial awareness questions eBook from the download link given below:
---
Here is a complete step by step procedure to download the IBPS RRB Mains Preparation Guide.
Step 1: Click on the download link. You will be taken to Oliveboard's FREE E-Books Page.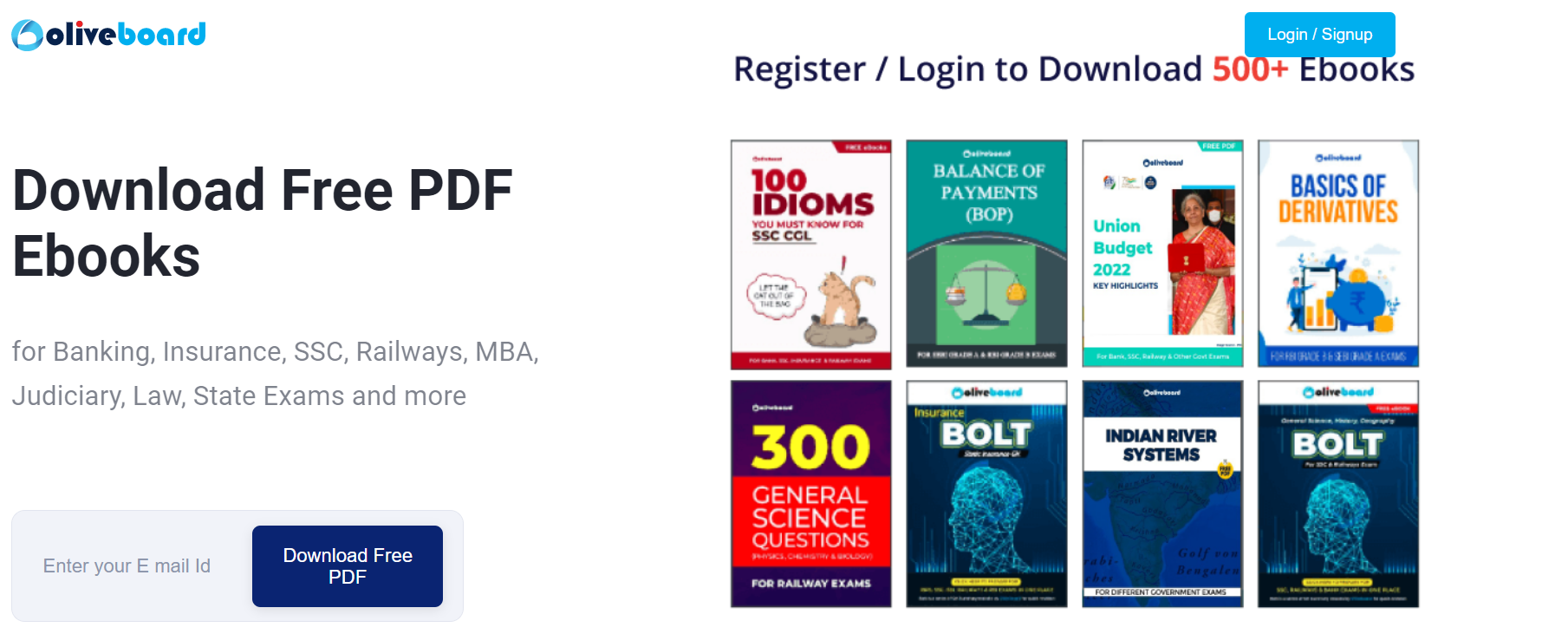 Step 2: Register/Login to the Free E-Books Page of Oliveboard (It is 100% free, You just enter your valid email ID and a password to be able to download the free pdf.
Step 3: After Logging in, you will be able to download the free e-book by clicking on "click here" as shown in the snap below.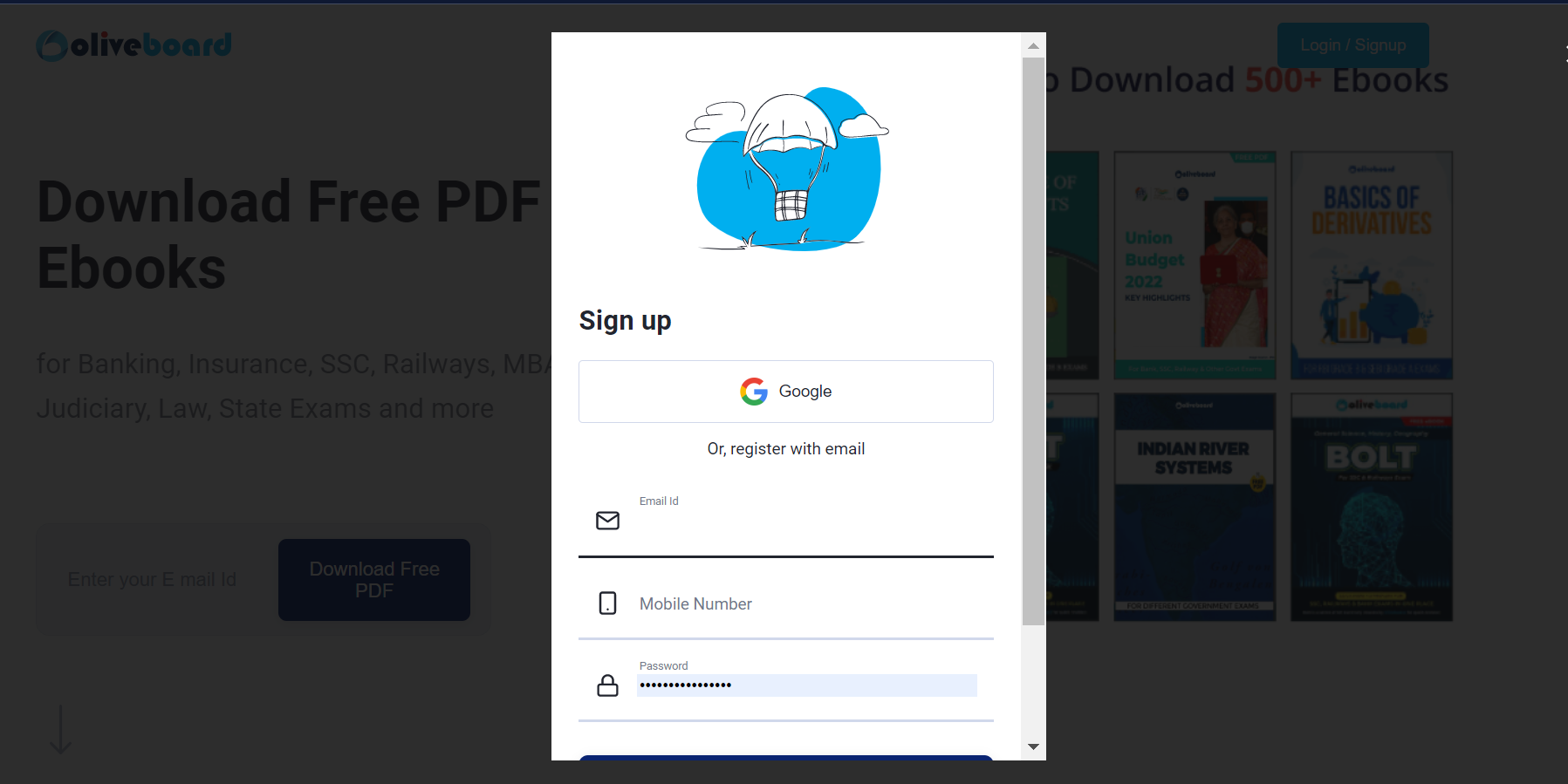 ---
Here is a sneak Peek into the PDF. (Download eBook for answer keys)
Question 1: The purchase of shares and bonds of Indian companies by Foreign Institutional Investors is called
a) Foreign Direct Investment
b) Portfolio Investment
c) NRI Investment
d) Foreign Indirect Investment
Question 2: Disinvestment in Public Sector is called
a) Liberalisation
b) Globalisation
c) Industrialisation
d) Privatisation
Question 3: The exchange of commodities between two countries is referred as
a) Balance of trade
b) Bilateral trade
c) Volume of trade
d) Multilateral trade
Question 4: Pre shipment and post shipment is related with which finance?
a) Housing Finance
b) Export finance
c) Agricultural Finance
d) None of the above
Question 5: Which statutory organization regulates insurance sector in India?
a) IRDA
b) SEBI
c) IBPS
d) None of the above
Question 5: How is BSE given trade facility?
a) Offline
b) Inline
c) Outline
d) Online
Question 6: India recently signed Double Taxation Avoidance Agreement (DTAA) with _____ to prevent income tax evasion by entities in both the countries.
a) Lativa
b) Belgium
c) Argentina
d) Switzerland
e) Mauritius
Question 7: In order to attract more foreign exchange the Govt. of India decided to allow foreign investment in LLP firms. What is full form of "LLP" as used in this reference?
a) Local Labour Promotion
b) Low Labour Projects
c) Limited Loan Partnership
d) Longer Liability Partnership
e) Limited Liability Partnership
Question 8: MTSS is used as?
a) Tax return
b) Tax benefit
c) Personal remittance
d) None of the above
Financial Awareness Questions Including Previous Year Questions | Download Now
Download the financial awareness practice questions eBook from the download link given below:
Complete Financial Awareness Notes | Download Now
Check out some important topics that you'll find in this eBook to prepare for the financial awareness section. You may find questions related to these topics in the Financial Awareness section of Bank and Government exams.
Top Banking Committees and their Focus Area

Finance

Financial Inclusion (FI)

Important Financial Terms

GST e-way Bill

Indian Financial System

Indian Currency

Foreign Exchange Reserves

Negotiable Instruments

International Financial Institutions

Cheques and its Types

Indian Economy

Crossing of Cheques

Structure and Functions of RBI

Electoral Bonds

Subsidiaries of RBI

Bancassurance

GDP and GNP

Banking Ombudsman Scheme (2006)

NDP and NNP

Confusing Banking Terms

MIBOR and MIBID

Important Banking Terminologies

Balance of Trade and Balance of Payment

Basic Economic terminologies
Also Read :
For more eBooks, Click Here
We hope you find the Financial Awareness E-Book useful.
To connect directly with our faculty for your queries related to bank and government exams, please download the Telegram App and interact directly with our faculty members. Join the Oliveboard Telegram group at obbanking.
---
Recommended Downloads

Oliveboard is a learning & practice platform for premier entrance exams. We have helped over 1 crore users since 2012 with their Bank, SSC, Railways, Insurance, Teaching and other competitive Exams preparation.
  Oliveboard Live Courses & Mock Test Series