Bolt is a series of GK Summary ebooks by Oliveboard for quick revision. It is the best way to consume important news right before the exam or prepare GK in a short period of time. Here, we will provide you monthly current affairs PDF for you to prepare better for upcoming banking and government exams. Current Affairs is an important part of the General Awareness section in SSC, Railways, and Bank exams like IBPS, SBI, RBI Grade B, and other upcoming government exams.
To ensure the success of our students, we keep them informed about the new patterns and exam styles by selecting the right material as per their requirement. Continuing the same sequence, this time we have brought English as well as Hindi format of the monthly current affairs PDF covering all those topics which are important from the point of view of examination. Watch this space for monthly current affairs PDF 2021 – free download.
Why should you download BOLT – Monthly Current Affairs?
Information is classified from Most Important News to Other News

Information is classified by chapter name; hence, you can use the table of contents to quickly revisit any chapter you want

The easiest and quickest way to consume important news items

Topics curated and explained by Oliveboard experts
Monthly Current Affairs PDF – November 2021
Use the link below to download the Monthly Current Affairs for the month of November 2021.
You'll have to sign-in just once to download all previous editions of BOLT. You can also download the Hindi Format of the BOLT monthly current affairs in your Oliveboard dashboard.
Monthly Current Affairs PDF – Previous

Mo

nth Editions – 2021
How to Download the BOLT – Monthly Current Affairs PDF?
Click on the below-given download link. You will be taken to Oliveboard's FREE Ebooks Page. Alternately, you can download the Oliveboard Android App to access these on your smartphone.
Register/Login on to the Free E-Books Page of Oliveboard (It is 100% free, You just enter your valid email id and a password to be able to download the Monthly current affairs bolt).
Once logged in you'll see the message "Please click here to download the Free Ebook". Click on the message to download that particular ebook.
You can also list of month-wise BOLT PDF.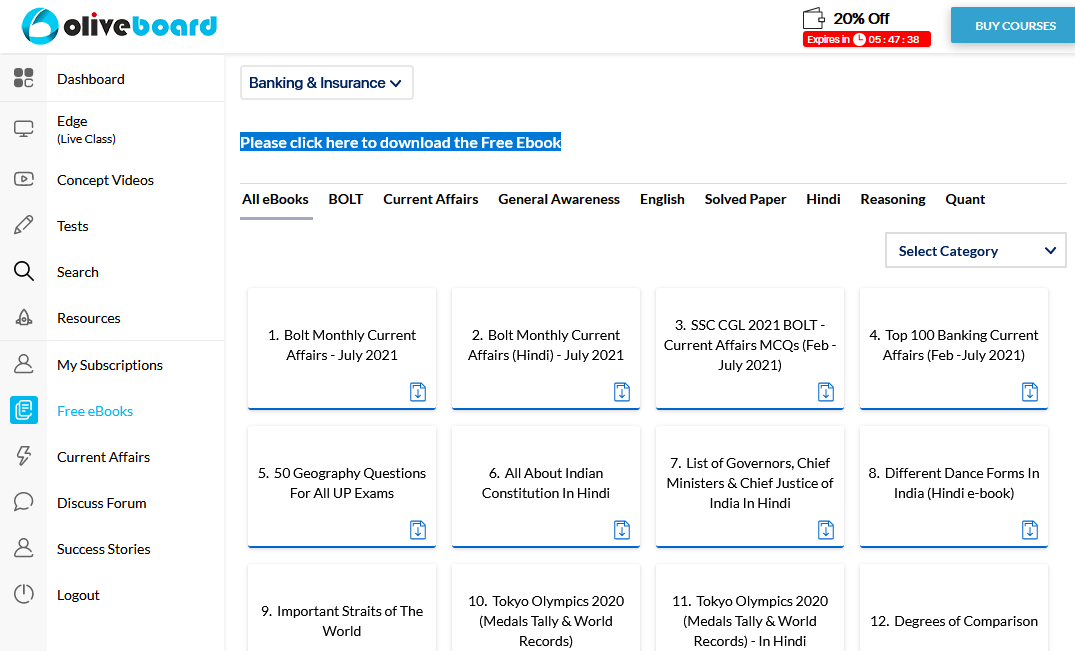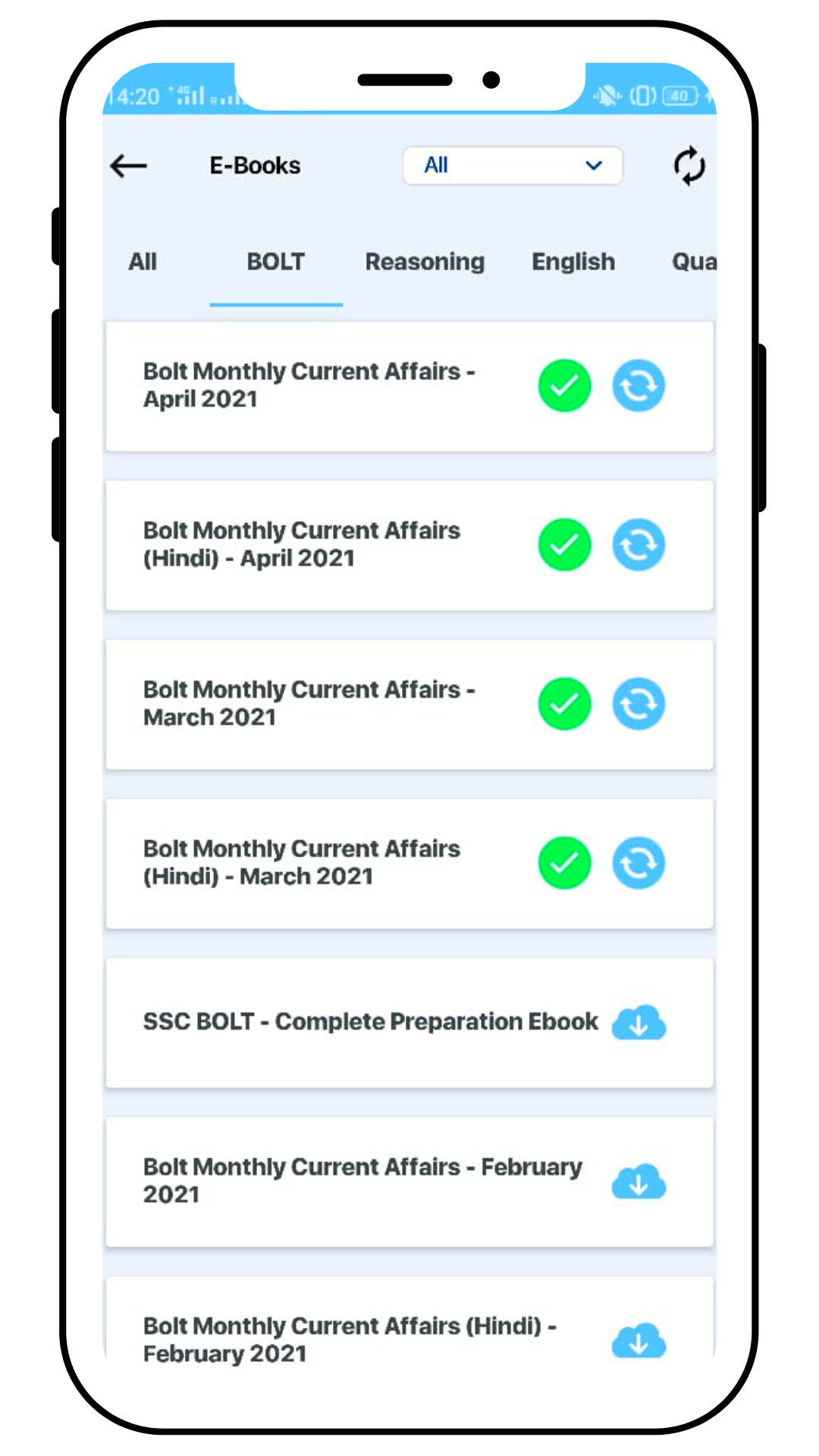 4. Click on the Download button to get your copy of the FREE BOLT – for Banking and Government Exams.
Click on the respective links here to download Weekly Current Affairs PDF and Read Daily Current Affairs.
Monthly Current Affairs PDF – 2020
Monthly Current Affairs PDF – 2019
Monthly Current Affairs –

What is Included?
The Oliveboard BOLT Monthly current affairs ebook covers all the important and relevant topics for Banking, SSC, Railways & other government exams. Following is the list of all the topics covered in current affairs GK PDF.
Monthly Banking Current Affairs
Complete coverage of all banking related events to given you an overall knowledge about the banking and financial system current affairs on a monthly basis.
Monthly Economic Affairs Current Affairs
Know every headline from the economic issues on internal and external aspects of the Indian/World economy including events that affect inflation, price control, foreign exchange management, Official Development Assistance domestic finance and preparation of the budget.
Monthly National News
All national events can can feature in government recruitment exams.
Monthly International News
All important international events across the globe that impacts economy, environment, politics, and more.
State-wise Monthly Current Affairs
Complete state and UT-wise coverage of events from rural, urban, political, economic, social, health, employment, demographics point of view.
Monthly Sports Current Affairs
All major sports tournaments, winners, sports bodies and the sport.
Agreements related Current Affairs
All bi-lateral and multinational agreements in the month.
Latest Govt Schemes
All government schemes launched or in news in the month.
Latest Appointment
All major appointment in Legislature, Executive, Judiciary, International Organizations, Banking, Sport Bodies, brands, and public sector undertaking organizations.
Monthly Awards Updates
All awardees from sports, films, politics, honorary facilitations, social causes, Science, medicine, and more.
Ranks & Reports – Monthly News Updates
Rankings based on Indexes, Economy, Environment Parameters, Social Causes, Schemes, Nations and more, mainly with respect to India and leader of that index (for instance, India's rank in Global Happiness Index etc.); indices related to peace, hunger, corruption, poverty, crime, development, black money etc..
Important Days of the Month
List of all important days in a month.
Summit & Conferences
Including inter-state, national and international summit and conferences.
Monthly Science & Technology Current Affairs PDF
All recent scientific advancement in space, technology, medicine, IT, Business, and Industries.
Monthly Defense News Updates
Indian and International defence related events
Books & Authors
Monthly list of Books & Authors
Miscellaneous
Anything under the sun not covered by the other listed topics.
Obituary
Noted personalities who left us.
Person in news – Monthly Updates
Political, Science, Sports, Media, Industry personalities in news every month.
Monthly Insurance Current Affairs PDF
Covers entire CA related events of Insurance industry
Monthly India & World News
National and International News and Current Affairs
Monthly Environment Current Affairs
All report and rankings on environments and major current events that impact the environment.
Apps & Portals
All app and portals released by the government, companies and startups each month.
Acquisitions & Mergers
List of all Acquisitions & Mergers in a month, 12 months a year.
Importance of Monthly Current Affairs for Different Exams
Importance of monthly current affairs is obvious for ardent aspirants of government exams. Current affairs questions feature in all government and banking exam but more than just those written exams, current affairs impacts the overall well-being of a government/PSU job aspirant. And when you have to cover thousands of headlines from hundreds of topics, you require crisp summaries. Because there is no way you are going to remember everything that happened over the last 12 months. Monthly current affairs PDF reduces this number to fine-tuned 100 headlines or so. These monthly ebooks are composed of hand-picked summaries of major current events. Oliveboard Monthly current affairs PDF is your one-stop-shop for the following –
Monthly Current Affairs for Banking Exams
Current affairs are both important and "difficult to tame" section of banking exams. Current affairs for Banking vividly deals with banking awareness and does follow a pattern. Regular reading of current affairs and a sound understanding of previous years banking awareness questions is always helpful. Here is why current affairs is important for banking exams:
Candidates need to get past a sectional cut-off in this section as well leaving them with no option but to study current affairs.
It is expected from a banking aspirant to be aware of economic and banking related events on a day-to-day basis.
Current affairs not only helps in mains examination but also helps in acing interview of banking exams.
The current affairs become even more relevant if the aspirant is willing to join India's Central bank RBI as an RBI Grade B Officer.
Current affairs fetch easy marks.
Download the Monthly Current Affairs PDF from Oliveboard website and stay on top of all banking awareness events each month.
Monthly Current Affairs for SSC
General Awareness of SSC can be tricky due to its vast syllabus and the uncertainty of the questions. Still, the current affair section feature up to 10 questions and can make a huge difference in your overall score. The monthly current affairs PDF here is also important for SSC aspirants as to cover all Current affairs in global, national, and world news as well as awards & honours, books & writers, government programmes and policies, sports activities and lastly people in the News in a single monthly PDF. As current affairs questions are usually asked from events that happened 6 months before the exam, giving you only 6-7 PDFs to help you cover most expected current affairs in SSC exams.
So download the Monthly Current Affairs PDF from Oliveboard website and stay on top of all current affairs and related events on a monthly basis.
Railways Current Affairs for Railways
'General Awareness' has the maximum weightage among all the three sections asked in both the stages of the exam, so, it's important to master this section in order to crack the exam with flying colors and to maximize the score in this section a good hold over the current affairs will assist you well. Whether we talk about (Computer Based Test) CBT-1 (1st round, screening) or CBT- 2 (2nd stage), to crack exam this exam, one needs to master the 'General Awareness' section. A very crucial part of this section is the current affairs section, which according to the recent trends of the exams has become a major section of general awareness. These Monthly Current Affairs PDF by Oliveboard is a perfect mix of all important events in Appointments, Government and Non-Government Schemes, Global Index, Prize and Awards, Military Exercises, Books and Authors and more.
So, download our free Monthly Current Affairs PDF for all Govt Exams including railways. Just use the link given above and click on Monthly Current Affairs buttons to download or view the PDF.
Monthly Current Affairs for Police Exam
Oliveboard monthly current affairs PDF includes all the prevalent topics of asked in a number of police exams in the country. Download the ebook for a monthly installation of Current Affairs for India, World, Geography, General Science, Science & Technology, IT and Communication, Agriculture, Environment, Sports, Awards, Trade and Commerce, Misc.
Monthly Current Affairs for State Government Exams
Current Affairs Questions in state government exam are based on current events of national and international importance. Since there is noting specific mentioned current affairs question in state government exams can be very unpredictable. So to be on the safer side, a summarized monthly current affairs ebook can be a time saviour. Since the ebook is prepared by former aspirants and experts, you'll find to the point headlines only.
Related Ebooks:
Stay tuned for upcoming monthly current affairs!
For daily current affairs, you can always refer to our daily GK current affairs page. Also, refer to our GK section for more articles, ebooks, quizzes and videos around static GK and current affairs.
Monthly Current Affairs PDF | FAQs
Where can I find monthly current affairs PDF?
Download Oliveboard BOLT, the monthly current affairs PDF on Oliveboard App or from the links given in this blog.
Which monthly current affairs PDF is best?
Yojana
Kurukshetra
Economic and Political Weekly
Oliveboard Monthly BOLT (English & Hindi Versions)
What is included in the Oliveboard Monthly Current Affairs PDF?
BOLT Monthly current affairs PDF covers all the important and relevant topics for Banking, SSC, Railways & other government exams. Download your free copy now.
Is Oliveboard Monthly Current Affairs PDF free?
Yes, Oliveboard Monthly Current Affairs PDF is free for all aspirants. You can download your free copy from Oliveboard website or Oliveboard Android App.
---
Recommended Free Downloads
  Oliveboard Live Courses & Mock Test Series