SBI PO English Topics : English section is one of the scoring sections when it comes to SBI PO exam preparations. A smart approach could help you gain full marks in this section. And, to help you with that we have come up with important SBI PO English topics along with practice questions.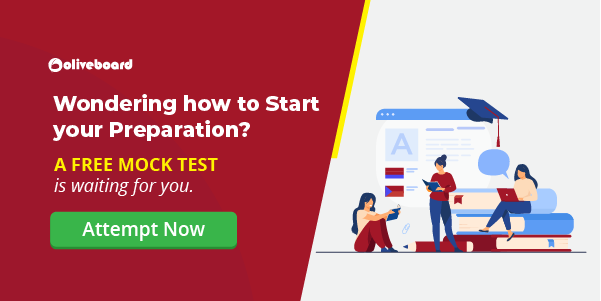 SBI PO 2022 Recruitment Exam Dates

Now let us have a look at the Important dates (tentative) related to SBI PO 2022 Recruitment 
| SBI PO Exam 2022 Events | Important Dates |
| --- | --- |
| SBI PO Notification 2022 Release Date | 21st September 2022 |
| Start Date to Apply for SBI PO 2022 | 22nd September 2022 |
| Last Date to Apply for SBI PO 2022 | 12th October 2022 |
| Download of Preliminary Admit card | 1st / 2nd week of December 2022 onwards |
| SBI PO 2022 Exam Date- Prelims | 17th/18th/19th/ 20th of December 2022 |
| SBI PO 2022 Exam Date- Mains | January 2023 / February 2023 |
The list of topics is based on the previous year's SBI PO exam analysis. So let's dive in & get to the article.
1. Important SBI PO English Topics – Previous Year's Analysis
Here's a Section-wise list of important SBI PO English topics that are probable to appear in this year's examination. These topics are curated for you based on previous year papers so that you don't miss out on the important topics while your preparations.
Reading Comprehension (Story-Based & Factual)
Cloze Test
Sentence Correction
Phrase Replacement
Error Detection
SBI PO Free Mock Test Series
1.1 SBI PO Previous Year's Question Distribution
Here is the question distribution from the topics that appeared in the examination over the last 3 years.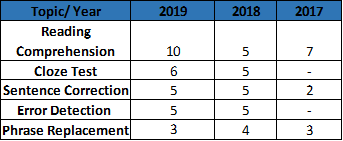 Reading Comprehension
Reading Comprehension provides you with a summarised paragraph may it be factual or story-based. You guys are expected to go through the paragraph and summarise it accordingly to answer the questions asked following the paragraph.
Want To Practice RC? Click Here To Practice Now!
Cloze Test
In this topic, a story-based or a factual paragraph is given with multiple blanks in between. You have to go through the previous and following line to understand and fill which word better suits the blank. Options are usually given for this type of question.
Sample Questions
There is a considerable amount of research about the factors that make a company innovate. So is it possible to create an environment (A) to innovation? This is a particularly pertinent (B) for India today. Massive problems in health, education, etc.
Q1) Choose the correct word for option A
(a) stimuli
(b) conducive
(c) incentive
(d) facilitated
Correct Answer: option b
Q2) Choose the correct word for option B
(a) objective
(b) controversy
(c) doubt
(d) question
correct answer: option d
Sentence Correction
A sentence is given in multiple parts with an error in one of the mentioned parts or sometimes there is no error, you have to read the sentence carefully, analyze it grammatically and meaningful sentence should be formed.
Sample Questions:
Check if the highlighted is right or wrong, mark option E if no correction is required.
Q1) The man to who I sold my house was a cheat.
a. to whom I sell
b. to who I sell
c. who was sold to
d. to whom I sold
e. No correction required
correct answer: option d
Q2) He is too important for tolerating any delay.
a. to tolerate
b. to tolerating
c. at tolerating
d. with tolerating
e. No correction required
correct answer: option a
Enough Sample questions? Attempt Free Complete Mock Test Now!
Phrase Replacement
This topic revolves around a given statement where a highlighted word will be given, you have to choose the most suitable option for the highlighted word.
Sample Questions
Q1) A lot of times we hear from actors that they regret the kind of roles they have been doing all this while, but this actor says he has never any regrets.
(a) never has have
(b) have never had
(c) has no
(d) has had
Correct Answer: option c
Q2) People discovered the alternate sources of energy when fossil fuel reserves starts to deplete.
(1) Start to deplete
(2) Starting to deplete
(3) Started to deplete
(4) Start with depleting
correct answer: option 3
Attempt Free English Memory-Based Qs from the Previous Year. Click Here
Error Detection
A sentence is broken into 4-5 parts and is given in options, you have to find out which part contains the error and mark it. if you can find no error mark the option with 'no error' written on it.
Sample Question
Choose the part that has an error in it.
a. We discussed about the problem so thoroughly
b. on the eve of the examination
c. that I found it very easy to work it out.
d. No error.
Correct answer: option a
How about you get more practice questions along with the detailed solution and video lectures by expert faculty. Guide your preparations with expert tips and doubt sessions to enhance your prep. Wonder where you can get all of this? Well, the SBI PO Titan course is a complete mix of that and much more.
To fuel your preparation here are the course details for SBI PO which will help you in your all-round development.
---
2. SBI PO Target Batch 2022 – Complete Details
This course is structured on the 3 very basic pillars of Learning, then applying through the practice and eventually Strategizing so as to maximize your scores.
To help you ace the exam, Oliveboard brings to you SBI PO Target Batch. This course covers the entire Prelims & Mains Exam preparation for SBI PO. It includes concept videos, Doubt Cum Revision Classes, Live Practice Sessions, Mock Strategy & Discussion Sessions & more. Overall, the course helps you meet your exam preparation requirements.
Here's what all will be covered in the SBI PO Batch 2022:
Course Highlights
Batch Name
SBI PO (Pre+Mains) 2022-23 Target Batch
Number of Live Classes
200+ Live Classes [ Prelims & Mains ]
Number of Full-Length Mock Tests
20 Prelims Tests + 10 Mains Test
5 Advanced Level Mock Tests [ PO ] to ace your preparation
High-Level DI Tests
10 Tests
High-Level Reasoning Tests
10 Tests
High-Level English Tests
15 Tests
GK Tests
120 Tests
Sectional Tests
60 Tests
Topicwise Tests
99 Tests
Medium of Instruction
English, Bilingual
Course Start date
29-Sep
PDF Notes for Live Classes
Yes, will be provided after Live Class
Validity
Until SBI PO 2022-23 Exam Completion
Other Highlights
– Complete coverage for SBI PO 2022 Prelims and Mains Exam
– Live Classes Till Your SBI PO Mains Exam
– 200+ Total Hours of Live Learning & Practice
– Classes Based on the New Pattern of SBI PO 2022 Notification
– Classes from the Best Faculty of the Industry to Ensure your Success
– Coverage of the Entire Banking and Financial Awareness Section with the Current Affairs and Economy also
– Comprehensive Coverage of All Sections Quant, Reasoning, GA, and English for the SBI PO
– Special Coverage of last 11 months Current Affairs and Banking Awareness for Mains Exam Preparation
– Special Access to the Mains Batch after the completion of the Prelims Exam
The course features are as below. Join Now & Avail Early Bird Offer
---
Recommended Readings
---

Oliveboard is a learning & practice platform for premier entrance exams. We have helped over 1 crore users since 2012 with their Bank, SSC, Railways, Insurance, Teaching and other competitive Exams preparation.