Get the summary of all important General Awareness topics, all in one place, with Oliveboard's FREE e-book series. Insurance Awareness is an important section for LIC Assistant & also for other major Insurance exams like NIACL AO, LIC AAO, NIACL Assistant, etc. The e-book series is designed to help you sail through your revision process for all major Insurance exams. In the Insurance BOLT edition, all-important static topics related to Insurance Awareness are covered in detail and will help you gain an edge over your competitors!
To make your preparations even more fluent and better, we are providing you with English and Hindi versions of the Insurance Bolt. All you have to do is register and you will be able to access the English Insurance Bolt. Hindi version is directly available to download using the bitly link provided.
So, what are you waiting for?
1. Insurance BOLT – Static Insurance Awareness eBook
Insurance Bolt will help you cover the basics of static insurance awareness and its preparations for the upcoming exams.
English Version:


Hindi Version:
Download the Hindi version of static insurance awareness eBook, click on the link below to download:
Bitly: https://bit.ly/Insurance-Hindi


1.1 How Can I Download The Static Insurance Awareness eBook – Insurance BOLT?
Step 1: Click on the below-given download link. You will be taken to Oliveboard's FREE Ebooks Page

Step 2: Register/Login on to the Free E-Books Page of Oliveboard (It is 100% free, You just enter your valid email id and a password to be able to download the Monthly current affairs bolt).
Step 3: After Logging in, you will see the Insurance Bolt after scrolling a bit in the all eBooks section, it is as depicted in the picture below:

2. Insurance Awareness eBook – Table Of Content
Introduction to Insurance
Insurance Regulatory & Development Authority
Life Insurance Company (Public Sector)
General Insurance Company (Public Sector)
Public Insurance Companies/Institutions
Principles of Insurance
Types of Insurances
Types of Life Insurance Plans
Insurance Frauds
Insurance Ombudsman
Some important terms related to insurance
Miscellaneous Topics
Important Abbreviations
Insurance-related Government Schemes
Private Life/ Non-Life Insurance Companies
3. Insurance Awareness eBook – Sneak Peek 
Here's a sneak peek into the topics and description that are covered in the eBook: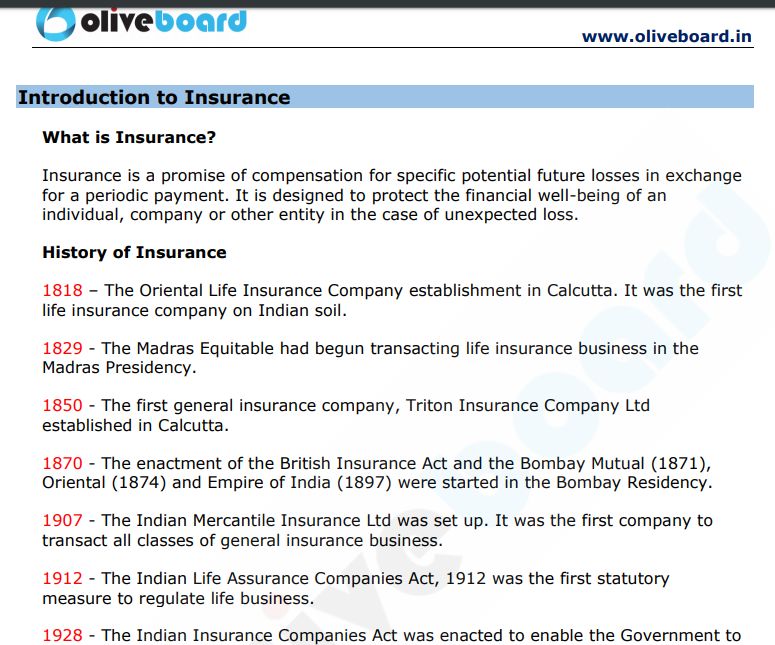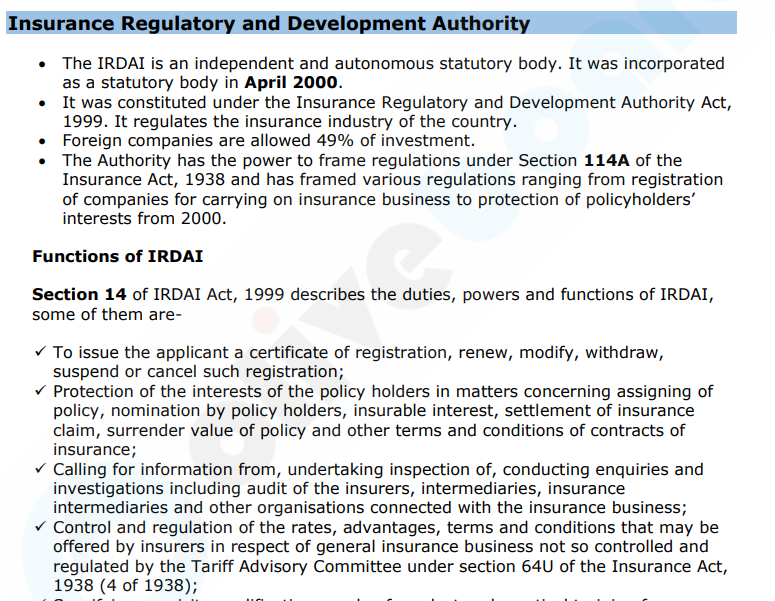 Related Links:
We hope you like reading the Free Insurance BOLT for your Insurance Exams. Keep checking this space for more free E-books and Study Materials.