SSC CGL Last Minute Tips: SSC CGL 2020-21 Tier-2 exam is going to be conducted across the country on 28th and 29th January 2022. Candidates who cleared Tier-I of the exam must have already started their preparation. Quant section of CGL tier-II is one of the difficult sections for most of the candidates but at the same time, if prepared well, this section can be a scoring section as well. In this article, we will be sharing some of the Last-minute tips for SSC CGL TIER 2 Quant Section that will help the students with their preparation.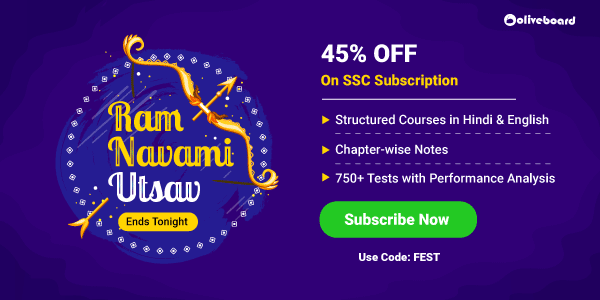 Attempt a Free Mock Test – Register Here
Exam Pattern and Syllabus
There will be 100 questions in the quant section and marks allotted for each question will be '2'. So, this will have 200 marks in total, and the time allotted for this section is 2 hours. One should have a deep understanding of the exam pattern and syllabus of this section. Go through the previous years' questionS and analyze them properly. Try to understand the type of topics asked and pattern in the type of questions from each topic as SSC does not make many changes in the exam pattern.
Click here to know the detailed Syllabus and Exam Pattern of SSC CGL
Advertisements

Important Last minute tips for SSC CGL TIER 2 Quants Section
Take mock tests and solve previous years question papers
One of the best ways to boost your preparation is to take mock tests regularly. Give at least 2 mocks daily and spend some time to analyze the mocks. Since, mock tests are very close to the actual exam so, attempting and analyzing mock will help you in recognizing your weak and strong areas. You can perform better in the actual exam as you already know your strong and weak areas.
SSC CGL Tier-II Mock tests here
In Last-minute tips for SSC CGL TIER 2 Quant, along with mock tests, a candidate can also attempt previous years question papers and sectional tests. Solving mock tests and previous year question papers will help you to understand the difficulty level, exact exam pattern, type of questions asked, important topics, and distribution of questions from each section in the exam.
Find Solved Previous Years' Papers Here
Please keep note that, analyzing mock tests is a very important part of the preparation strategy. Analyze your performance after mock will tell you your regular mistakes that you are doing in mock tests, you can also make a list of topics that are difficult to you, list of important topics that frequently come in the exam.
Learn and revise important topics
From the list of important topics that you made after analyzing mock tests and previous years' papers, start learning and revising those topics. Questions from these topics are very frequent and you cannot afford to skip questions these topics in the exam. Chances of coming questions from these topics are very high and candidates must pay extra attention to these topics in his/her Last-minute tips for SSC CGL TIER 2 Quant Section.
Here, we are giving weightage of distribution of questions from each topic:
Expected cut off and previous year's cut off
Just go through the previous year's CGL tier-II cut off to set your benchmark for this year's preparation. If you know the previous year's cut off, then you can have an idea about this year's expected cut off and can plan your preparation accordingly. Always try to score higher than the previous year's cur off in mock tests to encourage your confidence. The candidate can get an idea about the number of good attempts in the exam if he knows the previous year's cut off. There is a fluctuation in cut off every year, but a candidate must have assumed that cut off this year will be higher than previous years.
Find all Previous year's cut off here
Save your time and make a proper balance between speed and accuracy
SSC is conducting its exam on an online platform, therefore attempt as many as possible mock tests online along with offline test series. You will get used to the online interface after attempting online mock tests and this saves you a lot of time.
Keep yourself calm while solving the paper as this will help you to read the questions carefully and answer them properly. SSC exams are all about proper time management and you cannot spend too much time on a question. You have to attempt more questions in less time with high accuracy. First, you have to solve questions from your strong areas and then go to questions of your weak areas. Solve only those questions which you are confident of.
You can increase speed by applying short tricks, learning algebraic identities, trigonometric ratios, and identities, important formulae.
Note: Apply short tricks only when you are master at it.
Revision is the key to success, so keep revising important formulae and short tricks regularly.
Do not Start learning New Concepts
Do not try to learn any new concept before the exam as it will hamper your preparation. The best you can do is to revise the syllabus.
Stick to your strategy
Do not change your strategy before the main exam. Prepare according to your strengths.
Expect the Unexpected
Always be prepared for some unexpected questions in the paper. Remember that the whole paper will not be unexpected. It can happen that some questions can be unexpected.
Do not go overboard or lose confidence
If the questions are very easy do not get over-excited as it can lead to silly mistakes. Also, do not get disappointed and lose confidence if some questions are very difficult in the starting.
Go through all the questions
Make sure to check all the attempted questions in order to reduce the chances of doing mistakes.
Sleep early
It is recommended that candidates should sleep early before the exam as reporting time for SSC CGL Tier 2 exam is from 7:30 am. A good nights sleep will ensure you are fresh and ready to perform at your best.
Take all the necessary documents
Make sure to carry Covid declaration form, admit card, government ID, 2 photos, mask, sanitiser, transparent water bottle along with you.
Register and attempt FREE SSC CGL Tier-II Mock tests Here
We hope this article Last-minute tips for SSC CGL TIER 2 Quants will help you to prepare well for this section in the exam.
Also Check:
For Free Practice Questions Register here.
For High-Level DI Questions, Register here.
Solve DI based on Time and Work Here
How to Master Quants section – Know Here!
Attempt Various Free Mock Tests Here: Topic Tests, Sectional Tests, and Full Mock Tests.
Study at your own convenience anywhere. Download the Oliveboard app now!

Oliveboard is a learning & practice platform for premier entrance exams. We have helped over 1 crore users since 2012 with their Bank, SSC, Railways, Insurance, Teaching and other competitive Exams preparation.