Also known as the All India Law Entrance Test, it is an exam conducted once every year by the National Law University, Delhi (NLU Delhi). It facilitates admission into law colleges that encourage students who wish to pursue undergraduate (LLB), post-graduate (LLM) and doctorate (PhD law) courses in law. The colleges which accept the AILET scores are known as AILET colleges.
List of AILET Colleges
The AILET scorecard is recognised by some very prominent Law colleges in India.
| | | |
| --- | --- | --- |
| Institute/College Name | Region | Category |
| National Law University | Delhi | Public/ Government |
| The North Cap University, School of Law. | Haryana | Private |
| Jagan Nath University, Faculty of Law. | Haryana | Private |
| SRM University, Faculty of Law. | Haryana | Private |
| Sushant University, School of Law. | Haryana | Private |
| Xavier University, Xavier Law School. | Orissa | Private |
National Law University
The University was established in 2008 and is situated in the capital city of India, Delhi. AILET score is the major criterion for admission into this institution, along with mandatory educational qualifications applicable under each course. The college offers courses like:
BA LLB (Hons) is an integrated five-year undergraduate programme.
LLM is a one-year post-graduate program
Various PhD programs.
Under the AILET merit scheme, there are 220 seats allotted for the above-mentioned courses that are apportioned as 198 seats for Indian citizens and 22 seats for Foreign Nationals. Besides these, there are additional 3 seats under each course for Kashmiri Migrants( called supernumerary seats).
For further details on admission, eligibility criteria, seat matrix, courses, fee structure, and other details, visit the NLU page.
The North Cap University
This University began in 1996 in Gurgaon and is recognised as a private institution, Haryana. It offers various types of courses in the areas of engineering, technology, management, law and also applied science. The programmes under the school of law are :
BBA LLB, an integrated degree – 70 seats
LLM post-graduate degree – 20 seats
Doctor of Philosophy(Ph.D) in Law
With that being said, a student should have achieved a minimum of 50% marks in aggregate in the 12th standard examination held by the Central Board of Secondary Education or equivalent exam and cleared his AILET exam to join the BBA LLB course in this college. A detailed explanation of the course is on the website.
Jagan Nath University
One of the many reputed institutions located in Bahadurgarh, Haryana, makes it a destination of choices for students who are willing to pursue in the fields of management, technology, engineering, medical, architecture, law, journalism and mass communication, vocational studies and PhD programme. The faculty of law offers the following:
BA LLB (Hons) five-year undergraduate course – 60 seats
LLM one year post-graduate course – 20 seats
PhD Law three-year course – based on availability
AILET score is considered for BA LLB when a minimum of 45% aggregate marks are scored in the 10+2 examinations conducted by such relevant education boards is also achieved by the student. For more information about these courses, check out this webpage.
DOWNLOAD THE OLIVEBOARD APP FOR ON-THE-GO EXAM PREPARATION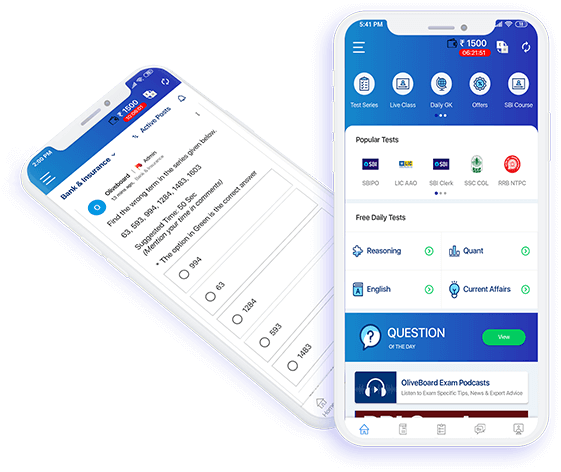 Video Lessons, Textual Lessons & Notes
Topic Tests covering all topics with detailed solutions
Sectional Tests for QA, DI, EL, LR
All India Mock Tests for performance analysis and all India percentile
General Knowledge (GK) Tests
Free videos, free mock tests, and free GK tests to evaluate course content before signing up!
SRM University
A prestigious and most sought after institution providing educational assistance since 2013 located in Sonepat, Haryana. This University has a law school that teaches:
BA LLB (Hons) – 5 years
BBA LLB(Hons) – 5years
LLB(Hons) – 3 years
LLM -1 year
PhD law – 3 years
A student becomes eligible when he secures a minimum of 50% marks in aggregate in the 12th standard exam conducted by the State or Central Board of Education and clears the AILET test to apply for BA LLB or BBA LLB. The online portal created by the institute has required information about these courses.
Sushant University
Previously known as Ansal university, it was established in 2012 and is situated in Gurgaon, Haryana. The school of law is one of the other schools in the University that invites admissions for:
Undergraduate courses like
BA LLB(Hons), BBA LLB(Hons) and LLB(Hons) – 60 seats each
The AILET score, along with overall 50% marks in aggregate in 12 standard equivalent exams, qualifies a student to apply for the above courses.
One year post-graduate course LLM – 30 seats.
The institute takes enough care to provide standard education to equip students with sufficient knowledge through this five year and one year programme. The details of the syllabus, admission procedure, fee structure likewise can be found in this university link.
Xavier University
The institution located in Bhubaneswar, Orissa, was established in 1987 and recognised by the government as a private institute in 2013. At this University, Xavier Law School is the one that sets the academic agenda for law students, which are:
BA.LL.B(Hons)
BBA.LLB(Hons)
PhD in law
This law school considers AILET scores. The student should also attain an aggregate 45% mark in their 12 standard state or central board exams to apply for the undergraduate courses. The official website of this college provides you with details of admission procedures and programme syllabus.
Finally, these are the different options accessible to a student intending to pursue the education of Law via the AILET exam. Each University has its unique characteristics, campus, amenities, teaching methodology and selection procedure. One must thoroughly go through the information available on the website and make efforts to check the validity of such information. To attain holistic development, they also encourage extracurricular activities apart from academics. Make the best use of resources and come forth with flying colours. 
FAQ
1. What are BA LLB and BBA LLB? 
 The courses are integrated Law degrees:
BA LLB – Bachelor in Arts and Bachelor in Legislative Law.
BBA LLB – Bachelor in Business Administration and Bachelor in Legislative Law.
Both these courses are five-year programmes. 
2. What are the full forms of LLB and LLM?
   LLB – Bachelor in Legislative Law (3 years)
   LLM – Masters in Legislative Law (1 year)
3. What are the other criteria apart from the AILET score for undergraduate admission?
     The student must also secure a minimum overall percentage, which differs in each University, in the 12th standard examination conducted by the state or central board. 
4. Are there colleges other than National Law University that accept AILET marks? 
    Yes, five other colleges consider AILET marks.

Oliveboard is a learning & practice platform for premier entrance exams. We have helped over 1 crore users since 2012 with their Bank, SSC, Railways, Insurance, Teaching and other competitive Exams preparation.
Oliveboard Law Exams – Live Courses & Mock Test Series