Money Market for JAIIB IEIFS: IIBF has updated the syllabus and exam pattern for JAIIB w.e.f 2023. Paper-I is now the Indian Economy and Indian Financial System. The Paper will cover the basics of an economy and the various problems, then it will come to the specifics of the Indian Economy. Indian Financial System will also be covered in this paper. Banks, their working, basic bank functions, etc. will be major topics in this paper. This blog will cover the Money Market – its definition, features, instruments, uses, etc. Candidates can also download the free e-book at the end of the blog for easy studying.
Money Market
Let's start with the topic- what makes up a money market, its tools, features, and its characteristics.
What is a money market?
The money market is the part of the overall financial market where large amounts of high-liquidity assets are traded. These are usually assets that have short maturity. Meaning they
can be traded fast and easily. The money market is mostly for those who wish to conduct borrowing and lending activities for short amounts of time with short maturities. These time periods can vary from one night to a little less than a year. This type of market is mostly a type of fixed-income market as both individuals and institutions use it as a way to manage short-term liquidity.
Money Market and the Indian Economy
Indian Economy has a Financial system that overlooks all the financial checks and balances across
the country. The market under the Indian Financial System can be broadly classified into two types:
Money Market
Capitalist Market
The money market is the platform where the government and companies of the country raise the term
for short-term requirements.
Structure of a Money Market
The following figure shows the different ways in which a money market can be structured:

Let's see what these two forms of money markets are:
Organized Structure
In India, the organized structure consists of all the organized financial institutions from the
central banking and finance organizations to the Public Sector, Private, and other types of banks.
The RBI (Reserve Bank of India)
SBI (State Bank of India)
Scheduled and non-scheduled banks
Foreign banks
Regional Rural banks
Unorganized Structure
This mainly consists of financial institutions that are based on individuals or an established group of people. These are particularly prevalent and preferred in rural areas where the banking services of private sector banks and even public sector banks may not reach.
Indigenous Banks
Moneylenders
Chit funds
Features of Money Market
The following are the features of a money market:
The money market enables the trading of short-term debt investments at wholesale and retail levels.
At the wholesale level, it involves a huge volume of trades between traders and institutions. Whereas, at the retail level, it includes money market mutual funds purchased by individual investors and bank customers who open money market accounts.
The money market comprises negotiable instruments like certificates of deposits, commercial papers, treasury bills, etc. Admit Cards Results.
The market is considered a safe haven for investment for the reason that it involves highly liquid securities.
Money Market Instruments
Money markets are a platform for individuals and organizations to trade in short-term maturity or high liquidity assets. Participants in the market carry out these trades using what are money market instruments.
What are money market instruments?
Money market instruments are financial instruments. These are typically used to provide for funds in the money market when participating in short-term borrowing and lending. These instruments usually have a maturity period varying from a night to just less than a year. These instruments are mainly low-risk investments. A few examples include:
Call/Notice/Term Money
Treasury Bills (T Bills)
Cash Management Bills (CMB)
Commercial Bills
Certificate of Deposits (CD)
Commercial Papers (CP)
Collateralized Borrowing and Lending Obligation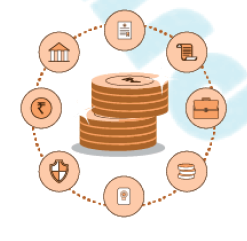 Call Money/ Notice Money/ Term Money
The following are the definitions for call money, notice money, and term money-
a. Call Money: A short-term loan that is payable on demand with a maturity of 1-14 days.
b. Notice Money: When the borrowing/lending has a period of 2-14 days.
c. Term Money: When the borrowing/lending has a time period of more than 14 days.
Participants in Money Market
There are a number of participants in the money market who use the above-mentioned instruments for various transactions. Some of these participants are:
Schedule Commercial Banks
Co-operative Banks
Primary Dealers
Banks other than Land Development Banks
The following table shows the participant categories and their corresponding prudential limits. This prudential limit is set in place to minimize the risks that banks take and to ensure security and soundness, not just for the individual institutions but for the system as a whole.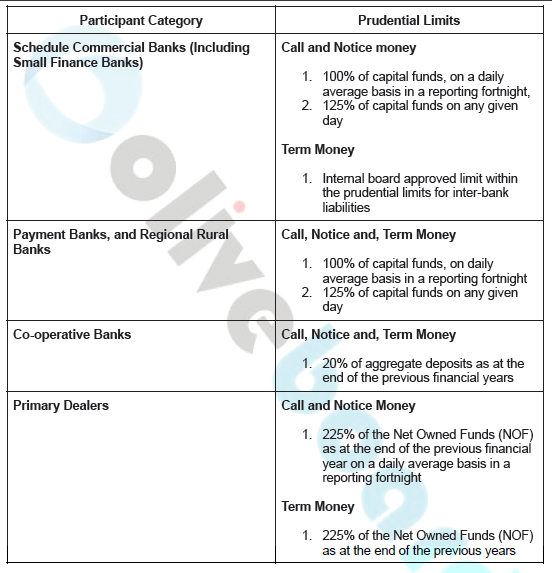 Lending Limits
The lending limit refers to the maximum possible amount that an individual bank can lend to a borrower. This limit is usually dependent on the capital and the surplus funds with the lender. The following are the lending limits for a few common lending institutions:
Schedule Commercial Bank: 50% of capital funds
Co-operative Banks: No limits
Primary Dealers: 25% of the Net O
Treasury Bills
A treasury bill (T-Bill) is an instrument of short-term borrowing by the Government of India
maturing in less than 1 year. Treasury bills, generally written as T-Bills, are money market instruments as they have a maturity of a maximum of 364 days. The money market deals with instruments with a maturity of less than one year. Treasure Bills were first issued in India is 1917. Currently, the Government of India issues three types of T-Bols – 91 days Y0Bill, 182 days T-Bill, and 364 days T-Bill.
Features of Treasury Bills
Amount: T-Bills are available for a minimum amount of Rs. 25,000 and in multiples of Rs. 25,000. T-Bills are issued at a discount and are redeemed at par.
Form: T-Bills are issued either in physical form as a promissory note or dematerialized form by crediting to the Subsidiary General Ledger (SGL) Account.
High Liquidity; Treasury bills are highly liquid negotiable instruments that are available in both financial markets, ie. primary and secondary.
Method of the auction: Uniform price auction method for 91 days T-Bills, whereas multiple price auction method for 364 days T-Bills.
Eligibility: Individuals, firms, companies, trusts, banks, insurance companies, provident funds, state governments, and financial institutions are eligible to invest in treasury bills.
Issue: T-bills are issued at a discount and redeemed at par.
Zero Risk: T-Bills have assured yield and zero risk of default.
Repayment: The repayment of the bill is made at par on the maturity of the term.
Day Count: The day count is 364 days, in a year, for treasury bills.
Money Market: E-Book Sneak Peek
Take a look at what you'll find in the free PDF of Money Market e-book: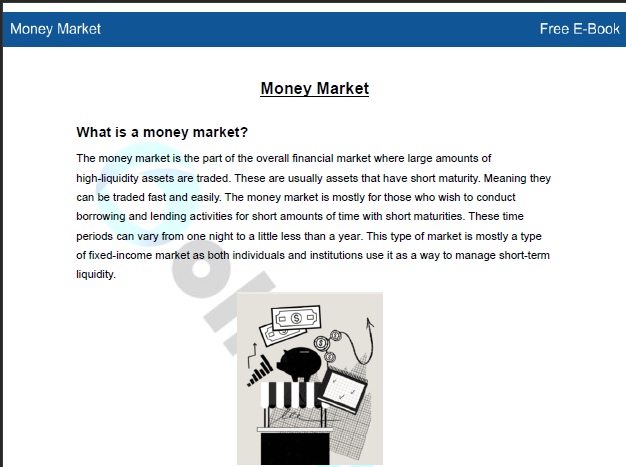 Money Market for IEIFS JAIIB: Download Free e-Book
Here you can download the e-book on the topic of the Money Market for IEIFS:
Steps to Download Free E-Book
Step 1: Click on the download link. You will be redirected to Oliveboard's FREE E-Books Page.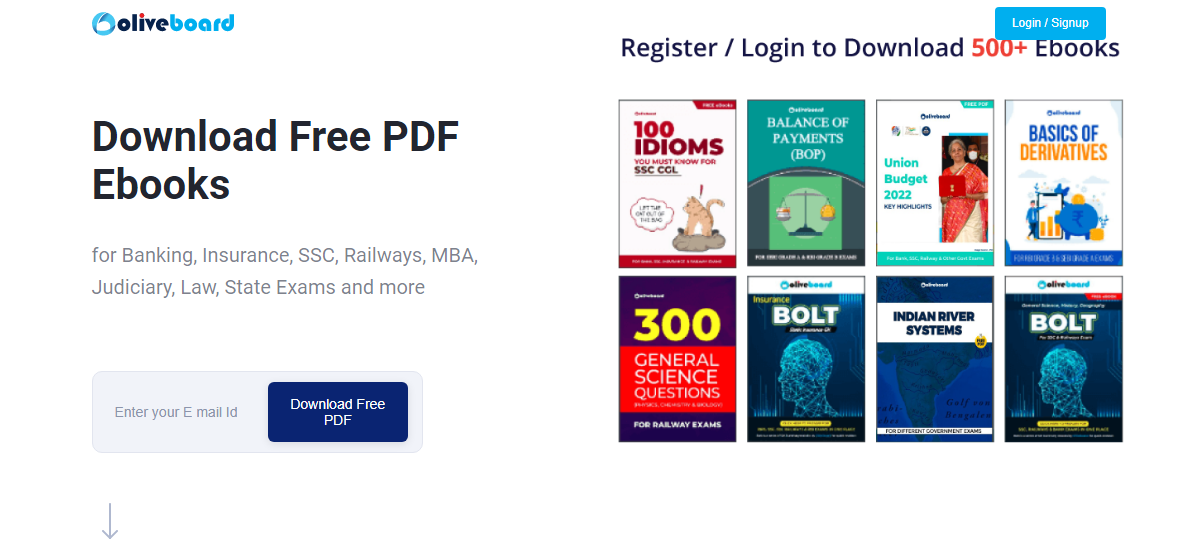 Step 2: Create a free Oliveboard account or login using your existing Oliveboard account details
Step 3: Download the book by clicking on the link presented on the page.
Conclusion
We hope this e-book helps you in understanding the various facets of the money market. You can get in-depth lessons and problem-solving practice through our exclusive JAIIB-CAIIB YouTube channel:
---
---
DOWNLOAD THE OLIVEBOARD APP FOR ON-THE-GO EXAM PREPARATION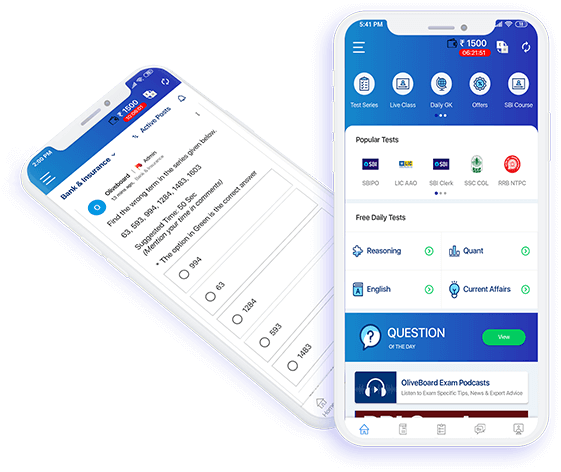 Video Lessons, Textual Lessons & Notes
Topic Tests covering all topics with detailed solutions
Sectional Tests for QA, DI, EL, LR
All India Mock Tests for performance analysis and all India percentile
General Knowledge (GK) Tests
Free videos, free mock tests, and free GK tests to evaluate course content before signing up!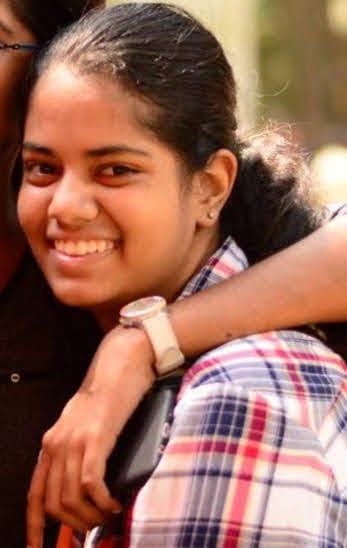 I write content to help people prepare for banking exams because I have experience as an aspirant myself. My goal is to provide accurate and easy-to-understand information for candidates. I cover various topics such as exam patterns, syllabus, study techniques, and time management to support those preparing for the exams. As a former aspirant turned content writer, I want to make the information accessible and helpful for others so that they can do well in their banking and government exams and achieve their goals.
  Oliveboard Live Courses & Mock Test Series