The National Bank for Agriculture and Rural Development (NABARD) conducts exams for the recruitment of Grade 'A' and 'B' officers. NABARD Gr. A notification 2021 is slated to be released very soon as per the speculations. The sections of economic & social issues and agriculture & rural development are common in both the phases of the NABARD Grade A exam. In the following article, we are providing you with ARD Paper Preparation Strategy for phase 1 and phase 2 of the upcoming NABARD Gr. A exam.

Get NABARD Gr. A Free Study Material Here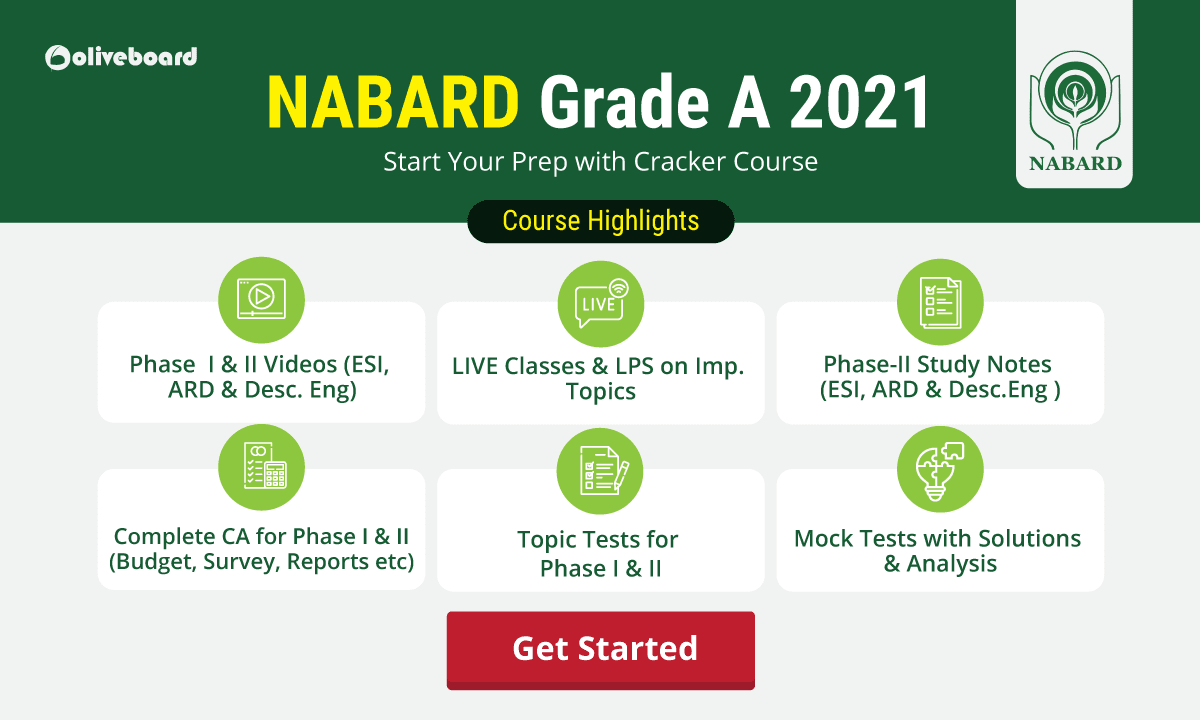 NABARD Grade-A Exam 2021 – ARD Paper Preparation Strategy
I. NABARD Grade-A Exam – ARD Syllabus
The NABARD exam syllabus has been provided in the official NABARD Exam Notification available on their website. However, based on the analysis of the NABARD Gr. A Exams in the past few years, we have divided the topics into categories to make it easier for you to do selective studying.
ARD Topics to Study for ARD Phase 2 of NABARD Exams
The ARD Phase 1 & Phase 2 syllabus can be divide into 12 categories as follows:
1. Present scenario of Indian Agriculture – Present scenario of allied activities, Factors of production in agriculture, Agriculture finance and marketing, Impact of globalization on agriculture, Issues of food security, Concept and types of farm management.
2. Branches of Agriculture, Agronomy – Definition, meaning and scope, Classification of crops, Factors affecting crop production and Agricultural climatic zones, Cropping systems, Crops and weather, Seeds, Precision farming, Organic farming.
3. Soil Science – Types of soil, Soil fertility, Soil erosion and conservation, watershed management.
4. Irrigation – Sources of Irrigation, Types of irrigation, Crops water requirement, Command area development, Water conservation techniques.
5. Agricultural Engineering – Sources of power on-farm, Water harvesting structures, Agro-processing. Storage – godowns, bins, silos, etc.
6. Plantation & Horticulture – Definition, meaning and branches, Post-harvest management, supply chain management of P & H crops.
7. Animal Husbandry – Role of animals in the Indian economy, Animal Husbandry methods, Classification of breeds of cattle, Feeds and fodder classification, the Poultry industry in India, Mixed farming, Linkages between livestock/poultry and farming.
8. Fisheries – Importance of fisheries in India, Aquaculture, Post-harvest technology, Freshwater, brackish water and marine fisheries.
9. Silviculture, Social forestry, Agroforestry, Join forest management, Forest policy and legislation in India, State of Forest Report, Recent Development under MOEFCC.
1o. Agricultural Extension – Importance, role and methods, Role of KVKs – Krishi Vigyan Kendra
11. Ecology & Environment, GHGs – concept & countries, Adaptation vs Mitigation, Impact of climate change on agriculture and rural livelihood, Carbon credit, IPCC, UNFCCC, COP meetings. Funding mechanisms, Initiatives by GOI-NAPCC, SAPCC, INDC.
12. Rural Development – Concept and importance for India, Rural population – composition and trends, Problems of rural labour, Issues in handlooms, PRIs – functions and working, MGNREGA, NRLM, Ajeevika, Rural Drinking Water Programs, Swatch Bharat, Rural Housing, PURA, Other programs, Rural Credit System – Evolution and growth, Role and Functions of RBI, NABARD, SIDBI, etc.
Get complete ESI Notes, Video Lessons & Topic Tests for all the Topics given in the Syllabus
---
II. Agriculture & Rural Development (ARD) Preparation Strategy
The GK, Computers, ESI & ARD sections together constitute 120 marks and Reasoning, Quant and English constitute 80 marks. While the former is theoretical in nature and requires less time, the latter is based on mental ability and is practical and requires more time to solve. Therefore, you should aim to score maximum marks in the theoretical section in lesser time (around 40 minutes) and use the remaining time for the practical sections (80-90 minutes).
Preparation Strategy & Important Topics for ARD for Phase 1 
1. Schemes and sub-schemes: Schemes on agricultural & rural development are important. It is important to know the full forms of schemes like PMFBY, PMKSY, PMKKKY, etc. 
2. Fact-based questions: Questions based on facts & figures can be asked in both phase-1 & 2 and more so in phase-2.
3. Static Portion: Static questions are mainly asked from the agriculture part of ARD and not much in the rural development. Do not completely ignore the static part of the rural development syllabus. But rather, don't spend too much time on theory for rural development. 
4. Current Affairs: Cover all current affairs related to ARD for the past year. The CA questions are simple & straightforward and based on facts & figures of recent schemes & programs. We suggest you focus equally on the current affairs part of ARD as well as the static part
5. Prepare simultaneously for both Phases: The syllabus of ARD is more or less the same for both phases with a few extra topics for phase-2. Prepare simultaneously as some questions from phase-2 topics might be asked in phase-1.
Get monthly CA capsules, Govt. Schemes & summaries of imp. reports in NABARD Gr. A Cracker Course
---
Resources & Tips for ARD for Phase-2 

Cover the complete static syllabus of ARD in addition to current affairs. We suggest you cover current affairs on topics in ARD from the following sources:
News on Schemes & Sub-schemes
Annual Reports of:
Ministry of Agriculture

Ministry of Rural Development

NABARD

Ministry of Environment, Forest and Climate Change

Get Complete Current Affairs for NABARD exam in NABARD Gr. A Cracker Course
This was all from us in this blog of ARD Paper Preparation Strategy for the NABARD Grade-A 2021 exam. 
---
NABARD Grade A Online Course 2021
» Oliveboard offers the best NABARD Grade A Online Coaching for you all which will help you crack the exam with ease in your first attempt.
» NABARD Grade A Online Course would include Online Video Lessons, Detailed Study Notes, All-India Mock Tests, and much more for your exhaustive preparation.
» Oliveboard's NABARD Grade A Online Course 2021 will be your one-stop destination for all your preparation needs.
Why Join Oliveboard?
» Structured preparation @ one place.
» Strengthen your concepts using Videos & Notes.
» Have a grip on topics through Topic Tests.
» Improve speed and accuracy through Full-length Mock Tests.
Course Details
» Phase  I & II Videos (ESI, ARD & Desc. Eng)
» LIVE Classes & LPS on Imp. Topics
» Phase-II Study Notes (ESI, ARD & Desc. Eng)
» Complete CA for Phase I & II (Budget, Survey, Reports, etc)
» Topic Tests for Phase I & II
» Mock Tests for Phase I & with Solutions & Analysis
As they say, start early and stay ahead!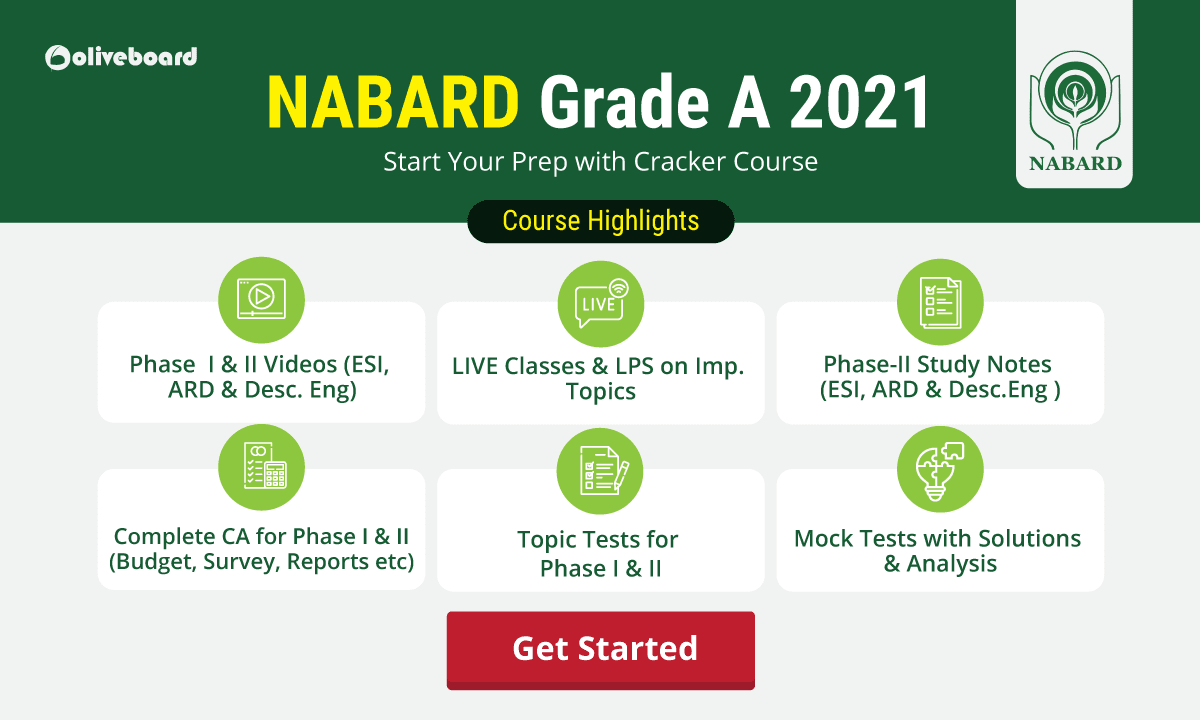 Interact with your fellow aspirants about Time Strategy For NABARD Entrance Exam and NABARD Study Notes in our discussion forum.
Alternatively, you can also download the Oliveboard Mobile App and GK App for free study material and other latest updates.
Happy Learning from Oliveboard!
  Oliveboard Live Courses & Mock Test Series