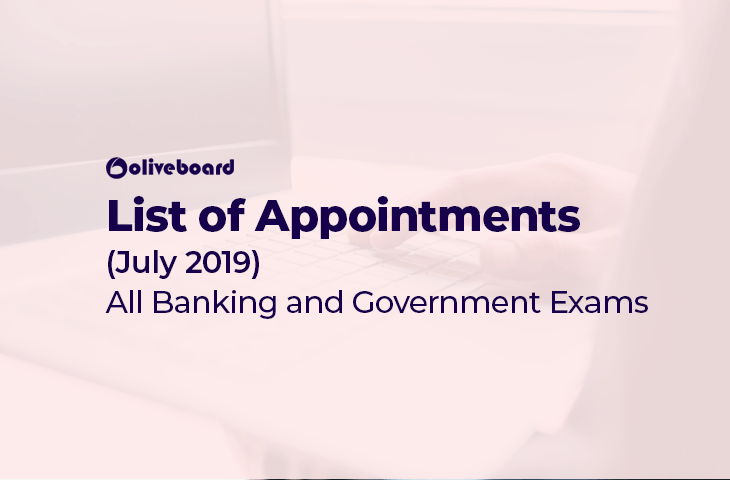 New Appointments July 2019:- In most of the competitive exams, Current Affairs is an integral part of the General Awareness section. Here, questions related to new joining and appointments are commonly asked in various Bank and Government exams like SEBI, ESIC SSO, NABARD, IBPS RRB, SBI PO, and SBI Clerk, IBPS PO and IBPS Clerk, SSC Exams, UPSC and more. Hence, we provide you free ebook every week to keep you updated with all the important joining that has happened in the month. In this article, you'll find List of New Appointments of July 2019.
Practice Daily Free GK Quiz on Oliveboard
Download the List of New Appointments July 2019
Click on the adjoining link of Current Affairs free ebook which gives you List of Appointments (July) for the year 2019: http://bit.ly/Appointments_July2019
Download Free eBook Here
Practice Daily Free GK Quiz on Oliveboard
List of Appointments July 2019
New Appointments – July 2019

Name

Designation

Acharya Devvrat
Governor, Gujarat
Adhir Ranjan Chowdhury
Chairman of the Public Accounts Committee (PAC)
Ajay Kumar Bhalla
Union Home Secretary, Ministry of Home Affairs
Anandi Ben Patel
Governor, Uttar Pradesh
Anil Kumar Khachi
Secretary, Department of Investment & Public Asset Management
Anshu Prakash
Secretary, Department of Telecommunications
Anshula Kant 
MD and CFO, World Bank
Anuradha Mitra
Secretary, Department of Official Language
Anusuiya Uikey
Governor, Chhattisgarh
Arun Kumar
Chief, Directorate General of Civil Aviation
Ashutosh Gupta
LinkedIn, Country Manager for India
Atanu Chakraborty
Secretary, Department of Economic Affairs
Atul Chaturvedi
Secretary, Department of Animal Husbandry & Dairying
Badri Narain Sharma
Chairman, National Anti-Profiteering Authority (NAA)
Biswa Bhusan Harichandan
Governor, Andhra Pradesh
Boris Johnson 
Prime Minister, UK
Practice Daily Free GK Quiz on Oliveboard
Here are a few Sample Questions:
Q1. __________ has been appointed the Governor of Andhra Pradesh.
Biswa Bhusan Harichandan

Acharya Devvrat




C. Kalraj Mishra

Phagu Chauhan
Solution: A
Practice Daily Free GK Quiz on Oliveboard
Q2. __________ has been appointed as the CFO of J&K Bank.
Siddhartha Sanyal

N S Vishwanathan

Sanjeev Naryani

Rajni Saraf
Solution: D
For more eBooks, Click Here
We hope you find the List of Appointments (July 2019) E-Book useful.
To connect directly with our faculty for your queries related to bank and government exams, please download the Telegram App and interact directly to our faculty members. Join the Oliveboard Telegram group at obbanking or click on the image provided below: