The Reserve Bank of India (RBI) recently released the vacancy for 900+ Assistant positions in various branches of RBI across the country. Candidates are completely embraced in their preparations for the prelims exam which is scheduled to take place on 14th/15th Feb 2020. It is often noted that many candidates face problems when it comes to English language section and its preparations. Although, this is one of the most important and easy section one can score in. In this blog, we have brought RBI Assistant English questions which are most probable to appear in the upcoming examination, given that the questions are taken as per the distributions in the previous year papers for RBI Assistant prelims exam. So without any further ado, let's start with the blog.
Start Preparing For RBI Assistant 2020 with A Mock Test
RBI Assistant English Questions – Exam Pattern
Before moving ahead with the questions and its distribution over the last few years, let's first have a look at the portion of the English Section in the RBI Assistant prelims exam.
Name of Tests
(Objective)
No. of Questions
Maximum Marks
Time
English Language.
30
30
20 Mins
English Language 
In the RBI Assistant exam conducted in 2017, the distributions of questions in the English section were as mentioned below:
1. Error Spotting – 8 questions
2. Reading Comprehensions – 12 questions
3. Fill in the blanks (1 word) – 5 questions
4. Phrase Replacement (grammatically correct phrase) – 5 questions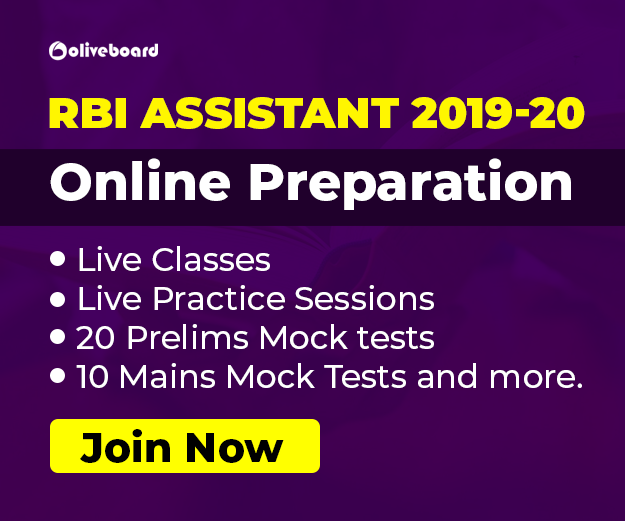 Based on this distribution we will be providing you a mixture of questions with their answers, thus allowing you to attempt and solve the questions.
Important RBI Assistant English Questions
Here, we will give you sample questions that are highly expected to appear in the prelims exam of RBI Assistant 2020. More or less the pattern will remain the same, however value will vary.
RBI Assistant English Questions – Error Spotting
Read each sentence to find out whether there is any grammatical error in it. The error, if any will be in one part of the sentence. The letter of that part is the answer. If there is no error, the answer is 'D'. (Ignore the errors of punctuation, if any).
Q1) [a] Many students is / [b] competing for / [c] IITs and IIMs / [d] no error.
[a]

[b]
[c]
[d]
Correct Answer: Option 1
Q2) [a] Do you know / [b] to sing / [c] a song / [d] no error.
[a]
[b]
[c]
[d]
Correct Answer: Option 2
Q3) [a] The governor was efficient / [b] and ensure that the King was happy / [c] as well as his subjects / [d] no error.
[a]
[b]
[c]
[d]
Correct Answer: Option 2
Attempt Full RBI Assistant Mock Test Here
Q4) [a] Regretfully, profits earned by your company / [b]. fell by 20 per cent last year [c]. despite higher sales. [d]. No error.
[a]
[b]
[c]
[d]
Correct Answer: Option 1
Q5) [a] In a report issued by Indian Statistical Institute, / [b]. the Iron and Steel Industry is investing more than any other / [c]. Indian industry in fighting pollution. / [d]. No error.
[a]
[b]
[c]
[d]
Correct Answer: Option 3
Q6) [a]. A lot of travel delay is caused / [b]. due to the inefficiency and lack of good management / [c] on behalf of the railways. / [d] No error.
[a]
[b]
[c]
[d]
Correct Answer: Option 3
Q7) [a] Having received your letter / [b] this morning, we are writing /[c] to thank you for the same. / [d] No error.
[a]
[b]
[c]
[d]
Correct Answer: Option 4
Q8) [a] When the dentist came in / [b] my tooth was stopped aching / [c] out of fear that I might lose my tooth. / [d] No error.
[a]
[b]
[c]
[d]
Correct Answer: Option 2
RBI Assistant English Questions – Phrase Replacement
Directions for Questions 1 to 5: Which of the phrases (1), (2), (3) and (4) given below each sentence should replace the phrase printed in bold to make the sentence grammatically correct? If the sentence is already correct, mark (5), i.e. 'No correction required', as the answer.
Q1) His behavior with all his employees is so pleasing that everyone come forward for helping him.
(1) came towards him for help
(2) comes towards him for help
(3) comes forward to help him
(4) comes forward for help him
(5) No correction required
Correct Answer: Option 3
Want More Questions? Attempt A Complete Mock test
Q2) Not knowing the language and had no friends in the country, he found it impossible to get a job.
(1) has no
(2) with having
(3) with having not
(4) having no
(5) No correction required
Correct Answer: Option 4
Q3) Lift the handset only after paid a one rupee coin.
(1) paying a one-rupee coin
(2) you pay one-rupee coin
(3) pay one-rupee coin
(4) you paid one-rupee coin
(5) No correction required
Correct Answer: Option 1
Q4) With the introduction of the new system, the number of candidates who resort to unfair means is decreasing year after year.
(1) resorting to
(2) to resort to
(3) resorted to
(4) to resorting
(5) No correction required
Correct Answer: Option 5
Practice More Questions! Attempt A Full Mock Test Here
Q5) What matter does most is the quality and not the quantity.
(1) What does matter
(2) What does it matter
(3) That matters
(4) What matters
(5) No correction required
Correct Answer: Option 4
RBI Assistant English Questions – Reading Comprehension
Read the following passage carefully and answer the questions given below it.
Right of entry to education, and ample teaching-learning environment, a suitable curriculum, and an empowered and all-encompassing faculty are four essential prerequisites of an education system that seeks to enable social transformation. While educational reform since the 1980s was strongly focused on the first two elements, the late 1990s brought the role of the curriculum into national focus. The critical link that binds these four critical elements together-the activity of the faculty-continues to be cast aside by political ideologies of most hues, contemporary curriculum reform efforts and the professional 1 practices of the faculty.
Far-reaching educational initiatives of both the Left and the Right have recognized the potential power of the faculty. In multiple experiments, they have; used this dormant force to build committed institutions and cadres of facilities dedicated to their particular causes. In many instances, this has led to extreme politicization of the college faculty. In others, it has led to the education of a generation of students in half-truths underpinned by the personal beliefs, sectarian concerns and folk pedagogy of faculties who have had little access themselves to education and training in related areas.
Over the last decade or so, educational reform has included, apart from access. a focus on developing alternative text materials and the training of faculty to handle these materials, without directly engaging with the issue of curriculum revamp. At the turn of the 20th century, a major national curriculum redesign was initiated following the change of political regime at the center. The subsequent development of the college program, I came under wide public scrutiny and debate. Issues of equity, inclusion and exclusion, learner medley, religious identity, and communalism gained considerable importance in the curriculum debates that followed. For instance, scholars argued that "the curriculum, while loud on rhetoric, fails to address the quality of education that students of underprivileged and marginalized groups experience." Several other critics described the revised curriculum as a retrogressive step in education that sought to impose the religious agenda in the garb of national identity.
The subsequent change of national government in 2004 led to the curriculum review in 2005, underlining a new political interest in the role of education in national development, its role in social mobilization and transformation directed specifically at questions of caste and gender asymmetry and minority empowerment. Deeper than these politically driven initiatives, however, the professional need for curriculum review emerges from the long ossification of a national education system that continues to view faculty as "dispensers of information" and students as "passive recipients" of an "education" sought to be "delivered" in four-walled classrooms with little scope to develop critical thinking and understanding.
Q1) Prior to 1990, what was NOT the agenda of the educational reforms?
(A) An appropriate curriculum
(B) Well-managed admission process
(1) Only (A)
(2) Only (B)
(3) Both (A) and (B)
(4) Either (A) or (B)
(5) None of these
Correct Answer: Option 1
Practice More Questions! Attempt A Full Mock Test Here
Q2) How did personal beliefs and folk pedagogy enter into educational system?
(1) The college acted as an agent of local communities.
(2) The faculties were not properly trained.
(3) College faculties started acting as passive listeners.
(4) The loopholes in the educational system allowed it to happen.
(5) It was by design.
Correct Answer: Option 2
Q3) What hampers the critical thinking ability of college-going students?
(1) The emphasis on rote memorization and recalling the facts of education based on real experience
(2) Lack of political will to develop these abilities
(3) Absence of focus while designing curriculum framework
(4) Ignoring the active role of faculty and the student
(5) Lack of proper tests of critical thinking ability
Correct Answer: Option 4
Practice More English Questions Here
Q4) Revamping of the text material was the main focus in
(1) early eighties
(2) late nineties
(3) 21st century
(4) evolving curriculum framework
(5) training faculty
Correct Answer: Option 2
Q5) Which of the following is most opposite in meaning of the word medley as used in the passage?
(1) Amalgamate
(2) United
(3) Unity
(4) Diffuse
(5) Focusing
Correct Answer: Option 4
Prepare For RBI Assistant With a Mock Test
That is all from us in this blog, we have provided you with prominent RBI Assistant English questions, the kinds of which can be expected in the prelims phase of exam scheduled on 14/15th Feb 2020. These RBI Assistant English questions would be very useful to aspirants preparing for the exam, given that it is similar to the pattern followed by the RBI. Please keep checking the space for more content and study materials.
Also, Check: