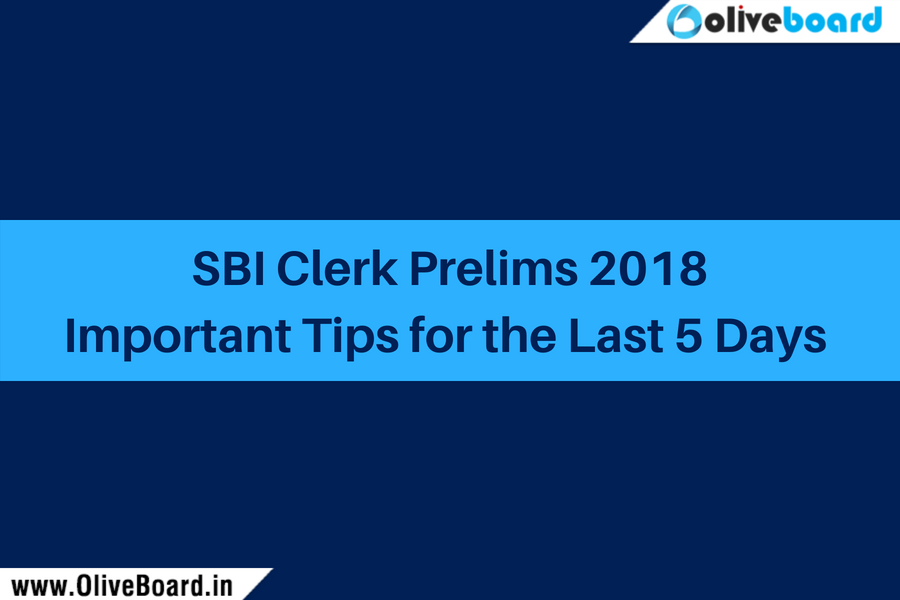 The SBI Clerk prelims is just 5 days away. The SBI clerk preliminary exam 2018 is scheduled to be held on 23rd, 24th and 30th of June 2018. With just 5 days for the exam, we are positive that you might be doing your revisions now. Today, we bring to you few tips for the last 5 days. Let's quickly glance through the exam pattern first.
SBI Clerk Exam Pattern 2018
| | | | |
| --- | --- | --- | --- |
| Name of Test | No. of Question | Max. Marks | Duration |
| English Language | 30 | 30 | 20 Mins |
| Numerical Ability | 35 | 35 | 20 Mins |
| Reasoning Ability | 35 | 35 | 20 Mins |
| Total | 100 | 100 | 1 Hour |
SBI Clerk 2018: Tips for Last 5 Days
Create a Revision Plan
As much it is important to have strong understanding of basics, revision is equally important. Many candidates fail to perform well in the exam due to lack of revision. Therefore, ensure you go through all the important topics well before the exam. You can watch videos to clarify your doubts on topics. This will break the monotony of text learning while helping you with the subject.
Oliveboard has launched 200+ videos for bank exam preparation across Quant, Reasoning and English. Visit the link to access Oliveboard's Video Crash course.

Focus on Weak Areas
By now, you already know your strengths and weaknesses. Focus on your weak areas, try to fill in the gaps by attempting topic tests to improve those areas. This will improve your knowledge as well as confidence.
Oliveboard offers topic tests that come in 3 difficulty levels, namely: Level 1 (easy), Level 2 (moderate), Level 3 (difficult). Take these tests to establish your proficiency in a topic. Start with the basics and then gradually move from easy to higher difficulty questions.

Sectional Time Limits
As per the new pattern, you will have 20 minutes to solve 30 questions, which translates to 1.5 minutes per question. With sectional time limits, you will have to focus on making the most of these 20 minutes as you will no longer have the option of saving them for other sections. As is observed in many exams, that have sectional time limits, the sectional scores are higher as compared to their composite time counterparts. Thus, your approach to the SBI Prelims 2018 preparation must be more holistic.
Don't go for any new topics
Do not try to learn any new topics in the last few days. First, you will not be able to learn it well. Secondly, you will end up wasting valuable time that you could have invested in revising or practicing important topics.
Revise all Formulas & Grammar Rules
Revise all Quant Formulas, Reasoning & Grammar Rules. If you have maintained notes of formulas and rules, those will work best during these last few days. Go through all the formulas and rules before the exam.
Practice Mock Tests
Attempt as many mock tests you can in these last few days. With this, you will not just improve your knowledge but will also get used to the exam pattern.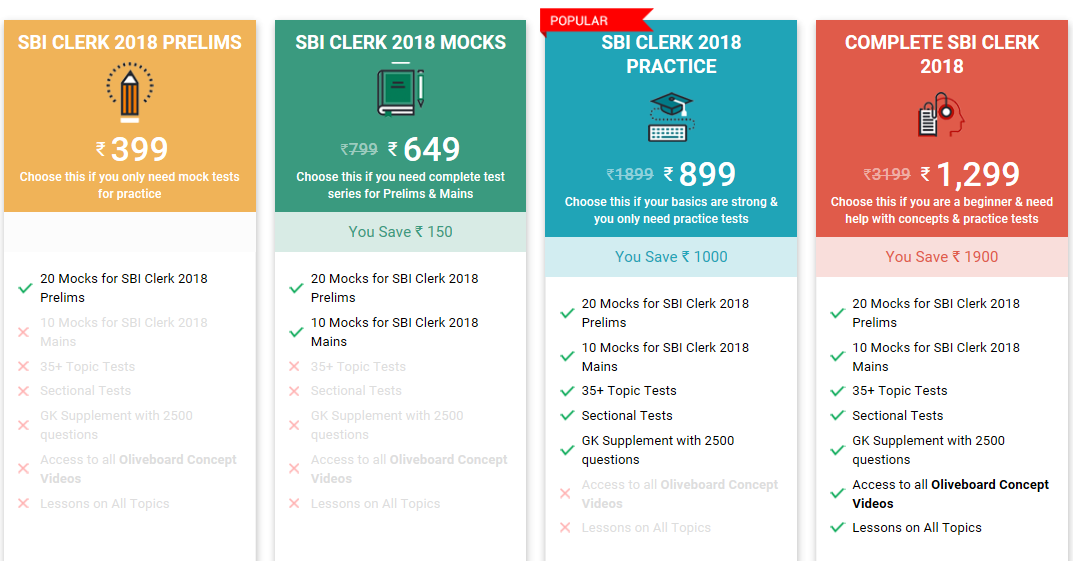 Clear all Doubts
Doubts should be cleared as and when they arise. If you have a doubt or any concept is not clear, then clear it with your mentors or with your friends. Spot your weakness and work on it. You can use Oliveboard's discussion forum to get answers to your doubts.

Keep yourself away from Exam Stress
This is quite difficult but try to keep yourself away from exam stress. You will be able to perform well and stand out in the exam only with a calm head. Chat with friends and family to stay away from stress. Also, ensure that you eat and sleep well before the exam.
Hope this helps!