SBI Clerk 2021 notification is expected soon for the post of Junior Associate. It's a great opportunity for everyone who want to secure their career in the banking sector, but we cannot deny the fact that SBI Clerk exam is a hard nut to crack. So, to make it  a lot easier for you, we're launching  SBI Clerk 2021 Target Batch for SBI Clerk 2021 Exam. Oliveboard's SBI Clerk Online Coaching is one of the most comprehensive online bank coaching for the SBI Clerk Exam preparation currently available out there. The course would be beneficial to all especially to those who do not have access to the coaching classes. In this blog, we are going to tell you everything that you should know about the SBI Clerk 2021 Target Batch.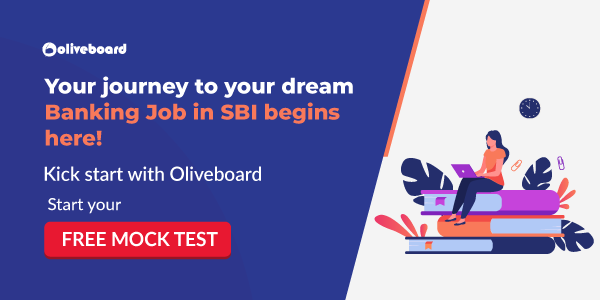 SBI Clerk Online Coaching with Oliveboard
SBI Clerk 2021 is an exam that with the right strategy and preparation can be cracked. To help you ace the exam, Oliveboard brings to you SBI Clerk 2021 Target Batch. This is your chance to start the preparation ahead in time of everyone else for SBI Clerk 2021 with this unique Course. The classes will include concept videos, Live Classes for Quant, Reasoning, General Awareness and English sections and MUCH MORE. Overall, the course helps you meet your exam preparation requirements.
SBI Clerk 2021 Target Batch | Salient Features
Helping anyone and everyone who wants to learn is the vision for us at Oliveboard, and we are following this through Online Mock Tests and now through our Online Learning Courses. Following are the details of the SBI Clerk 2021 Target Batch:-
65 Live Video Classes By The Best Faculty: In these classes, India's Top Faculties are going to help you understand advanced concepts, tips, tricks, new pattern question, shortcuts to solve tricky questions etc.
23

Faculty-led LIVE Practice Se

ssions [LPS]: A live practice session (with Live Ranking) allows you to attempt exam-level questions in an exam-like scenario, with all your classmates. You will be given limited time for each question and your score will be based on how quickly you answer. After answering each question, you can see your scores and rank among all those who are in the session with you. Before moving to the next question, the faculty will also explain the solution and approach. The faculty will be present throughout to provide encouragement and explanation on how to answer the questions in the quickest manner.
10 LIVE Video Doubt Solving Sessions With Faculty: Yes, in this course you will get the chance to clear all your doubts and queries. Doubt solving sessions have been very helpful to students for having their concerns addressed after the class. Students use this feature to get help with questions they are stuck solving, and to resolve general concerns about exam and preparation.
Mock Discussion and Strategy Session: Discuss Mock Test with the Expert faculty. This would help you analyse not only how you attempted the question but also how you should have attempted it by maintaining both speed and accuracy.
SBI Clerk 2021 Mock Tests with Expert Analysis: No preparation is complete without taking mock tests and analyzing them. Hence, the package also includes 30 high-quality mock tests for SBI Clerk; 20 Mock Tests for SBI Clerk Prelims and 10 Mock Tests for SBI Clerk Mains.
Sectional tests, Topic Tests and GK Tests: Access to all the sectional tests, topic tests and GK tests to ensure your all-round preparation.
Day-Wise Study Plan- Get a FREE customized Study Plan as per your convenience to ensure you cover all topics along with Mock Tests & revision before the exam.
Special Classes for Mains: The Special classes for SBI Clerk Mains to be conducted once the Prelims are over.
| | | |
| --- | --- | --- |
| Learning | Practice | Exam Strategy |
| 80+ Video Lectures | 20+ Live Practice Sessions (led by faculty) | Topper Strategy Sessions |
| PDF shared after EVERY class | 10+ Doubt Clearing Sessions | Mentor Strategy & Tips |
So hurry up and Enroll now to not miss out on this excellent opportunity of getting the best online course for the SBI Clerk Exam.
That's all from us in this blog. We hope you like reading it and found the information provided above useful. So Hurry up. Register for the SBI Clerk Online Coaching provided by Oliveboard.
See you all in the Class!
---
SBI Clerk 2021 Target Batch FAQs
What is included in SBI Clerk 2021 Target Batch?
SBI Clerk 2021 Target Batch includes 58 Live Classes, 23 Live Practice Sessions, 10 Doubt Clearing Sessions, and 30 Mock Tests.
Recommended Free Downloads