The COVID-19 Pandemic has certainly left many things on uncertainty. The dilemma of whether this exam will happen or not or when will it happen has left aspirants thinking. The case is no different for SBI PO 2020. Well, the exam will happen sooner or later but what is the one thing that will ensure you make through it? Yes, you guessed it right, it is dedicated preparations and guidance. And, to help you with that, we have brought Complete SBI PO Online Course 2020.
Read along to know what all that the SBI PO Online Complete Course 2020 has in store for you, learn how to prepare for SBI PO 2020, and finally how to crack SBI PO 2020.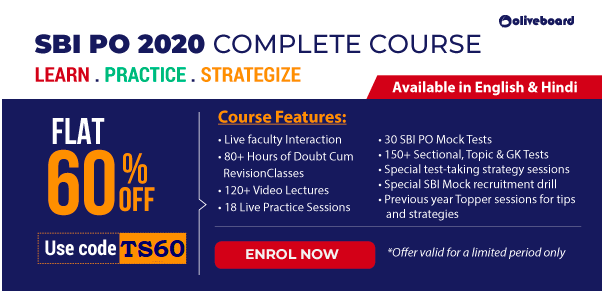 Start your SBI PO early preparations with SBI PO 2020 Online Course
1. SBI PO Titan Course 2020 – Course Details & Features
SBI PO is one of the most coveted jobs in the Banking Industry and a dream job for millions of aspirants across the nation.
To help you ace the exam, Oliveboard brings to you SBI PO Titan Course. This course covers the entire Prelims & Mains Exam preparation for SBI PO. It includes concept videos, Doubt Cum Revision Classes, Live Practice Sessions, Mock Strategy & Discussion Sessions & more. Overall, the course helps you meet your exam preparation requirements.
Here's what all will be covered in the SBI PO Titan Course:
Learning
Practicing
Strategizing
Pricing
Live Video & Audio Interactions with Faculty
18 Live Practice Sessions (led by Faculty)
Special Test-Taking Strategy Session
All This @ Just 3998  ₹ 1599/-
80+ Hours of Doubt cum Revision Class
20 Prelims + 10 Mains Mock Test
Special SBI PO Mock Recruitment Drill
120+ hours of Video Lessons
Sectional + Topic + GK Tests + 200 eBooks
Topper's Tips & Suggestion Sessions

USE Code "TS60" To Avail The Discount – Join Now
The course will be into 3 phases of preparations, starting with learning, then practice & at the last with exam strategy to help you maximize your performance.

1.1 SBI PO Titan Course – Learning
Live Video & Audio Interaction with the faculty – In our constant effort of providing you with the best learning, we have now brought live interaction with the faculty. Here you will be able to be in direct touch of the faculty and ask all your concerns and query.
120+ Video Lectures – The video lectures will provide you complete concepts and high-level questions by the expert faculty. Detailed classes will help you grasp the concept. This will include live class and the recorded video lessons.
80+ Hours of Doubt Cum Revision Classes – Students will not only attend classes but will also be able to ask their doubt to the faculties. Revision classes will help you understand the troubling topics by practicing again and again.
---
Join SBI PO Titan Course. Use Code "TS60" & Get 60% Instant OFF
---
1.2 SBI PO Online Course – Practice
18 Live Practice Sessions (led by faculty) –

The Live practice session is a new way to practice the learned concept which is available exclusively on the Oliveboard Platform.

20 Prelims + 10 Mains Mock Tests –

Practice defines your preparation in the most appropriate way. With 20 prelims & 20 mains mock test, you will be able to enhance your performance and can work on your weaker areas.
Did you Know: Oliveboard users increase their scores by +16 after just 9 mock tests
90 Sectional Tests for Prelims & Mains –

Not only overall practice, but we do also consider sectional practice as an important part of the preparations.

Topic + GK Tests + 200 Ebooks –

Additionally you will get access to GK tests and ebooks which will help you boost your preparations.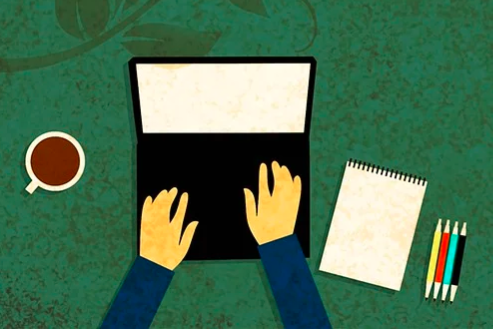 Join SBI PO Titan Course. Use Code "TS60" & Get 60% Instant OFF
1.3 SBI PO Titan Course – Exam Strategy
Special test-taking strategy sessions – While you are attempting the exam, do you know that just attempting and strategically attempting the tests can make significant changes in your scores. Know the best attempt strategy from the Top Faculty.
Special SBI Mock recruitment drill – In an initiative launched by Oliveboard, to give users a real-time experience of the actual exam process, we have brought a Mock Recruitment Drill for SBI PO. This will cover the complete process starting from prelims, mains to interview.  Click on the link below to know the complete details.

Register Here & Appear For SBI PO Mock Drill 2020
Note: This is no way related to the actual exam and just a practice module for the appearing candidates.
Previous year Topper sessions for tips and strategies – Get complete sectional preparation tips and strategies by the ones who have cleared the exam. Get to know topper's plan and how they attempted the exam that helped them clear it.
Register Now & Join the SBI PO 2020 Live Course Here Use Code "TS60"
The validity of this course will be until the SBI PO mains 2020 gets over.
---
Join the SBI PO 2020 Live Course Here, Use Code "TS60" For Instant 60% OFF
---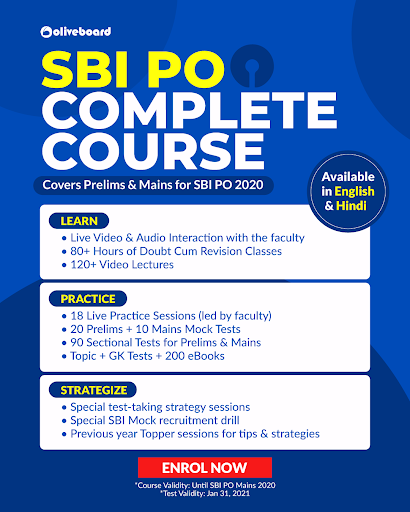 SBI PO 2020 Course + Mock Tests = Get Exam ready
2. SBI PO Online Course 2020 – Complete Preparation
This course will guarantee your success in SBI PO 2020 with, an exclusive course, 30 Mock Tests, & 1*1 guidance.
Here's what all will be covered while you take this course effectively:
Covers complete SBI PO Prelims & Mains syllabus in both Hindi & English Language – The courses are designed in order to impart the course in both Hindi & English. This will make the course teachings much easier for the aspirants making it convenient to grasp the session.

Latest Pattern Tests to Give You Real-Time Exam Experience –

The tests are designed in a similar pattern to that of the actual exam thus providing you with a real-time exam experience. The tests are designed by experts keeping in mind the difficulty level and exam pattern of the actual SBI PO exam.

Advanced Analytics to Track Your Performance –

Oliveboard's AI analytics platform provides you with a detailed analysis of the tests taken. This will help you plan your preparations by highlighting the areas that need the working on. Focus on weaker areas so that you can practice and improve the topic.

Learn, Practice & Compete with All India Aspirants –

This course is equipped with Live Practice Sessions to help you solve the practice questions with All India aspirants. Yes, you read it right, aspirants from All India will be a participant of these practice sessions. Register Now & Attend Live Practice Practice sessions.

1×1 Doubt Clearing from Top Faculty –

Now faculties are just a click away from you. All you have to do is click on the 'I Have a Doubt' button over the live class and faculties will answer all your queries. Isn't it exciting? if you are unable to understand a concept or a question you can click on the button and you will get the answer to your queries.
Register Now & Enhance Your Prep for SBI PO 2020
3. Book A Free Counseling Session
Need more information? Drop your details here and we will call you.
That brings us to the end of this article. The SBI PO Online Course blog aims at your all-round preparations and grooming. This course guarantees your success with complete tips and practice provided that is needed to ace the exam. So, What are you waiting for? Register Now & Start Learning For SBI PO 2020.