Read the success story of Mudita, who has given utmost importance to mock tests and her thoughtful strategy for prelims and mains. With regards to her multiple failures, she says, " Patience is bitter, but it bears sweet fruit." So one should always keep the fire alive in themselves.
Attempt A Free IBPS SO Mock Test Here
Inspiring Success Story of Mudita Manas
Hi, My name is Mudita Manas. I completed my graduation in 2017 from a state govt. college after which I joined a job in the IT sector in Jan. 2018. While working I decided to give these exams and cleared two of them.
I cleared IBPS PO 2019 and IBPS SO (IT Officer) 2019. In IBPS PO, I was allotted the Central Bank of India and in SO, I was allotted Bank of India. I have joined the Bank of India as an IT officer.
When I started my preparation I only knew the name of these examinations and no resources or guidance. I tried many websites for sources but could not find the apt resource that would help me actually cross the finish line. I also had my office which meant my time was very limited. I came across Oliveboard mock tests, at first I found them to be a little hard, but it helped me better my performance.
I failed many PRELIMS with less than 1 mark. I did not clear SBI PO PRE 2018 with 2 marks, I was unable to clear SBI PO 2019 with 0.25 marks. Similarly, I gave many insurance exams but hardly ever cleared Pre.
After many failures, I changed my strategy. With the help of Oliveboard mock tests, I realized that my strong areas are English and reasoning, and the weak part was Quant. I gave more time to strong areas so that my score would always be 25+ in English and 30+ in Reasoning.
Register Now & Prepare for the Exam of Your Choice
Mudita Mans Subject-Wise Preparation Strategy
For English:-  I only relied on mock tests of Oliveboard and English book by Neetu Singh for basics. 
For Reasoning:- I used pdfs of multiple types of puzzles and other reasoning topics and would keep a timer to track my speed. Then with the help of mock tests, I further perfected these sections. 
For Quant:- I watched free Lectures on youtube to understand the topic then with OB mock tests I identified the topics I could do easily and attempted those in the actual exam. Then 30 days before Prelims, I gave 1 mock test daily in the office during lunchtime and analyzed it whenever I got time in the office or after going home.
 For PO Mains, I followed the same strategy as above, but I focussed more on building concepts rather than timing. You have enough time in mains so select the questions carefully, solve easy 1 mark questions in time and then focus on getting more marks by carefully solving the questions with the high value of marks. For descriptive, Read about the current topics and general topics such as Women empowerment, any new issue in the Indian Economy, etc. 
For GA, I kept watching youtube videos and Oliveboard monthly bolts of GA while I was travelling to and fro from the office.
Prepare Current Affairs With Oliveboard's Month BOLT:
For SO Mains, I used 3 resources and mock tests from 2 different sites one being Oliveboard. And kept revising.
For the SO and PO interview, I had the same strategy, I looked up the basics of the job and banking. The important thing is to be confident and not bluff in the interview, if you don't know the answer, simply say that or ask for permission to guess as "Sir, I am not sure about the answer but if I may guess…." Good presentation of what you already know is important in an interview.
---
DOWNLOAD THE OLIVEBOARD APP FOR ON-THE-GO EXAM PREPARATION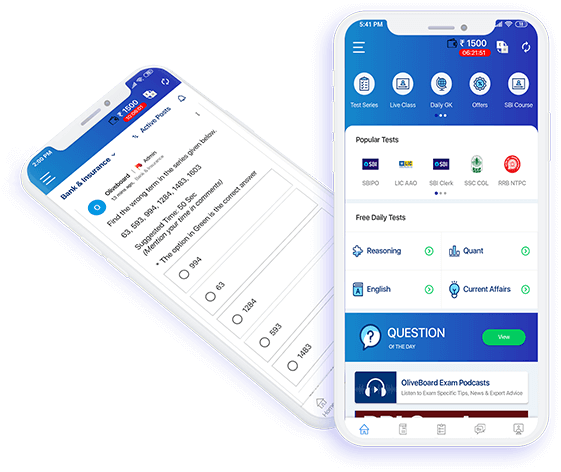 Video Lessons, Textual Lessons & Notes

Topic Tests covering all topics with detailed solutions

Sectional Tests for QA, DI, EL, LR

All India Mock Tests for performance analysis and all India percentile

General Knowledge (GK) Tests
Free videos, free mock tests and free GK tests to evaluate course content before signing up!
---
Mudita Manas Tips To Aspirants
I cleared IBPS PO 2018 pre and IBPS SO 2018 pre, I again failed IBPS PO Mains and in IBPS SO, 2018 in the final merit I had 60/100, the cut off was also 60/100 but I was put in the reserved list. That really crushed me.
But as they say: " Patience is bitter, but it bears sweet fruit", with practice and a new strategy with the help of Oliveboard Mock tests I started again with full focus and gave almost all the exams in 2019 and cleared IBPS PO and IBPS SO in 2019 with a very good margin.
My advice to aspirants is to keep that fire alive, find a good support system, and study. I had 2 friends and we would keep track and discuss the mock tests we gave. And no matter how much you have studied, always use mock tests to judge your performance.
Register Now & Prepare for the Exam of Your Choice
How Oliveboard Helped In Cracking The Exam?
Oliveboard has segregation in mock tests based on the difficulty which is an amazing feature and also the time compared with the average time taken is good.
Thank you Oliveboard, I could not have done it without you. Oliveboard is among the few genuine education websites and worth the money.
That brings us to the end of this article. Success Story of Mudita Manas is a true example of how your dedication and hard work will take you places you have aspired and worked for.
Also, Check:
  Oliveboard Live Courses & Mock Test Series