Hi everyone, my name is Vedant Saxena. I am an IT engineer and have graduated from Panjab University in 2016. I have recently been selected as a PO in a nationalized bank. To state the obvious, I am elated with joy, and this wouldn't have been possible had I not prepared through Oliveboard.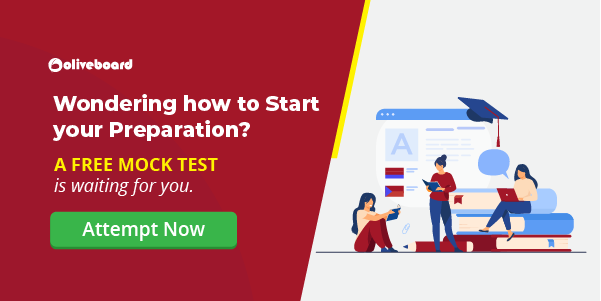 In this post, I shall give a brief description of what could be the possible strategy that bright minds like you can undertake to achieve whatever you desire. I shall give some preparation tips pertaining to each section of the exam starting with Quant.
Quant/DI- let me put it simply, you cannot and should not take quant lightly. You shouldn't compare quant with CAT or any other competitive exams for that matter. You should start preparing from a study material of your choice, whether it be a book or a coaching class study material it is up to you, but to excel in this section practice for at least an hour everday without fail. After 5 days of practicing, appear for a test, Oliveboard is a great platform to test your quant skills. Do not shy away in comprehending your weak areas. It is not something to be ashamed of rather practice it a lot to get an edge over other areas. Do follow this regime without fail and you shall not face many difficulties in quant.
Logical Reasoning- the trickiest section that gives a measure of your analytical skills. Obviously, it is important for you to practice this on a regular basis but in an exam like this where there is a time constraint, do remember to pick your questions wisely. For me, I seldom choose puzzles because I find myself weak in it. Similarly, segregate your strength and weakness and attempt questions accordingly. You can find a wide variety of LR questions in Oliveboard's mock tests.
Verbal Ability- one-word suggestion- Read. You should read a lot of quality material which comprises of informative articles. Any newspaper/magazine would do as long as you are able to understand the gist of the articles. Moreover, keep your focus on economy/banking related articles as it will help you in preparing for GK also. Create a pocket dictionary of 5 words daily that you come across while reading, it will help you with fill in the blanks kind of questions. And lastly, give as many mocks as you can.
GK- this section can have any kind of questions and it checks your connection with the happenings around the world. Start reading a newspaper. Other than that, you should seriously consider Oliveboard's GK compendium as it has questions from different years, months and days. It will help you in preparing for both the static GK and current. For banking too, it is a major source of information, but all the reading will be of no use until you penned down what you read. So, make notes everday and revise them every day. Learning GK is a continuous process and it is an interesting one as well.
Descriptive- well, this is something that no one can advise you upon. You should up your game by reading a lot and do try to summarise what you read in your own words. This will help you with essay writing. For the letter, you should understand the format, the professional language that should be used and the content that should be relevant. You will cruise through it if you do the aforementioned things.
Lastly the most important thing- be efficient in managing time, rather than using apps for killing time, download apps such as Oliveboard which can keep you hooked up while imparting knowledge of immense importance. Manage your time effectively and keep believing in yourself, don't ponder over the repercussions of not getting selected, think instead of achieving your dream and creating a better future for you and your family.
Thank you. Keep studying, keep achieving!
Read more success stories.


The most comprehensive online preparation portal for MBA, Banking and Government exams. Explore a range of mock tests and study material at www.oliveboard.in