EPFO EO Topper Karan Raghav has secured All India Rank #1 in the examination that was held in the year 2017. He is a personality that has been inspiring many these days. He graduated doing his business studies in the Year 2012 and had been a UPSC aspirant and he gave five attempts at UPSC. He cleared prelims each time. So you can talk about the perseverance that he has. He gave mains examination five times. So again, he did not lose hope. He took another shot at an UPSC exam, EPFO EO and did really well in it securing all India rank one at this particular examination. In this blog we'll take look into the life of UPSC EPFO EO Topper Karan Raghav.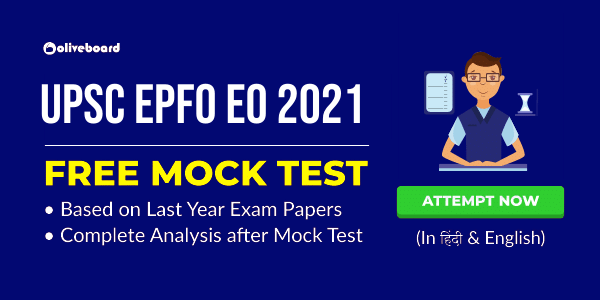 We'll take a sneak peek into Mr. Karan's journey. We will talk about his preparation strategy. We also talk about how he is at present because he's posted in Delhi and he's been in this profile for long now. So let's get going –
Life of an EPFO Enforcement Office
We have compiled this Q&A format here for your convenience. You can go forward and listen to his complete interview using the link shared at the end of this blogpost.
Q. 1. Was UPSC, always in your mind, even during your graduation.
Ans. Okay. So the honest answer is no. While I was in my last year, some of my friends are preparing for it, and that's why I went for it. So frankly, my part was not very clear. And as you can see from my track record, I paid quite a heavy price for that. So anyone watching this, I would like to sincerely advise that work on your way the most. Remember why do you want to crack it and keep that fire ignited. If that is not clear, then you will end up making a lot of effort.
Q. 2. What motivated you to go for EPFO in the first place, given the fact that you were more inclined towards the civil services.
Ans. Okay. So I had already given three UPSC CSE attempts by then. When this exam was notified in June 2016, I was in Gujarat preparing for UPSC Civil Services, at my University. It runs the program for IAS aspirants and I was a part of that program. So I had a community. I was a part of a community. And the good thing about being part of a community while preparing is that you do not miss out on the opportunities other than the main exam that you're eyeing at. And it is very important, especially when you become a veteran at this field. So you have to explore other opportunities after a certain point of time. So in June 2016, some of my friends, they told me about the exam and we applied for it together. In February, the exam was conducted by UPSC, and that's how I came to know about it. Other than that, I have a friend who's a former Assistant Commissioner. So I inquired about the post and the organization. So that way I had some information about some insider info about the organization and the profile. So that also helped me.
Q. 3. What about those students or that section who have never attempted UPSC, but still want to appear for this exam or trying for this exam?
Ans. You can be anyone, from commerce graduate to a someone aiming for SSC and clear this exam. All candidates must do their SWOT analysis. The strengths or weaknesses assessment is very crucial because, for example, I was never good at Science and Tech after 10. I have never studied science until the UPSC days. I knew it that I cannot compete against engineers and find people from science background. So you can't leave topics that you have not mastered during your academics. There can be a lot of unpredictability in the papers and you need to be prepared for all situations. I've discussed with other aspirants also that you don't have to be a PhD at every topic to go by the previous year questions. I was, going through the previous question papers and observed this interesting thing, that there was one question on books by Dr. BR Ambedkar in both the 2017 EO exam as well as the 2116 EPFC Exam. There are similarities and you have to be very aware even during the exam. Also, you have to make the best use of the knowledge that you already have. You cannot study everything.
Q. 4. What is your message for aspirant who are weak in few sections and very good in few? How do they leverage their strengths?
Ans. See, you cannot leave any topic totally unprepared. So I have some of my friends. They pulled my leg saying, "how have you not studied anything for industrial relations". Now as I have on multiple occasions mentioned it, I was a commerce student. So even if I wasn't prepared for industrial relations separately, I have in the back of my head some lectures, some random a teacher teaching that 10 years or 12 years ago. So if you are not a commerce graduate, then you will have to invest those resources. Similarly, a science student can afford to not study 6-10 NCERT books. Because as people jokingly say that this is the unpredictable Public Service Commission. Competition id getting tougher and you cannot leave any topic totally unprepared.
Q. 5. Civil Services Exams require in depth preparation, but when it comes to EPFO EO, what kind of in-depth study is required while preparing?
Ans. In Accounts, my brief analysis says that it's not very in-depth, but conceptual questions that are asked in EPFO. But on the other hand, for some topics in GS, you'll not find any info in books written for SSE and Bank exam. So in common sections like history, polity, economy, geography, current affairs you have to go all out. For those of you who are from non UPSC background, your competition is against people who are preparing for civil services. And you should know that at least half of the people I know who are preparing for civil services are preparing for EPFO. So you need to go in-depth in these topics.
One way to do that is the summary sections of textbooks like NCERT, NIOS. So the important Congress sessions, important revolts, important societies, other important indexes and more are summarised and are ready to be consumed as it is.
DOWNLOAD THE OLIVEBOARD APP FOR ON-THE-GO EXAM PREPARATION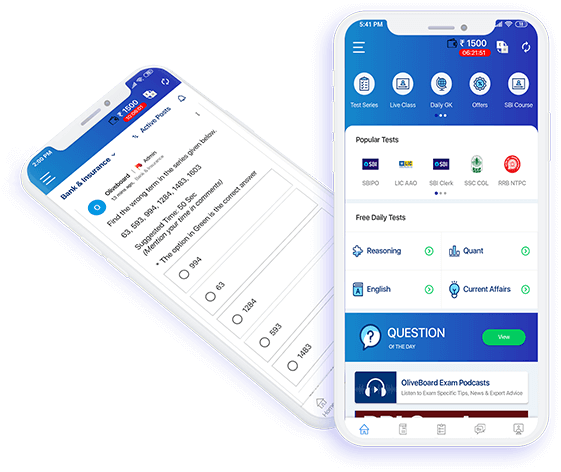 Video Lessons, Textual Lessons & Notes
Topic Tests covering all topics with detailed solutions
Sectional Tests for QA, DI, EL, LR
All India Mock Tests for performance analysis and all India percentile
General Knowledge (GK) Tests
Free videos, free mock tests, and free GK tests to evaluate course content before signing up!
Q. 6. Take us through the preparation strategy for current affairs.
Ans. See, as far as the time you need to cover is atleast one year. So if the exam is in September 2021, you need to cover the entire 2020 and these months of 2021. There is no authority that can surely tell you that this would be the best way out of current affairs. It could very well be so that current affairs that were in news a couple of years ago can come. And when it comes to questions related to EPFO, social security this span can be up to 4 years as well.
Q. 7. Let's get an overall view of the salary structure.
Ans. It's a grade pay-8 post. So the basic pay that starts with is Rs. 47,600. Apart from this you get HRA, transportation allowances, fix medical allowances and more.
We have tabulated the EPFO Salary for AO/EO below:
| | |
| --- | --- |
| EPFO Salary Particulars | Salary Details |
| UPSC EPFO Group | General Central Service Group 'B', Non-Ministerial post |
| Pay Matrix Level | Level 8 |
| Pay Band | PB-2 |
| Pay Scale | C |
| Grade Pay | Rs. 4800/- |
| Basic Pay | Rs. 47,600 |
| DA | 32% of basic pay amounting to Rs. 15,232 |
| HRA | 27% of basic pay amounting to Rs. 12,852When DA exceeds 25% then HRA is given at 27% of Basic |
| In hand Salary (Excluding TA, HRA & Other Allowances) | Rs. 53312/- |
| In hand Salary (Including TA, HRA & Other Allowances ) | Rs. 60000/- |
Q. 8. So how is posting done? Usually do you get a chance to Select where you can get posting?
Ans. In our case, we did. We had the opportunity to list our choices like preferences. And what happens is that once you are posted to a state, you get allotted to a zone. Territorially EPFO is divided into different zones, and thereafter each one is divided in two different regional offices. So I was posted to Delhi as a zone. And there in Delhi I was posted to renewal office South Delhi.
Q. 9. Do you get transfers like, what is the duration or is it a permanent posting that you get at a station?
Ans. Normally at least five years, but due to administrative discretion or compulsions to previous hosting, and unless and until someone explicitly requests it, once you are selected once you are placed in a zone, you remain in a zone.
Q. 10. What about promotions and job satisfaction?
Ans. See the promotion promotional hierarchies such that after we become the enforcement accounts officer, the next promotion is to the assistant we have is Assistant PF Commissioner. It has been announced that the non functional upgrade and has been announced by this post.
| | | |
| --- | --- | --- |
| EPFO Post | Pay Band & Grade Pay (GP) | Pay Level |
| Enforcement Officer/Accounts Officer | PB-2; 9300-34800 plus GP 4800/ | Level 8 |
| Assistant PF Commissioner | PB-3; 15,600- 39,100 plus GP 5400/- | Level 10 |
| Regional PF Commissioner-II | PB-3; 15,600- 39,100 plus GP 6600/ | Level 11 |
| Regional PF Commissioner-I | PB-3; 15,600- 39,100 plus GP 7600/ | Level 12 |
| Additional Central PF Commissioner- II | PB-4; 37,400- 67,000 plus GP 8700/ | Level 13 |
Q. 11. Do you have a good work life culture there working in EPFO?
Ans. So there are challenges and there are opportunities like any government organization. So I was asked this in my interview also, but sometimes the interviews also like to play the Devil's advocate. So in my panels, the chairperson or probably the other members, they asked, why would you like to join of bureaucratic organization, especially that is considered to be a conservative organization like EPFO for.
And I shared my honest opinion that even if these are bureaucracies in the 21st century, there are imperatives for the bureaucracies also to know it and to adapt themselves with the changing times. And we are very well doing that. So if you see the last one decade of initiatives in the pro from the launching of Universal account number. So even as late as you know, when I joined 95% 90% of the claims that we stated were through the physical mode. Someone had to attest it and then it was posted, whereas now it is just the opposite.
So the claims grievances communication is through the virtual mode. Generally, the KYC data also suggests that it's above 90% and even otherwise. Also, there are a lot of initiatives that have been undertaken by the EPFO. And so it's a very interesting and challenging profile.
Watch his interview experience.
Q. 13. Any Closing words?
Ans. Sanitize your hands. Stay close with your family. Make sure they're fine and stay healthy. Please behave. Responsibility, I believe, because that's what we need to do in the coming days as well. So thank you so much, guys. And please do keep preparing for your examination. Thank you.
UPSC EPFO EO Preparation | Mocks, Courses, Resources
Summary Notes for all sections (except Quant, Eng)
10 Mock Tests in New Pattern
EPFO EO LEARN
EPFO EO COURSE
10 Mock Tests in New Pattern
Summary Notes for all sections (except Quant, Eng)
-Indian Freedom Struggle
-Indian Polity and Economy
-General Accounting Principles
-Industrial Relations and Labor Laws
-General Science and Knowledge of Computer Applications
Social Security in India
265+ Video Lectures covering complete Syllabus including all sections.
10 Latest Pattern Mock Tests
Summary Notes for : Indian Freedom Struggle, Indian Polity and Economy, General Accounting Principles, Industrial Relations and Labor Laws, General Science and Knowledge of Computer Applications, Social Security in India
Exam Strategy Coverage
Coverage of Relevant NCERT for EPFO
UPSC EPFO EO preparation strategy and preparation tips
Also, Check:
---

Oliveboard is a learning & practice platform for premier entrance exams. We have helped over 1 crore users since 2012 with their Bank, SSC, Railways, Insurance, Teaching and other competitive Exams preparation.
  Oliveboard Live Courses & Mock Test Series