UPSC EPFO Study Material
UPSC EPFO Study Material: The Union Public Service Commission (UPSC) released the recruitment notification for the position of Enforcement Officer / Accounts Officer and Assistant Provident Fund Commissioner in the EPFO department under the Ministry of Labour and Employment in February 2023. The examination dates of the UPSC EPFO EO/AO and APFC have not been released yet. So, aspirants still have enough time to prepare for the examination.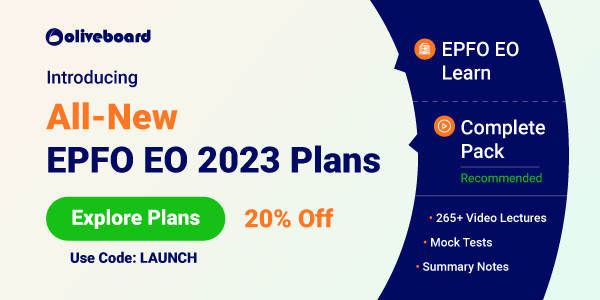 UPSC EPFO Study Material 2023
How do I start my preparation? Study notes for the exam? are the few questions that abound in the mind of every aspirant. To help you with the above questions we have brought you a blog on UPSC EPFO Study Material. In this blog, we will be covering brief notes on the topics of Indian History. Have a look at the types of questions asked in the UPSC EPFO EO examination for free. Register here to take up practice questions.
1. UPSC EPFO Study Material – Brief History Notes
Before moving on to the study notes let's have a look at the topics that come under the Indian History Chapter for which we will be providing the study notes.
SEA of reforms in the Colonial Period.
Regional Movements Across India.
National Movements During the Colonial Era.
National Movements Under Gandhian Influence.
Transfer of Power.
1.1 SEA (Social, Educational & Administrative) of reforms in the Colonial Period.
In the 19th century, most of the reform movements inspired by many factors began in Indian society.
There are generally different kinds of social movements.
Redemptive or Transformatory: Change in the personal consciousness and actions.
Reformist: Change in the existing social and political arrangements through gradual steps.
Revolutionary: Transform the social system radically, often by capturing state power.
The 19th century is considered as a period of turmoil in Indian society because the logic behind many socially evil practices was questioned and consequently opposed.
Factors responsible for the movements
Presence of a colonial government and policies.
Impact of western culture and principles.
Young Educated Indians.
Existing social evil practices.
If you are the one who has no idea about this topic you can go for Class XII NCERT: Modern India History. It will give a base to start the preparation and then you can go for complete study notes on the topics SEA (Social, Educational & Administrative) of reforms in the Colonial Period. Click here and register by entering your mail id, password and mobile no.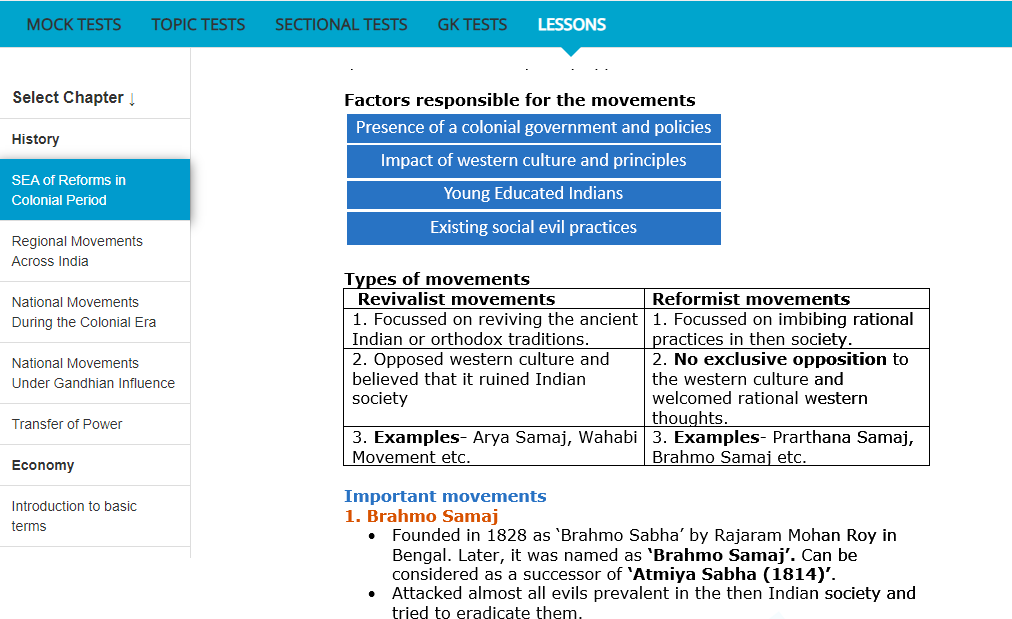 1.2 Regional Movements Across India.
The Revolt of 1857
It was a large-scale uprising in India in 1857 against the rule of the British East India Company.
It was a result of various policies of the British Company which hurt the sentiments of Indians.
The following major factors were responsible for the revolt
– Policies such as 'The Doctrine of Lapse' and annexations of states carried under it.
– 'Absentee sovereignty ship' of British rule.
– Heavy taxation policies, destruction of indigenous craft industries.
– Interference in socio-religious systems.
The immediate cause was the introduction of the Enfield Rifle. The cartridge of the rifle had to be bitten off before loading and was made up of beef and pig fat.
Start with NCERT to brush up on your basics and then go for complete study notes here. Register here for Regional Movements Across India full study notes.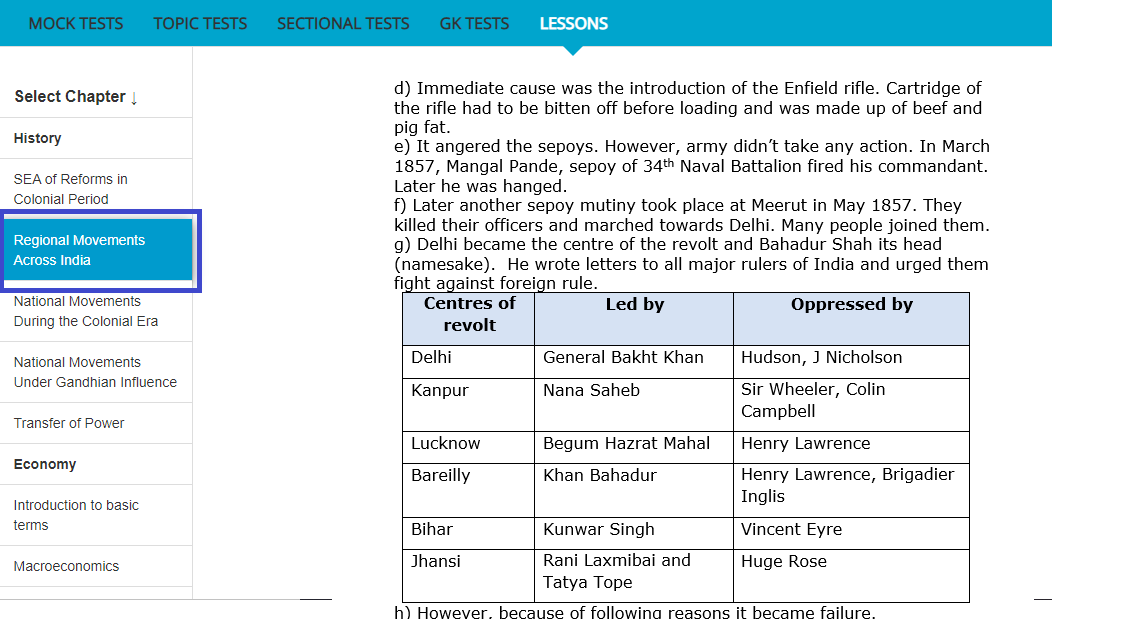 1.3 National Movements During the Colonial Era
Reactionary Policies of British
Racial myths of white superiority were sought to be perpetuated by the British through a deliberate policy of discrimination and segregation. Indians felt deeply hurt by this.
Delhi Durbar of 1877: 1 January 1877 saw the first Delhi Coronation Darbar, organized by Viceroy Robert Lytton (Conservative) who called this event the "Imperial Assemblage".
No one from the Royal family attended, through the Prince of Wales visited India, in 1875-76, to test Indian attitudes toward Britain and the Royal family.
This event in India celebrated the 1876 Royal Titles Bill and proclaimed Victoria Empress of India officially transmitted as Kaiser-I-Hind.
For complete study notes. Register here with your email id, password and mobile no.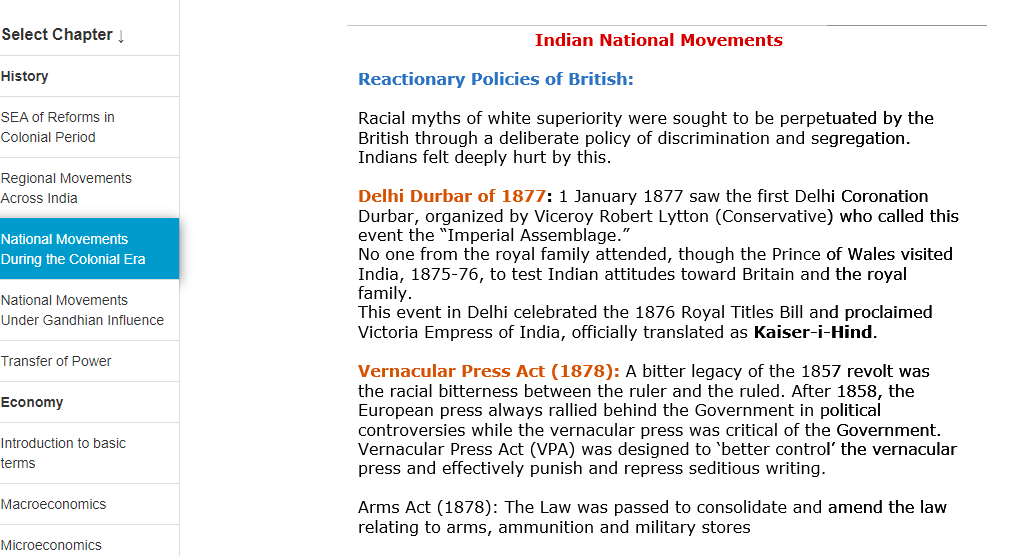 1.4 National Movements Under Gandhian Influence.
Bapu in South Africa
Before the Indian freedom movement, Mohandas Karamchand Gandhi used to live in South Africa to fight against injustice and class division.
His involvement in the non-violent movement in South Africa had made such an impact that even now he has looked up to as a leader there. From 1893 to 1914, Gandhi worked as an attorney and a public worker. In a meeting in New Delhi, Gandhi said he was born in India but made in South Africa.
You can find the summary notes here. Click Here & Register Yourself.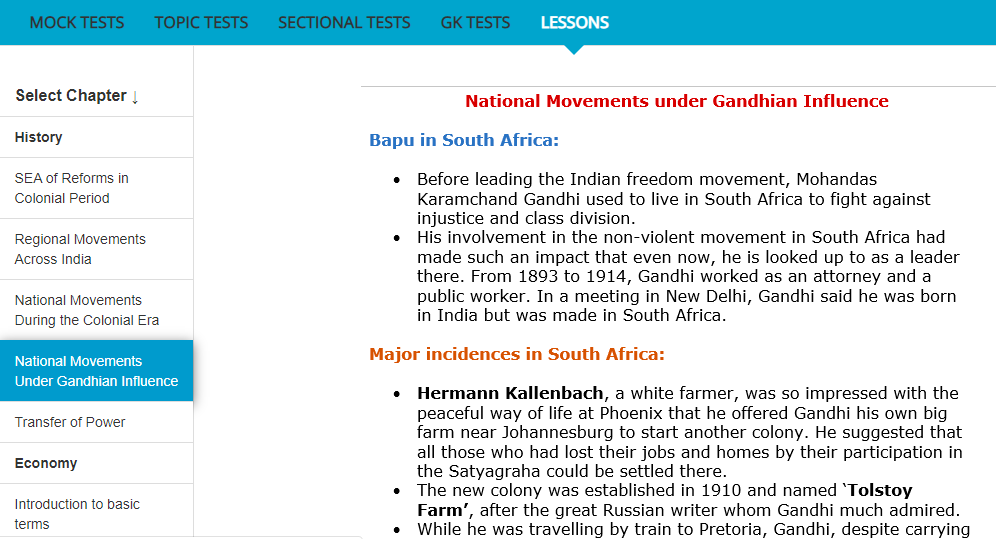 1.5 Transfer of Power
Azad Hind Fauj
Azad Hind Fauj or Indian National Army (INA) is a crucial chapter in India's Freedom struggle.
Azad Hind Fauj, the army organization was founded in 1942 by Captain Mohan Singh and comprised Indian prisoners of war in Singapore.
Azad Hind Fauj was another name for Bose's India National Army which was revived with the determination and leadership of Netaji and entered the freedom fight portray in 1943.
After studying from the study notes provided you can also for different books mentioned below.
Class XII NCERT: Modern India History
A Brief History of Modern India (Spectrum)
India's Struggle for Independence by Bipin Chandra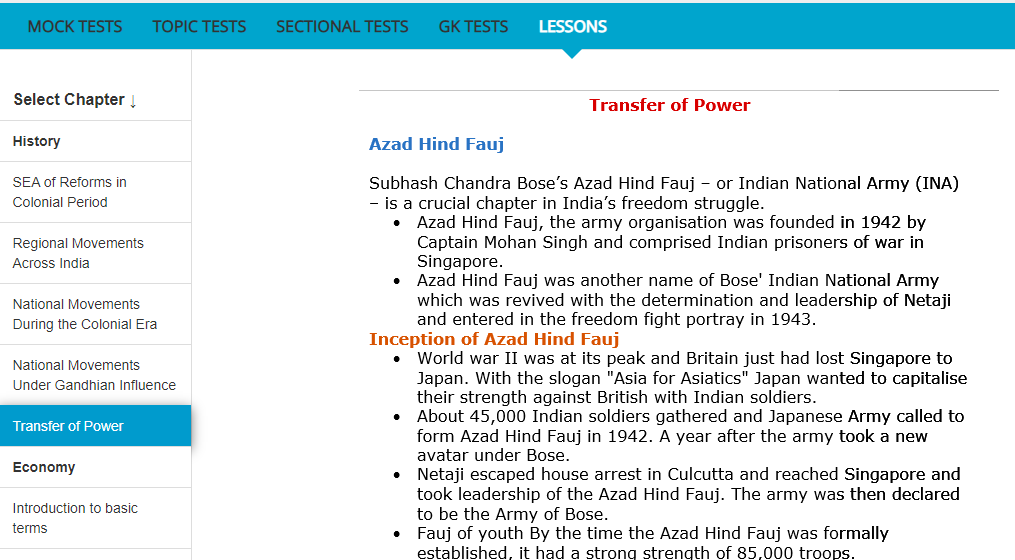 2. UPSC EPFO Study Material: Summary Notes & Mock Tests
1. 10 Mock Tests for EPFO EO in the latest pattern with detailed solutions
2. Summary Notes for all sections (except Quant, Eng)
3. UPSC EPFO EO Study Material: Preparation Strategy
For topic-wise EPFO EO preparation strategy and preparation tips click on the blog link given below.
UPSC EPFO EO preparation strategy and preparation tips
This was all from us in this blog UPSC EPFO EO Study Material. Hope the information provided above will help you in your exam preparation. Stay tuned for more exam related information.
All The Best For Your Exam Preparation!
Also, Check:
---
---
DOWNLOAD THE OLIVEBOARD APP FOR ON-THE-GO EXAM PREPARATION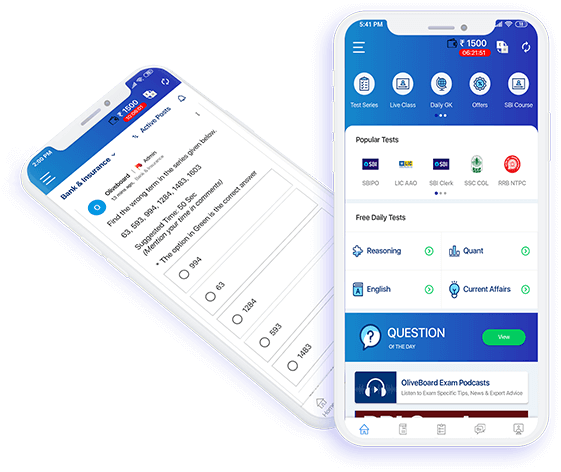 Video Lessons, Textual Lessons & Notes
Topic Tests covering all topics with detailed solutions
Sectional Tests for QA, DI, EL, LR
All India Mock Tests for performance analysis and all India percentile
General Knowledge (GK) Tests
Free videos, free mock tests, and free GK tests to evaluate course content before signing up!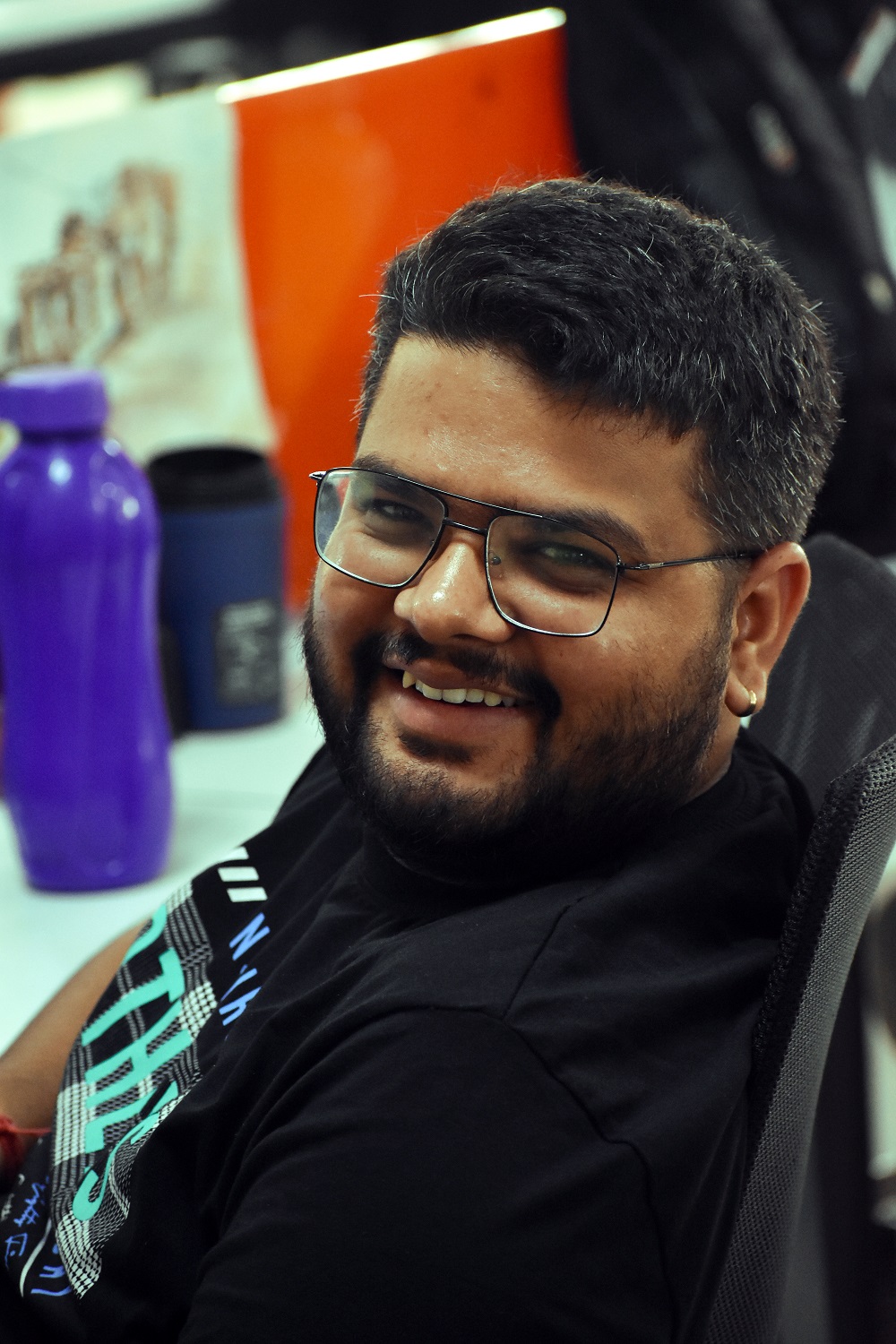 Dikshant (DJ) is an engineer turned banker. He has cleared many competitive exams before his current placement. Being an officer in the bank, DJ is super busy but makes sure that he always finds time for writing informative & exam-oriented content to help students in cracking competitive exams such as SBI, IBPS, SSC, JAIIB/ CAIIB and many more.
  Oliveboard Live Courses & Mock Test Series