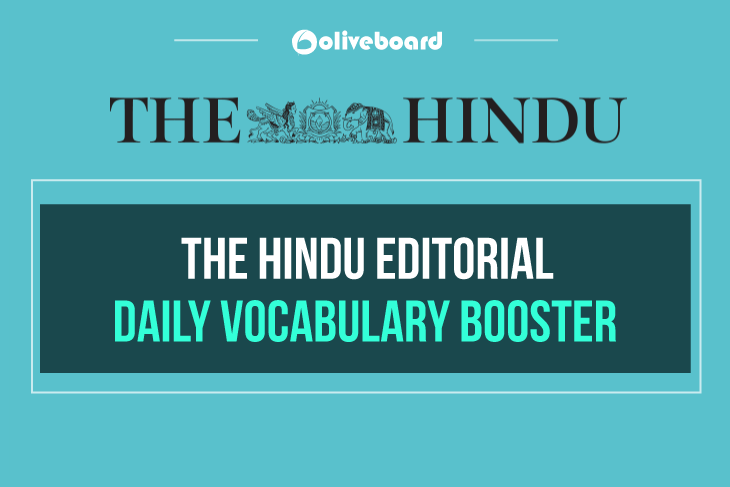 Vocabulary based questions are often asked in all Banking and Government Exams. So we at Oliveboard will be providing you with a daily dose of vocabulary to help you with overcoming your struggle in this section. You need to go through it daily to see a marked improvement in your English vocabulary. We hope it will help you in the upcoming IBPS Clerk, IBPS SO, NIACL AO exams as well. Find The Hindu Editorial Daily Vocabulary Booster 18 January 2019 below.
The Hindu Newspaper is considered the Bible by the various exam aspirants as it has the best unbiased view on various current news and happenings in the world. Also, it helps immensely if you are looking for daily dose of English reading and building your English vocabulary. So, we at Oliveboard present to all our viewers and Exam aspirants a daily dose of difficult words with their meanings, synonyms and the correct usage in this blog of The Hindu Editorial Daily Vocabulary Booster 18 January 2019.
Take a free Oliveboard NIACL AO Mock Test
The Hindu Editorial Daily Vocabulary Booster 18 January 2019
Sr No.
Word
Meaning
Synonyms
Usage

1.        

ARBITRARILY

Based on random choice or personal whim, rather than any reason or system

Whimsical, random

The soldiers cannot be arbitrarily detained.

2.        

COLLEGIUM

An advisory or administrative board

The Supreme Court of India has a collegium system that appoints judges to the nation's constitutional courts.

3.        

CONSULATATIONS

The action or process of formally consulting or discussing

Discussion, dialogue, discourse

He will have a consultation with a homeopathic doctor.

4.        

CONTROVERSIAL

Giving rise or likely to give rise to controversy or public disagreement

Contentious

The controversial episode was taken down from the channel.

5.        

CREDIBILITY

The quality of being trusted and believed in

Trustworthiness,

reliability

The government lost its credibility after the scam.

6.        

DISMAL

Causing a mood of gloom or depression

Gloomy, cheerless

The dismal weather made the late afternoon seem like evening.

7.        

EXCEPTION

A person or thing that is excluded from a general statement or does not follow a rule

Anomaly, 

irregularity, 

deviation

All water sports, with the exception of scuba diving were complimentary.

8.        

INCENTIVISE

Motivate or encourage someone to do something; provide with an incentive

Boost, encouragement

The benami law and demonetisation have incentivised honest taxpayers.

9.        

MISGIVINGS

A feeling of doubt or apprehension about the outcome or consequences of something

Qualm, doubt

I have misgivings about the way campaign is run out.

10.    

MORIBUND

At the point of death;

In terminal decline; lacking vitality or vigour

Dying, stagnating

The moribund commercial property market is having great losses.

11.    

MYSTERIOUS

Difficult or impossible to understand, explain, or identify

Puzzling, strange, 

peculiar

The mysterious death of the actress is difficult to digest.

12.    

RATIONALE

A set of reasons or a logical basis for a course of action or belief

Reasoning, thinking

He tried to explain the rationale behind the change in markets.

13.    

REVOKE

Officially cancel a decree, decision, or promise

Cancel, repeal

The death sentence was revoked by the higher court.

14.    

SCRUTINY

Critical observation or examination

Inspection, survey

Every aspect of the governance model was under scrutiny.

15.    

UNDERSCORE

A line drawn under a word or phrase for emphasis

Emphasize

The company underscored the progress made through the new battery.
So, this was from us in this article of The Hindu Editorial Daily Vocabulary Booster 18 January 2019 . Go through The Hindu Editorial Daily Vocabulary Booster 18 January 2019 very thoroughly and you will see marked improvement in your vocabulary. We suppose The Hindu Editorial Daily Vocabulary Booster 18 January 2019 has helped you in learning new words for today and added to your vocabulary.
For more The Hindu Editorial Daily Vocabulary Booster Click Here.
Take more vocabulary tests here.
IBPS Clerk Mains Exam is lined up on 20th January 2019. Take an Oliveboard free mock test below. You can also start preparing for SBI PO 2019 whose notification will also be soon out.
Take Oliveboard's Free IBPS Clerk Mains Mock Test 
Preparing for more exams like IBPS PO, IBPS Clerk, IBPS SO, Railways RRB ALP, SSC CGL, SSC CPO, SEBI Grade A, ESIC SSO, LIC HFL? Ace your exam preparation with mock tests from Oliveboard. Also, refer to informative articles on exam preparation here. You can also take Oliveboard's RRB JE Mock tests or click on the image below to register for RRB JE Mock Tests.
How to Join Oliveboard Telegram Group
Step 1: Install Telegram in your Mobile Phones / Open Telegram on your desktop
Step 2: Search obbanking or click Here for Web Version
Step 3: Join the Group
Step 4: Start Posting and make the most of it!