The position of a Probationary Officer (PO) in the State Bank of India is one of the most respectable and sought after professions in the banking industry. Probationary Officer is the entry-level position and every year lakhs of aspirants aspire to join SBI. On the path of how to become an SBI PO Officer, there are certain steps involved.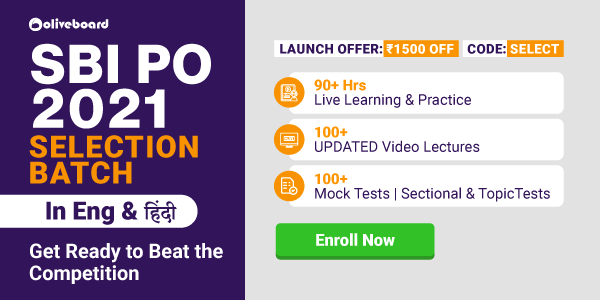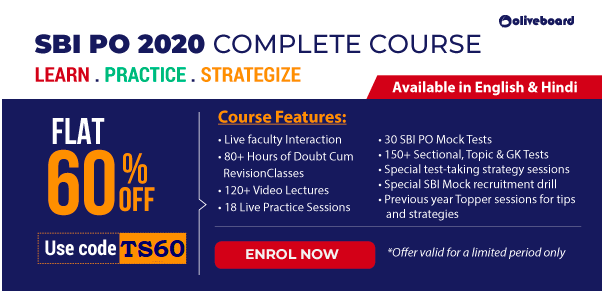 Starting with the understanding of the exam pattern to gaining the right direction to ace the exam. We have brought this article to help you guide through your prep and give you a sure shot way to achieve your goals. Before we begin, let us have a look at the Important dates (tentative) related to SBI PO 2020 Recruitment -:
| Activity | Dates |
| --- | --- |
| SBI PO 2020 Notification Released On | 13.11.2020 |
| Start of Online Registration | 14.11.2020 to 04.12.2020 |
| Download Admit Card for Online Preliminary Exam | 3rd week of Dec 2020 onwards |
| SBI PO Preliminary Exam Date | 31st Dec 2020 & 2nd, 4th, 5th Jan 2021 |
| Result of Online Preliminary Exam | 3rd week of January 2021 |
| The download of Call letter for Online Main Exam | 3rd week of January 2021 onward |
| SBI PO Mains Exam Date | 29th January 2021 |
| Result of Online Main Exam | 3rd/ 4th week of February 2021 |
| Download Call Letter for Group Exercises & Personal Interview | 3rd/ 4th week of February 2021 onward |
| Conduct of Group Exercises & Interview | February/ March 2021 |
| Declaration of Final Result | Last week of March 2021 |
Read all about SBI PO Recruitment notification 2020
1. Steps for Becoming an SBI PO Officer
Any aspirant applying to the exam needs to undergo the following steps to qualify for the exam. Step 1 – Prelims Exam
The Preliminary stage comprises three sections, namely English Language, Reasoning Ability, and Numerical Ability. The English Language section consists of 30 questions (1 mark each), while the other two sections consist of 35 questions (1 mark each). The duration of the exam is 1 hour.
Step 2 – Mains Exam
The Main exam has four sections- Computer Aptitude and Reasoning, Data Interpretation and Analysis, Banking and General Awareness, and English Language. Candidates need to answer 155 questions over a duration of 3 hours. The total marks allotted in the objective section are 200.
The descriptive paper in the Main exam will test the candidate's writing skills. You will be given to write an essay or a letter, and the marks allotted in this paper are 50.
Step 3 – Interview
If you want to be selected as an SBI PO, make sure that you clear the second stage, i.e. the Mains. Only those, who have qualified the Main stage, will be shortlisted for the final Interview round. For final selection, candidates need to score at least 40% of the total 100 marks (35% for SC/ST/PWD candidates).
The final merit list featuring the names of the selected candidates will be published on the official website of State Bank of India.
To help you with the above phases of the SBI PO examination Oliveboard has brought a full-fledged course to cover your entire preparation needs starting from learning to practicing to strategizing your attempt. SBI PO Titan course removes the so-called language barrier as it is available in both English & Hindi.
Use code "TS60″ to Join the Course Now & get a FLAT 60% OFF. Well, now that you are aware of the exam pattern let's have a look at the few pointers that make the SBI PO exam even more lucrative;
2. What Makes SBI PO Job Desirable?
SBI provides some of the world-class benefits and perks that make it the most sought after job in the industry, here are the few highlights:
Best in Industry Salary
Job Security
Work Culture
Merit-Based Growth 
One of the Fortune 500 Companies
As of 2020, with an in-hand salary of more than 60k, this is highly in demand. Wondering how you can be a part of SBI? Well, we are here to guide you through the process and make your dream a reality. So if you are planning to become an SBI PO Officer, we have got you covered. Want to know how? Read ahead and know. To make your preparations easier and your dream a reality, Oliveboard has brought a Complete Online course where you not only get to learn but also practice the learned concepts and learn attempt strategies from the experts. So What are you waiting for? Enroll in SBI PO Titan Course Now – Use Code "TS60" Isn't that exciting? Well, that's not all, there is more in store for you!
3. How Can You Prepare for SBI PO 2020?
When you plan to take up an exam, thorough research is your first step, right? Knowing all about the exams, selection criteria, eligibility, exam pattern, etc. And while starting is the first step towards success, it's important to structure your preparation well. You must build a strong foundation of basics first and simultaneously strengthen it with practice. Remember, practising consistently with the right strategy is the key to success and SBI PO Titan Course gives you just that. Sounds Interesting? Join Now & Get 60% Instant OFF on SBI PO Titan Course
3.1 What will be provided in the SBI PO Titan Course?
Well, here is a highlight on how the SBI PO Course will help you ace the exam. It covers the aspect of all-round development with practice at an enhanced stage. (i) Covers Prelims & Mains in both Hindi & English Language
The language will no more be a barrier between you & your dream.  The course covers entire syllabus through video lessons, doubt cum revision classes & more in both Hindi & English 
(ii) Latest Pattern Tests to Give You Real-Time Exam Experience
No preparation is complete without taking mock tests. There are sectional, topic, GK tests as well as full-length mock tests to give you ample practice before the exam.
(iii) Advanced Analytics to Track Your Performance 
Know your Strong & Weak Areas through AI-Based Detailed Performance Analysis & plan your preparation accordingly.
(iv) Learn, Practice & Compete LIVE with Aspirants 
Like we said, consistent practice is what really makes all the difference. The course is equipped with Live Practice Sessions [LPS] to help you solve the questions in timed-manner & compete live with other aspirants. The faculty will also provide a solution so you can develop a better understanding.
(v) Special Test-taking & Strategy Sessions 
Who better than the experts can guide you to make a sure-shot strategy to ace the exam? Make the most of these sessions where Faculty will give you exclusive tips to strategize your prep and how to ensure speed & accuracy while attempting tests.
(vi) Doubt Clearing from Top Faculty
Now faculties are just a click away. All you have to do is click on the 'I Have a Doubt' button over the live class and faculties will answer all your queries.
Our Course is a unique mix of 3 concepts, that is Learn, practice & Strategize.

Speed along with accuracy is what is required to ace the exam & our course provides you just that. Well, that is not all we have more in for you, you will also get access to more than 200 eBooks.
Also, If you Register for this course before 19th Nov 2020, you will also get access to our Special SBI PO Mock Recruitment Drive. It is a special exercise to give our users a complete recruitment process experience before the actual SBI Recruitment is released on the SBI website.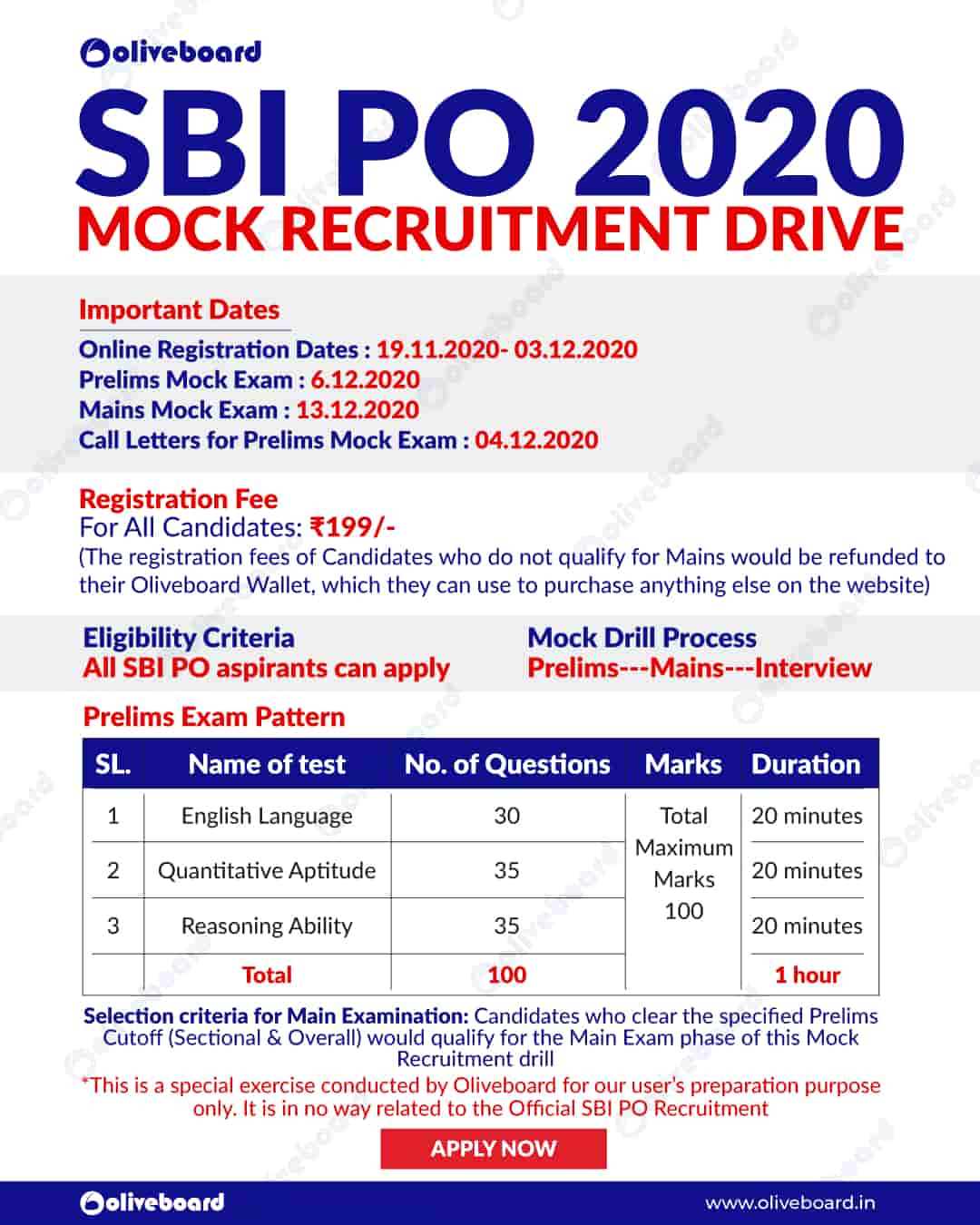 This Mock drive will be similar to the actual exam of SBI PO but this will be just a practice to give a real-time experience to the aspirants.
---
You can also click on the banner below to know complete details about the course: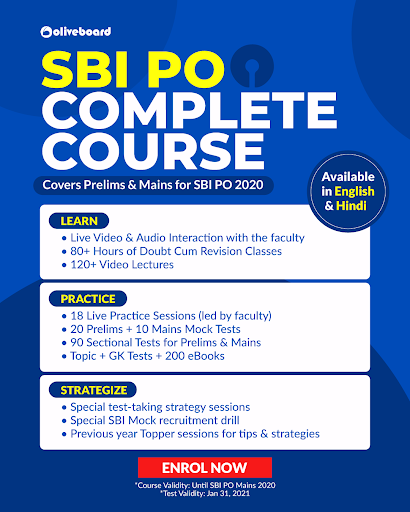 Know Complete Details About The Course Here. That will be all from us this article on how to become an SBI PO officer. In a brief, prepare a plan, get the best guidance, and give in your hard work. There is nothing you can't achieve with this trio. ALL THE BEST!!!
USE Code 'TS60' & Get Instant 60% OFF. Enroll Now!