It takes hard work, dedication, determination, and constant motivation to reach your goals to achieve success. Not only is there no shortcut to success, but it is made even more achievable with hard work and determination. Working hard only works when you put your effort into it, and the level of success one attains will be determined by how hard that individual puts in. As there are a number of options regarding pots and types of examinations in today's banking scene, most students are confused about the right online study materials and mock tests that will help them reach their goals and fulfil their dreams. We, at Oliveboard, don't ask you to believe what we have to say about ourselves. We are happy to share the success stories of a few of our users, which are testaments to our efforts in providing the best possible mock tests and study materials to them. Here are the RBI Grade B Success Stories.
RBI Grade B Success Stories | Courtesy RBI Grade B Topper from Oliveboard
Krishna Kumar Meena | RBI Grade B 2021
While preparing, I watched Online YouTube videos, PDF content and making short notes out of these and revising multiple times. I constantly followed the RBI website during all phases of my preparation.
Followed Oliveboard current affairs PDF, tests, Oliveboard YouTube Channel, Mock Interview Mock Session. Read More.
Ila Sahu | RBI Grade B 2021
I gave my first attempt in RBI to know the demand of the exam and this year was my first serious attempt. In all these three years first 2 years was dedicated to UPSC prep but in spite of all the hard work could not clear it. I thought it was high time for me to have stability in life, that coupled with my interest in the nation's economy found a great opportunity in RBI.
Took up a mock interview with Oliveboard and that helped in strategizing for the interview. Read More.
B Vinay Kumar | RBI Grade B 2021
It's been a great learning path over the past 2.5 years. There were many self-doubts, low points etc. during this period, but I always believed that I'm good enough to clear this exam. Eventually, with the results, all the sacrifices I made felt like they paid off.
Post my clearance of Phase 1, I subscribed for Oliveboard Phase 2 course through which I strengthened the ESI and Finance part which I already have some idea about. Also, the current affairs compilations were on point, to say the least !! Read More.
Ajay Bhondve | RBI Grade B 2021
For phase 1 of the exam, I had opted for Oliveboard's test series which really helped me in the current affairs preparation as well. Preparation for all the subjects in phase 2 was more or less the same. I did not opt for any course. I strictly followed the syllabus given in the advertisement and made my own handwritten notes after going through a couple of sources online and offline for each topic.
With the Oliveboard test series, I was able to figure out where I stood in my preparation and improve my score in the QA section, especially as that was my weak point earlier. Their General Awareness section helped me with knowledge of contemporary topics. Read More.
---
Avinaash R | RBI Grade B 2021
It was a long, sometimes tiring, journey. But it was ultimately rewarding. What I realized are consistent and regular effort matters. I also learnt a lot of interesting things along the way. For all subjects and areas, my main focus was solving questions. Through them, I could clarify doubts, remember concepts and facts well. With these questions as a base, reading through subject-wise notes and current affairs compilations became much easier.
Oliveboard's materials and test series were very good. I realized that a lot of questions were reflected in the actual exam. They also helped me in getting facts and points for the subjective answers. Read More.
---
Veerella Ravichandra | RBI Grade B 2021
I attempted the RBI Grade B exam in 2018 without much preparation, leading to disqualification in Phase 1. The success in the second attempt (2021) was due to a multitude of factors like – accumulated knowledge of economic, social and financial aspects during the course of preparation, descriptive answer writing practice and a good preparation strategy.
The mock tests conducted by Oliveboard for both Phase 1 and 2 are of high quality and follow a similar style and pattern to the RBI. The post-test analytics helped me in identifying strong and weak areas. The mock interview session conducted by Oliveboard with ex-RBI employees gave an insight into the expectations of the board and helped me in improving the structure and delivery of answers. Read More.
---
Suchana Ghosh | RBI Grade B 2021
I was pretty satisfied with my performance in Phase II and eventually cleared it. After the results came out, I started the interview prep. It got delayed due to the pandemic, and a few anxious months ensued. My interview was more or less decent. Finally, when the results came, I was over the moon seeing my name in the final list. Life has changed drastically after that, and now I feel humbled and excited at the same time that I'll serve one of the most prestigious organizations in the country.
The Oliveboard mock tests for phase I were very helpful in my preparation. For many topics in Phase II I took the help of their content. And finally, the mock interview I gave here was very enriching and enlightening. The panel was very cordial, gave advice on the important topics I should prepare, and were very encouraging. Read More.
---
Prasad Krishnan K | RBI Grade B 2021
I started RBI preparations only after I gave my UPSC CSE 2020 Mains in January. I focussed mostly on Phase 1 initially. And later, after I qualified for Phase 2, focussed on topics in the syllabus which did not overlap with UPSC.
Oliveboard mock interview helped me to gain confidence. The panel members were encouraging and pointed out my areas of improvement. It helped me assess myself. Apart from that, success stories from Oliveboard helped me in knowing more about the exam pattern and mode of preparation as well. Read More.
---
Akhilesh Singh l RBI Grade B 2021
I started my preparation in 2016 itself. But my serious attempts were in 2019 & 2021 when I gave only regulatory body examinations & shifted my focus away from UPSC. It's overall a long journey of 4-5 years, but the push that I got after clearing a few or reaching interview stages, kept me moving.
I referred to Oliveboard Bolt magazine for Phase 1 GA. Their marathon session on YouTube just before prelims was a great help. For phase 2, their test series was very helpful. And for the last phase, they even provided me with a mock interview session with RBI CGMs & GMs. Read More.
Stay Tuned For More Success Stories. Who knows, the next one might be yours.
---
Download PDF eBooks Here
Download the Free eBooks PDF for your RBI Grade B preparation.
---
DOWNLOAD THE RBI, NABARD, SEBI Prep App FOR ON-THE-GO EXAM PREPARATION
The app provides comprehensive study material in form of online courses to ace these examinations.
The study material ranges from online LIVE classes, video lectures, study notes, revision sessions, past year papers, topic tests, the objective plus descriptive mock tests, mock interviews and much more.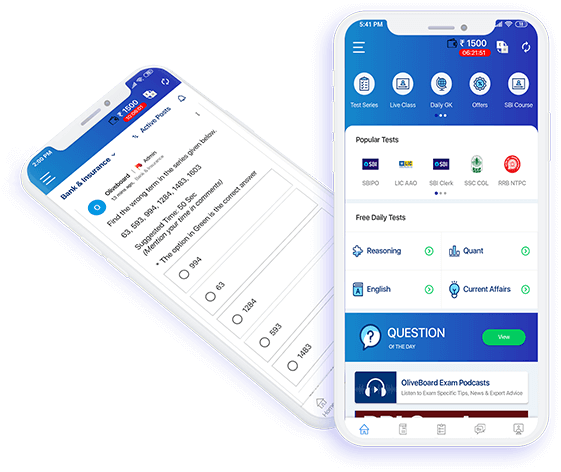 List of Exams
1) RBI Grade B Generalist Posts
2) SEBI Grade A Generalist Posts
3) SEBI Grade A IT Officer Posts
4) NABARD Grade A Generalist Posts
5) NABARD Grade A IT Officer Posts
6) NABARD Grade A Agriculture Officer Posts
7) NABARD Grade B Posts
8) SIDBI Grade A Officer Posts
9) FSSAI Recruitment – For Technical officers, Food Safety Officers and Assistants
Get free video lessons, mock tests and GK tests to evaluate course content before signing up!

---
RBI Grade B Crash Course 2023 by Oliveboard
If you are someone who is aiming to crack RBI Grade B Exam and are confused about how to go about the preparation, Oliveboard has come up with RBI Grade B Online Complete Plan to help you ace the RBI Grade B exam for sincere aspirants. Read below what is included in the Course.
Oliveboard offers the best RBI Grade B Online Coaching that can help you prepare comprehensively for the exam. Oliveboard's RBI Grade B Online Complete Plan 2023 will be your one-stop destination for all your preparation needs.
Go through free RBI Grade B study materials PDFs and take up RBI Grade B Free mock tests online.
1. Course Details
RBI Grade B Cracker is designed to cover the complete syllabus for the 3 most important subjects: 1. GA for Phase 1, 2. Objective Paper for Phase 2 + 3. Descriptive Papers for Phase 2 exam.
Not just that, it also includes Mock Tests & Live Strategy Sessions for English, Quant & Reasoning for Phase 1. The course aims to complete your preparation in time for the release of the official notification.
1.1. Features:
RBI Grade B 2023 Cracker Course Offerings:
Foundation LIVE Classes

for ESI & FM


ESI & FM Videos + Notes + 75+ Topic Tests



Phase-I CA Capsules (RBI BOLT)





Phase-II CA Capsules + Desc. Eng Prep





40 Objective Mock Tests (Phase 1 & 2)





10 Descriptive Mock Tests with Evaluation





Descriptive Model Q&A





ESI & FM Revision Sheets



---
1.2. How to Enroll for the RBI Grade B Online Course 2023?
Sign up or log in using the link given below. You will be redirected to the payments page. Read the course offerings and subscribe to RBI Grade B 2023 Complete Plan.
Now that you are aware of the RBI Grade B Online Classes, why wait?
Get Started with RBI Grade B 2023 Online Complete Plan comprising LIVE Classes, Video Lessons, Detailed Study Notes & All-India Mock Tests for Phase 1 & Phase 2.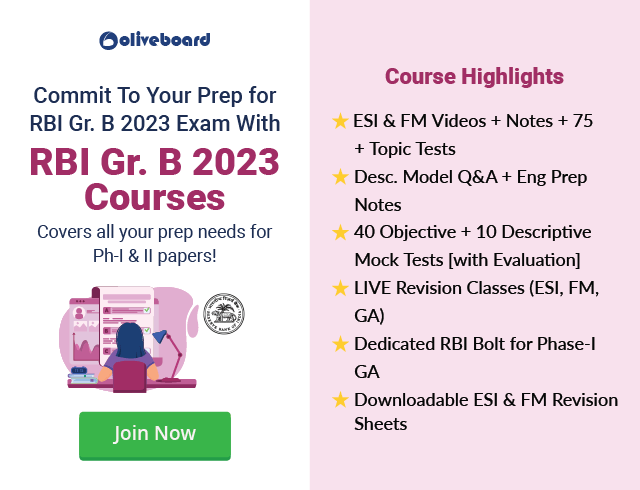 Use Coupon Code 'LAUNCH' & Get 20% off on RBI Courses
---
Connect with us on
  Oliveboard Live Courses & Mock Test Series