The Bihar Judiciary Exam is conducted by Bihar Public Service Commission to recruit for Civil Judges Posts. The candidate must have completed 22 years (minimum) but have not completed 35 years (maximum). The candidate should be a citizen of India. The selections process is based on prelims and mains examination.  The students who clear for preliminary exams will be eligible for mains, and then the candidate will be shortlisted for the interview session.
Bihar Judiciary Exam Pattern
Bihar Judiciary Exam Pattern For Prelims
Paper 1 – Multiple choice questions from General Knowledge/General studies for 100 marks.
Paper 2 – Multiple choice questions from Law topics for 150 marks.
Bihar Judiciary Exam Pattern For Mains
General Knowledge including current affairs– 150 marks
Elementary General Science– 100 marks
General Hindi– 100 marks
General English – 100 marks
Law of Evidence and Procedure– 150 marks
There will be a choice from Five optional papers, from which candidate must select three papers:
Constitutional and Administrative Law of India- 150 marks
Hindu Law and Muhammadan Law- 150 marks
Law of transfer of Property, Principles of Equity, Law of Trusts and Specific Relief Act- 150 marks
Law of Contracts and Torts- 150 marks
Commercial Law- 150 marks
Bihar Judiciary Syllabus – Preliminary & Main
General Knowledge:
It involves the questions from the following areas:
Current events of national and international importance
History of India and Indian National Movement
Indian & World Geography
Indian Economy
Elementary General Science
A paper of questions includes the matters of everyday observation and experience in their scientific aspects.
English Language
English paper for the Bihar Judicial Service Exam will consist of Questions from the following areas:
Spotting Errors in sentences and phrases
Antonyms and synonyms
Fill in the blanks with missing words
Test of spellings
Rearranging sentences
Questions include letter writing on given subjects
DOWNLOAD THE OLIVEBOARD APP FOR ON-THE-GO EXAM PREPARATION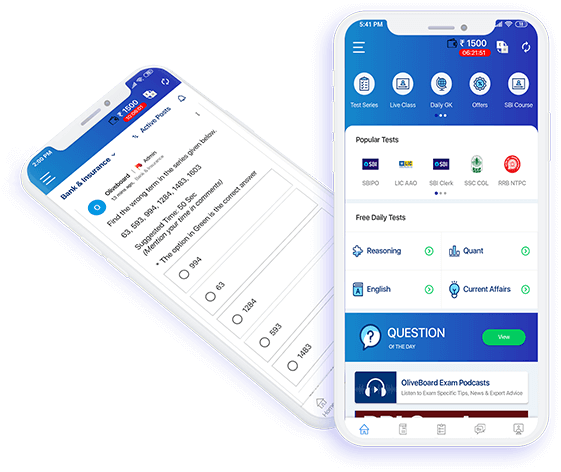 Video Lessons, Textual Lessons & Notes
Topic Tests covering all topics with detailed solutions
Sectional Tests for QA, DI, EL, LR
All India Mock Tests for performance analysis and all India percentile
General Knowledge (GK) Tests
Free videos, free mock tests and free GK tests to evaluate course content before signing up!

Constitutional and Administrative Law Of India
Constitution of India – Detailed Schedule
Administrative Law of India:
Rules of Natural Justice, Rules Against Bias
Delegated Legislation
Control on Delegate Legislation
Tribunals and Quasi-Judicial Authorities
Regulatory of Authorities
Public interest Litigation
Writ jurisdiction and Statutory Judicial Remedies
Promissory Estoppel, Legitimate Expectation & Doctrine of Proportionality
Government Contracts
Ombudsman
Law of Evidence & Procedure
Indian Evidence Act (1 of 1872)
Civil Procedure Code (5 of 1908)
Arbitration and Conciliation Act 1996
Code of Criminal Procedure, 1973 (2 of 1974)
Provincial small Cause Courts Act, 1887
Hindu Law And Mohammedan Law
Hindu Law includes Marriage, Adoption, Schools, Endowment and others
Mohammedan Law including Marriage, Adoption, Wills, Legitimacy, Acknowledgement, Guardianship
Commercial Law
The main principles of law relating to :
Sale of Goods
Negotiable Instruments
Company Law
Partnership
FAQ's
1. Is Bihar Judiciary Exam conducted every year?
The BPSC conducts the Bihar Judicial Service Exam every year for the recruitment of civil judges. The BPSC Judicial Service recruitment is carried out in three phases – Prelims, Mains, and Interview.
2. How many attempts are there in the Bihar judiciary exam?
Candidates can do a maximum of 6 attempts till the age limit of 35 years.
3. Is the judicial exam tough to clear?
The UP judicial examination 2021 requires a candidate to attain a minimum of 40% of the total marks (30% of the total marks for SC/ST) to qualify. The qualifying marks differ from state to state. Undoubtedly, judicial services exams are amongst the most difficult competitive exams in the country.
4. Do I need prior experience to apply for the Bihar Judiciary Exam 2021?
No prior experience is required to apply for the Bihar Judiciary Exam 2021.
5. I am not a resident of Bihar. Am I eligible for the Bihar Judiciary exam?
Yes, Candidates from other states are also eligible to apply for BPSC Judicial Services Examination.
  Oliveboard Live Courses & Mock Test Series