The Common Law Admission Test, popularly known as CLAT is going to be conducted online in 2020. As per the latest update released by Consortium of NLUs on June 30, 2020. In this blog, we are going to take a look at all the details regarding CLAT 2020.
Note: The General Body of the Consortium of National Law Universities met on the 10th August 2020 to review the precautionary measures taken in the context of the COVID 19 pandemic and settle on a feasible date for conducting the CLAT 2020 exam. The CLAT 2020 examination for both UG and PG candidates will be held on 7th,
September 2020 from 2:00 PM to 4:00 PM.
CLAT 2020 – Latest  Updates
The Executive Committee of the Consortium of National Law Universities met on 10thth August 2020 and decided to postpone the CLAT 2020 from its scheduled date of August 22, 2020, to 7th September 2020.
At this meeting, the General Body assessed the prevailing lockdown situation in various parts of the country and the health and safety protocols necessary for the conduct of this exam. On this basis, the Consortium has taken the following decisions:
i. The CLAT 2020 examination for both UG and PG candidates will be held on 7th, September 2020 from 2:00 PM to 4:00 PM.
ii. Per the Consortium's notification dated 30.06.2020 (available here), the CLAT 2020 shall be conducted through a centre-based, online computer-based test.
iii. Medical and safety measures being adopted shall be as per those outlined in the Consortium's notification dated 30.06.2020 (available here).
iv. The Consortium will review centre locations on an ongoing basis to ensure that students and staff are protected at all times.
v. The Consortium is in the process of securing further permissions so that the Admit Cards of candidates shall be considered as Movement Passes by local authorities to allow candidates to move between Containment zones and travel to their designated examination centre.
vi. Admit Cards of the candidates indicating the Roll number and Centre shall be available for download from the website (consortiumofnlus.ac.in) in 2 weeks' time.
vii. No candidate shall be allowed to enter any examination centre without a mask. Appropriate respiratory etiquette shall also be maintained at all times. Detailed instructions in this regard will be notified on the Consortium website.
Due to the COVID-19 Pandemic, the CLAT 2020 will be conducted online. This is the first time this exam is being conducted in an online format. Let's have a look at the latest updates in detail
CLAT Online Application Form update:
The last date to fill the CLAT Online Registration Form for 2020 Exam is extended till 10th July 2020. Also, the registered candidates can withdraw their applications by 10th. About the refund of registration fees, the official notification mentioned the following – "Their application fee shall be refunded after a deduction of INR 400 for SC/ST candidates and INR 500 for all other candidates towards Processing charges. Refunds will be made by July 18, 2020."
CLAT 2020 Exam Date update:
The CLAT 2020 shall be conducted through a computer-based, online, centre-based test to be held on Saturday August 22, 2020.
CLAT Exam pattern change update:
The exam pattern is changed for the LLM programme candidates. The exam will now have only 120 MCQs to be solved in 120 mins. There will be no descriptive section in

CLAT Online Exam

.
CLAT 2020 Exam centres change update:
As per the notification released on 1st July 2020, CLAT 2020 would now be conducted in 203 exam centres. This would replace the 67 locations mentioned in the initial application form. Candidate. Registered candidates can re-confirm/select their exam centres till 10th July 2020.
 Attempt the Free Online CLAT mock test now to be prepared for the CLAT Online Exam

What is CLAT?
As mentioned about CLAT stands for Common Law Admission Test. It is a National Level entrance exam. It is conducted to grant Under-Graduate & Post-Graduate Course admissions. These courses are offered by 22 National Law Universities & other colleges and universities across India (who accept CLAT exam scores). The Exam is conducted by the Consortium of 22 NLUs. The Full list is given below for your reference
List of 22 NLUs conducting CLAT 2020 Online Exam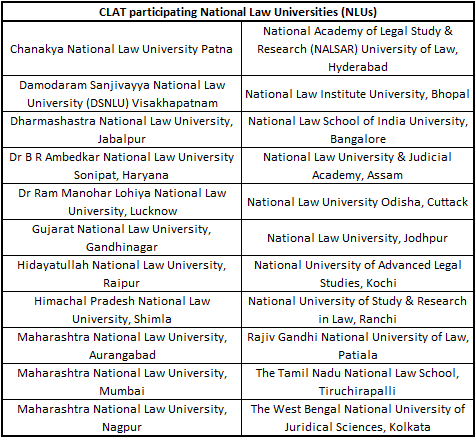 CLAT 2020: List of courses
The marks scored in the CLAT Exam are eligible to be admitted to the following list of courses.
BA LLB (Bachelor of Arts LLB)
BSc LLB (Bachelor of Science LLB)
BCom LLB (Bachelor of Commerce LLB)
BBA LLB (Bachelor of Business Administration LLB)
BSW LLB (Bachelor of Social Work LLB)
LLM (Master of Laws)
Register Here to access 200+ Free Ebooks for GK, Reasoning, English & quant preparation
Important dates for CLAT 2020
List of all the Important dates regarding CLAT 2020 Exam is given below:
Online Application Start Date: 01-Jan-2020
Online Application End Date: 10-Jul-2020
Release of CLAT Admit Card: Aug-2020
CLAT 2020 Online Exam: 7th September 2020
Release of CLAT Online Exam Result: To be updated soon
CLAT 2020 Eligibility
Any candidate who wishes to appear or CLAT 2020 Exam, must meet the following Eligibility Criteria:
Age Limit for CLAT : There is no Age-limit to apply for CLAT examination.
Educational Requirements for CLAT : Candidate must have cleared 12th or equivalent exam from any National or State Education Board. Minimum marks required are 45% for General, OBC & Specially abled candidates. 40% for SC/ST category candidates.
CLAT 2020 Selection Process
The CLAT selection process can be divided into 4 steps.
Step 1: Registration – this started on 1st Jan 2020 with opening of Online Application Form. It will end on 10th July 2020 the last day to fill CLAT registration form.
Step 2: CLAT Online Exam 2020 – This would happen on 22nd July. It is the first time the exam would be conducted in online mode. This has been done because of the COVID-19 pandemic.
Step 3: CLAT Result 2020 – This is expected to be released in the last week of Aug, 2020
Step 4: Counselling for Admission. It will start after the result is announced. It would be based on the Merit list to be released based on the Online exam performance of candidates.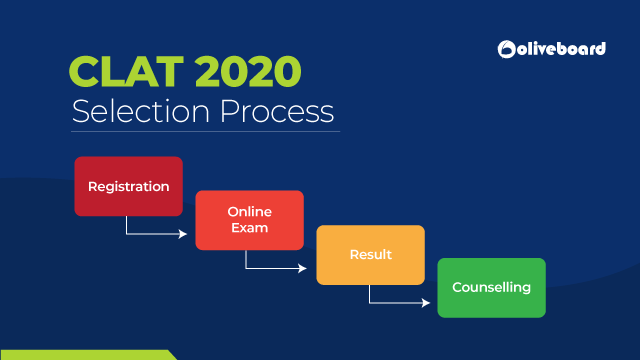 ACE CLAT Online Exam – Take a FREE Mock Test Now to know where you stand today.
Latest CLAT Exam pattern
The CLAT Online exam will have 150 MCQs. These Questions would be based on 5 core Areas listed below:
Quantitative Analysis/Technique Questions would be of 10th Std Level. All other questions would be of 12th Std Level.
There would be negative marking of 0.25 Marks for each wrong answer.
The LLM Admission Test would have 120 MCQs. It will not have descriptive section.
Online Application for CLAT – Fees & Apply Online Link

Candidates applying for CLAT 2020 will have to pay the below mentioned Application Fees as per their category:
General / OBC / Specially abled & other category candidates – ₹4000/-
SC/ST category candidates – ₹ 3500/-
Click Here to Apply for CLAT Exam 2020
State-wise List of CLAT Exam centres
As mentioned earlier, The no. of exam centres have been increased to 203. The list of No. of Exam centres in each state is given below for your reference:
| | |
| --- | --- |
| State | No. of Exam Centres |
| Andhra Pradesh | 16 |
| Arunachal Pradesh | 1 |
| Assam | 5 |
| Bihar | 7 |
| Chandigarh | 1 |
| Chhattisgarh | 4 |
| Delhi | 1 |
| Goa | 1 |
| Gujarat | 10 |
| Haryana | 10 |
| Himachal Pradesh | 7 |
| Jammu and Kashmir | 3 |
| Jharkhand | 5 |
| Karnataka | 14 |
| Kerala | 12 |
| Lakshadweep | 1 |
| Madhya Pradesh | 7 |
| Maharashtra | 21 |
| Manipur | 1 |
| Meghalaya | 1 |
| Mizoram | 1 |
| Nagaland | 1 |
| Odisha | 7 |
| Pondichery | 1 |
| Punjab | 7 |
| Rajasthan | 9 |
| Sikkim | 1 |
| Tamil Nadu | 11 |
| Telangana | 6 |
| Tripura | 1 |
| Uttar Pradesh | 17 |
| Uttarakhand | 4 |
| West Bengal | 9 |
| Total | 203 |
You can download the full list of CLAT 2020 exam centres here
CLAT 2020 Exam Day Guidelines
The CLAT consortium has released a notification with the social distancing model to be followed on the day of the exam.
As per the official notification, Candidates will have to follow the following instructions:
All candidates with temperature > 99.14 will be directed to the isolation lab for taking the examination.
In case of candidate with scribe, both the candidate and the scribe must bring their own N95 mask
Candidates will be permitted to carry following items with them into the venue:
Mask
Gloves
Personal transparent water bottle
Personal hand sanitizer (50 ml)
A simple pen
Exam related documents (Admit Card, ID card, etc.)
Candidates will be told to switch off their mobile phones, and deposit it at the designated location, to be collected while exiting.
CLAT 2020 Online Preparation
CLAT would be conducted in online format for the first time. Therefore, we believe students should also prepare for the exam online. To help students do this, we have launched the CLAT Mock Test series on our plat form. The Test series would include 5 full lenth CLAT mock tests. The first mock test would be absolutely free to attempt. All Questions will have detailed solutions. Candidates can access AI-based performance analysis after each mock test.
Take your Preparation to the Next Level with the FREE CLAT Mock Test Now
That is all from us in this blog about CLAT 2020. We hope you found the information provided above is helpful. Keep checking this space for all the late.