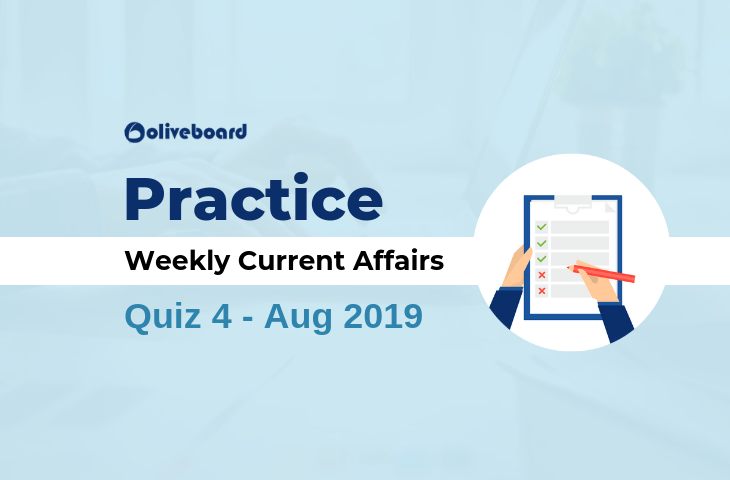 Most of the questions asked in exams from General Awareness section is based on Current Affairs, yet it is often taken for granted by candidates. It is one of the most scoring sections because the questions are factual and don't require much to think about it – either you know it or you don't, it's simple! To help you stay updated with all the latest happenings and not lose even a single mark if any question comes around it, we regularly provide important current affairs questions and answers. Check here the Top 10 weekly current affairs quiz 4. Watch the detailed GA Genius video on the quiz provided right after it:
Subscribe to Oliveboard EDGE to Get Unlimited Access to Courses
Weekly Current Affairs Quiz 4 | August 2019
Q1. Mukhya Mantri Krishi Ashirwad Yojana was launched by which state?
Gujrat

Madhya Pradesh

Jharkhand

Andhra Pradesh

Punjab
Q2. Which movie has won Best Non-Feature Film Award in 66th National Film AwardS?
Son Rise

The Secret Life of Frogs

Hellaro

A and B

All of the above
Practice Daily Free GK Quiz on Oliveboard
Q3. The theme of International Youth Day 2019 is _____.
Transforming World

Transforming global assets

Reaching Sustainable development goals

Transforming Education

Transforming youth Power
Q4. Bajrang Punia has won Gold Medal in Tbilisi Grand Prix. Tbilisi is the capital of?
Jordan

Czech republic

Ethiopia

Tunisia

Georgia
Practice Daily Free GK Quiz on Oliveboard
Q5. 3rd International Electric Vehicle Conclave was recently held at ____________.
Noida

Manesar, Gurugram

Bangalore

Chennai

Ahmedabad
Q6. Anurag Adlakha has been appointed as the Chief Financial Officer of _________.
ICICI Bank

HDFC Bank

Yes Bank

Dena Bank

Karnataka Bank
Practice Daily Free GK Quiz on Oliveboard
Q7. Which state has launched the E-Step to empower student start-ups?
Gujarat

Karnataka

Delhi

Andhra Pradesh

Maharashtra
Q8. OYO has partnered with which insurance company to launch complimentary insurance cover for guests?
TATA AIA Life Insurance Co. Ltd.

Sahara India Life Insurance Co. Ltd

DHFL General Insurance

IFFCO TOKIO

ACKO General Insurance
Practice Daily Free GK Quiz on Oliveboard
Q9. Newly discovered, _________ is likely to set a new record of being the world's highest lake.
El Muertito Lake
Kajin Sara Lake
Cholamu Lake
Himsagar Lake
Karda Lake
Q10. Which company remains the world's most profitable company in the world in first half of 2019?
Apple
Google
Facebook
JPMorgan Chase
Saudi Aramco
Practice Daily Free GK Quiz on Oliveboard
That's all from us in the Weekly Current Affairs Quiz 4. Watch the GA Genius Video by Aditya Sir provided below to know about these current events in detail. Don't forget to subscribe to Oliveboard EDGE to get Unlimited Access to all the Courses available at the platform. Kick start your exam preparation with 100+ Free Mock Tests from Oliveboard.
Practice Daily Free GK Quiz on Oliveboard
Watch the Video for Detailed Solution
Also, Check: