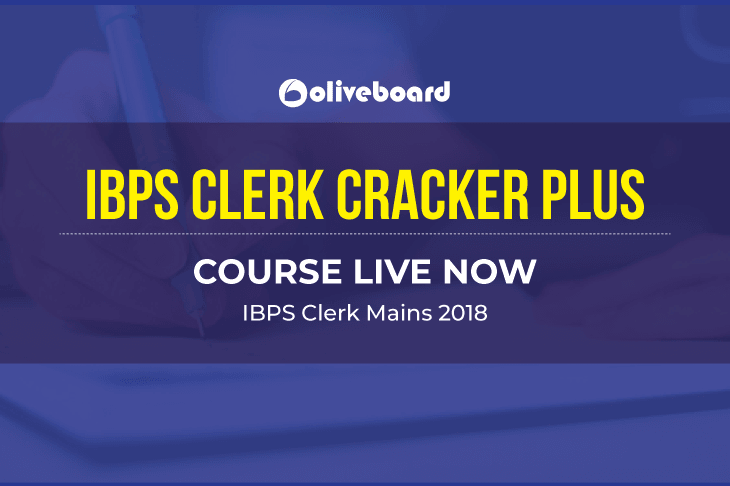 The IBPS Clerk Cracker plus course for the IBPS Clerk Mains Exam is live now. IBPS Clerk Mains exam is scheduled to be held on 20th January 2019. The IBPS Clerk Cracker Plus is one of the most comprehensive online bank coaching for the IBPS Clerk Main Exam preparation currently available out there. The best of faculties and excellent course plan is now available to you just for Rs 1999 only. If you haven't enrolled for the course till now, hurry up because the first day classes are free. We are sure if you join, it would be the best decision taken and you will be one step closer towards your goal that is getting into the merit list of IBPS Clerk. 
Enroll Here for Clerk Cracker Plus Course
Online Coaching for Bank: IBPS Clerk Cracker Plus Course – Salient Features
The clerk cracker plus online course is the best online bank coaching for IBPS Clerk Main Exam because of its awesome features. We are listing them down for you here -:
Daily Live Classes By The Best Faculty  (70+ Hours): These are designed especially for the mains level.
Daily 1 Hour Faculty-led Practice Sessions: Structured daily live practice sessions with the faculty.
One-on-one Video Doubt Clearing Sessions With Faculty: Yes, in this course you will get individual attention. As a part of the course, you will be able to directly reach out to the faculty for addressing your queries in allotted one-on-one sessions.
10 Mock Tests for Clerk Mains With Expert Analysis: No preparation is complete without taking mock tests. and analyzing them. Hence, the package also includes 10 high-quality mock tests for IBPS clerk mains.
Access to Clerk Cracker Classes.
Early access to OliveBoard Bolt for Current Affairs, Economy and Banking.
20+ Comprehensive e-books on Banking Awareness and Static GK.
Therefore, just to re-confirm, all above-mentioned features given above would be available for FREE on Day 1 of the Clerk Cracker Plus course for IBPS Clerk Main Exam. You will just have to register for the course. So hurry up and Enroll now to not miss out on this excellent opportunity of getting the best online course for the IBPS Clerk Main Exam.
Enroll Here for Clerk Cracker Plus Course
The Quality of our Faculties and Learning techniques have been proven by the immense success of our IBPS Clerk Cracker course for the Prelims Exam. you can read about the feedback for that course here. To understand why you should be taking an online course for your IBPS Clerk Main Exam, read our blog on Benefits of Online Learning.
That all from us in this blog. We hope you like reading it and found the information provided above useful. So Hurry up. Register for the Clerk Cracker Plus Course for IBPS Clerk Main Exam. We will be waiting for you in the Class. All the best for your Exam preparation.
Get to know about our IBPS Clerk mains preparation 2018 live cracker plus course in the video. Today's class is free. Do join it and get prepared for IBPS Clerk Mains.