In the light of the upcoming ECGC PO exam other Banking and Government Exams, we have come up with the 100 Most Important GA Questions PDF that you can download and boost your GA scores with ease. The questions in the eBook include important current affairs, static GK, economy, and banking awareness questions based on the previous year's mains papers. You are advised to stay tuned to Oliveboard for any updates in Banking and SSC exams.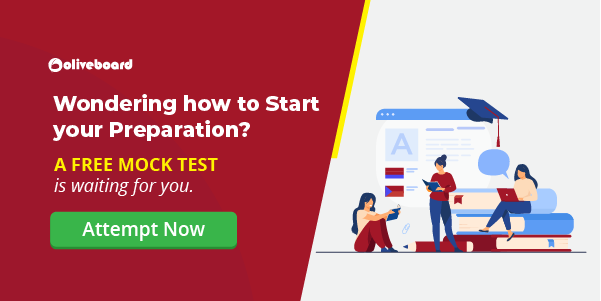 Current affairs are a must for every banking and government exam. So make sure you have this PDF on your device to stay updated with the GA question trends.
Register here for a Free Mock Test & also get Daily Exam & Upcoming Offers
100 Important GA Questions For ECGC PO 2021 | Download Here

PART 1
PART 2
---
Q1) When is National Youth Day celebrated?                                                                          
January 12
January 13
January 11
January 16
January 1
Q2) RBI cancelled the licence of Vasantdada Nagari Sahakari Bank recently. What is the maximum amount the depositors can get from DICGC?
Rs.1 Lakh
Rs.2 Lakh
Rs.3 Lakh
Rs.4 Lakh
Rs.5 Lakh
Q3) Who partnered with National Small Industries Corporation (NSIC) recently to drive digital transformation of MSMEs?
Reliance
Airtel
PhonePe
Tata Digital
Paytm
Q4) SMCB became the first urban cooperative bank to transition to small finance bank. Where is SMCB headquartered?
Bihar
Gujarat
Rajasthan
Uttar Pradesh
Madhya Pradesh
Q5) Shivalik Mercantile Co-operative Bank
What is the loan amount under the NDB, Government pact for State Highway & District Road Network in Andhra Pradesh?
$323 million
$646 million
$.267 billion
$ 427 million
None of the above
Q6) Rupee-denominated borrowings issued by Indian entities in overseas markets are known as?
Debenture bond
Venture Capital
Municipal bonds
Zero coupon bond
Masala bonds
Q7) With which IIT did PNB collaborate to set up Fintech Innovation Centre?
Kanpur
Delhi
Mumbai
Indore
Kharagpur
Q8) The Non-Banking Financial Company – Peer to Peer Lending Platform shall maintain a Leverage Ratio not exceeding _____
1
2
3
4
5
---
100 Most Important GA Questions for RRB PO & Clerk Mains: Download Free eBook
Download the free ebook on 100 Most Important GS Questions for RRB PO & Clerk Mains from the link provided below or you can click on the :

To Download More Free Ebooks Click Here & Register Yourself
Sample Questions: 
Q. 1) Which financial body launched the Structured Finance and Partial Guarantee Programme to ensure undisturbed flow of credit in COVID-19-affected rural areas.
Answer – NABARD
Q. 2) Which former Finance Secretary was appointed as one of the new Election Commissioners of India?
Answer – Rajiv Kumar
Q. 3) Sahyog-Kaijin, a joint military training exercise was conducted between India and _______?
Answer – Japan
Q. 5) Which of following is true about Indian Museum Kolkata?
9th oldest museum of the world
The oldest museum in India
The largest museum in India
It was founded by Nathaniel Wallich, a Danish botanist.
All the above
Answer – 5
Q. 6) Harvey J. Alter, Michael Houghton and Charles M. Rice received the Nobel Prize in Physiology or Medicine for their discovery of which virus?
Answer – Hepatitis C virus
Q. 7)  Which programme was launched by Ministry of Finance with the economic stimulus relief package for the poor to overcome difficulties caused by the coronavirus pandemic and the lockdown imposed.
Ans. – Atmanirbhar Bharat Abhyan
Q. 8 Cash Reserve Ratio (CRR) is the share of a bank's total deposit to be maintained with the RBI in the form of _________?
Answer – Liquid Cash
Q. 9) Reserve Bank of India launched "Innovation Hub" for ideation and incubation of new capabilities that can be leveraged to _________?
Answer – Deepen financial inclusion
Q. 10) Drawing, accepting, making or issuing of any promissory note, hundi or bill of exchange expressed to be payable to bearer on demand by a person other than the Reserve Bank of India or the Central Government is prohibited under
Answer – Section 31 [a] of the Reserve Bank of India Act. 1934
Register here for a Free Mock Test & also get Daily Exam & Upcoming Offers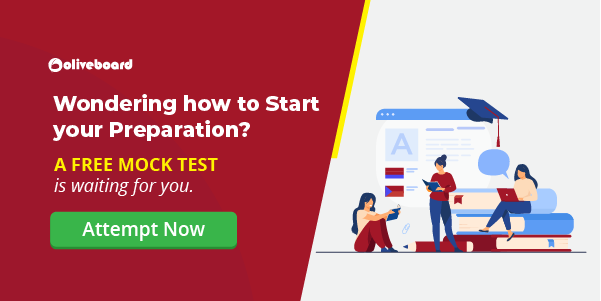 More eBooks
Download 200+ Free eBooks important for different government exams here or Oliveboard Online Exam Prep App for easy access to all our learning resources.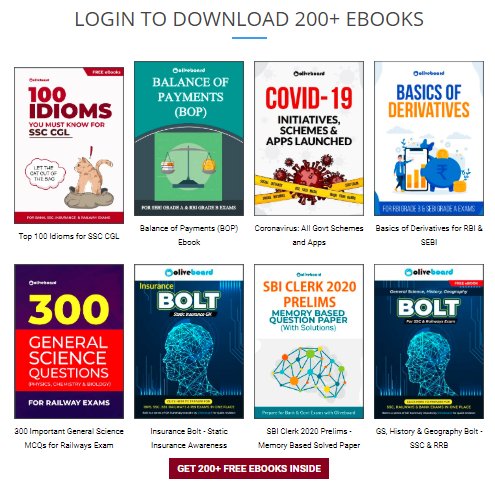 Oliveboard Bolt Series E-books 
This is all from us in this blog, 100 Most Important GA Questions for RRB NTPC & SSC. Download the free 100 Most Important GA Questions PDF from the download link above. Students are recommended to keep checking Oliveboard Online Exam Prep App or the website for latest updates on question patterns, syllabus, mock tests and schedules of upcoming RRB NTPC & SSC exams.
Also, Check: