Your JKSSB finance account assistant preparation strategy needs to be up to the mark in order to crack the exam. JKSSB has announced 972 vacancies for the post of finance account assistants. The written exam for the same which was scheduled tentatively from 1st June to 10th June 2021 has been postponed to the first week of November 2021. Now with the postponement of the exam, it gives us enough time to prepare for the examination. So, this article will take you through the JKSSB Finance Account Assistant preparation strategy, which will help you ace the exam.
If you are aiming for the JKSSB finance account assistant 2020-21 Exam, here is all the information, preparation strategy and resources that you need to clear the JKSSB Finance Account Assistant exam. So read along.
Before moving on to the preparation let us have a look what is the exam pattern for JKSSB Finance Account Assistant exam.
JKSSB Finance Account Assistant Exam Pattern
The CBT for this exam is scheduled to be held on between 1st June to 10th June 2021, and it would be of 120 minutes duration and will consist of 120 multiple choice objective type questions. Each question shall be of one mark and there will be a negative marking to the extent of 0.25 marks per question for a wrong response.
Section
Marks
Duration
General Knowledge with special reference to J&K UT
30
2 Hrs
Statistics
10
General Economics
10
Mathematics
10
Knowledge of Computers
10
Accountancy and Book Keeping
30
General Science
10
General English
10
Total
120
JKSSB Finance Account Assistant Syllabus 2020 | Check Here
JKSSB Finance Account Assistant Preparation Strategy
Before you start solving mock tests, it is important to where to start your preparation. Start off with a list of all the topics mentioned on the JKSSB Finance Account Assistant Exam Syllabus. This single-phase exam consists of General Knowledge with special reference to J&K UT, Statistics, General Economics, Mathematics, Knowledge of Computers, Accountancy and Book Keeping, General Science, and General English.
Go ahead and prepare a timetable and stick to it. Divide all the topics you need to prepare for and assign a particular time to cover all topics well in advance of the exam date. The selection for the JKSSB posts shall be made on the basis of merit obtained in written examination only.
Section-wise Preparation Strategy for JKSSB Finance Account Assistant
Accountancy and Book Keeping
We recommend taking the Oliveboard's Accountancy and Book Keeping Notes as your supplement here. The notes are prepared experts and includes summary and walk through all the important bookkeeping and accounting principles. From general transaction keeping conventions to the full accounting cycle and finally to important accounts in the financial statements, these Accounting and Book Keeping notes touches on all the major topics in accounting and managing a company's financials.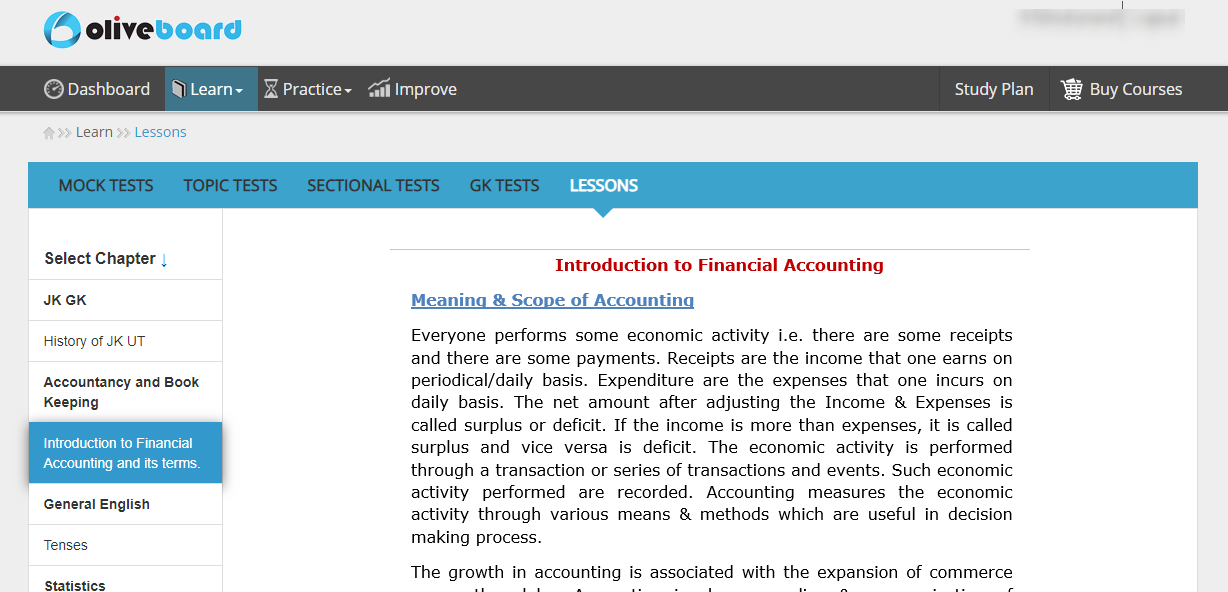 General Economics
As you read your economics notes, read for understanding. Start by spending 10-15 minutes reading any outline or summary provided for the assigned chapter. Most topics are presented verbally, numerically (tables), and visually (graphs). It's importance to understand the information presented within each context since all three communication modes are used in economics and are likely to be used in the JKSSB AA (Finance) exam. Here is what you should do –
remember the topic and important terms,
understand the material presented,
relate relevant terms to one another, and
relate each topic to the other topics covered in the chapter.
Statistics
For the 10 questions in Statistics, set aside one to two hours at the same time each day for six days out of the week for studying statistics. Do not cram your study for four or five hours into one or two sittings each week. Don't try to memorize formulas and solve as many and different problems and exercises as you possibly can. Important topics can be Measures of central Tendency, Theory of Probability, Correlation and regression- Concept and simple applications, Demography-Census, its features and functions.
Mathematics
The Mathematics section of JKSSB AA (Finance) Exam includes class XII level mathematics. Any standard textbook on Maths like NCERT/RS Agarwal/RD Sharma should be enough for solving all 10 questions. Important topics in this section will be Matrices & Determinants, Differentiation- Basic Concepts (Addition, Product & Chain rule), Optimization using Differential techniques, Integration-Reduction & Substitution Method, Linear Differential Equations, Differential Equations Existence theorem for the solution of dy/dx = f(x,y). These three can contribute upto 8 questions in Maths.
English Language
You can expect questions around Fill in the Blanks, One-word Substitution, Phrase Replacement, Error spotting, Spellings & Phrase or Idiom meaning. Few other topics you can expect: Synonyms & Antonyms, Phrase/Idiom meaning, Cloze test, Direct & Indirect speech, and Active and Passive voice. Any standard English Grammar book should do the trick here. We recommend Rein & Martin and Oliveboard's JKSSB AA (Finance) Mock Tests.
Computer Knowledge
The most common topics asked in computer section for any competitive exam are –
Computer Basics
Internet/Network
Operating system/software basics
MS OFFICE
Programming languages
Keyboard shortcuts
Now these 10 questions will take more than 3 minutes to solve. Here is a helpful resource for you – 200 Computer Awareness MCQs.
General Science
The general science section tests your basic ability to understand and solve science-related questions. It is to judge your awareness of day-to-day life-based science. The questions are of school level, therefore you need to polish your school-level science for it. You can expect questions from the General Science section of General Awareness paper with:
Physics taking up 2-3 questions.
Chemistry 2-3 and
Biology 3-4 questions.
8 out of 10 questions are pretty basic and common
2 questions require in-depth knowledge.
General Knowledge with special reference to J&K UT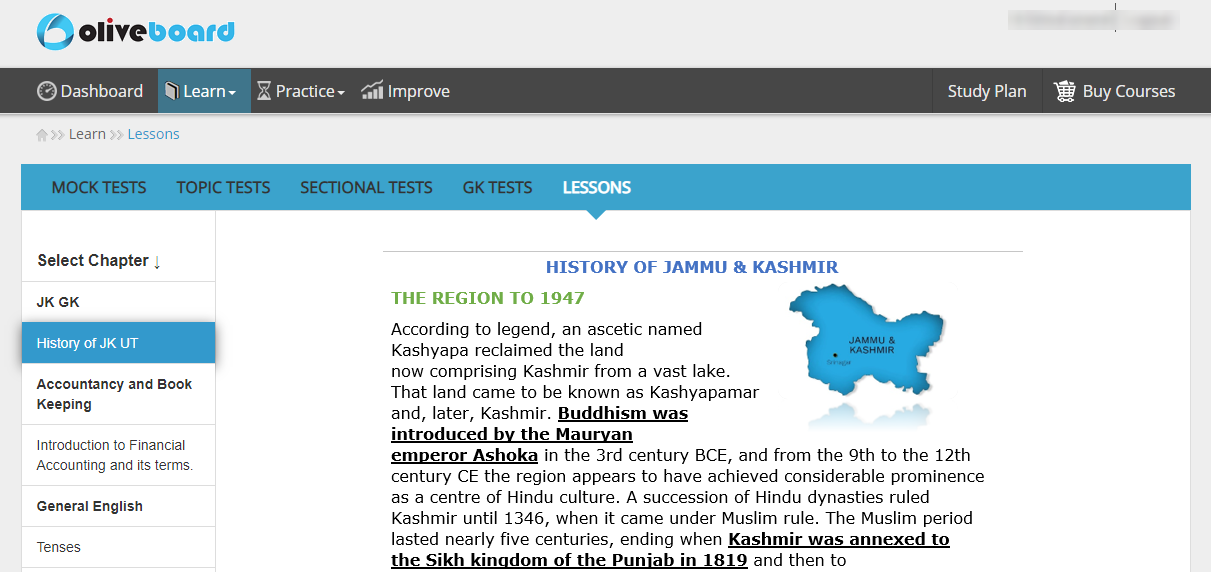 Read the J&K UT related GK from Oliveboard GK Notes or any other reliable publication and closely follow the current affairs in the region. Here are a few e-books to help candidates in J&K general knowledge.
---
DOWNLOAD THE OLIVEBOARD APP FOR ON-THE-GO EXAM PREPARATION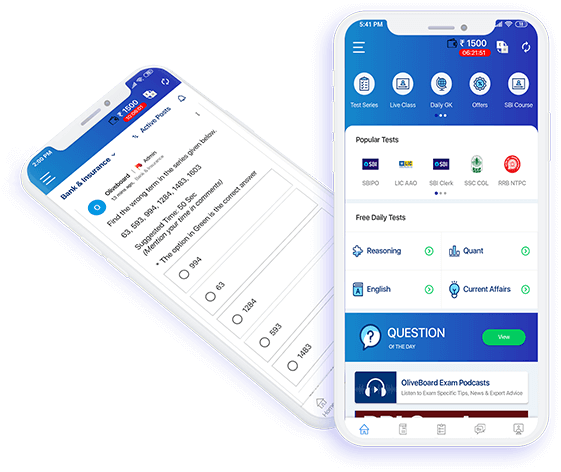 Video Lessons, Textual Lessons & Notes
Topic Tests covering all topics with detailed solutions
Sectional Tests for QA, DI, EL, LR
All India Mock Tests for performance analysis and all India percentile
General Knowledge (GK) Tests
Free videos, free mock tests and free GK tests to evaluate course content before signing up!

Prepare With Oliveboard Study Notes For JK Finance Account Assistant Exam 2020-21
Oliveboard study notes for JK Finance Account Assistant Exam will help you understand or memorize every minute concept. These notes save your energy and time consumed to prepare such notes are an easier way to cover a vast syllabus in less time. Summary Notes For All
Sections Are As Follows:
1. JK GK (Get Study Notes Here)
2. Accountancy & Book Keeping (Get Study Notes Here)
3. General English (Get Study Notes Here)
4. Statistics (Get Study Notes Here)
5. Mathematics (Get Study Notes Here)
6. Economics (Get Study Notes Here)
7. General Science (Get Study Notes Here)
8. Knowledge of Computers (Get Study Notes Here)
JKSSB Finance Account Assistant Preparation Tips
When you are preparing for a paper, planning your preparation is a must. Here are a few tips by which you can efficiently assess your prep and improve over time.
i) Practice Mock Tests: Mock Tests will be your greatest help to prepare for competitive exams. Understand which section or topic needs your attention, which topic is a weak point for you.
ii) Analyze the Mock Tests: Attempting a mock test alone will not suffice your purpose. Devote enough time analyzing each question to understand what went wrong and what were your correct attempts.
iii) Time Management: Manage your time to improve your overall score in the long run. Give enough time to the section you face the most difficulty in and a substantial amount of time to your stronger areas.
iv) Revision of Learned Concepts: One of the most important steps to follow is the revision. This will help you retain the formulas, logic, tricks, current affairs, you have learned so far. Pen down the important formulas and topics for a quick revision towards.
v) Keep a regular check on the Current Affairs: Current Affairs are not something that can be hogged overnight. Give special attention to the J&K current affairs as they could be the highlights in the exam.
What Do We Have In Cart For You?
10 JKSSB Account Assistant Mock Tests
50+ JKSSB AA (Finance) Sectional Tests
Free Ebooks
You can download 200+ ebooks important for SSC, Banking, Railway, Insurance, and other government exams here.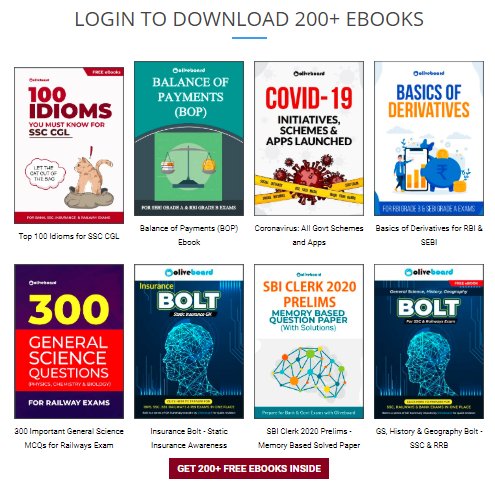 Oliveboard Bolt series E-books:
Well, that is not all, along with the tips we have more in for you that will help you prepare better.
---
Recommended Readings
  Oliveboard Live Courses & Mock Test Series