The Department of Rural Development and Panchayati Raj, J&K have announced the tentative exam dates for JK Panchayat Account Assistant Recruitment of 1889 vacancies for various municipal offices. Here is all you need to know about the Panchayati Raj Institutions before the exams.

REGISTER FOR FREE JK PANCHAYAT ACCOUNT ASSISTANT MOCK TEST
Panchayati Raj Institutions (PRIs)
Panchayati Raj Panchayats have been the backbone of the Indian villages since the beginning of recorded history. Post-independence these were institutionalized with the introduction of the three-tier Panchayati Raj system to ensure people's participation in rural reconstruction.
Panchayati Raj in Numbers
| | | |
| --- | --- | --- |
| Sl. No. | Unit | Numbers |
| 1 | Number of PRIs in the country | 2,60,512 |
| 2 | Number of Village Panchayats | 2,53, 268 |
| 3 | Number of Intermediate Panchayats | 6,614 |
| 4 | Number of District Panchayats | 630 |
| 5 | Number of Elected Members of PRIs | 31.00 lakh (approx.) |
| 6 | Number of Elected Women Representatives | 13.75 lakh (approx.) |
Source:  Sl.No.1,2,3&4 http://lgdirectory.gov.in Report Generated on 18/04/2019 04:50:37 PM
Sl. No. 5&6 MoPR Compilation (as on 27.3.2018)

73rd Amendment Act, 1992 – Panchayati Raj Institutions (PRIs)
The passage of the Constitution (73rd Amendment) Act, 1992 provides constitutional status to the Panchayati Raj Institutions (PRIs). Panchayati Raj system exists in all states except Nagaland, Meghalaya, and Mizoram, and in all Union Territories except Delhi.
REGISTER FOR FREE JK PANCHAYAT ACCOUNT ASSISTANT MOCK TEST
The main features of the 73rd Amendment Act, 1992 are
a 3-tier system of Panchayati Raj for all States having a population of over 20 lakh;
Panchayat elections regularly every 5 years;
reservation of seats for Scheduled Castes, Scheduled Tribes, and women (not less than one-third of seats);
appointment of State Finance Commission to make recommendations as regards the financial powers of the Panchayats and
constitution of District Planning Committees to prepare development plans for the district as a whole.
The Panchayati Raj Institutions enjoy powers and authority necessary to function as institutions of self-government and contains provisions of devolution of powers and responsibilities upon Panchayats at the appropriate level with reference to
(a) the preparation of plans for economic development and social justice; and
(b) the implementation of such schemes for economic development and social justice as may be entrusted to them.
5 Sureshot JK Panchayat Account Assistant Preparation Tips
Salient Features of the 74th Amendments Act
Constitutional status has been accorded to Urban Local Government bodies. Three-tier structure has been envisaged, whereby there would be
municipal corporations, for larger areas,
municipal councils for smaller areas, and
Nagar panchayats for villages in the transition to becoming towns.
Direct election to these Municipal bodies by the people has been provided.
Reservation of one-third of seats for women including women belonging to Scheduled Castes and Scheduled Tribes is ensured.
The State Finance Commission would ensure the financial viability of the Municipalities. Municipal funds have been augmented through taxes, tolls, duties and fees, grants-inaid.
Urban municipal institutions of self-government have been endowed with power and authority to formulate and implement schemes for economic development and social justice on 18 subjects.
Developmental Committees, namely, (DPC) and Metropolitan Planning Committees have been constituted.
For better proximity with citizens, wards committees have been constituted.

Panchayats Extension to the Scheduled Areas (PESA)
The Parliament passed the Provisions of the Panchayats (Extension to the Scheduled Areas) Act, 1996 to extend the provisions of the 73rd Constitutional Amendment to the Schedule V Areas of the country.
The Fifth Schedule covers Tribal areas (scheduled areas) in 9 states of India namely Andhra Pradesh, Jharkhand, Gujarat, Himachal Pradesh, Maharashtra, Madhya Pradesh, Chattisgarh, Orissa and Rajasthan.
Panchayati Raj During the British Rule
The famous Mayo's resolution of 1870 gave impetus to the development of local institutions by enlarging their powers and responsibilities.
Rippon in 1882 mandated two-thirds majority of non-officials who had to be elected and the chairman of these bodies had to be from among the elected non-officials. This is considered to be the Magna Carta of local democracy in India.
Royal Commission on centralisation in 1907 under the Chairmanship of C.E.H. Hobhouse recognized the importance of panchayats at the village level.
Montagu Chelmsford reforms of 1919transferred the subject of local government to the domain of the provinces (States).
Till 1925, eight provinces had passed the Panchayat Acts and by 1926, six native States had also passed panchayat laws.
Day –wise Study Plan on How To Crack JK Panchayat Account Assistant Exam? Know Here

eBooks
Download 200+ Free eBooks important for different government exams here or Oliveboard Online Exam Prep App for easy access to all our learning resources.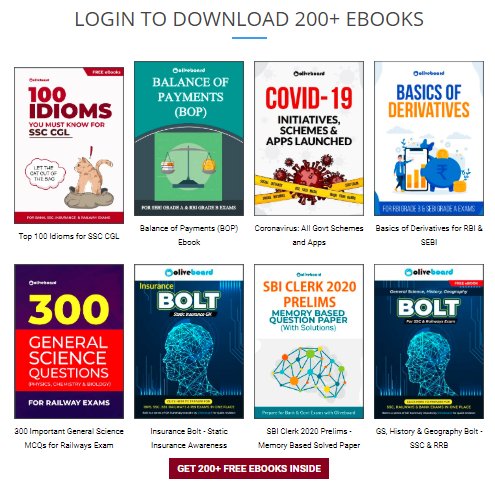 Oliveboard Bolt Series E-books 
Panchayats have been mandated for economic development, strengthening social justice, and the implementation of Central and State Government Schemes. These bodies are the backbones of the government and are necessary for the proper implementation of development schemes in the country.  That's all we have for you in this blog. Students are recommended to keep checking Oliveboard Online Exam Prep App or the website for the latest updates on question patterns, syllabus, mock tests, and schedules of upcoming government exams.
Also, Check:

Oliveboard is a learning & practice platform for premier entrance exams. We have helped over 1 crore users since 2012 with their Bank, SSC, Railways, Insurance, Teaching and other competitive Exams preparation.
  Oliveboard Live Courses & Mock Test Series