In this blog, we will be providing you with the Polity Study notes on the topic – Parts of Indian Constitution for SSC Exams – SSC CGL 2019-20 and SSC CPO 2020.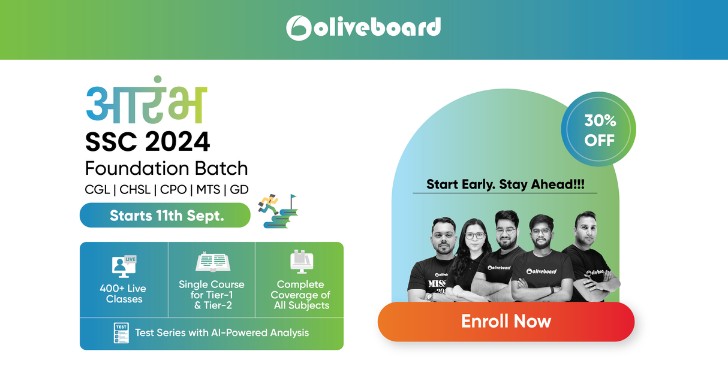 We hope like previous Study notes provided by us at Oliveboard, these Polity Study notes would also prove very important for your Exam Preparation.
So read Polity study notes to know about all the parts of the Indian Constitution and attempt a free mock test and test your preparations.
Advertisements

Parts of Indian Constitution – Polity Study notes
Part

Articles

Topics

Part I

Art. 1 to 4

The Union and its territory

Part II

Art. 5 to 11

Citizenship

Part III

Art. 12 to 35

Fundamental Rights

Part IV

Art. 36 to 51

Directive Principles

Part IVA

Art. 51A

Fundamental Duties

Part V

Art. 52 to 151

The Union

Chapter I – The Executive (Art.52 to 78)

Chapter II – Parliament (Art.79 to 122)

Chapter III – Legislative Powers of President (Art.123)

Chapter IV – The Union Judiciary (Art. 124 to 147)

Chapter V – Comptroller and Auditor-General of India (Art.148 to 151)

Part VI

Art. 152 to 237

The States

Chapter I – General (Art.152)

Chapter II – The Executive (Art.153 to 167)

Chapter III – The State Legislature (Art.168 to 212)

Chapter IV – Legislative Powers of Governor (Art.213)

Chapter V – The High Courts (Art.214 to 232)

Chapter VI – Subordinate Courts (Art.233 to 237)

Part VII

 

States in the B part of the First Schedule




Repealed by Const. (7th Amendment) Act, 1956

Part VIII

Art. 239 to 242

The Union Territories

Part IX

Art. 243 to 243O

The Panchayats

Part IXA

Art. 243P to 243ZG

The Municipalities

Part IXB

Art. 243H to 243ZT

Co-operative Societies

Part X

Art. 244 to 244A

The Scheduled and Tribal Areas

Part XI

Art. 245 to 263

Relations between the Union and the States

Chapter I – Legislative Relations (Art.245 to 255)

Chapter II – Administrative Relations (Art.256 to 263)

Part XII

Art. 264 to 300A

Finance, Property, Contracts and Suits

Chapter I – Finance (Art.264 to 291)

Chapter II – Borrowing (Art.292 to 293)

Chapter III – Property, Contracts, Rights, Liabilities, Obligations, and Suits (Art.294 to 300)

Chapter IV – Right to Property (Art.300-A)

Part XIII

Art. 301 to 307

Trade, Commerce and Intercourse within the Territory of India

Part XIV

Art. 308 to 323

Services under the Union and the States

Part XIVA

Art. 323A to 323B

Tribunals

Part XV

Art. 324 to 329A

Elections

Part XVI

Art. 330 to 342

Special provisions relating to certain classes

Part XVII

Art. 343 to 351

Official Language

Chapter I – Language of the Union (Art.343 to 344)

Chapter II – Regional Languages (Art.345 to 347)

Chapter III-Language of the Supreme Court, High Courts, and so on (Art.348 to 349)

Chapter IV-Special Directives (Art.350 to 351)

Part XVIII

Art. 352 to 360

Emergency Provisions

Part XIX

Art. 361 to 367

Miscellaneous

Part XX

Art. 368

Amendment of the Constitution

Part XXI

Art. 369 to 392

Temporary, Transitional and Special Provisions

Part XXII

Art. 393 to 395

Short title, commencement, authoritative text in Hindi and Repeals
Check your all India standing with a free mock test
That brings us to the end of Polity Study notes about Parts of Indian Constitution for SSC Exams. We hope you would find the information provided here useful for your SSC CGL and SSC CPO Exam preparations. Keep checking this site for more Polity notes for SSC Exams
Also, Check:

The most comprehensive online preparation portal for MBA, Banking and Government exams. Explore a range of mock tests and study material at www.oliveboard.in
  Oliveboard Live Courses & Mock Test Series