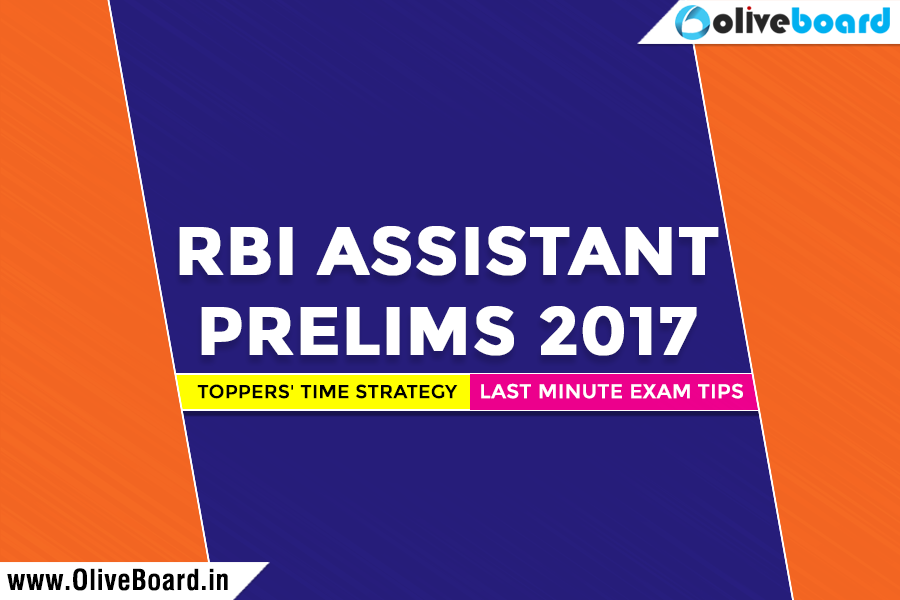 Only about a week remains for the much awaited RBI Assistant Prelims 2017. To help you enhance your performance, here we bring to you a time strategy for the prelims exam along with some last minute exam preparation tips. Let us first take a look at the exam pattern of the RBI Assistant Prelims 2017.
RBI Assistant Prelims 2017 : Exam Pattern
Name of Tests
(Objective)
No. of Questions
Maximum Marks
Total Time

English Language

30

30

Composite time of 1 Hour

Numerical Ability

35

35

Reasoning Ability

35

35

Total

100

100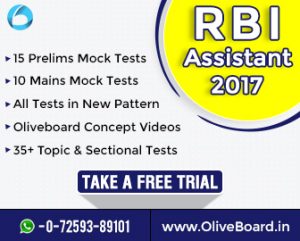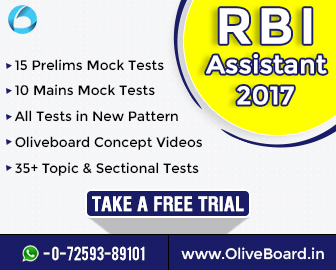 RBI Assistant Prelims 2017 : Toppers' Time Strategy
With 100 questions to be solved in 60 minutes, the exam lays stress on speed. There are no sectional time limits for different sections and thus, it becomes all the more important to have a proper time strategy in place. We checked the toppers'(Top 5% or >95%ile) time allocation across sections and the following shows broadly what many of them used as their approximate time allocation during the exam.
1) English Language : 10 minutes
2) Reasoning Ability: 27 minutes
3) Numerical Ability: 23 minutes
Based on your strengths & weaknesses, you can change this to suit your strategy. Use this only as a guideline if you are unsure of your allocation. If you already have a strategy that works for you, continue using that.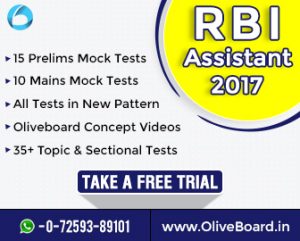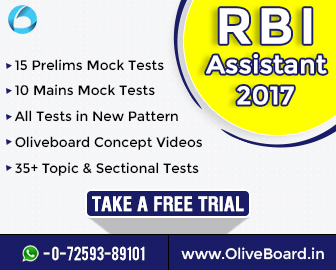 RBI Assistant Prelims 2017 : Last Minute Exam Tips
1) Revise
Instead of trying to learn new things at this point, it is advisable that you focus on revising the topics/questions which you got wrong/left in-attempted during all the mock tests you practised.
2) Focus on slow/ weak areas
Oliveboard provides the areas where you are slow in scoring and also the areas where you are weak at. Identify & Practice those for a day with very short time limits. To take mock tests and figure out your slow areas, click here. 
3) Practice during exam time slot
Each one's mind is active at different times during the day. To ensure that your mind is active during exam time, take mock tests during your exam slot so that your mind is trained to be alert during your exam. 
4) Relax your mind a day before the exam
An active & fresh mind will ensure you are in the best frame of mind to solve quicker & better. To achieve this, do not study too much on days leading upto your exam. Get at least 8 hours of sleep before exam day. People tend to under-estimate the advantage that a fresh mind can provide especially during a speed based exam where you need to solve 100 questions in 60 minutes.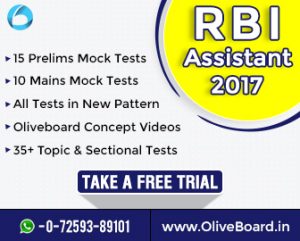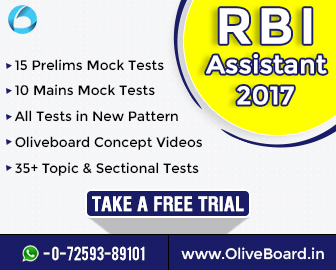 Hope this helps.
All The best!