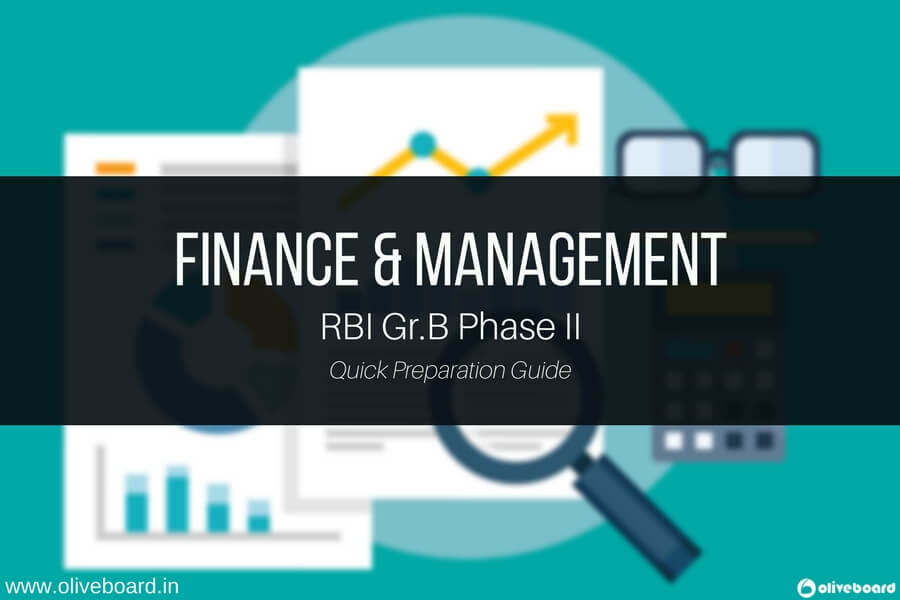 The Finance & Management (F&M) section of RBI Grade B Exam is regarded as the toughest section in Phase II. It requires a lot of cramming and reading (both conceptual & practical), which could take months. However, those of you who are yet to start preparing for this section need not be disheartened by this. This article will guide you on how you can make the most of the time available for your F&M Preparation.
Finance & Management Exam Syllabus
Finance Syllabus
Financial System
Regulators of Banks & Financial Institutions

Functions of RBI, conduct of monetary policy, Banking system of India, Financial Institutions (SIDBI, NABARD, EXIM, NHB)
Financial Markets
Primary & Secondary markets (Forex, Money, Bond, Equity), Functions, Instruments, Recent developments.
General Topics
Risk Management in Banking sector

Basics of Derivatives: Forward, Futures and Swap

Changing landscape of Banking sector

Recent developments in Financial sector, Portfolio investment, Public sector reforms, Disinvestments

Financial Inclusion – Use of technology

Alternate source of Finance, private and social cost-benefit, Public-Private partnership

Corporate Governance in Banking sector, role of e-governance in addressing the issues of corruption & inefficiency in the government sector

The Union budget – Direct and indirect taxes; Non-tax sources of Revenue, GST, 13th Finance Commission and GST, Finance commission, Fiscal policy, Fiscal responsibility and budget management act

Inflation: Definition, trends, estimates, consequences, and remedies: WPI, CPI – components of trends
Management Syllabus
Management
Nature & Scope

Processes (Planning, Organizing, Staffing, Directing, Controlling)

Role of a Manager in an organization
Leadership
Tasks of a leader

Styles & theories

Successful vs Effective leader

Human Resource Development:

Concepts & goals of HRD

Performance appraisal – Potential appraisal & development – Feedback & Performance counselling – Career planning – Training & development – Rewards – Employee welfare.
Motivation
Theories

Morale & Incentive

How managers motivate

Morale concept

Factors influencing morale

Role of incentives in building up morale
Communication
Steps in communication process

Communication channels

Communication types : Oral vs Written; Verbal vs Non-verbal; Upward, downward & lateral

Role of IT

Barriers to communication
Corporate Governance
Mechanisms

Factors affecting corporate governance

 
Note: After a thorough analysis of previous year RBI Grade B question papers, we could conclude that RBI does not stick to the syllabus mentioned in the official notification.
A lot of questions were asked from topics that weren't mentioned in the main syllabus; Accounting (which carried the maximum marks), NSDL, CSDL and the TA Theory by Thomas Harris, which constituted almost 35%-40% of the marks. These topics aren't part of the main syllabus, but are remotely attached to them. These topics can be found in books and other preparation materials while searching for information on Main topic. The RBI had included questions from the Accounting section in its sample paper, indirectly hinting that questions from this topic might appear in the main exam.
Candidates often ignore these topics, thinking they're not mentioned in the main syllabus, and end up losing marks. Hence, it is advisable to not leave these topics thinking it is not important.
Finance & Management Preparation Material
Since you barely have a few days left for the preparation, it doesn't make sense to read entire books cover to cover. You need to be highly smart & selective in reading and read up on only those topics that are most likely to appear in the examination. 
How to do smart & selective reading?
For a fast-track preparation, without wasting time or reading unwanted stuff:
Determine the topics: 
Apart from going through the syllabus of RBI Grade B Exam given by RBI in the notification, there are three ways you can determine the important topics you need to prepare:
Using ready made preparation material: 
There is no point in sitting and trying to figure out what topics might appear in the exam and what might not, because, the syllabus of RBI Grade B Finance & Management is vast and RBI is known to be unpredictable and might include topics, which aren't directly mentioned in the syllabus, in the exam. Therefore, it makes sense to use preparation material created by experts and exam toppers after thorough research and analysis for your preparation.
Analyzing & solving previous year question papers & sample papers:
While previous year question papers will give you an idea about the difficulty level of the questions and exam pattern, RBIs sample paper might provide you hints on what topics might appear in the exam.
Download this Free RBI Grade B Official Handout: Solved Paper on F&M: https://bit.ly/2u9eC5o
Taking Mock Tests:
Mock tests are created by industry experts & exam toppers after extensive research and analysis. They not only help you determine the topics that you should prepare for RBI Grade B exam, but also:
Help you identify your strengths & weakness

Determine your speed & accuracy

Give you an in-depth analysis of your performance
Try it yourself! Take a free RBI Grade B Phase II Mock Test.
Pick your sources:
After determining the topics, put them in a list and start gathering your resources.
Keep your sources minimal:
Refer to the best sources that contain the core of the topics you need to prepare for. This way, you read less, but you read the most important stuff.
For instance: For current affairs, instead of reading newspapers, read a roundup of current affairs from current affairs capsules and magazines like Pratiyogita Darpan and Yojana. And refer to the FAQ section of Financial Institutions like NABARD, SIDBI, etc. for static information.
Work around your strengths:
There might be some topics you're really good at; work on those topics and make them stronger to increase your overall score in the section.
Having said that, here's an indicative list of resources you can use for your preparation. Make sure you choose wisely:
Finance
RBI Circulars

Financial Management by Prasanna Chandra

An introduction to Economics by A.W. Stonier and D.C. Hauge

Monetary theory and Public Policy by Kenneth Kurihara

Economic Growth & Development by Mayer and Baldwin

Economic Newspapers, Economic & Political Weekly

Public Finance by K.K. Andley & Sundaram

Financial system: FAQ sections of SIDBI, NABARD, EXIM etc., websites, RBI website FAQ, Current affairs capsules

Financial markets & General topics: Google, updated documents

Numericals: Corporate Finance – Ross Westerfield Jaffe, Accounting Ratios from NCERT, Investopedia, YouTube videos
Management
NCERT Business Studies (12th standard)

Organizational Behavior by S.P. Robbins

Principles of Management by I.M. Prasad

IGNOU Management Notes

rbigradeb.com capsules
Takeaway from previous year's RBI Grade B exam
Order of topics according to weight-age from highest to lowest in Finance:
Accounting

Primary & Secondary Markets

Financial Systems

Risk Management

Corporate Governance

Miscellaneous

Derivatives

Union Budget
Order of topics according to weight-age from highest to lowest in Finance
Human resource Development

Corporate Governance

Management

Leadership

Motivation

Communication
Note: Some of you might not prepare for topics that did not appear in the previous year RBI Grade B Exam, thinking the topics might not appear this year too. Do not rely on the previous year RBI Grade B question papers alone for your preparation. RBI is unpredictable, therefore we suggest you use the analysis as the base for your preparation.
Some pointers
We recommend you start your exam by attempting all the moderate and easy level questions with great accuracy first, without wasting too much time on tough questions, and then move on to the tougher questions. If you attempt all moderate and easy level questions with great accuracy, and a few tough questions, you have a good chance of clearing phase 2.
Management is a scoring section and easier compared to the Finance part, since it is static and doesn't involve current affairs or numbers. Try to capitalize on this and score maximum marks in the Management section.
A lot of questions in the exam will be direct, i.e., 'Factual' in nature. Therefore you must memorize facts, figures, percentages and numbers for Finance (Repo rate, policy dates, interest, SLR, CRR, etc.) and names of people (thinkers, inventors, etc.), years, etc. for the Management part.
Use the above as a guideline to formulate your own preparation strategy for the Finance & Management section of RBI Grade B Phase II.
We wish you all the very best!
Further reading: