Aspirants find the Finance & Management (F&M) section of the RBI Grade B Exam a bit tricky. More so if one is not from a finance background. It requires understanding concepts both for Finance topics as well as Management topics. However, those of you who are yet to start preparing for this section need not be disheartened by this. This article will guide you on how you can make the most of the time available for your F&M Preparation. We would also like to tell you that as per our analysis of the past year's papers of F&M, we fund that the core concepts from Finance are not being asked nor are numerical questions being asked. Mostly the concepts related to current affairs (General Management & Public Finance) are extensively being asked.
Finance & Management Preparation Guide
RBI Grade B Exam – 2 Months Study Plan
RBI Grade B Finance Preparation – Complete Strategy – Resources
How to prepare for the Management Section of RBI Grade B Exam – Strategy
---
Finance & Management Preparation Strategy
In order to cover the syllabus of F&M, you need to be smart and have to do a selective reading of important topics. Most importantly read up on only those topics that are most likely to appear in the examination.
How to do Smart & Selective Reading?
For a fast-track preparation, without wasting time or reading unwanted stuff:
I. Determine the Important Topics
As per the past years' analysis of F&M papers, we have come to a conclusion that these are the most important chapters from the Finance & Management syllabus:
Most Important Chapters for Finance
Financial Regulatory Bodies
Banking System in India
Reforms in the Banking & Finance Sector
Impact of the Global Financial Crisis of 2007-08
Primary & Secondary Markets
Risk Management in the Banking Sector
Basics of Derivatives
Alternate sources of Finance
Inflation
Note: While reading the news/current affairs, make sure you keep these chapters in mind so that you can map the news to the syllabus. This will help you answer the finance objective questions as well as descriptive ones.
Most Important Chapters for Management
General Management
Leadership
Communication
Corporate Governance
Organizational Behaviour
Organizational Change
Emotional Intelligence
Interpersonal Relationship
Nudge Theory
Ethics at Workplace
Note: In F&M Paper – Equal weightage is given to Finance and Management. Management is Static – this can help increase the scores.
---
II. Using ready-made preparation material
There is no point in sitting and trying to figure out what topics might appear in the exam and what might not, because, the syllabus of RBI Grade B Finance & Management is vast and RBI is known to be unpredictable and might include topics, which aren't directly mentioned in the syllabus, in the exam. Therefore, it makes sense to use preparation material created by experts and exam toppers after thorough research and analysis for your preparation.
---
III. Analyzing & solving previous year's question papers & sample papers
While previous year's question papers will give you an idea about the difficulty level of the questions and exam pattern, the RBI sample paper might provide you hints on what topics might appear in the exam.
Download this Free RBI Grade B Official Handout: Solved Paper on F&M: https://bit.ly/2u9eC5o
---
IV. Taking Mock Tests
Mock tests are created by industry experts & exam toppers after extensive research and analysis. They not only help you determine the topics that you should prepare for the RBI Grade B exam but also:
Help you identify your strengths & weakness

Determine your speed & accuracy

Give you an in-depth analysis of your performance
Try it yourself!
---
V. Pick your sources
After determining the topics, put them in a list and start gathering your resources.
---
VI. Keep your sources minimal
Refer to the best sources that contain the core of the topics you need to prepare for. This way, you read less, but you read the most important stuff.
For instance: For current affairs, instead of reading newspapers, read a roundup of current affairs from current affairs capsules. And refer to the FAQ section of Financial Institutions like NABARD, SIDBI, etc. for static information.
---
VII. Workaround your strengths
There might be some topics you're really good at. Work on those topics and make them stronger to increase your overall score in the section.
---
VIII. Approach for Finance & Management (F&M) Descriptive Paper
Step-01: Start with the Management section. The desc. ques. from this section would be static in nature. Be thorough with the concepts.
Step-02: While reading each chapter, note down key words for each chapter (as part of various theories/concepts).
Step-03: For the Finance section, make a list of current affairs-related topics (in news lately) and static topics and write down keywords for each one.
Step-04: While writing the answers, make sure you are building your answers around these keywords.
Step-05: Practice at least 12-15 answers before you go for the examination.
Start out by Practising Free Descriptive Tests for F&M
Download RBI Gr. B 2021 Ph-2 Memory Based Questions Here
---
Expert Guidance for Descriptive Papers
Practice RBI Grade B – Descriptive Answer-Writing with our expert faculty: For ESI, FM & Descriptive English Get expert guidance for your exhaustive preparation of RBI Grade B Phase 1 & Phase 2.
---
IX. Some General Tips
We recommend you start your exam by attempting all the moderate and easy level questions with great accuracy first, without wasting too much time on tough questions, and then move on to the tougher questions. If you attempt all moderate and easy level questions with great accuracy, and a few tough questions, you have a good chance of clearing phase 2.


Management is a scoring section and easier compared to the Finance part since it is static and doesn't involve current affairs or numbers. Try to capitalize on this and score maximum marks in the Management section.



A lot of questions in the exam will be direct, i.e., 'Factual' in nature. Therefore you must memorize facts, figures, percentages and numbers for Finance (Repo rate, policy dates, interest, SLR, CRR, etc.) and names of people (thinkers, inventors, etc.), years, etc. for the Management part.
Use the above as a guideline to formulate your own preparation strategy for the Finance & Management section of RBI Grade B Phase II.
We wish you all the very best!
Further reading:
---
Download PDF eBooks Here
Download the Free eBooks PDF for your RBI Grade B preparation.
---
DOWNLOAD THE RBI, NABARD, SEBI Prep App FOR ON-THE-GO EXAM PREPARATION
The app provides comprehensive study material in form of online courses to ace these examinations.
The study material ranges from online LIVE classes, video lectures, study notes, revision sessions, past year papers, topic tests, the objective plus descriptive mock tests, mock interviews and much more.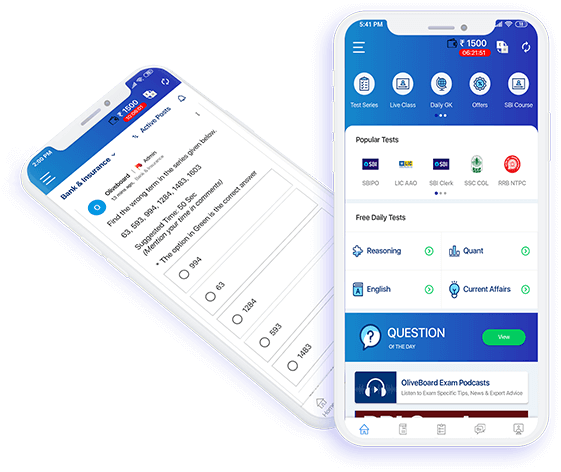 List of Exams
1) RBI Grade B Generalist Posts
2) SEBI Grade A Generalist Posts
3) SEBI Grade A IT Officer Posts
4) NABARD Grade A Generalist Posts
5) NABARD Grade A IT Officer Posts
6) NABARD Grade A Agriculture Officer Posts
7) NABARD Grade B Posts
8) SIDBI Grade A Officer Posts
9) FSSAI Recruitment – For Technical officers, Food Safety Officers and Assistants
Get free video lessons, mock tests and GK tests to evaluate course content before signing up!

---
RBI Grade B Crash Course 2023 by Oliveboard
If you are someone who is aiming to crack RBI Grade B Exam and are confused about how to go about the preparation, Oliveboard has come up with RBI Grade B Online Complete Plan to help you ace the RBI Grade B exam for sincere aspirants. Read below what is included in the Course.
Oliveboard offers the best RBI Grade B Online Coaching that can help you prepare comprehensively for the exam. Oliveboard's RBI Grade B Online Complete Plan 2023 will be your one-stop destination for all your preparation needs.
Go through free RBI Grade B study materials PDFs and take up RBI Grade B Free mock tests online.
1. Course Details
RBI Grade B Cracker is designed to cover the complete syllabus for the 3 most important subjects: 1. GA for Phase 1, 2. Objective Paper for Phase 2 + 3. Descriptive Papers for Phase 2 exam.
Not just that, it also includes Mock Tests & Live Strategy Sessions for English, Quant & Reasoning for Phase 1. The course aims to complete your preparation in time for the release of the official notification.
1.1. Features:
RBI Grade B 2023 Cracker Course Offerings:
Foundation LIVE Classes

for ESI & FM


ESI & FM Videos + Notes + 75+ Topic Tests



Phase-I CA Capsules (RBI BOLT)





Phase-II CA Capsules + Desc. Eng Prep





40 Objective Mock Tests (Phase 1 & 2)





10 Descriptive Mock Tests with Evaluation





Descriptive Model Q&A





ESI & FM Revision Sheets



---
1.2. How to Enroll for the RBI Grade B Online Course 2023?
Sign up or log in using the link given below. You will be redirected to the payments page. Read the course offerings and subscribe to RBI Grade B 2023 Complete Plan.
Now that you are aware of the RBI Grade B Online Classes, why wait?
Get Started with RBI Grade B 2023 Online Complete Plan comprising LIVE Classes, Video Lessons, Detailed Study Notes & All-India Mock Tests for Phase 1 & Phase 2.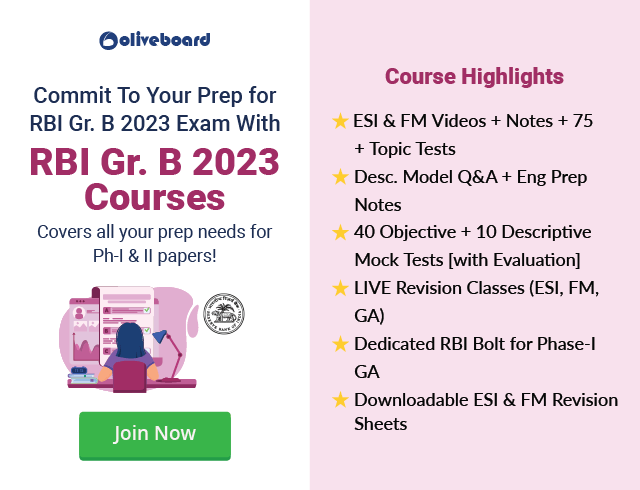 Use Coupon Code 'LAUNCH' & Get 20% off on RBI Courses
---
Connect with us on

The most comprehensive online preparation portal for MBA, Banking and Government exams. Explore a range of mock tests and study material at www.oliveboard.in