RBI Grade B Success Story
Previously I had written an article on approach and strategy for the RBI Grade B phase I Exam. If you missed that, here's the link: RBI Grade B Phase I Preparation Strategy.
Following is the Strategy for Phase II of RBI Gr B Examination:
Phase II demands a totally different strategy from Phase I. Although the success ratio is quite high in comparison to Phase I, here you are competing with the best minds in the country. As in all the papers of Phase II, you have more than adequate time, the speed per se is not very important. You have enough time to think and recall. So your focus should be on wide coverage of the topics and revise them multiple times rather than practising mocks.
---
MY FINAL SCORES
My attempt in F&M Paper:-
ESI – Total 54/65 – 25/35 in Section I & 29/30 in Section II
F&M – Total 52/65 – 23/35 in Section I & 29/30 in Section II
English – Essay 210 words including heading
Precis – 168 words (Passage was approximately 510 words)
---
My Marks in Phase II and Interview:-


---
Paper I – Economic and Social Issues
The pattern for this paper in 2016 was 30 questions of 1 mark each and 35 questions of 2 marks each. You should aim to score 70+ in this paper.
First of all, go through the sample paper given by RBI to get an idea of what kind of questions will be asked in the examination. From that, you will get an idea of how deep you need to go into the topics while preparing.
This paper can be divided into two parts. One is the static part i.e. conceptual which includes basic knowledge of different concepts of macroeconomics like national income, the repo rate, bank rate, fiscal deficit, revenue deficit, budget, inflation, banking sector in India, etc. The other part of this paper is the dynamic part i.e. the factual part which is current affairs based and this is comprised the majority of questions in the 2016 paper.
1. Preparing for the static part:
The preparation will depend on your background. If you are a category 1 candidate, i.e. either you have an academic background in finance/economics or you are a civil services aspirant, this part won't be much of a problem for you. Just revise your old notes or economics books that you have already studied a couple of times and that will do.
If you are in category 2 i.e. you are new to economics, you should start by reading economics NCERT textbooks of Class 10, 11, and 12 to get an idea of the basic concepts of macroeconomics.
For detailed reading after this, you can refer to Indian Economy by Ramesh Singh or by Uma Kapila.
Another option which I personally would prefer is to go through the General Studies notes of Economics by Sriram IAS coaching institute as the syllabus for this paper is a subset of the economics syllabus for General Studies paper of Civil services.
Moreover, these notes are very lucid, easy to understand, and to the point cover important current events of economic significance which gives a better understanding of the concepts.
You can refer to the FAQ section of the RBI website: https://rbi.org.in/Scripts/FAQDisplay.aspx which covers various topics such as banking, currency, foreign exchange, government securities market, etc.
For social issues, the questions asked are of a very generic nature and you need not go through any book for that. Just google search the various topics mentioned in the syllabus and read any relevant documents. Apart from this, you should go through a summary of the socio-economic and caste census and census 2011.
2. Preparing the dynamic part:
Make sure you go through all the social sector schemes, welfare programs, and current affairs related to the economics of at least the last 6 months thoroughly.
Go through the budget and economic survey. For this, you can refer to the special booklets on budget and an economic survey by coaching institutes like Vajiram and Vision IAS. Remember that you need to read only the summary of the economic survey and not go through the complete survey unless you have ample free time. You will easily get all these notes free of cost online very easily.
After you're done with this, you can do a selective topic-wise study from IGNOU B.A. economy booklets, if time permits. You can also go through the RBI's Annual Report very selectively only if time permits.
This will suffice for the dynamic/ current affairs-related part.
Note: Please ensure that you pay enough attention to the minute details and facts as the questions asked are sometimes very factual in nature. For illustration, a question related to voting percentage in the Brexit referendum was asked in the 2016 examination with options varying closely.
---
Paper-II – English
This paper can be the deciding factor in your selection if you choose to act complacent and do not prepare for this exam. The range of marks awarded in English for 2016 was from 55 to 82. That is huge. Since you will be in a position to answer all the questions in this paper (unlike ESI & FM), your target should be to maximize your marks in English. And the key to that will be practising. You should aim to score a minimum of 65-70 in this paper.
Keep in mind the following three important points while attempting this paper:-
Ensure the correct usage of grammar, spelling, and punctuation.




Stick to the word limit (+/- 5 words).




Use simple English. Avoid using difficult and fancy words.
This paper comprises 3 questions:-
Essay – In 2016, it was a small essay of 200 words. Since the word limit is less, you need not worry about the matter if you are a regular reader of any standard newspaper. If not, start reading the newspaper from today itself. Your focus should be editorial page and social issues and economics-related news. Just make short notes of important facts and figures as mentioning some of the relevant facts in your essay can fetch you more marks.
Regarding the structure of the essay, you can divide the essay into 4-5 paragraphs. For illustration, I wrote an essay on 'Economic and social impact of farmer suicides. I divided my essay into 4 paragraphs:-
Introduction

– Why farmer suicides should be our concern, why are farmers committing suicide and some facts about farmer suicides in India.

Economic Impacts – Food shortage leading to inflation, high food imports, and thus BoP deficit, rupee depreciation, etc.

Social Impacts – Poverty, Exploitation of widows, and pursuing agriculture is seen as poor livelihood option by the rural youth leading to migration, etc.

Conclusion – What is being done and what should be done to tackle the problem.

Precis Writing – Go through some sample precis writing and practice a few questions before the exam. Apart from the three points, I mentioned above, just google the rules of precis writing – writing 1/3rd of words, using your own words, giving a suitable title, not changing the tone of the passage, etc. But remember that the key to scoring good marks will be practice.

Comprehension – Again ensure that you follow the three points mentioned above and practice. Some of the questions demand giving your own suggestions and here you have a chance to get an edge over others. Mostly, the nature of the suggestions asked would be of an

'economic' nature, so make sure your knowledge of current issues is updated.
Warning: Please keep in mind that in the case of English paper you need to type on the keyboard and for those who type slowly, do not take the time limit for granted.
Even those who can type fast, remember that the keyboard will be of the old type that comes with a desktop and you might have to press the keys really hard (unlike laptop keyboards) which will again increase the number of errors you make and the number of times you need to press backspace.
Although all of you will complete the paper in time, again I would say that do not take the time limit for granted.
---
Paper III– Finance and Management
This is the most difficult paper because of its technical nature. Most of you will not have a background in finance and management, so this is the paper you need to work on the most. The difficulty level of the 2016 paper was very high with the finance portion comprising 6-8 numerical. You should aim to score 60 on this paper. Though I did not score very well in this paper, I would still share some pointers on how to prepare for this exam based on my preparation strategy and my experience.
Finance:

The syllabus of the finance portion is divided into three heads. My strategy was to prepare topic-wise by studying the relevant documents from the internet.
a Financial System – The best source to cover regulatory and financial institutions like SIDBI, EXIM, NABARD, etc. would be to visit their website and read the FAQs. It would cover the static part of the topic. For the dynamic part, which includes current affairs/news related to these Institutions, you will have to rely on the current affairs capsules. Alternatively, you can google search the news related to these institutions and go through them selectively.
b Financial Markets – The basics of this topic are covered in Sriram's Economy Notes. For a detailed study, again google and find a relevant and updated pdf.
c General Topics – Many of these topics like Inflation, Banking Sector, Budget, etc. overlap with the Economics paper. For specific topics like Derivatives, Corporate Governance, PPP, and

Portfolio investment, again you can rely on topic-specific up-to-date documents from the internet.
Regarding Numericals in Finance paper: With no background in finance, this was the most difficult part for me to grasp. The numerals are mostly based on topics like Bond pricing, YTM, P&L Statement, Cash Flow Statement, and Accounting Ratios. But remember that once you have mastered the concepts, these will be the sure-shot marks you cannot afford to lose. So practice a lot of numerical before the exam. The resources you can refer to for numerals are:-
1. Financial Management by Prasanna Chandra (not referred by me. But I would suggest you refer to it as it will help you to cover maximum topics from a single source).
2. Corporate Finance by Ross Westerfield Jaffe.
3. Accounting Ratios from NCERT 12th Accounts Book
4. Investopedia for concepts
5. Youtube videos on numerical
Note: A couple of questions asked in the finance part were from the circulars of the RBI. So you need to update yourself regularly about these from RBI's website.
Management: 25-30 questions in the paper are asked from the Management Section. You will have to learn about a lot of thinkers and their theories on this topic.
Since I have been a student of Public Administration during my civil services examination preparation, I relied on my Pub Ad notes for overlapping topics like Leadership, Human Resource Development, Motivation, and Communication.
For Planning, Organisation, Directing, and Controlling, I referred to Principles of Management.
For the rest of the topics, I referred to IGNOU Management Notes and a management capsule by rbigradeb.com.
Note: Many of my fellow aspirants referred to Organisational Behaviour by S P Robbins for Management and I would highly recommend you to refer to it for many of you might not have the advantage of studying public administration or management as a part of your academics.
Wish you all the very best!
---
Download PDF eBooks Here
Download the Free eBooks PDF for your RBI Grade B preparation.
---
DOWNLOAD THE RBI, NABARD, SEBI Prep App FOR ON-THE-GO EXAM PREPARATION
The app provides comprehensive study material in form of online courses to ace these examinations.
The study material ranges from online LIVE classes, video lectures, study notes, revision sessions, past year papers, topic tests, the objective plus descriptive mock tests, mock interviews and much more.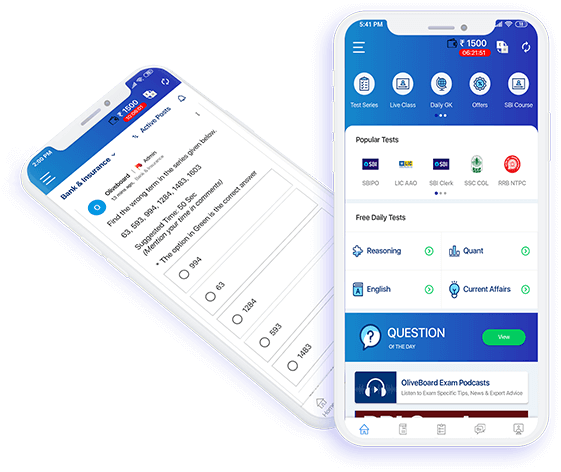 List of Exams
1) RBI Grade B Generalist Posts
2) SEBI Grade A Generalist Posts
3) SEBI Grade A IT Officer Posts
4) NABARD Grade A Generalist Posts
5) NABARD Grade A IT Officer Posts
6) NABARD Grade A Agriculture Officer Posts
7) NABARD Grade B Posts
8) SIDBI Grade A Officer Posts
9) FSSAI Recruitment – For Technical officers, Food Safety Officers and Assistants
Get free video lessons, mock tests and GK tests to evaluate course content before signing up!

---
RBI Grade B Crash Course 2023 by Oliveboard
If you are someone who is aiming to crack RBI Grade B Exam and are confused about how to go about the preparation, Oliveboard has come up with RBI Grade B Online Complete Plan to help you ace the RBI Grade B exam for sincere aspirants. Read below what is included in the Course.
Oliveboard offers the best RBI Grade B Online Coaching that can help you prepare comprehensively for the exam. Oliveboard's RBI Grade B Online Complete Plan 2023 will be your one-stop destination for all your preparation needs.
Go through free RBI Grade B study materials PDFs and take up RBI Grade B Free mock tests online.
1. Course Details
RBI Grade B Cracker is designed to cover the complete syllabus for the 3 most important subjects: 1. GA for Phase 1, 2. Objective Paper for Phase 2 + 3. Descriptive Papers for Phase 2 exam.
Not just that, it also includes Mock Tests & Live Strategy Sessions for English, Quant & Reasoning for Phase 1. The course aims to complete your preparation in time for the release of the official notification.
1.1. Features:
RBI Grade B 2023 Cracker Course Offerings:
Foundation LIVE Classes for ESI & FM


ESI & FM Videos + Notes + 75+ Topic Tests


Phase-I CA Capsules (RBI BOLT)


Phase-II CA Capsules + Desc. Eng Prep


40 Objective Mock Tests (Phase 1 & 2)


10 Descriptive Mock Tests with Evaluation


Descriptive Model Q&A


ESI & FM Revision Sheets

---
1.2. How to Enroll for the RBI Grade B Online Course 2023?
Sign up or log in using the link given below. You will be redirected to the payments page. Read the course offerings and subscribe to RBI Grade B 2023 Complete Plan.
Now that you are aware of the RBI Grade B Online Classes, why wait?
Get Started with RBI Grade B 2023 Online Complete Plan comprising LIVE Classes, Video Lessons, Detailed Study Notes & All-India Mock Tests for Phase 1 & Phase 2.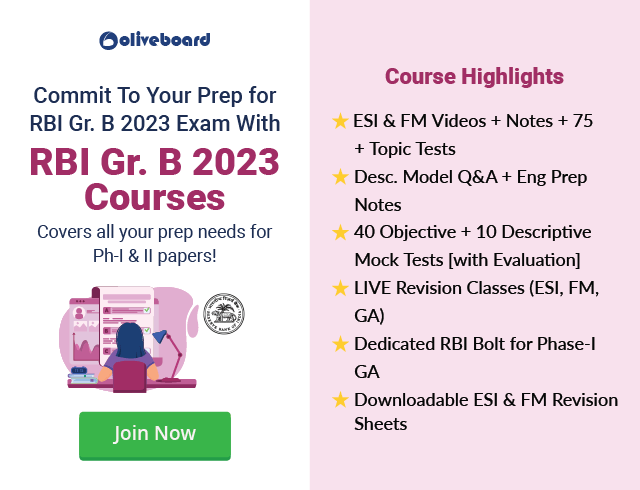 Use Coupon Code 'LAUNCH' & Get 20% off on RBI Courses
---
Connect with us on

The most comprehensive online preparation portal for MBA, Banking and Government exams. Explore a range of mock tests and study material at www.oliveboard.in