Aspirants are often curious about the life that an RBI Grade B officer leads. There are so many questions that come to the minds of aspirants about various aspects of the life of an officer who joins as a Grade B recruit in the central bank of the country i.e. Reserve Bank of India (RBI).
Let us decode this puzzle through our conversation with the ex-CGM of RBI Mr S. Raja. We had quite an enriching experience talking to him as he shed light on various aspects of the lives of RBI Grade B officers.
We have compiled this Q&A format here for your convenience. You can go forward and listen to his complete interview using the link shared at the end of this blog post.
Life of an RBI Grade B Officer
Let us address all your queries and concerns here in this Q&A format. Let's get started.
Q. 1. What happens after one joins as an RBI Grade B Officer?
Ans. As you get the call letter to join the Reserve Bank of India, either you are directly sent for training in the Reserve Bank Staff College, Chennai, or directly given your first posting in some RBI Office across the country.
The first posting one gets is mostly in Mumbai, but it might vary depending on the requirements and vacancies.
The first department that one is given the charge of is the "Issue & Banking Department" so that one learns basic banking and knows the nitty-gritty of it.
You get to work in different RBI Offices across the country in various departments. The service experience that you get is very enriching.
---
Q. 2. Where do RBI Grade B officers get posted?
Ans. As such posting preferences are not asked while giving the postings before joining RBI. You must be prepared for all India postings and transfers.
There are four zonal offices of RBI in Mumbai, Kolkata, Delhi, and Chennai.
RBI has nineteen regional offices at Thiruvananthapuram, Patna, Nagpur, Lucknow, Mumbai, Kochi, Kolkata, Jammu, Kanpur, Chennai, Delhi, Guwahati, Bhubaneshwar, Bhopal, Hyderabad, Ahmedabad, Chandigarh, Jaipur, and Bangalore.
Eleven sub-offices of RBI are Agartala, Aizawl, Shillong, Dehradun, Gangtok, Imphal, Panaji, Srinagar, Raipur, Shimla, and Ranchi.
Married people should not put any conditions before joining. Take the appointment letter, join the duty wherever you are posted, and then apply for transfers.
---
Q. 3. What is the transfer policy for RBI Grade B officers?
Ans. You might be transferred every 3 years. Not a hard and fast rule, your stay at some offices say at the zonal office might be for more than 3 years as well.
---
Q. 4. How is the probation period of RBI grade B officers?
Ans. You are observed for 2 years. The way you behave and the way you work, your training performance, your interpersonal relationships with your colleagues and seniors, etc, everything is noticed and taken into consideration.
You will be given hands-on training during these two years and at the end of two years, you will be intimated that you have completed your probation period successfully. FYI nobody gets disqualified.
If someone has some medical issues, then she or he is kept on medical probation. After 6 months she/he will have to meet the bank medical officer for a check-up and then the medical officer issues your clearance letter and then your probation gets over.
---
Q. 5. What are the salary and other perks of an RBI Grade A officer?
Ans. The gross monthly emoluments are Rs 1,08,404/- approximately. The best thing is that you get RBI quarters which is a great relief in a city like Mumbai. Sometimes if RBI quarters are not available, you would get leased accommodation. Anything that you can think of, is paid to you. RBI takes good care of its employees.
---
Q. 6. What is the career progression (promotions) of an RBI Grade B officer?
Ans. If one continues to work in RBI with sincerity & dedication, then an RBI Grade B Officer can reach up to CGM level post. Few Grade B officers have also managed to reach Executive Director (ED) positions and very few up to Deputy Governors (DG).
Deputy Governor
⇑
Executive Director
⇑
Principal Chief Manager
⇑
Chief General Manager
⇑
General Manager
⇑
Deputy General Manager
⇑
Asst. General Manager
⇑
Manager (Grade B Officer)
You can reach the level of executive director and if you are lucky enough you can reach the post of deputy governor as well.
For career progression, you need to continuously keep acquiring additional qualifications relevant to the field and your interpersonal relations with other people will also matter.
Promotions
There is no written test or so to say for promotions from Grade B to Grade C. Your promotion would depend upon vacancies available and you would be interviewed by senior officials.
But for promotions from Grade C to Grade D, there is a written test & and an interview.
The other interview happens when you are being promoted from the post of GM to CGM. At that time, there is an interview with the Governor & Deputy governor.
---
Q. 7. What if the newly posted officers are not from Finance or Economics backgrounds? Is it difficult for them?
Ans. You are well taken care of. Before posting you are well trained in RBSC Chennai. Even when you are transferred from one department to another, you have your seniors to learn from you. Also, there is learning material given to you which gives you knowledge about the job to be done and gradually gain expertise.
Do not worry about anything. Your learning and training would be taken care of.
---
Q. 8. How is the work-life balance for an RBI Grade B officer?
Ans. Mostly their work is manageable. Absolutely no issues or worries. For some departments, there might be pressure or stress, but then too it is manageable. There is at least or we can say no interference from the outside world in your work. All and all it is manageable and you would enjoy working. It is a 5-day week job giving Saturdays and Sundays off.
---
Q. 9. What is the one thing that the interviewers look for in a candidate during RBI Grade B Interviews?
Ans. The only thing they look for is whether the person being interviewed is suitable for the job and whether he/she will stick to the job. The organization puts money on your training after your selection, if you leave after the training period, it does not make sense to them. Therefore, whether you would stick with the organization would play a crucial role in your selection. Is there any bias towards people from a certain educational background? Ans. No. There is no bias as such. They look for people who are employable and amenable, who suit the kind of work RBI does.
---
Q. 10. There are gap years after graduation. Will it affect my selection?
Ans. No, it would not. If you are fit for the role and can convince the interviewers that you are a good fit for the job, nothing would matter then.
---
This is all from us in this Q&A blog post about the life of an RBI Grade B officer. Thereafter you can have a look at this video given below wherein Riti Mam is in conversation with the ex-CGM of the Reserve Bank of India. You would get to know everything about the life of an RBI Grade B Officer from the honourable Sir Mr S. Raja. He would share with you the career prospects & progression, job profile, promotion opportunities, transfer policy, salary, perks, and allowances offered to an officer, and much more.
---
Life of an RBI Grade B Officer | Conversation with Mr S. Raja | ex-CGM RBI | Career | Job-Profile
We hope that all of your queries and concerns are addressed in this video and are now determined to prepare well for RBI Grade B Exam.
All the best for your preparation.
---
Download PDF eBooks Here
Download the Free eBooks PDF for your RBI Grade B preparation.
---
DOWNLOAD THE RBI, NABARD, SEBI Prep App FOR ON-THE-GO EXAM PREPARATION
The app provides comprehensive study material in form of online courses to ace these examinations.
The study material ranges from online LIVE classes, video lectures, study notes, revision sessions, past year papers, topic tests, the objective plus descriptive mock tests, mock interviews and much more.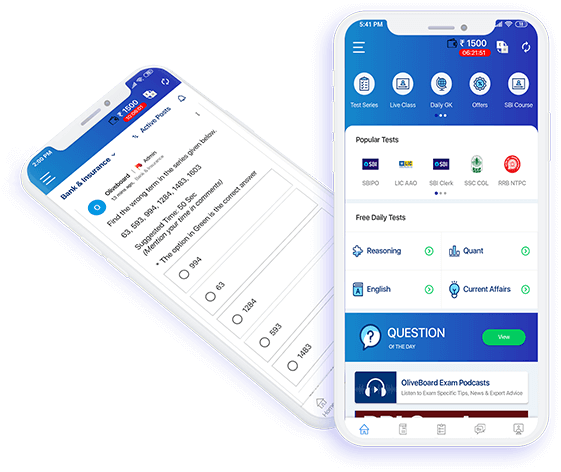 List of Exams
1) RBI Grade B Generalist Posts
2) SEBI Grade A Generalist Posts
3) SEBI Grade A IT Officer Posts
4) NABARD Grade A Generalist Posts
5) NABARD Grade A IT Officer Posts
6) NABARD Grade A Agriculture Officer Posts
7) NABARD Grade B Posts
8) SIDBI Grade A Officer Posts
9) FSSAI Recruitment – For Technical officers, Food Safety Officers and Assistants
Get free video lessons, mock tests and GK tests to evaluate course content before signing up!

---
RBI Grade B Crash Course 2023 by Oliveboard
If you are someone who is aiming to crack RBI Grade B Exam and are confused about how to go about the preparation, Oliveboard has come up with RBI Grade B Online Complete Plan to help you ace the RBI Grade B exam for sincere aspirants. Read below what is included in the Course.
Oliveboard offers the best RBI Grade B Online Coaching that can help you prepare comprehensively for the exam. Oliveboard's RBI Grade B Online Complete Plan 2023 will be your one-stop destination for all your preparation needs.
Go through free RBI Grade B study materials PDFs and take up RBI Grade B Free mock tests online.
1. Course Details
RBI Grade B Cracker is designed to cover the complete syllabus for the 3 most important subjects: 1. GA for Phase 1, 2. Objective Paper for Phase 2 + 3. Descriptive Papers for Phase 2 exam.
Not just that, it also includes Mock Tests & Live Strategy Sessions for English, Quant & Reasoning for Phase 1. The course aims to complete your preparation in time for the release of the official notification.
1.1. Features:
RBI Grade B 2023 Cracker Course Offerings:
Foundation LIVE Classes

for ESI & FM


ESI & FM Videos + Notes + 75+ Topic Tests



Phase-I CA Capsules (RBI BOLT)





Phase-II CA Capsules + Desc. Eng Prep





40 Objective Mock Tests (Phase 1 & 2)





10 Descriptive Mock Tests with Evaluation





Descriptive Model Q&A





ESI & FM Revision Sheets



---
1.2. How to Enroll for the RBI Grade B Online Course 2023?
Sign up or log in using the link given below. You will be redirected to the payments page. Read the course offerings and subscribe to RBI Grade B 2023 Complete Plan.
Now that you are aware of the RBI Grade B Online Classes, why wait?
Get Started with RBI Grade B 2023 Online Complete Plan comprising LIVE Classes, Video Lessons, Detailed Study Notes & All-India Mock Tests for Phase 1 & Phase 2.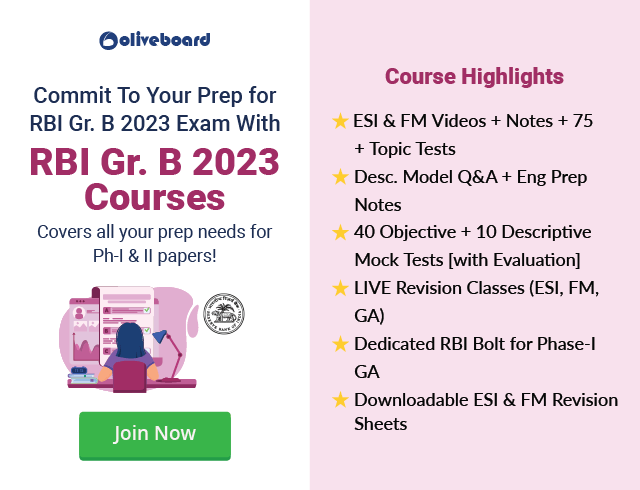 Use Coupon Code 'LAUNCH' & Get 20% off on RBI Courses
---
Connect with us on

The most comprehensive online preparation portal for MBA, Banking and Government exams. Explore a range of mock tests and study material at www.oliveboard.in