SBI PO Dress Code for Female Candidates – Personal interviews are the last round of the SBI PO selection process. First off, many congratulations to candidates who passed the written exam and moved on to the interview stage. You have already travelled halfway across the world. The interview is the stage that makes or breaks you, so take it seriously. We will provide you with some advice on how to portray yourself in the interview, including the proper attire for female candidates.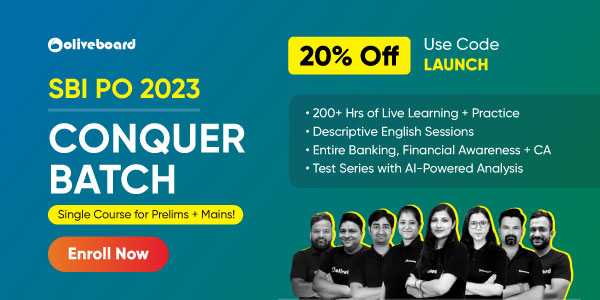 Before one enters the interview room with the panel members, the interview has already begun. A significant portion of it is about how to present yourself professionally during the interview because professionalism must emanate from the way one dresses because it plays a crucial role in non-verbal communication and sending the right signal or message to the hiring committee that one has officer-like qualities.
What is Appropriate SBI PO Interview Dress Code for Female Candidates?
Hairdo:
It's important to knot your hair neatly because this is the traditional business style. A bun or a ponytail, such as a French ponytail, would work well. Please refrain from wearing a fancy bun or ponytail because you already know where the line is.
Only if your hair is short (shoulder-length at max), then only you are allowed to keep it open, but make sure it doesn't come onto your face. A sleek hairdo in that case would be preferred.
Makeup:
The ideal makeup is minimal. It would be best to wear lip balm, kajal, and a neutral-colored lipstick.
Avoid anything over and above this would be tricky unless you're professional in using makeup products and know to use them onto your face without being loud and extra.
Makeup is always optional. All you have to do is make sure you look presentable (in every aspect of dressing).
Nails should be short and precise. Better not to wear any nail pain or you can wear transparent nail paint.
Apparels:
When it comes to clothing for a job interview, ladies have several alternatives. Let's talk about each of them individually.
Saree: You may wear a respectable cotton saree as long as you can carry it well. In the end, it ought to have a formal and businesslike appearance.
Simple cotton salwar-kameez with no or very little embroidery work.
Kurta and leggings: The same guidelines apply to this outfit. Please check that the leggings are not slack; they should be simple. If a kurta has a collar, one can omit wearing a dupatta with it; nevertheless, if it doesn't, one must carry a dupatta (clearly, one made of plain cotton) with it.
Shirt and Pants: The same standards that apply to men's attire apply here as well, with the exception of the tie, which is not a component of women's attire. Feel free to step up the dressing game with a blazer to go with this outfit.
Accessories:
Please wear an analogue wristwatch; no digital or smart watches.
Wear simple Earrings/tops and if worn, it must be minimal.
If you can, take off any neck jewellery; if not, make sure it is hidden from view
The only appropriate footwear is flats (no high heels). One may select bellies or wedges (not a high one though). Preferably, the footwear should be closed, or if it's open, the feet should be kept tidy and clean (pedicured).
Please refrain from bringing a huge bag with you.
Keep a handkerchief on you at all times.
Cover any tattoos you may have with some clothing. Remove the ring(s) from any piercings you may have as well. Nose rings and septums are prohibited, but nose pins are permitted (not a flashy one).
If you have any rings on your fingers, it would be best if you took them off. If you can't, you should be prepared to respond to inquiries based on them.
If you can, put on a light perfume so that you can smell fresh throughout the entire interview.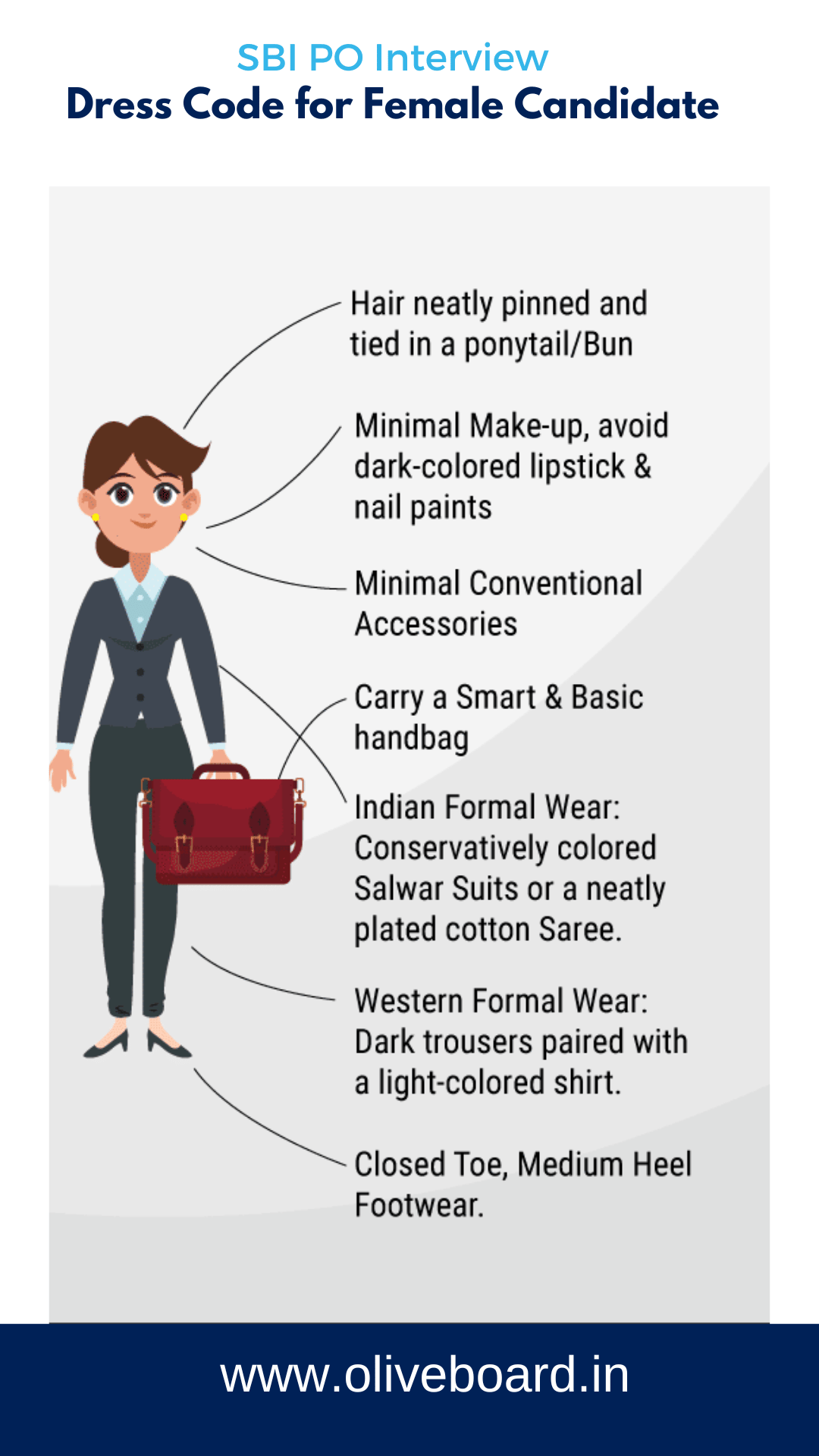 The general rule is to steer clear of anything spectacular and go instead for muted or simple colour schemes. While wearing impeccably can hurt one's prospects of becoming an officer or postpone the process, dressed attractively and professionally can get one brownie points. Consequently, it needs to be handled seriously.
This concludes our post on how to dress for the interview for SBI PO. We sincerely hope that you will find the information beneficial and heed the advice for your interview.
---
---
DOWNLOAD THE OLIVEBOARD APP FOR ON-THE-GO EXAM PREPARATION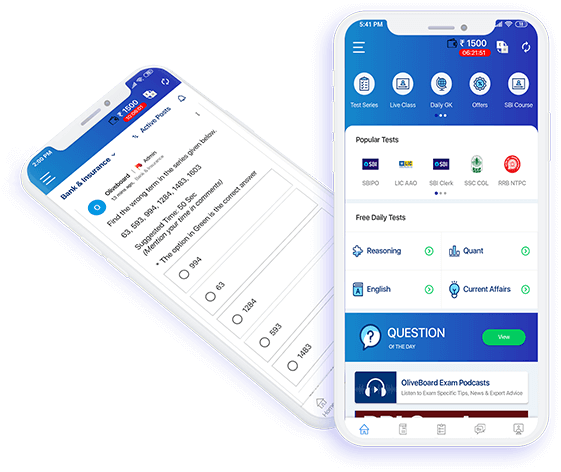 Video Lessons, Textual Lessons & Notes
Topic Tests covering all topics with detailed solutions
Sectional Tests for QA, DI, EL, LR
All India Mock Tests for performance analysis and all India percentile
General Knowledge (GK) Tests
Free videos, free mock tests, and free GK tests to evaluate course content before signing up!
Frequently Asked Question:
What is the dress code for SBI PO interview for female candidates?
Female can wear saree, Kurta and leggings, salwar-kameez,Shirt and Pants.
What kind of Hairdo works best for female candidates in interview round?
A bun or a ponytail works well in SBI PO interview round for female candidates.
Which colour is best to wear for interview?
The best colours that you can wear during an interview are neutral colours like black, navy, gray and brown.
What not to wear for an interview?
Candidates must never wear flip flops, wedge sandals, ripped jeans or shorts, tank tops, halter tops, sandals, strapless tops and dresses, and athletic attire like yoga pants and sneakers to an interview.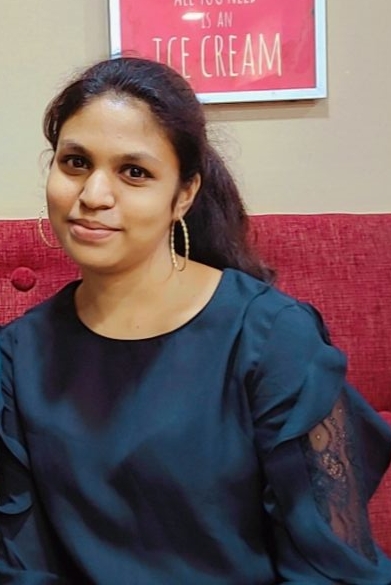 Sindhuja is a passionate content writer with a strong background in preparing for various state exams and defence examinations. Drawing on her own experiences as an aspirant, she brings valuable insights and expertise to her writing. With a keen understanding of exam patterns, syllabus, and effective study techniques, Sindhuja creates engaging and informative content to assist fellow aspirants in their preparation journey. Her dedication to accuracy and clarity ensures that candidates find convenience and reliability in her work. As a content writer, she aspires to empower others with the knowledge and guidance needed to excel in their respective exams and achieve their dreams.
  Oliveboard Live Courses & Mock Test Series