SBI PO Interview Dress Code for Male Candidates- Personal interview is the last round in SBI PO. Candidates who have made it to this point can be proud of themselves, but they should also take the interview seriously because even the smallest of details can make are important.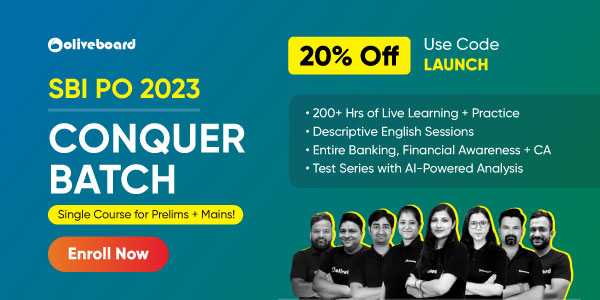 The most important thing to keep in mind when preparing for interviews dress code. A polished appearance and business-casual clothes make a positive impression on the panelists and are likely to tip the scales in your favor. In this blog we will give you some advice on how to dress up for SBI Interview for male candidates.
Tips for SBI PO Interview Dress Code for Male Candidates:
1) Hair and Beard:
It needs to be trimmed neatly or trimmed from the sides, and it should be short to medium length.
Make an appointment for a haircut at least a week before the interview so that, even if the haircut doesn't suit your face structure or turn out the way you wanted, it will have time to settle on your features by the time of the interview.
It is possible, but not required, to use a hair product to give your hair a shining finish that shows how fresh it is.
For the interview, go for a clean-shaven appearance (no stubble, please). If you do have a beard, make sure it is perfectly groomed to look professional, especially if it is a formal beard or a certain style (such as a French cut).
2) Apparels:
A good cotton button-down shirt in a light colour, ideally white, light blue, or light pink.
Not folded, sleeves should be buttoned all the way down to the wrists.
The shirt must be worn with a dark pair of slacks or trousers, especially in the colours of black, brown, navy blue, or charcoal grey. Make sure the colour of your coat and pants match the colour of your suit, if you're wearing one. (I recommend a navy blue suit.)
If a suit is worn, it should fit the wearer properly. A poorly fitting suit detracts from a person's appeal and entire personality.
Please make sure that neither the shirt nor the pants/trousers have any patterns. They must have a simple feel and appearance.
A formal pair of well-polished leather shoes is required (preferably with laces). The shoes must be black, brown, or a combination of the two colours.
There must be full-length socks (and no ankle or no-show socks). When one sits, the length should be such that no flesh is exposed.
Either the colour of the pants or the colour of the shoes must match the colour of the socks.
It is required that the colour of the belt match or be close to that of the shoes.
Also Read:
3) Accessories:
Wear an analogue timepiece with a leather strap (mind you, no digital or smartwatch and no accessories apart from a watch).
Keep a handkerchief on you at all times.
Cover any tattoos you may have with some clothing. Additionally, if you have any piercings, take out the jewellery. Finally, your nails should be properly filed and clipped.
If you have any rings on your fingers, it would be best if you took them off. If you can't, you should be prepared to respond to inquiries based on them.
If you can, put on a light perfume so that you can smell fresh throughout the entire interview.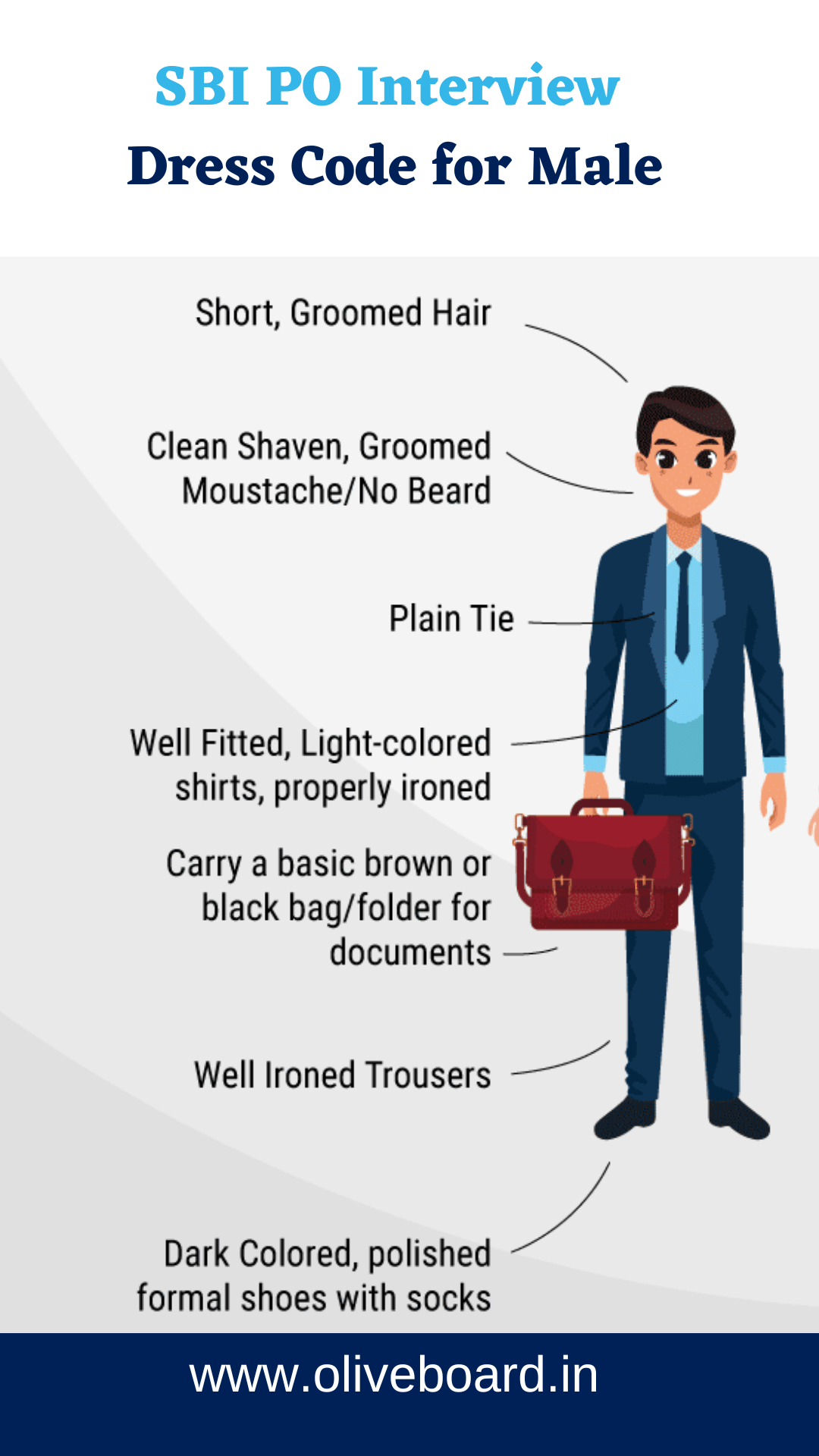 The general rule is to steer clear of anything spectacular and go instead for muted or simple colour schemes. While wearing impeccably can hurt one's prospects of becoming an officer or postpone the process, dressed attractively and professionally can get one brownie points. Consequently, it needs to be handled seriously.
This concludes our post on how to dress for the SBI PO interview. We sincerely hope that you will find the information beneficial and follow the advice for your interview.
---
---
DOWNLOAD THE OLIVEBOARD APP FOR ON-THE-GO EXAM PREPARATION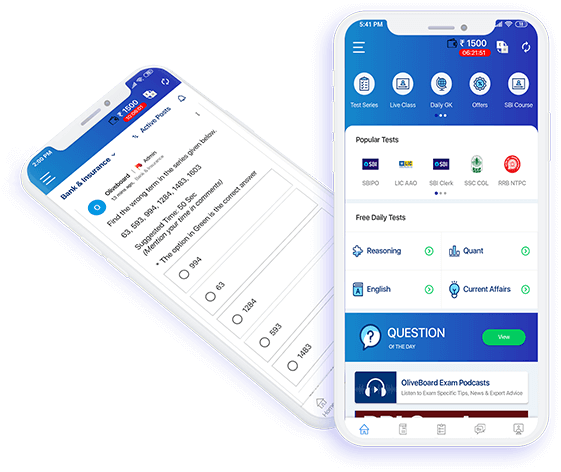 Video Lessons, Textual Lessons & Notes
Topic Tests covering all topics with detailed solutions
Sectional Tests for QA, DI, EL, LR
All India Mock Tests for performance analysis and all India percentile
General Knowledge (GK) Tests
Free videos, free mock tests, and free GK tests to evaluate course content before signing up!
Frequently Asked Questions:
What a male candidates should wear for SBI PO interview?
Dress code for a male candidates for SBI PO –
Full-sleeve formal shirt. Prefer light-colored shirts. Also, avoid casual wear. Formal pants.
What dress code should I follow for Bank Interview?
Good and proper attire is very important for any job interview.
Can I wear Jeans to an Interview?
Yes male candidates can wear Khakis or nice pair of jeans.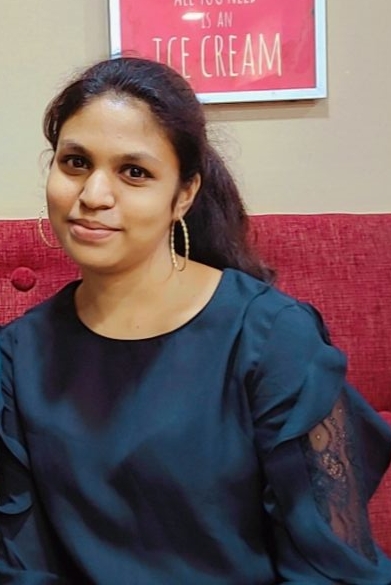 Sindhuja is a passionate content writer with a strong background in preparing for various state exams and defence examinations. Drawing on her own experiences as an aspirant, she brings valuable insights and expertise to her writing. With a keen understanding of exam patterns, syllabus, and effective study techniques, Sindhuja creates engaging and informative content to assist fellow aspirants in their preparation journey. Her dedication to accuracy and clarity ensures that candidates find convenience and reliability in her work. As a content writer, she aspires to empower others with the knowledge and guidance needed to excel in their respective exams and achieve their dreams.
  Oliveboard Live Courses & Mock Test Series